If there's any aspect at all of Kurakat Shrine in The Legend of Zelda: Tears of the Kingdom that has you scratching your head, you can rest assured that we will lay your concerns to rest. Not only will our guide help you to find it, but we'll also give you the quick solution to this puzzle so that you can get back to exploring the skies and depths of Hyrule.
Other The Legend of Zelda: Tears of the Kingdom Guides:
Elixir Guide | Cooking Guide | Secret Mount Guide | Surviving Cold Weather | Surviving the Gerudo Desert | Beginner's Guide | How to Reunite Koroks Guide | Lookout Landing Shrines and Solutions | How to Solve Ekochiu Shrine | How to Solve Tajikats Shrine | Hylian Field Shrines and Solutions | Sahasra Slope Shrines and Solutions | Lindor's Brow Shrines and Solutions | Ulri Mountain Shrines and Solutions | Eldin Canyon Shrines and Solutions | Best Healing Item Location | Rupee Farming Methods | Arrow & Bomb Farming Methods | Zonaite Farming Methods | How To Get Cold Protection | How To Respec | How To Unlock Autobuild & Camera | How To Upgrade Armor | Great Fairy Locations | How To Upgrade Horses | Horse God Location | How To Unlock The Dream Home Plot | How To Easily Find Bubbul Gems | How To Unlock Gerudo Secret Club | Gleeok Boss Tips | Giant Horse Location | Hylian Shield Location | Glide Suit Locations | All Purah Pad Upgrades | All Misko's Treasure Locations | All Divine Beast Mask Locations | Gloom-borne Illness Quest Guide
How to Solve Kurakat Shrine in The Legend of Zelda: Tears of the Kingdom
When you first arrive at this Shrine, it looks kind of dicey. Luckily, you can talk to a nearby robot to get some useful advice on how to complete the task at hand. It will tell you that you need to: "Dye the white pattern black when the sun awakens in the sky. Then will the sacred shrine appear." Though that's a bit broad, don't worry, we'll spell it out for you.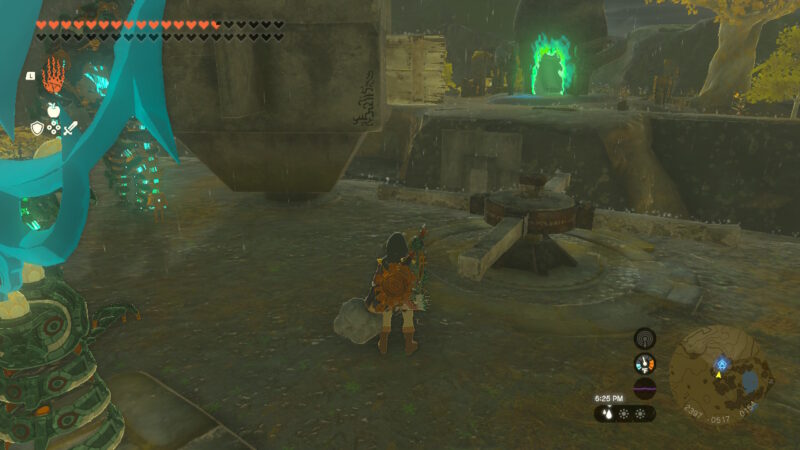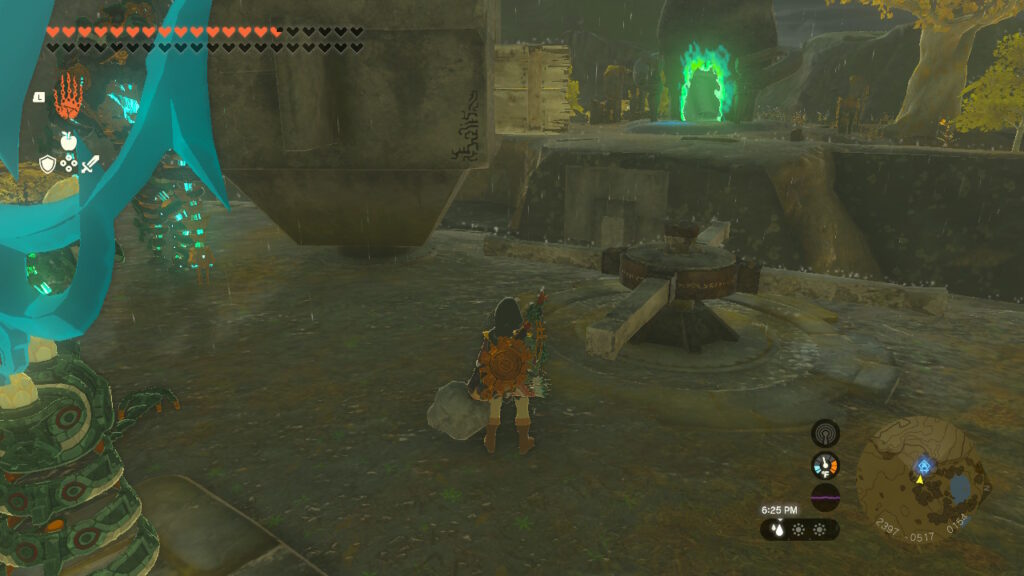 There are only a couple of things that you really need to do here. First of all, grab the nearby wooden platforms and place them into the open slots on the bottom of the rotating statue. Now, simply rotate it until it looks like the sun would make a shadow of it similar to the shape on the wall across from you.
Note: unless your timing is exact, it won't work yet. That's what the nearby campfire is for. Basically, as long as you've assembled and rotated the statue so that it looks like it does in our pictures, you'll be fine. Now, light the fire and sit by it until the morning comes. While we're writing this after solving the puzzle, hence our rainy conditions, it should automatically be bright and sunny for you.
Now, you just have to wait around until the shadow of the statue crosses over the shape and matches up with it, solving the robot's mysterious riddle in the process. This will cause Kurakat Shrine to rise out of the earth and open itself for exploration. Luckily, this is a Rauru's Blessing Shrine, meaning that all you have to do is walk on in to claim your reward.