Table of Contents

[Hide]

[Show]
Pokémon Scarlet & Violet ran the round of the Hisuian Typhlosion Tera Raid Event this past weekend. Round 2 began earlier today. It will last until November 12, 2023. Since this is the second round, you'll have to wait for the event to repeat to get Hisuian Typhlosion.
Pokemon Scarlet and Violet Gets Release Date For The Indigo Disk DLC | Pokemon Go: Festival of Lights 2023 Event Bonuses and Encounters | Pokemon Will Be At The Macy's Thanksgiving Day Parade
As usual, you can only catch one Hisuian Typhlosion per save file. This Typhlosion will have the Mightiest Mark and perfect IVs. As always, you can use a sandwich with the Fire Raid Power to get more rewards.
---
Hisuian Typhlosion Stats
Hisuian Typhlosion is a Fire/Ghost-type Pokémon. It will have the Fire Tera type which boosts its original Fire move STAB from 1.5x to 2x damage. Don't bring any Pokémon to this raid that has a Fire weakness. Focus on Ground, Rock, and Water, or a Pokémon with an Ability that can nullify Fire attacks (for example, Flash Fire).
Hisuian Typhlosion will use Will-O-Wisp first to burn your Pokémon, then boost its Fire-type moves with Sunny Day. You can counter this with a Pokémon who can change the weather, preferably with Rain Dance.
Nature – Modest
The Modest Nature increases a Pokémon's Sp. Atk at the expense of its Atk. Hisuian Typhlosion solely uses Special moves, so bring a Pokémon with good Sp. Def or one that can attack quickly.
Ability – Frisk
Frisk is Hisuian Typhlosion's Hidden Ability which allows it to check the opponent's held item when it enters the battlefield. While useful in competitive battles, Hisuian Typhlosion won't make much use of it.
Moves
Since Hisuian Typhlosion has the Fire Tera Type and increased Sp. Atk stats, Flamethrower will be your biggest issue. Infernal Parade pairs well with Flamethrower. Both moves have the potential to Burn your Pokémon and if that happens, Infernal Parade will deal double damage.
| | | | |
| --- | --- | --- | --- |
| Name | Type | | Description |
| Flamethrower | Fire | Special | The target is scorched with an intense blast of fire. This may also leave the target with a burn. |
| Infernal Parade | Ghost | Special | The user attacks with myriad fireballs. This may also leave the target with a burn. This move's power is doubled if the target has a status condition. |
| Focus Blast | Fighting | Special | The user heightens its mental focus and unleashes its power. This may also lower the target's Sp. Def stat. |
| Will-O-Wisp | Fire | Status | The user shoots a sinister flame at the target to inflict a burn. |
| Sunny Day | Fire | Status | The user intensifies the sun for five turns, powering up Fire-type attacks. The sunlight also lowers the power of Water-type attacks. |
---
Counter Strategies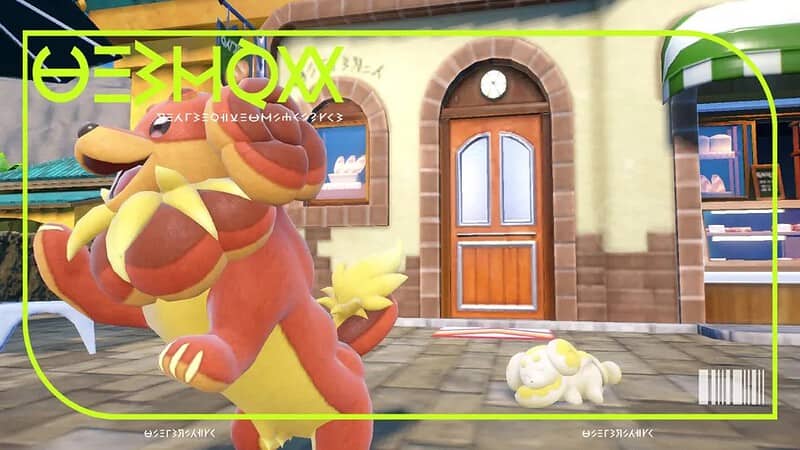 The following Pokémon can be found in Scarlet & Violet without needing to port Pokémon over from other games or purchasing the DLC. Camerupt will most likely be the easiest to build in a short amount of time, but Vaporean may be best for its Water-type moves and Fire-type resistance.
Pokémon
Ability
Nature
Tera Type
Held Item
Moveset
Vaporean
Hydration
Cures the Pokémon's status conditions in rain.
Modest
Water
Shell Bell / Damp Rock
Weather Ball
Surf
Calm Mind
Rain Dance
Camerupt
Any
Magma Armor
The Pokémon's hot magma coating prevents it from being frozen.
Solid Rock
Reduces the power of supereffective attacks that hit the Pokémon.
Anger Point
The Pokémon is angered when it takes a critical hit, and that maxes its Attack stat.
Modest
Ground
Shell Bell
Earth Power
Tera Blast
Sandstorm
Amnesia
Goodra
Hydration
Cures the Pokémon's status conditions in rain.
Modest
Water
Shell Bell
Weather Ball
Surf
Rain Dance
Acid Spray
Dachsbun
Well-Baked Body
The Pokémon takes no damage from Fire-type moves and its Defense stat is raised by two stages if hit by a Fire-type attack.
Impish
Fighting
Metronome
Body Press
Work Up
Misty Terrain
Helping Hand
Related Guides: Pokemon Scarlet & Violet: Teal Mask – What Happens If You Rebuild Loyalty Plaza | Pokemon Scarlet & Violet: Teal Mask – All Version Exclusive Pokemon | Pokemon Scarlet & Violet: Teal Mask – Ogre Clan Locations