After being introduced way back in Genshin Impact Version 2.0, Baizhu returns for a rerun banner alongside Furina. Baizhu is a Dendro Catalyst character, meaning his attacks exclusively deal Dendro DMG and can trigger Dendro reactions. His healing, shield, and off-field Dendro application make him a prime candidate for any Hyperbloom team.
Genshin Impact: Baizhu Constellation Guide | Genshin Impact: Baizhu Talent Guide | Genshin Impact: Best Sayu Build
You will need to travel between Liyue and Sumeru for Baizhu's Ascension materials. Since Baizhu originates from Liyue, you will need the Violetgrass regional specialty. After the addition of The Chasm, this is much easier to farm in your own world. For everything else, you can stay in Sumeru.
---
Regional Specialty – Violetgrass
Violetgrass is a Liyue specialty and originally, it's one of the more annoying ones to find. Thankfully, HoYoverse saw this complaint and added more spawn points for them in The Chasm.
The NPC Mengmeng, located in Dihua Marsh, will give you 5 Violetgrass when you follow the correct dialogue path for the first time. Additionally, three shops sell Violetgrass: Verr Goldet at the Wangshu Inn, Herbalist Gui at Bubu Pharmacy, and Babak in Port Ormos. All three shops sell 5 Violetgrass every 3 days. Each Violetgrass costs 1,000 Mora, so you can buy all 15 for 15,000 Mora.
Finally, make sure to harvest your Violetgrass with the Seed Dispensary equipped. You can garden Violetgrass in the Serenitea Pot using the Luxuriant Glebe plot.
---
Common Enemy Drop – Fungal Series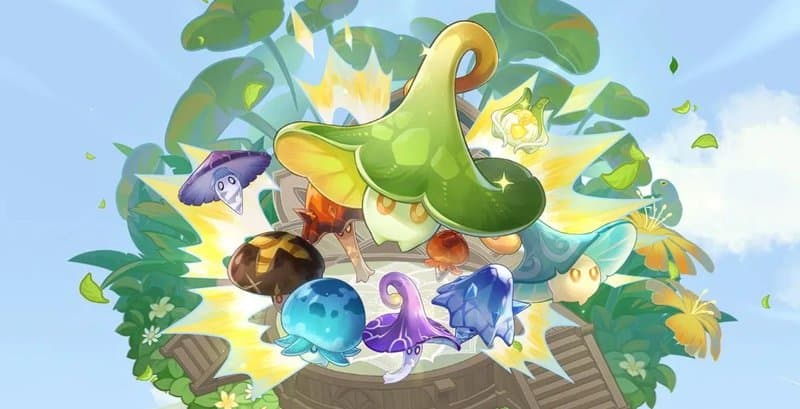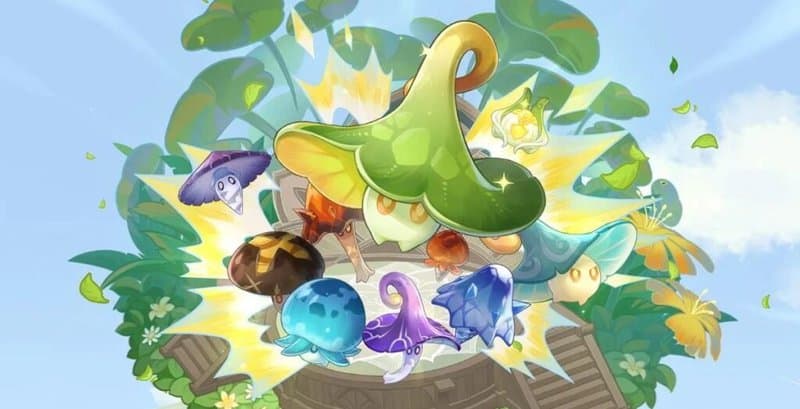 Fungal Spores, Luminescent Pollen, and Crystalline Cyst Dust are all dropped by Fungi enemies. This includes Floating Fungus, Stretchy Fungus, and Whirling Fungus. Fungi can be found throughout Sumeru and in The Glowing Narrows and Underground Waterway in The Chasm: Underground Mines.
---
Normal Boss Drop – Evergloom Ring
The Evergloom Ring is dropped by the Iniquitous Baptist boss in Gavireh Lajavard in Sumeru. This boss has the ability to use three elements at once. It has the ability to use Cryo, Electro, Hydro, and Pyro. The elemental combination changes daily, but you can tell what elements the boss will use for the day based on the crystal colors at its spawn point.
---
Gem Series – Nagadus Emerald
The Iniquitous Baptist does not drop Nagadus Emerald, so you will have to go to another boss for that. Both the Dendro Hypostasis and the Jadeplume Terrorshroom will only drop Nagadus Emerald.
---
Materials by Ascension Level
Ascension 1 – Levels 21-40
1 Nagadus Emerald Sliver
3 Violetgrass
3 Fungal Spores
20,000 Mora
Ascension 2 – Levels 41-50
3 Nagadus Emerald Fragments
10 Violetgrass
15 Fungal Spores
2 Evergloom Ring
40,000 Mora
Ascension 3 – Levels 51-60
6 Nagadus Emerald Fragments
20 Violetgrass
12 Luminescent Pollen
4 Evergloom Ring
60,000 Mora
Ascension 4 – Levels 61-70
3 Nagadus Emerald Chunks
30 Violetgrass
18 Luminescent Pollen
8 Evergloom Ring
80,000 Mora
Ascension 5 – Levels 71-80
6 Nagadus Emerald Chunks
45 Violetgrass
12 Crystalline Cyst Dust
12 Evergloom Ring
100,000 Mora
Ascension 6 – Levels 81-90
6 Nagadus Emerald Gemstone
60 Violetgrass
24 Crystalline Cyst Dust
20 Evergloom Ring
120,000 Mora
Full Ascension Totals
1 Nagadus Emerald Sliver
9 Nagadus Emerald Fragments
9 Nagadus Emerald Chunks
6 Nagadus Emerald Gemstones
168 Violetgrass
18 Fungal Spores
30 Luminescent Pollen
36 Crystalline Cyst Dust
46 Evergloom Ring
420,000 Mora
Related Guides: Genshin Impact: Best Neuvillette Build | Genshin Impact: Tome of the Eternal Flow Ascension Guide | Genshin Impact: Best Noelle Build | Genshin Impact: Best Tartaglia Build | Genshin Impact: Best Freminet Build