Noelle has been with Genshin Impact since the beginning. However, she didn't appear much in the main story or companion missions until her hangout came out. Most likely, you cycled her out of your team rotations early on since you got either Zhongli or Kokomi by the time you needed a true Support character.
Genshin Impact: Noelle Talent Guide | Genshin Impact: Noelle Constellation Guide | Genshin Impact: Noelle Ascension Guide
However, don't ignore Noelle even if you have a 5-Star Support, especially if you have a C6 Noelle. At C6, Noelle can either be your healer and shielder, or your Geo DPS. She is a fantastic option for a Mono-Geo team if you don't have Arataki Itto. C6 Noelle is a beast.
---
Best Position – Support
All that being said, pre-C6 Noelle isn't nearly as versatile. While you can still use her as a Geo DPS, you'll get more consistent results with her as a Support. Noelle's Elemental Skill generates a shield and heals your party. However, Noelle does need to be on the field in order to heal. That shouldn't be a problem with how high Noelle's DEF should be.
Additionally, with her Elemental Burst Geo infusion, Noelle can generate other shields when her Geo comes in contact with Hydro, Cryo, Electro, or Pyro. If you decide to go for Noelle's Main DPS build, focus on boosting her Normal Attacks and Elemental Burst. Most of her damage will come from Geo-infused Normal Attacks.
---
Best Weapons
Most of Noelle's damage scales off of her DEF stat, so focus on that for both Weapons and Artifacts. However, there are no 5-Star Claymores with a DEF secondary stat. Instead, look for Skill Effects that increase DEF based on performing Normal Attacks or the Elemental Skill. For Noelle's Geo DPS build, you can also look at Energy Recharge Claymores. This will keep Noelle's Burst charged so you can trigger her Geo infusion.
5-Star – Redhorn Stonethresher
The Redhorn Stonethrester is the best 5-Star Claymore for Noelle. Although it increases CRIT DMG, its skill automatically increases the wielder's DEF by 28%. Normal and Charged Attack DMG also increases by 40% of the wielder's DEF.
Since Noelle's DEF should already be very high, you'll get the most out of the Redhorn buffs. Additionally, if you have C6 Noelle, this is the best Weapon overall for her Main DPS build.
4-Star – Whiteblind
The Whiteblind is a 4-Star craftable Claymore that you unlock early in the game. It is the only 4-Star Claymore with a DEF stat. On hit, Normal and Charged Attacks increase ATK and DEF by a percentage for 6 seconds. This can stack up to 4 times and can be triggered once every 0.5 seconds. Again, everything about Noelle scales off of her DEF stat, so any increase will affect her damage, shield, and healing.
The Bell is good for a C1 Support Noelle. It adds an extra shield for your team as well as an attack buff when it's active.
The Akuoumaru is a good alternative for a Geo DPS Noelle due to its Elemental Burst DMG buff.
3-Star – White Iron Greatsword
The White Iron Greatsword increases the wielder's DEF and heals the wielder after they defeat an enemy. It'll help keep Noelle alive while using her Burst, though she shouldn't really need it. If you somehow have C6 Noelle and no 4-Star Claymores available, use the Debate Club for the attack buffs.
Best Artifacts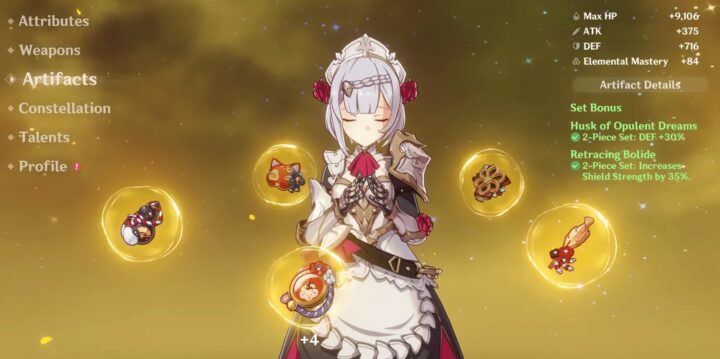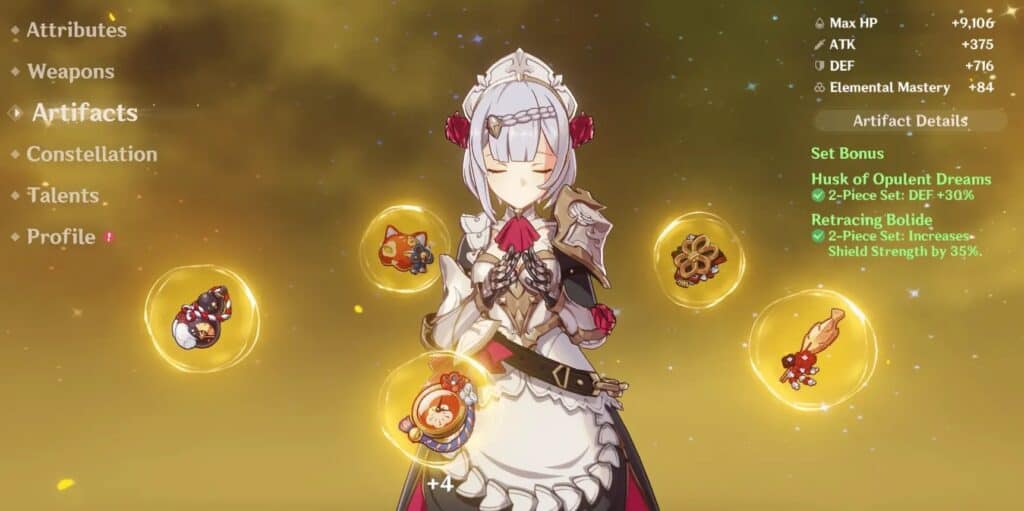 Noelle will put all of your DEF Artifacts to good use. If you decide to use a Geo DPS build, use DEF, Geo DMG Bonus, and CRIT stats. However, DEF should take priority. Her Support build uses all DEF, though you can use a Healing Bonus piece if you want to increase Noelle's healing efficiency.
4PC Husk of Opulent Dreams
At 2 pieces, the Husk of Opulent Dreams increases DEF by 30%. With 4 pieces, the wielder can gain the Curiosity effect. Curiosity is triggered when the wielder hits an enemy with a Geo attack. This can occur once every 0.3 seconds. If the wielder is off-field, they can automatically gain 1 Curiosity stack every 3 seconds. Curiosity can stack up to 4 times, with each stack providing a 6% DEF and a 6% Geo DMG Bonus to the wielder. When 6 seconds pass without gaining a Curiosity stack, the character loses 1 stack.
Overall, this is best for Noelle's Geo DPS build due to the Geo DMG Bonus buff, but you'll see good results in her Support build as well. Husk of Opulent Dreams can increase Noelle's DEF by up to 54% at a time.
2PC Retracing Bolide + 2PC Husk of Opulent Dreams
At 2 pieces, Retracing Bolide increases Shield Strength by 35%. Combining these two Artifact sets gives you a good split between Noelle's healing and shields. Though Noelle's Elemental Skill shield will disappear after a certain amount of time, the Shield Strength buff should also apply to any other Shields Noelle generates through her Geo DMG creating the Crystallize effect.
If you want better healing, you can swap Retracing Bolide with Maiden Beloved or Ocean-Hued Clam.
4PC Maiden Beloved
At 2 pieces, Maiden Beloved increases healing effectiveness by 15%. With 4 pieces, when the wielder uses an Elemental Skill or Burst, it increases healing received by all party members by 20% for 10 seconds. If you've tried farming for Viridescent Venerer at any point in time, then you probably have some good Maiden Beloved pieces in your inventory. Use this as a backup set if you don't have a complete Husk of Opulent Dreams set.
---
Best Teams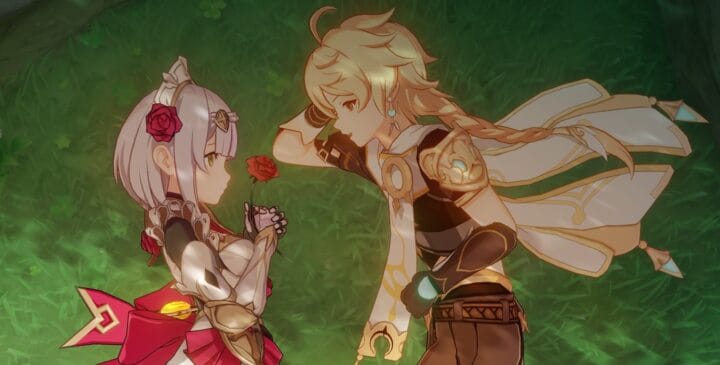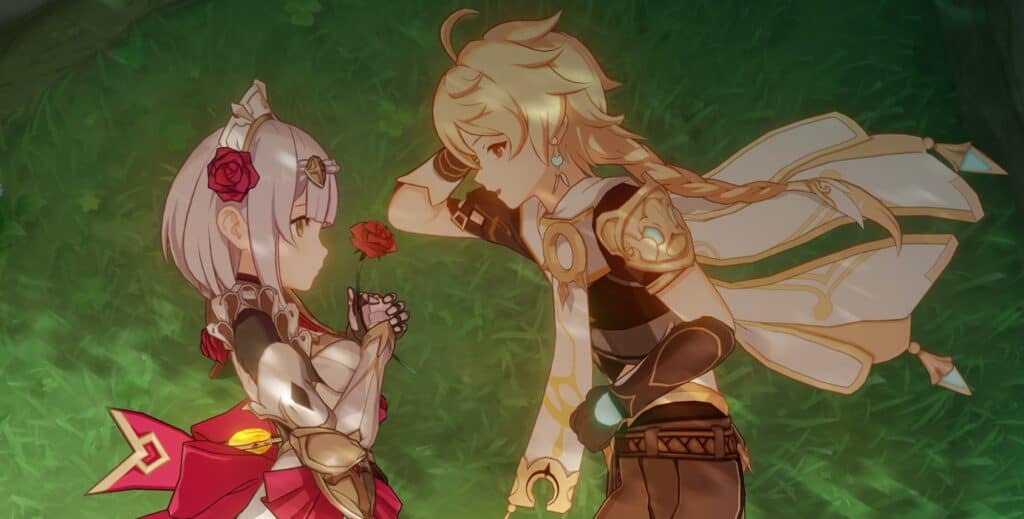 Noelle as a Support can be easily slotted into any party. Because she can create shields and heal your team, you can get away with using two Sub-DPS characters in addition to your Main DPS.
Noelle's Main DPS team requires a bit more thought. She works best on Mono-Geo teams. Gorou is an essential member here. If you don't have him or a C6 Noelle, try sticking to her Support build.
5-Star Team
F2P Team
Albedo
Gorou
Yun Jin
Geo Traveler
Gorou
Bennett
More Genshin Impact Guides: Genshin Impact: Best Tartaglia Build | Genshin Impact: Best Sayu Build | Genshin Impact: Best Freminet Build | Genshin Impact: Best Hydro Traveler Build | Genshin Impact: Best Lyney Build