Greetings, Gameranx guild member, and welcome to the best site on the Internet. Today, we present you with the ten most promising games coming out next year. Of course, 2017 was blessed with some absolute gems, and we really hope that trend continues. What are your most highly anticipated games of 2018? Drop us a comment below.
---
10. Monster Hunter: World
Platforms: PC, PS4, XB1
Price: $59.99 USD
Release: Jan 26
If Jon Snow ever wanted to surprise Daenerys, he could just take her to the New World because it's full of dragons—but she probably wouldn't be hunting them down, which is your job in Monster Hunter: World. Sorry Khaleesi. You'll be on the prowl for magnificent monsters of all kinds, toggling between weapons, and exploring lavish ecosystems. This is shaping up to be an RPG of epic proportions.
9. Sea of Thieves
Platforms: PC, XB1
Price: $59.99 USD
Release: Mar 20
An ocean-bound, free roaming MMO that turns you into an unscrupulous pirate? Sounds like something Jack Sparrow would definitely approve of. From March 20, you can become the next legend of the seas in Rare's dramatic adventure. Protect your crew, decipher riddles, and extract every last drop of loot you possibly can.
8. A Way Out
Platforms: PC, PS4, XB1
Price: $29.99 USD
Release: Mar 23
Best described as a compulsory co-op prison break, A Way Out caught our eye because of two things: its resemblance to films like Shawshank Redemption and Escape from Alcatraz, and secondly, it's being directed by Josef Fares—a name you might recognise from Brothers: A Tale of Two Sons or the colourful display at the Game Awards 2017. Content wise, A Way Out is heavily focused on narrative, but unlike Brothers, it dials up the action meter with melee fights, shootouts and car chases. Is anyone else getting Nathan and Sam UC4 vibes with this one?
7. Ni no Kuni II: Revenant Kingdom
Platforms: PC, PS4
Price: $29.99 USD
Release: Jan 19
A joyous RPG teeming with magic and musical splendour, Ni no Kuni II: Revenant Kingdom steals your heart with cuteness before you've slain a single foe. Anime-like in appearance, Bandai Namco's sequel to Ni No Kuni: Wrath of the White Witch looks sharper than ever before, so if you were a fan back in 2010, prepare to be amazed.
6. Kingdom Come: Deliverance
Platforms: PC, PS4, XB1
Price: $59.99 USD
Release: Feb 13
There's a reason for religious undertones in Kingdom Come: Deliverance's title. This open-world crusade takes place in the Holy Roman Empire; mobiles are out, castles and culture are in. You play as Henry, son of a common blacksmith. Following a devastating raid, you lose both your home and family in a single stroke, and stumble into a bloody war threatening to destroy your homeland Bohemia. It's not every day you get a knightly RPG, so KC: D makes the cut.
5. Far Cry 5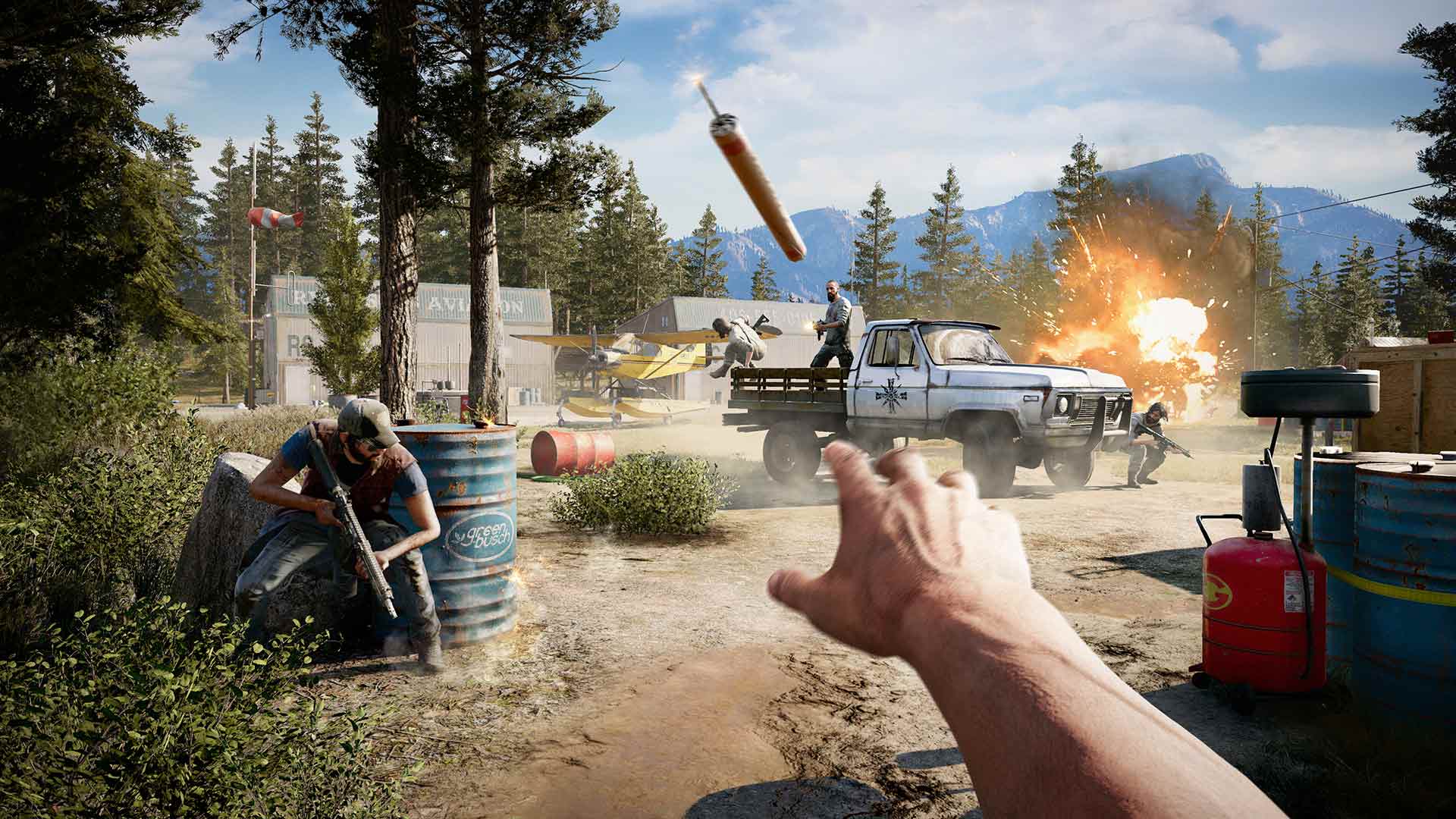 Platforms: PC, PS4, XB1
Price: $59.99 USD
Release: Mar 27
Ubisoft's latest entry in the Far Cry franchise could be the most riveting one yet. Why? For starters, Ubisoft plans to ditch towers and minimaps, and what's more, we'll have access to a character creation feature for the first time. Fresh is good, especially at a time when the open-world formula seems to have lost its original appeal.
4. Crackdown 3
Platforms: PC, XB1
Price: $59.99 USD
Release: Mar 27
A small delay isn't enough to extinguish the flames of passion in Crackdown fans. No siree. The hype is too strong. Not only is Crackdown 3's world twice as big as the first game, the developers are weaving in impressively long jumps and airburst dodging abilities. It's an ambitious move, but you know what they say: no risk, no reward.
3. Days Gone
Platforms: PS4
Price: TBA
Release: TBA
When it comes to good survival horror, topping the The Last of Us won't be easy. Then again, this E3 footage from Days Gone points towards some pretty compelling combat and complex stealth systems. An alternate playthrough with developer commentary suggests this is going to be a very realistic experience, from the fluctuating weather cycle to brutal kills. Fingers crossed.
2. God of War
Platforms: PS4
Price: TBA
Release: Mar 22
Fans of gore, do I have your attention? Thanks to a more personalised combat system, 2018's God of War will be the bloodiest one to date. If hacking and slashing mythological beasts earned anything less than an M rating, we'd be pretty surprised. It's been 13 years since we were first introduced to Kratos, and now that he's venturing into Norse legends with his son by his side, it sounds like an interesting new direction for the series.
1. Red Dead Redemption 2
Platforms: PS4, XB1
Price: TBA
Release: TBA
A flurry of excitement ensued upon the official unveiling of Rockstar's Red Dead Redemption 2, with fans clamouring for it to launch on PC, and multiple release date leaks (i, ii, iii) which were later proved false. Damnit. Like Crackdown 3, Red Dead 2 is a hotly-anticipated sequel that's even captured the attention of Hideo Kojima himself. Your move, Rockstar.
---
Honorable mentions
Dragon Ball FighterZ
Platforms: PC, PS4, XB1
Price: $59.99 USD
Release: Jan 26
Detroit: Become Human
Platforms: PS4
Price: TBA
Release: TBA
Agony
Platforms: PC, PS4, XB1
Price: TBA
Release: Mar 30
---
If you're after some more recommendations, check out our genre-specific lists:
By platform: