Like us, chances are you've come across some pretty strange games in your time. From Mister Mosquito, to Seaman, all the way to the avian antics of Hatoful Boyfriend, developers have been making us question their sanity for quite a while now. But it's these strange games that have stayed in our memories as something special. In a sea of shooters, action-survival and sandbox games, they came to our rescue, simultaneously delighting us and weirding us out. On that note, here are some newish titles that will make you go:
1. Push Me Pull You
Described as a "videogame about friendship and wrestling", Push Me Pull You is definitely the kind of game that will simultaneously delight and disturb you. A sports game for 2-4 players, the objective is for you and your partner to use your worm-like body to keep the ball in your corner of the court. Get Push Me Pull You today for $14.99 USD.
2. Classroom Aquatic
Ah school, that wonderful place of learning and broadening our academic horizons! Ok, we admit, sometimes school can be a little boring, but Classroom Aquatic is probably one of the most interesting schools ever. Why? It's underwater! What's more, all the students are dolphins, and they love to cheat. Try the Classroom Aquatic demo on Steam.
3. Genital Jousting
This game ruffled some feathers when it first came out due to its sexually suggestive content but proved a popular choice for party games. In it, players control detached naughty bits and compete locally or online in a range of fun and silly challenges. Get Genital Jousting on Steam for $4.99 USD.
4. Bloody Boobs
Life is hard when you're a "beautiful girl with a tasty body", especially when you're stuck in an underground labyrinth crawling with demonic creatures that would like nothing better than to feast on you. Your job is to use the power of stealth and skimpy clothing to your advantage and escape before it's too late. Get Bloody Boobs on Steam for $2.99 USD.
5. 1-2 Switch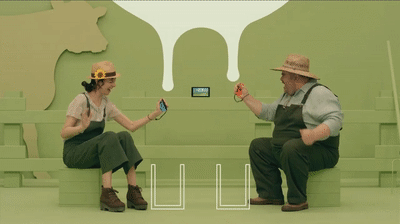 Just when you thought Nintendo couldn't get any weirder, they produce an instant classic. And by instant classic, I mean, what on Earth where they thinking when they made this game? 1-2 Switch is a launch title for the Nintendo Switch, a party game that comes with a bunch of mini-games designed to make players look at one another rather than the screen. But when it comes to milking an invisible cow, how can you not look at the screen? Get 1-2 Switch on Nintendo Switch from select retailers for $49.99 USD.
6. Death Trash
Swearing, violence, and decay are the main ingredients pulling together Death Trash, an upcoming post-apocalyptic RPG in development by Stephan Hövelbrinks. The game world itself is a blend of sci-fi, horror and cyberpunk, and goes out of its way to give players agency and the freedom to choose whether they solve conflicts or fuel them. Death Trash has a tentative release date of 2017 for PC, Mac and Linux.
7. Thimbleweed Park
With its release date just announced, Thimbleweed Park is finally going to unleash its strange, wonderful mixture of Twin Peaks, True Detective and The X-Files onto a range of platforms. Players control the fates of five characters – including a cursed clown, a disinherited game designer and the ghost of pillow salesmen – as they work together in solving a dark murder mystery. Thimbleweed Park™ comes out on Steam on March 30th.
8. Frog Fractions 2
From the mastermind behind Frog Fractions comes the weird and wonderful world of Frog Fractions 2, a game which had one of the most unusual reveals in gaming history, period. Developer Jim Crawford foretold on the kickstarter of Frog Fractions 2 that it would not release under that name, and true to his word, the game would eventually launch via Glittermitten Grove as a special package on Steam. Get Frog Fractions 2 today for $19.99 USD.
9. PaRappa the Rapper
If you owned a PlayStation in the nineties or knew someone who did, you probably played PaRappa The Rapper, a really odd game about a dog called Parappa who in an attempt to romance Sunny Funny, a flower, must battle through multiple stages by rapping excellently. The game originally came out in 1997, and will re-release in 2017 as a remastered version for PlayStation 4.
Did we miss any unconventional gems you've heard of? Let us know in the comments!