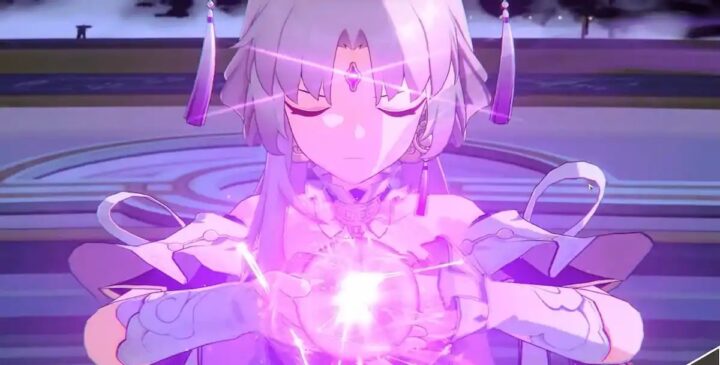 Fu Xuan is the latest addition to the Honkai: Star Rail roster. She follows Imbibitor Lunae on the Version 1.3 limited event warp. But unlike Imbibitor Lunae, Fu Xuan is a Support character. Though she can deal a decent amount of Quantum damage, she specializes in healing, damage distribution, and team buffs.
Honkai: Star Rail – Imbibitor Lunae Eidolon Guide | Honkai: Star Rail – Imbibitor Lunae Ascension Guide
Overall, E1 is her best Eidolon. This gives a massive CRIT DMG boost to your team in addition to the CRIT Rate and HP buffs she already provides. E4 and E6 are her next best Eidolons because they charge her Ultimate and increase its damage, respectively.
---
E1 – Dominus Pacis
The Knowledge effect increases CRIT DMG by 30%
Knowledge is triggered by Fu Xuan's Skill – Known by Stars, Shown by Hearts. The Knowledge effect increases all team members' CRIT Rate by 6% and Max HP by 3% of Fu Xuan's Max HP. This Eidolon makes Fu Xuan an amazing buffer, especially for your DPS characters.
E2 – Optimus Felix
If any team member is struck by a killing blow while Matrix of Prescience is active, then all allies who were struck by a killing blow during this action will not be knocked down. Additionally, 70% of their Max HP will be restored. This effect can be triggered once per battle.
Without this, the Matrix only splits incoming damage between the targeted character and Fu Xuan. A max of 65% DMG will be distributed to Fu Xuan, so there's still another 35% that could potentially knock down your character. Fu Xuan prevents this and also heals your characters, so they shouldn't be in immediate trouble during your battle.
E3 – Apex Nexus
Increases Fu Xuan's Skill and Talent by 2 levels. Both can go up to a maximum of Lv. 15.
E4 – Fortuna Stellaris
When other allies under the Matrix of Prescience are attacked, Fu Xuan regenerates 5 energy. Hopefully, this will allow you to spam Fu Xuan's Ultimate, allowing you to frequently deal Quantum DMG and restore Fu Xuan's HP.
E5 – Arbiter Primus
Increases Fu Xuan's Ultimate by 2 levels, allowing it to go up to a maximum of Level 15. Additionally, increases Fu Xuan's Basic ATK by 1 level, up to a maximum of Level 10.
E6 – Omnia Vita
Once the Matrix of Prescience is activated, it will keep a tally of the total HP lost by all team members in the current battle. Fu Xuan's Ultimate DMG then increases by 200% of this tally of HP loss. This tally is capped at 120% of Fu Xuan's Max HP. The tally value will reset and re-accumulate after Fu Xuan uses her Ultimate.
In simpler terms: Fu Xuan's Ultimate will always gain an ATK buff. Due to E4, Fu Xuan has the potential to deal a lot of Quantum DMG in a short amount of time. E6 incentivizes you to keep Fu Xuan's Ultimate charged.
More Honkai: Star Rail Guides: How to Pre-Register for Honkai: Star Rail on PlayStation 5 | Honkai: Star Rail Resonance Interplay Guide | Honkai: Star Rail Simulated Universe Swarm Disaster Guide | Honkai: Star Rail – Ascending Trailblazer | A Genshin Impact Guide to Honkai: Star Rail