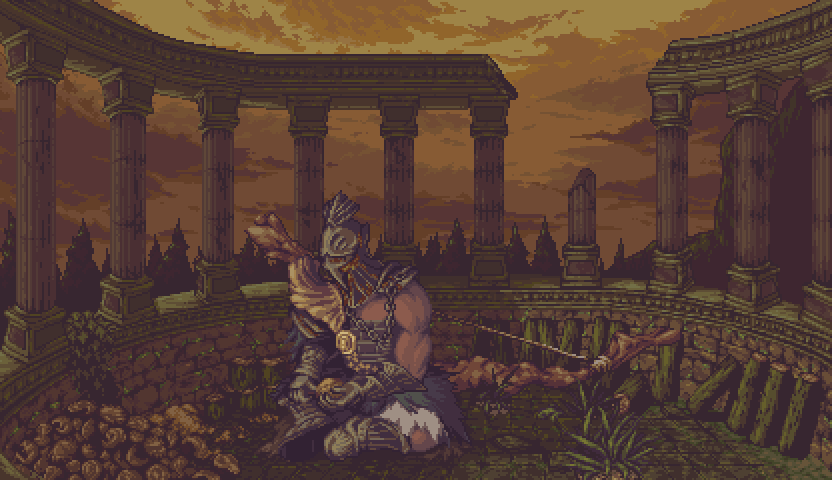 Upon its original 2011 release, the graphics for the mysterious, original action RPG Dark Souls were considered a little primitive, especially once the game was imported to PC. And yet, they were never quite this primitive. These stunning animated .gifs are the work of DeviantArt digital artist Zedotagger. Using GraphicsGale, she makes pixel art for a few different video games from the modern era, including Dark Souls, Bloodborne (*cough*) (*double cough*), and Monster Hunter.
If you need custom work done, she is taking commissions over at her Tumblr for all your low-tech, high-appeal .gif needs. A selection of her Dark Souls work is included below, but you can also check out more of her creations over at her DA gallery.
In other Dark Souls news, the original game will actually be offered as a pre-order bonus for those who purchase of the three-quel on Xbox One. With the release of Dark Souls III on the horizon, new details about the game are leaking out left and right, through streaming events and other occasions. Last October, a "stress test" was also released as a beta, allowing players to assist the developers in honing the final product.
Dark Souls III, said to be the last entry in the Dark Souls series with no basis in the previous two games, will release on PC, PlayStation 4, and Xbox One, on April 12, 2016 worldwide, with an earlier release date of March 24 in Japan. For more on Dark Souls III, be sure to check out our site tag for all the latest posts.