When you reach the end of chapter 6 in The Callisto Protocol, you will first a boss who will become your mortal enemy. The Two-Head boss is an intimidating creature that is not only the final challenge in chapter 6: Below, but a recurring encounter you will have three more times before the game ends after 8 chapters.
If you know how the right strategy to easily taking down the Two-Head boss from the get go, each of the subsequent encounters should get easier with practice. Still, that doesn't prevent the boss from being one of the hardest in the game. Coming at you just as the narrative moment is swinging towards the end, the Two-Head boss can be a frustrating momentum stopping moment. Here's how to get past the boss at the end of Below and in chapters 7 and 8 of The Callisto Protocol.
---
More Callisto Protocol Guides:
The Callisto Protocol: How to Turn on Performance Mode on Consoles | How to Dodge | How to Block | How to Find the Hidden Skunk Gun | How to Get All Implant Bios in Chapters 1 & 2 | How to Get All Implant Bios in Chapter 3 | How to Get All Implant Bios in Chapter 4 | How to Get All Implant Bios in Chapter 5 | How to Get All Implant Bios in Chapter 6 | How to Get All Implant Bios in Chapter 7 | How to Get All Implant Bios in Chapter 8 |
---
How to Defeat the Two-Head Boss
The intended strategy to beating the Two-Head boss relies on attack it with your stun baton after you bring it to its knees with enough bullets. Do this twice and the boss will die. This unfortunately isn't as easy as it sounds. In the second phase, the boss is much faster and his attacks change. Plus, you will die in two hits at most from this enemy on normal difficulty. So first, make sure you are healed up before going into these fights, if you can be.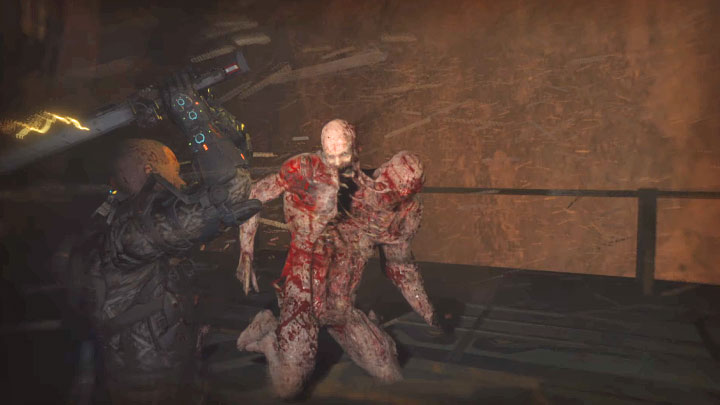 The best tools for taking out Two-Head are shotguns. The Riot Gun will be your best friend in these fights, especially once you've upgraded the ammo capacity to hold 8 rounds. Having the Skunk Gun equipped is a good backup.
You will be able to identify each Two-Head boss encounter room before the boss spawns because they will be filled with pillars. These are key to beating the boss. In order to damage Two-Head safely you will want to kite it around pillars and objects. As it is slowly trying to navigate around the pillar it is time to unload with your Riot Gun until the boss goes down.
If every shot lands this will take less 8 rounds. Immediately after he goes down, reload. Then run close to the downed enemy and start whacking away with your melee. This will sever the first head and move on to the second stage of the fight.
All you have to do in the second phase is the same thing, but the boss will move faster. Be sure to use the cover of pillars to your advantage. You won't be able to get as many shots off before you are forced to move. It will be faster to switch to your Skunk Gun than reloading if you run out of Riot Gun ammo in this phase, hence why it should be equipped in the first place.