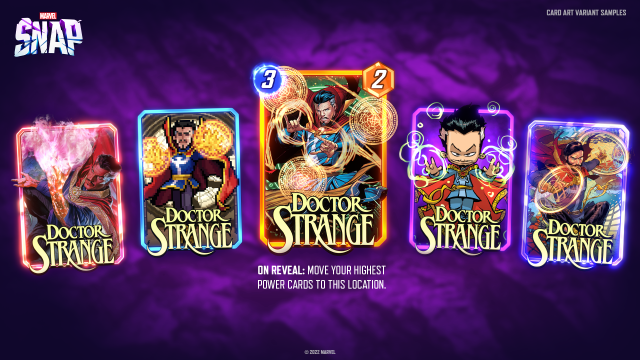 Rarity in Marvel Snap works differently from most other collectible card games out there. Since upgrading your collection's rarity is the main way to earn new cards and currency, Variants act as the game's primary form of rare cards. All cards in Marvel Snap have a number of visual variants that you can purchase or earn in a random draw. There are a handful of ways to obtain new variants, but the most reliable ones will require you to invest either time or money.
Each card in Marvel Snap has variants that include a Pixeled Variant, a Venomized variant and a handful of other fun takes on the comics characters you love. During the opening hours of Snap you will be rewarded with a handful of variants just for playing, but that reward soon goes away and you will need to find other way to obtain new variants for your favorite cards.
---
More Marvel Snap Guides:
Marvel Snap: The Best Cards for Beginners | How to Fix Unable to Communicate with Matchmaking Error | Marvel Snap's Locations Keep The Exciting At Every Turn | Marvel Snap Won't Make You Buy Its Cards | Marvel Snap: How to Get New Cards | How to Know Which Card is Revealed First
---
How to Obtain New Variants With Gold
Every day, Marvel Snap offers a rotation of six variants for cards you own that will appear in the shop tab of the app. Here you can pay a price of either 700 Gold or 1200 Gold for a new variant. Although most of these will only cost you 700 Gold, it can take a good number of hours to earn that much in game via the Season Pass and as rewards for completing Daily and Weekly missions. This is a reliable way to always find a new variant to purchase, but you will need to grind quite a bit to make this a frequent purchase.
---
How to Obtain New Variants on the Season Pass
The other best way to get new variants frequently in Marvel Snap is to invest in the Premium Season pass. While you will get exclusive cards and bonus Credits and Gold for this purchase, the biggest advantage of the Premium pass is that it gives you four Mystery Variants between levels 5 and 50. If you play consistently over the course of the season this is an easy way to earn four variants for your investment price of $9.99.
The only other way to get new variants in Marvel Snap is to reach Level 70 in the Ranked season progression. The reward for acheiving this high ranked level is a Mystery Variant.