Taking on enemies with a firearm can be satisfying. Using your bare fists can be transcendent. But there's just something about hacking and slashing your way through a wave of baddies that really gets the blood pumping. The PlayStation 4 has plenty of titles in its expansive library that will sate a player's desire for some good ol' fashioned sword clashing, and we've chosen some of our absolute favorites.
#13 Onimusha: Warlords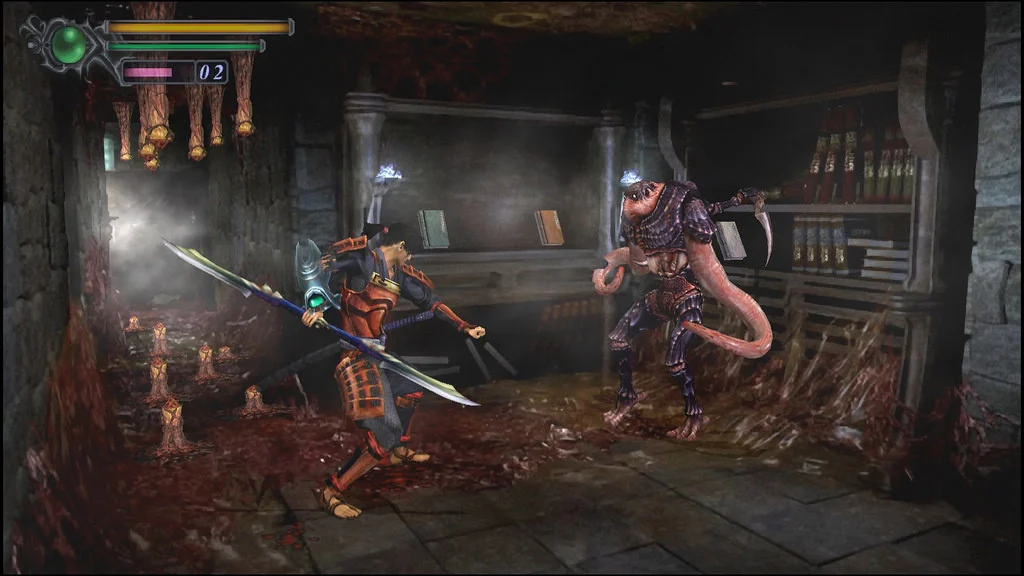 Publisher: Capcom
Developer: Capcom
Platform: PlayStation 4, Nintendo Switch, Xbox One, PC
Release Date: January 15, 2019
Technically, Onimusha was released on the PlayStation 2 back in 2001, but we're pointing players towards the more easily accessible remastered version. While plenty of spin-offs and new mainline titles in the series have been released over the past two decades, the original still holds up, pulling players into a historical setting combined with horror elements. Players step into the shoes of a samurai facing off against demons, and as the game progresses, elemental weapons make sending them back to Hell all the more fun. During development, Onimusha was imagined as a 'ninja' version of the Resident Evil franchise, and that inspiration comes through in its gameplay.
#12 Chivalry 2
Publisher: Tripwire Interactive
Developer: Torn Banner Studios
Platform: PlayStation 4, PlayStation 5, Xbox One, Xbox Series X/S, PC
Release Date: June 8, 2021
A sequel to the 2012 title Chivalry: Medieval Warfare, Chivalry 2 throws players back into a historical world of knights and honor. While many games set in this period of time focus heavily on strategy, Chivalry focuses more on bloodshed, equipping players with everything from long swords to battleaxes to take down enemy factions. The game's team deathmatch mode is perfect for stress relief, and the 64-person team objective mode will have you completing goals like defending a keep or slaying a king. Believe it or not, the game also incorporates comedy into the mix successfully.
#11 Assassin's Creed Odyssey
Publisher: Ubisoft
Developer: Ubisoft Quebec
Platform: PlayStation 4, Xbox One, Nintendo Switch, PC
Release Date: October 5, 2018
While the series has always put heavy emphasis on stealth, Assassin's Creed Odyssey stepped away from this style, putting more focus on combat and exploration. Swords and spears are the name of the game, as players take on the role of a Spartan mercenary attempting to find their family as they eliminate the dangerous and mysterious Cult of Kosmos. Of course, if you'd prefer to kill your enemies via sneak attack, that's still a viable option–but running headfirst into trouble with a blade in hand feels strangely forbidden in an Assassin's Creed game. We'd recommend it.
#10 Ghostrunner
Publisher: All in! Games SA, 505 Games
Developer: One More Level, Slipgate Ironworks
Platform: PlayStation 4, Xbox One, Nintendo Switch, PC, PlayStation 5, Xbox Series X/S
Release Date: October 27, 2019
Ninjas? Awesome. A cyberpunk landscape? Insane. Put the two together and you have one of the most streamlined and unique titles to come out in the last few years. Playing as an amnesiac with a sword, get ready to parkour your way to victory. Slice through your opponents in the most brutal ways imaginable and try to kill your enemies before they kill you–Ghostrunner isn't what most would call an 'easy' game. It's a great time to give this one a try as a sequel is currently in development.
#9 The Witcher 3: Wild Hunt
Publisher: CD Projekt
Developer: CD Projekt Red
Platform: PlayStation 4, Xbox One, Nintendo Switch, PC
Release Date: May 19, 2015
The Witcher 3 remains one of the most successful titles to be released in the last decade. While some players lamented the title's combat as being a bit clunky, the ability to use magic in the form of Signs while hacking and slashing beasts and bad guys alike is still perfectly satisfying. Finding better weapons as you explore the game's massive open-world setting quickly becomes addicting. Running into a bandit camp on horseback and slicing through a bunch of cutthroats? That's a personal favorite.
#8 For Honor
Publisher: Ubisoft
Developer: Ubisoft Montreal
Platform: PlayStation 4, Xbox One, PC
Release Date: February 14, 2017
Putting knights, samurai, and Vikings into one game and pitting them against each other in a hack-and-slash style seems like the culmination of a childhood dream. For Honor has a decent single-player campaign, but its multiplayer modes are where it shines, from brawls and skirmish modes to elimination-type matches. Characters are customizable and the number of available weapons will keep any bloodthirsty warrior happy. The title won the People's Choice Award for Best Fighting Game in IGN's Best of 2017 Awards and continues to be a fan favorite five years later.
#7 Kingdom Come: Deliverance
Publisher: Deep Silver
Developer: Warhorse Studios
Platform: PlayStation 4, Xbox One, Nintendo Switch, PC
Release Date: February 13, 2018
Despite the large number of bugs crippling the game at launch, Kingdom Come: Deliverance has since risen from the ashes. Set in the year 1403, the title prides itself on its uncompromising realism and attention to detail, featuring period-accurate weapons and combat techniques. Players must build their reputation through their deeds while maintaining their health through a needs system, requiring sleep and a proper diet to stay healthy. Combat is varied and players will need to choose which weapon works best for which situation. It may not be a hack and slash title, but wielding a sword in a game as immersive Kingdom Come will make you feel like you're LARPing (in the best way.)
#6 Nidhogg
Publisher: Messhof Games
Developer: Messhof Games
Platform: PlayStation 4, PC
Release Date: January 14, 2014
While the graphics may look rudimentary, both Nidhogg and Nidhogg 2 offer a gameplay experience more players wouldn't expect. The indie title launched in 2014 from developer Messhof and pits two fencers against each other in a battle to the death. Winning isn't the only way to get ahead–losing only alters the way in which you'll progress to the next round. Nidhogg harkens back to a time when graphics weren't important and gameplay was everything. A little imagination doesn't hurt, either.
#5 Sekiro: Shadows Die Twice
Publisher: Activision
Developer: FromSoftware
Platform: PlayStation 4, Xbox One, PC
Release Date: March 21, 2019
If history tells us anything, it's that people love a FromSoftware game. Sekiro: Shadows Die Twice might not be as terribly difficult as the Souls titles, but that doesn't make it a cakewalk–players take on the role of a shinobi who discovers that his lord was kidnapped, and who loses his arm in the process of handling this terrible news. Stealth can mean the difference between life and death, and swapping out different weapons and gadgets in place of the protagonist's arm can help take down even the most difficult baddies. Forget character creation screens and class choices. Just wield your blade.
#4 Dark Souls Trilogy
Publisher: Bandai Namco
Developer: FromSoftware
Platform: PlayStation 4, Xbox One, PC
Release Date: October 19, 2018
This is one trilogy that needs no introduction. FromSoftware's magnum opus, Dark Souls has not only gone down in history as some of the most beloved game franchises period, but the titles have inspired countless others and continue to batter the most dedicated players. The combat is unforgiving, but those who are true to the series know that the gameplay is only one piece of the entire puzzle. To suffer through terrifying bosses and countless deaths is to know more of the game's dark lore, and there is much of it to discover. Get good.
#3 Dishonored
Publisher: Bethesda Softworks
Developer: Arkane Studios
Platform: PlayStation 3, PlayStation 4, Xbox 360, Xbox One, PC
Release Date: October 9, 2012
Both Dishonored and its sequel are the definitions of 'satisfying.' Gliding through each level with a blade in hand, players step into the role of Corvo Attano, the bodyguard to the Empress of the Isles. After being framed for her murder, Corvo is forced to become an assassin, dead set on taking revenge on those who conspired against him. While stealth is often the best way to get through a level, it is not the only way–and with so many swords to find, it would only behoove you to try all of them out.
#2 Elden Ring
Publisher: Bandai Namco
Developer: FromSoftware
Platform: PlayStation 4, PlayStation 5, PC, Xbox One, Xbox Series X/S
Release Date: February 25, 2022
In the running for Game of the Year in 2022, Elden Ring brings more Souls-like combat into a fresh new world, created in part by Game of Thrones author George R. R. Martin. Set in a massive open world, players can choose the class of their choice as they explore the Lands Between to find the Great Runes, restore the Elden Ring, and become the Elden Lord. With over 12 million copies sold in only three weeks, it goes without saying that adding this to your collection is a must. (And if you're going for swords, go for Astrologer, Prisoner, Confessor, Vagabond, or Samurai.)
#1 Ghost of Tsushima
Publisher: Sony Interactive Entertainment
Developer: Sucker Punch Productions
Platform: PlayStation 4, PlayStation 5
Release Date: July 17, 2020
Sucker Punch managed to create a game with the most smooth and satisfying samurai combat known to man in 2020. Ghost of Tsushima is set in a gorgeous world based on a real area of Japan, and players are tasked with taking on the invading Mongols as one of the last samurai. Combat is varied enough to not become a chore, with certain enemies requiring certain attacks to bring down. The sound design makes it all the more enjoyable to bring a foe to his knees. Did we mention that it took Sucker Punch over six years to get the combat system just right? Do yourself a favor and give it a try.