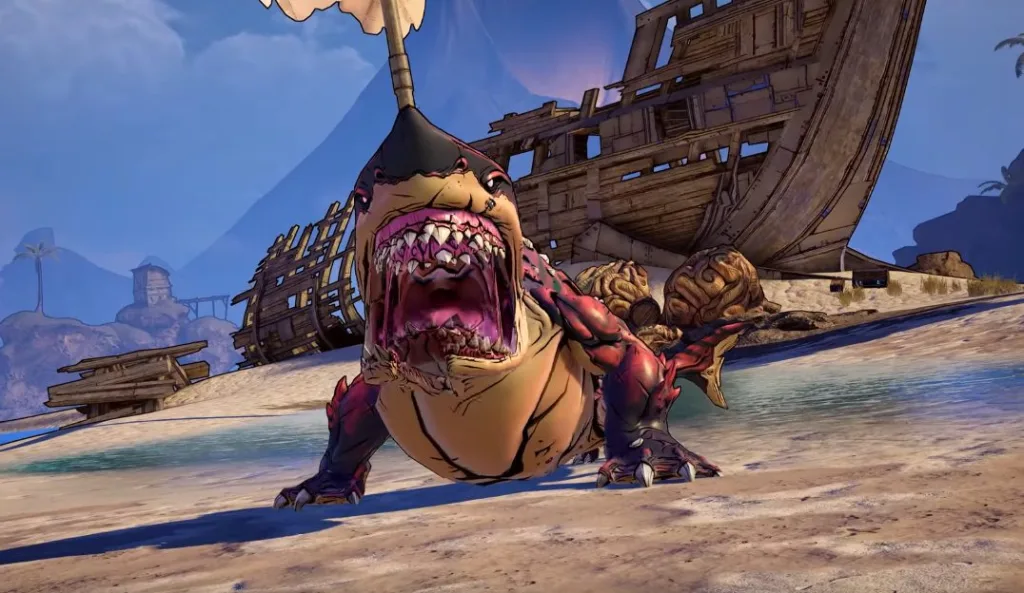 Tiny Tina's Wonderlands is packed full of memorable characters and missions. Some of the best parts of the game aren't even found in the main campaign, but in the side quests that are scattered across the vast game world set up by Tina.
One memorable quest is "A Walk to Dismember" where the player is tasked with helping out a skeleton by the name of Auntie Anchor who's looking to have their pet dogfish walked around the area. Auntie Anchor is located in Crackmast Cove, just outside of Judgement's Wait to the south. When players get close to her, they'll be notified that they've entered Auntie Anchor's Shark Shack and can begin the side quest in earnest from there.
More Tiny Tina's Wonderlands Guides:
How to Fast Travel in the Overworld | Shift Codes List March 2022 | Class Guide | 'Connection Lost' Shift Error Fix | Elemental Damage Explained | How to Skip Random Encounters | Raiders of the Lost Shark Quest Guide | How to Emote | Chapter List | Legendary Weapons List | Season Pass Explained | Steam Release Date
A Walk to Dismember Walkthrough
The "A Walk to Dismember" side quest is pretty straightforward, but it eventually gives the player a choice to make regarding the fate of one of its characters. To start the mission, accept the quest offering that's posted in Judgement's Wait and head south to Auntie Anchor's Shark Shack. There, she'll tell you that she needs someone to walk her pet dogfish Pookie.
To start the walk, head behind her house and pick up the collar that's been hung on an anchor. Return to Auntie Anchor and put the collar on the dogfish by walking up to it and pressing the use button "X' on Xbox or square on PlayStation. Once the collar is on you'll need to meet Pookie out in the fields in front of the Shark Shack so he can "do his business."
At this point, the mission goes full-blown escort quest where the player needs to protect Pookie as it tries to take care of itself. Keep the crabs and other dogfish off Pookie in the two different areas it walks to and then pick up its…leavings. You'll also need to pick up the recently passed Buddy Ball which pleads to the player asking to not be returned to its master.
From here, the player has the choice to either feed the ball back to Pookie or to destroy it and end its suffering. Either way, this doesn't impact the mission at all as Pookie will then want to head to the park. Follow it there and converse with the local skeletons.
You'll eventually fight them after activating Pookie's collar and once they're down Pookie will head back to Auntie Anchor. Head towards her shack and she'll tell you to activate the collar once more. Fight off Pookie until it drops its collar and then pick it up and return it to where it was before the mission started.
Auntie Anchor will thank you and reward you with some money and EXP.