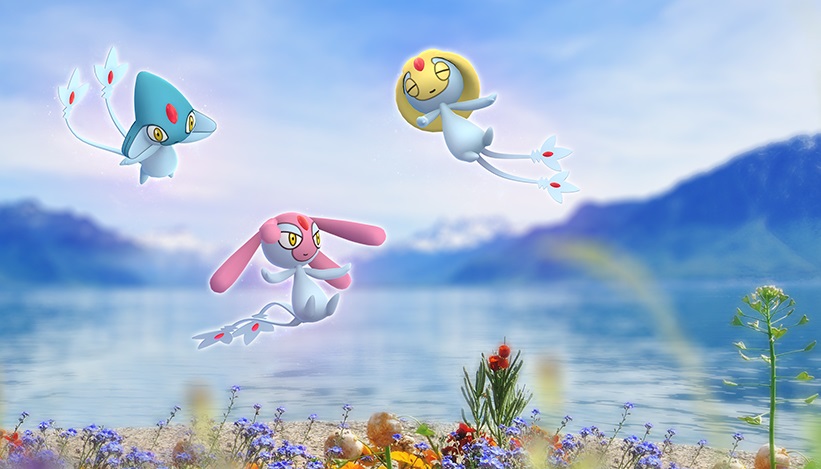 Mesprit just won't sit still. This Pokemon in Brilliant Diamond & Shining Pearl will escape almost as quickly as it appears. There are plenty of Pokemon that run away from battle, but this is one of the most annoying — and there are ways to stop it from leaving so you can freely toss Pokeballs at it. Below we'll share some of our strategies, and you'll want to keep these useful abilities in mind for the future. There's always a need to have utility Pokemon on your team that can get things done.
Mesprit is a Legendary Psychic-Type Pokemon that can only be captured in the post-game. After completing the story, you'll be able to access Lake Verity. Inside the cave at the lake, you'll encounter Mesprit — but it just escapes instead of sticking around. To find it, you need to use the Marking Map app on your Poketch to track it down. Mesprit can appear in any area of the Sinnoh Region in tall grass. That's what the app is for. It will point you in the right direction, but it won't help you to catch this wily critter.
---
---
More Pokemon Brilliant Diamond & Shining Pearl guides:
How To Catch All Legendary Pokemon | How To Get Mew, Jirachi & Manaphy | How Get A Useful Catcher Pokemon | Where To Find Evolution Stones | All Field Moves | Early Mystery Gifts | Easier Grand Underground Catching | How To Catch Rotom & Change Forms | All Gift & Fossil Pokemon | Ultimate Moves Locations | Shiny Pokemon Hunting Guide | Easy Cash Farming Method | How To Catch Feebas, The Rarest Pokemon | Ditto Breeding Guide | Best XP Grinding Method | How To Expand Secret Base
---
How To Catch Mesprit | How To Stop Pokemon From Retreating
Mesprit has two factors working against it — its a Legendary Pokemon, and its a Psychic-Type that keeps running away from battle. Trying to catch a Pokemon that runs away when it feels like it? That's a total nightmare, and Mesprit is already hard to catch as-is.
To make your life way, way easier, try some of these strategies to prevent Mesprit from escaping.
Catch a Bronzong in Turnback Cave, Mt. Coronet, then take it to the Move Reminder in Pastoria City. Re-learn the move Block — this move stops Pokemon from escaping battle.
Only Block and Mean Look will prevent Mesprit from running away. Seriously, Mesprit can retreat even when its sleeping, paralyzed, or confused. Don't ask me how. Any Pokemon with Block / Mean Look can prevent it from running away, but these two are some of the easiest to acquire.
Don't use these Pokemon to start. Like usual, use False Swipe and any Paralyze ability to weaken it as much as possible, then swap to Bronzong / Murkrow to keep it locked down to cut off any escape. Bronzong is a high-defense Pokemon too, so it is still useful for preventing retreat. Even with your team perfectly planned, it can still take lots of tries to catch Mesprit. Goodluck out there!