The latest update to Pokemon Scarlet and Violet has gone live, and with it, something Pokemon fans have been waiting for for quite a while.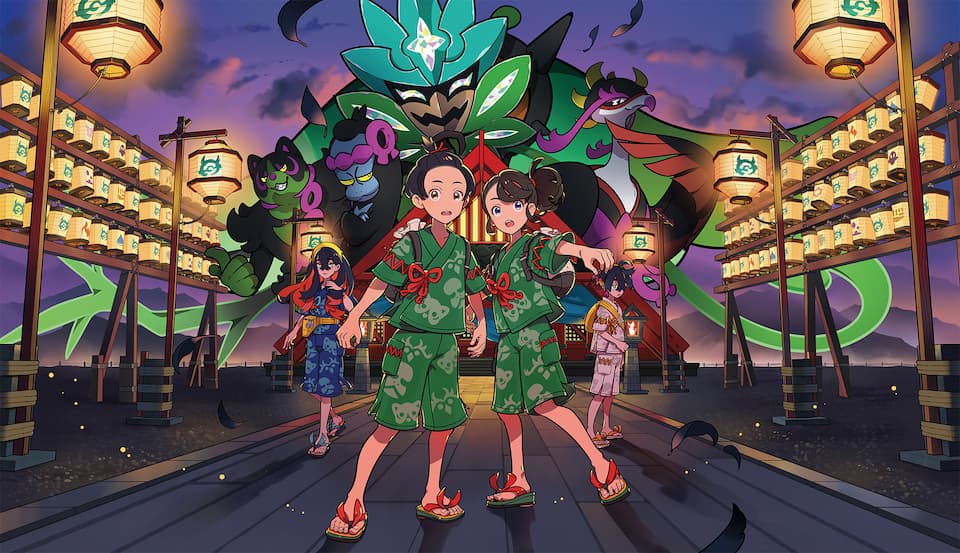 As Nintendo shares on their patch notes page, this update comes with The Teal Mask, part one of The Hidden Treasure of Area Zero DLC. This story DLC takes the player to a school trip to Kitakami. The player arrives just in time for the village's latest season festival, and is introduced to a trio of Pokemon guarding the village called The Loyal Three. They are comprised of Okidogi, Munkidori, and Fezandipiti. Most importantly, the player will encounter a new Legendary, Orgepon, whose story is apparently central to this DLC.
Serebii have confirmed on Twitter via screenshot that the DLC is part of the latest patch.
Interestingly enough, Pokemon Scarlet and Violet players who did not purchase the DLC were not left out of the lurch. The patch notes also indicate that "additional Pokémon may appear via local or online communication modes." No word if this includes the new Pokemon that will be introduced in the DLC. It may be more likely that players will get to enjoy an influx of Pokemon in general, giving them more opportunities to collect them.
Unfortunately, these notes still don't indicate major performance enhancements to be made to the base game. We don't know if this is a matter of Game Freak and Creatures simply unable to do more to improve performance, or if it's possible that they will no longer bother, if this game can be played in the Switch successor, and will perform better on that game console. But it would be better for consumers overall if they tried to pursue improvements on the Switch itself, as the console that consumers bought their games on.
You can read further notes about additional features and bug fixes below.
Newly Added Features
You will now be able lock the mini map that appears while you are out in the field so that up is always north. You can do this by pressing the Right Stick twice while you have the map app open to select the App and mini maps locked setting.
Camera settings have been added to the Options menu. These settings will let you adjust how the camera works while you are out in the field.
We have added a feature that allows you to signal a Pokémon accompanying you in the field to stop and wait where it is. To give this signal, press the Left Stick.
You can now take pictures by pressing the A Button in the camera app.
You can now play music by pressing the ZL Button or ZR Button while the camera app is open. You may find that Pokémon accompanying you in the field and people around you will react to the music.
While using the Union Circle, Trainers can now share photos they have taken with the camera app during that Union Circle session with the friends they are playing with.
We have added a feature to TM Machines that allows you to filter for moves your Pokémon can learn. By interacting with a TM Machine and selecting the option to filter for learnable moves, you will be able to display only TMs containing moves that a specific Pokémon can learn.
Bug Fixes and Feature Adjustments
Incorrect descriptive text for the moves Ceaseless Edge, Dire Claw, and Stone Axe has been corrected. The descriptions for these moves previously included the words "aiming to land a critical hit," but these moves do not increase the critical-hit ratio in Pokémon Scarlet and Pokémon Violet. This wording has been removed from these descriptions.
We have fixed a bug where the Itemfinder Mark would not be applied to a Pokémon even if the conditions were met.
Wild Pokémon that have the Titan Mark will now reappear in the field after a certain amount of time if they have been defeated.
We have made adjustments to the way Pokémon icons are displayed in the Boxes.
Other select bug fixes have been implemented.