Genshin Impact Version 4.0 added a fifth Anemo sword character to the roster with Lynette. Any player at Adventure Rank 25 or above can claim a free Lynette from the event, "The Curtain Never Fall On Magic." She's a great addition to your Fontaine exploration team since she shows you Recovery Orb locations and increases their restorative properties (HP and Aquatic Stamina) by 25%.
Genshin Impact: Hydro Traveler Talent Guide | Genshin Impact: Lynette Ascension Materials | Genshin Impact: Lynette Talent Guide
Though she isn't the best Anemo character in the game, she's a lot of fun to use. She's good for crowd control and off-field Anemo support. The more Constellations she has, the better she will be. But the most important thing is that Lynette works best as the only Anemo member on your team.
---
Best Position – Anemo Sub-DPS
Lynette will support your team through her Elemental Burst. Once she gets to C6, that will expand to her Elemental Skill as well. Her Burst makes her especially good for off-field Anemo damage – the Bogglecat Box will stay on the field even if you swap Lynette out.
Her Ascension stat is Anemo DMG Bonus, so she focuses on Anemo and Swirl damage. She does toe the line between Sub-DPS and Support, but she lands in the Sub-DPS category because her damage output is more important than her ATK buffs.
---
Best Weapons
To focus on boosting Lynette's damage, look for Weapons that increase Elemental Mastery for reaction damage or CRIT stats for her own damage. Since she does better on Rainbow teams (characters of different Elemental types), you'll see better results if you boost her Swirl damage.
5-Star – Freedom-Sworn
The Freedom-Sworn increases the wielder's Elemental Mastery. It also increases DMG by 10%. When the wielder triggers Elemental Reactions, they gain a Sigil of Rebellion. Sigils can be generated once every 0.5 seconds and can occur even if the wielder is off-field. When you have 2 Sigils, they will be consumed. This grants nearby party members an ATK and Normal Attack (including Normal, Charged, and Plunging) buff for 12 seconds. Once the buffs are triggered, you cannot gain any Sigils for 20 seconds. Buffs from the same Weapons series (Millennial Movement) do not stack.
Lynette's Elemental Burst allows her to apply Anemo even when she's off-field. As long as she triggers two Swirl reactions, your team will get the buffs.
The Primordial Jade Cutter is always a good substitute for your sword characters due to its high CRIT Rate and HP/ATK passive skill.
4-Star – Iron Sting
The Iron Sting increases the wielder's Elemental Mastery. When dealing Elemental DMG, it increases all DMG by a percentage with a maximum of 2 stacks. Stacks can occur once every second.
For Lynette's personal damage, the Wolf-Fang is a better option. It increases CRIT Rate. Additionally, DMG dealt by the Elemental Skill and Elemental Burst increases by a percentage. When an Elemental Skill or Burst hits an enemy, that Talent's CRIT Rate will increase by a percentage. Both effects last 10 seconds separately, have a max of 4 stacks, and can be triggered once every 0.1 seconds.
Finally, the Fleuve Cendre Ferryman is worth trying out if you're having trouble keeping Lynette's Burst charged. It increases Energy Recharge by a percentage. It also increases Elemental Skill CRIT Rate by a percentage. After using an Elemental Skill, it will increase Energy Recharge by a percentage for 5 seconds. This may be a good option if you run Lynette with the Emblem of Severed Fates Artifact Set.
3-Star – Dark Iron Sword
This 3-Star Sword is notoriously hard to get, but it's worth it. The Dark Iron Sword increases Elemental Mastery and increases ATK for 12 seconds after creating an Electro reaction (Overloaded, Superconduct, Electro-Charged, or Electro-infused Swirl).
Like the Fleuve Cendre Ferryman, the Skyrider Sword will work best if Lynette uses the Emblem of Severed Fates. It increases Energy Recharge by a percentage. Using an Elemental Burst will increase the wielder's ATK and Movement SPD for 15 seconds.
---
Best Artifacts
If you're looking for Swirl damage, focus on Elemental Mastery, Anemo DMG Bonus, and Energy Recharge. For Lynette's Burst damage, look for Energy Recharge, CRIT stats, and Elemental Mastery.
4PC Viridescent Venerer
This is the best set for Swirl damage. At 2 pieces, Viridescent increases Anemo DMG by 15%. At 4 pieces, it increases Swirl DMG by 60%. It also decreases the opponent's Elemental RES to the element infused in the Swirl by 40% for 10 seconds. Generally, Viridescent will probably be the best set for any Anemo character. Just keep Lynette's infusion priority in mind when creating a team around this set – she prioritizes Cryo first, so multiple Cryo characters in this team would get the most out of the Viridescent debuff.
4PC Noblesse Oblige
At 2 pieces, the Noblesse Oblige increases Elemental Burst DMG by 20%. At 4 pieces, using an Elemental Burst increases all party members' ATK by 20% for 12 seconds. This effect can't stack. Lynette relies on her Elemental Burst for damage and off-field Swirl reactions, so this is a good set for her overall.
4PC Emblem of Severed Fates
At 2 pieces, the Emblem of Severed Fates increases Energy Recharge by 20%. At 4 pieces, it increases Elemental Burst DMG by 25% of Energy Recharge. Emblem increases Burst DMG by up to 75%. This set will work best if Lynette has an Energy Recharge weapon. Also, this is the only time you want to load up on the Energy Recharge main stats.
4PC Vourukasha's Glow
Vourukasha's may be fun to try out. At 2 pieces, it increases HP by 20%. At 4 pieces, it increases Elemental Skill and Burst DMG by 10%. After the wielder takes DMG, the Skill and Burst DMG bonus increases by 80% for 5 seconds. This effect can have up to 5 stacks. The duration of each stack is counted independently. Finally, this effect can be triggered when the wielder is off-field. Potentially, this means Riftwolves may trigger the Vourukasha buff.
---
Best Teams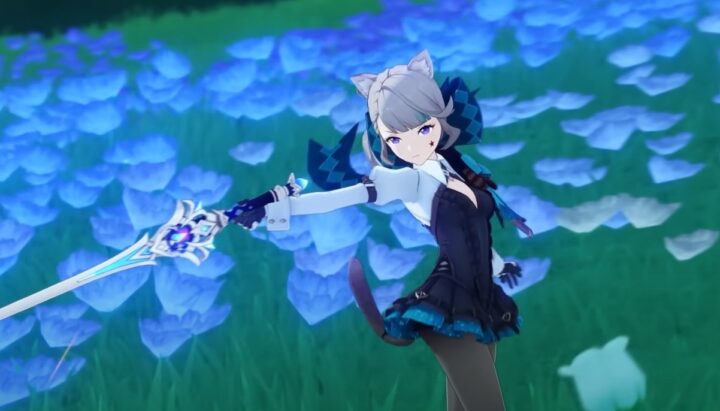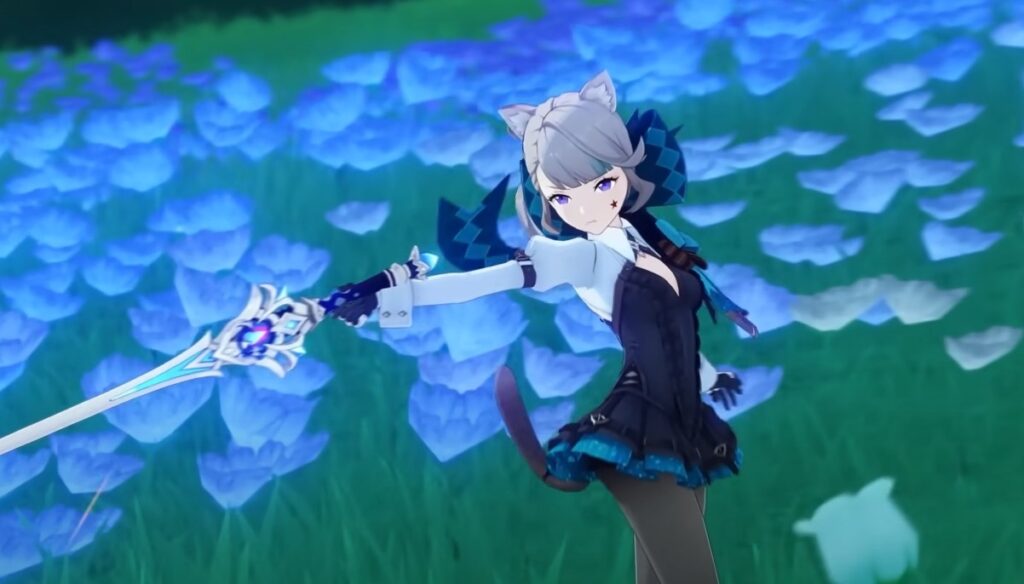 Because of Lynette's damage absorption through her Elemental Burst, she works best with Hydro, Pyro, Cryo, and Electro characters. Once Lynette's first Passive Talent activates, you should use a team of completely different Elemental Types. Lynette loses HP every time she uses her Elemental Skill, so consider having a Healer on your team.
Rainbow Team
| | | |
| --- | --- | --- |
| Hu Tao | Yelan | Shenhe |
| Xiangling | Diona | Fischl |
Superconduct
| | | |
| --- | --- | --- |
| Ganyu | Raiden Shogun | Zhongli |
| Layla | Kuki Shinobu | Kujou Sara |