#5 Doom Eternal 
Developer: id Software
Publisher: Bethesda Softworks
Platforms: PC, PS4, XBO, NS, Google Stadia
Release: 2020
Co-op: N/A
Competitive Multiplayer: Yes
Who doesn't love Doom? It's a video game franchise that has been around for years and while we had a short spurt of time where we didn't really get anything from the franchise, id Software changed things around by bringing out a 2016 remake. Doom was an instant hit as it brought back the action-packed gameplay as you step into the shoes of Doom Slayer taking out demon scum. Now that you're likely already done with the remake, you might have adverted your attention to its sequel, Doom Eternal. This installment will follow the events of the 2016 Doom remake where demons have invaded Earth. It's now your job to save humanity by any means necessary.
This time around you'll have new but familiar scenery to roam as you attempt to take out the otherworldly creatures flocking the planet. There's even a game mode attached called Invasion where an online player could join into your campaign as one of the demons in hopes of taking you out. This will add a nice little layer of complexity as you can never be too sure just where you may run into a tough battle. Of course, this mode can be turned off and you'll be able to enjoy the game without the sudden random player appearance.
#4 The Outer Worlds
Developer: Obsidian Entertainment
Publisher: Private Division
Platforms: PC, PS4, XBO, NS
Release: 2020 (NS)
Co-op: N/A
Competitive Multiplayer: N/A
Obsidian Entertainment has released several big RPG titles into the market and even worked on the Fallout franchise for an installment. That particular installment, Fallout: New Vegas, was such a big hit that it remains the best Fallout title for plenty of fans of the franchise. Now a few years later, the development studio decided to make their IP that is similar to the Fallout gameplay called The Outer Worlds. Currently, The Outer Worlds has already released into the market for PlayStation 4, Xbox One and the PC platforms.
However, it was confirmed that the game would receive a port for the Nintendo Switch sometime in 2020. This RPG puts players into a protagonist that was stuck in frozen sleep for decades. Lost in space, a person labeled as a mad scientist rescues you in hopes of saving all the others frozen in space.
A lot has changed in this galaxy as it seems that the corporation that is responsible for colonizing planets have been considered to have turned into a tyranny. Your goal is to take a side and either help a resistance group overthrow the colony government control or side with the government. Outside of the main campaign, there are several side quests, locations to explore, NPCs to meet and a crew to obtain as you embark on your journey.
#3 Metroid Prime 4
Developer: Retro Studios
Publisher: Nintendo
Platforms: NS
Release: TBA
Co-op: N/A
Competitive Multiplayer: N/A
The Metroid Prime series was fantastic when it launched on the GameCube and later the Nintendo Wii. This was a first-person Metroid video game where players gunned down alien creatures while maneuvering through planets, though it's been several years since we've seen a new installment to the Prime series.
While this game has been teased from Nintendo, it was later to be scrapped and completely restarted from scratch. During the beginning of 2019, Nintendo stated that the game was pushed back likely to not being appealed by the game or mechanics used for the title so we're going to have to wait a bit longer but Metroid Prime 4 may find a release during 2020.
#2 Animal Crossing: New Horizons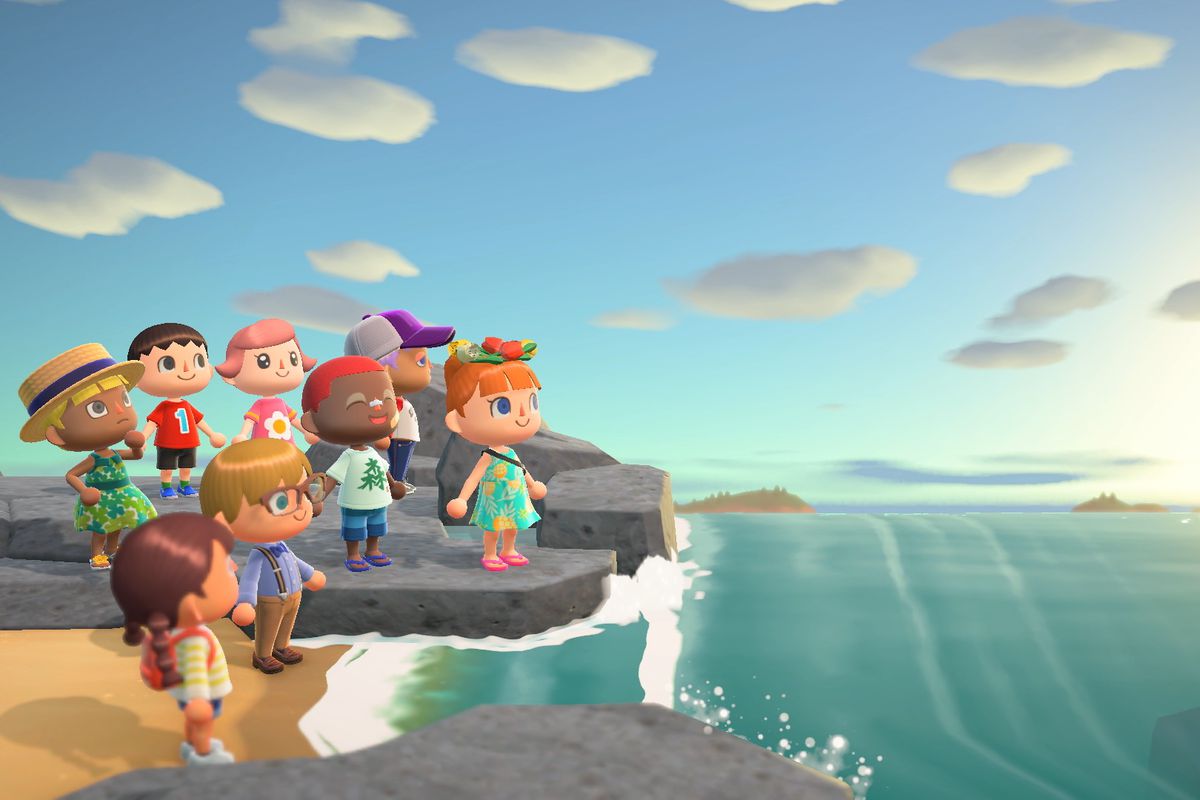 Developer: Nintendo
Publisher: Nintendo
Platforms: Nintendo Switch
Release: March 20, 2020
Co-op: Online & Local
Competitive Multiplayer: N/A
Animal Crossing: New Horizons was first stated to be a 2019 video game release but it was later pushed back to 2020. The video game franchise is much beloved and with this installment, players will be cleaning up a deserted island and building up a community. While the game looks like it will still retain the social aspect with NPCs, it does appear that the upcoming title is taking on some inspirations from the Harvest Moon franchise. That is purely speculative from what we've seen and we're sure that there is plenty more to be unveiled about the game prior to its release. One new aspect that was shown off during E3 2019 was that Nintendo implemented a crafting system where gamers can use their resources to build specific items that would be useful.
Right now its unclear on just how much of push would be made towards crafting but it was an element that was presented in the spin-off mobile title Animal Crossing: Pocket Camp. It will certainly be interesting to see just how this game does when it launches as perhaps this will be too different from the franchise that would cause players to steer away from this installment.
#1 The Legend of Zelda: Breath of the Wild Sequel
Developer: Nintendo
Publisher: Nintendo
Platforms: Nintendo Switch
Release: TBD
Co-op: TBA
Competitive Multiplayer: TBA
It was quite the surprise to see that Nintendo was ready to pump out another Zelda title after The Legend of Zelda: Breath of the Wild. We don't know how far away we are to the video game's launch date but we do know that Nintendo is working on an upcoming sequel. The Legend of Zelda: Breath of the Wild initially released in 2017 and it received critical acclaim for being not only an excellent Zelda title to the series but an outstanding open world title. During E3 2019, Nintendo unveiled to the world that a sequel to the title was in development.
We really don't have too much information yet as all the game has is a trailer just over a minute long. It's within this trailer that we see both Link and Zelda go into an underground chamber where a new enemy seems to have awoken. This game is instantly on the top of most Nintendo Switch owner's anticipated releases for 2020 but we can't confirm the game will release within the 2020 year. Nintendo has yet to state just when the game will be releasing but for now, we can at least rest easy knowing that the company is hard at work with a sequel.
---
Bonus
Spiritfarer
Developer: Thunder Lotus Games
Publisher: Thunder Lotus Games
Platforms: PS4, NS, XBO, PC
Release: 2020
Co-op: N/A
Competitive Multiplayer: N/A
Spirifarer is a unique little game from Thunder Lotus Games. This is an adventure title that is all about being a ferrymaster who must guide spirits to the afterlife. We're still waiting to hear more about the gameplay, but from what we can gather, players will be going about their day and tending to the spirits and prepping them before the official move on. Visually, the game looks to be a very lighthearted and relaxing game that features players having to build and manage your ferry. Likewise, you'll be building up relationships with the spirits and crafting your gear in order to mine, fish, farm, and harvest. Currently, the game is only slated to release within 2020 so we'll have to keep tabs on Spiritfarer at the moment.
Eastward
Developer: Pixpil
Publisher: Chucklefish
Platforms: NS, PC
Release: 2020
Co-op: N/A
Competitive Multiplayer: N/A
Eastward is an upcoming adventure RPG that comes from indie developer Pixpil. Set in a more top-down perspective, players will follow a journey of a hardworking miner named John who comes across a young girl named Sam deep underground. In a desperate flee of escaping, players embark on a quest to discover the origins behind Sam though along the way, it appears that new creatures have started to flood the local towns making your adventure all the more challenging.
Apparently, players will be able to explore several interesting locations as they make their way around the country using the old railway system. Likewise, you won't be stuck playing as John the entire time as the game will have players switching between the unlikely pair in order to solve environmental puzzles and defeat enemies. This heartwarming adventure that's filled with some wacky characters will make its way out into the market at some point in 2020.