#5: Your Old Gear Might Not Work Anymore
If you're a returning player, you might notice that your gear isn't exactly helping anymore. That's because the technology in No Man's Sky got a huge update, making some of your old items totally worthless in NEXT. Check your stuff, and see what you need to build / collect. There are new resources, too!
It isn't just the gear that got an overhaul. The entire economy has been bolstered, and you'll find a lot more stuff to buy / sell in space stations. There are multiple vendor locations in each space station, and even more aliens you can talk to if you're looking for more jobs. Don't forget, you can also create a radial sub-mission to find resources or items you desperately need if you're a returning player.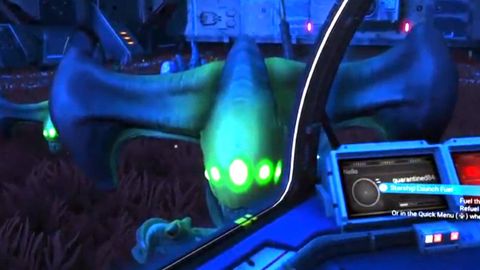 [Image Source: Gamesradar]
---
#6: Beware 'Biological Monstrosities' — Or Destroy Them!
There's a new threat in the galaxy. The 'Biological Monstrosities' are deadly swarms of Xenomorph-like killers that stalk certain planets. You won't find them everywhere, but if you annoy their whispering eggs too much, an entire horde will appear to fight you. This is where a few friends in multiplayer will really help you out.
The Biological Monstrosities even have their own horde-mode style missions. If you talk to mission-givers, you'll find they have plenty of optional jobs for you to take — taking pictures, feeding the local fauna, or exterminating monstrosity egg clusters. If you're brave enough, you can earn some big rewards for taking out this alien menace.
---