When Eitr first came into the spotlight back in 2014, it drew attention for its brutal-difficulty and dark, atmospheric visuals reminiscent of Dark Souls. Today, its mythological Norse world has landed on Valve's digital distribution service Steam with a promise to release sometime in 2017. Inspired by the likes of Diablo, classic side-scroller Golden Axe, and of course, Dark Souls, Eitr was originally primed for a 2016 release, but developer Eneme Entertainment made the tough decision of delaying the game to ensure that when it does release, it comes with that extra layer of polish.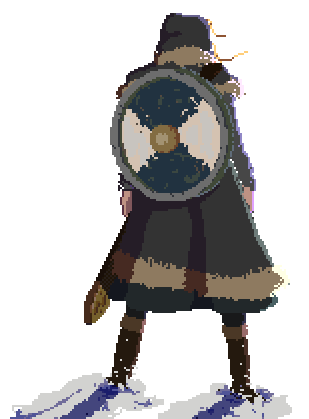 In Eitr, players control a protagonist called the Shield Maiden (shown above) who has her destiny forever altered when the mischievous God Loki drips a sprinkling of the wretched substance Eitr onto the sacred loom from whence she comes. To unravel the mystery of her future, the Shield Maiden is forced to venture through nine Norse worlds packed with a range of features:
Striking Presentation: A unique isometric perspective provides stunning visual dimension to the chronicle of the Shield Maiden with detailed characters and environments, lush animations, and brilliant visual effects.
Exceptional Combat: The Shield Maiden uses a variety of weapons with strategic movement, accurate arrow strikes, and enchanted special attacks to decimate the nightmarish creatures and profane warriors lurking throughout the corrupted nine realms.
Remarkable Experience System: Eitr replaces the traditional experience point structure of an action RPG with the unique Favor System, requiring a choice between permanent level upgrades and more powerful but fleeting perks that can be upon death.
Valuable but Vulnerable Loot: Collect randomly generated loot from fallen enemies and hidden caches but beware – fortune does not favor the fallen as even the heroine's most precious items may suffer damage after she perishes in combat.
Eitr is scheduled to launch in 2017 for PC, Mac, Linux and PlayStation 4.