Table of Contents

[Hide]

[Show]
A new character trailer for the upcoming original anime series Ayaka: A Story of Bonds and Wounds was revealed on Wednesday showcasing both of the main characters Yukito Yanagi (CV: Yuuto Uemura) and Jingi Sagawa (CV: Takuma Terashima). The trailer also reveals the opening theme song "AYAKASHI" will be performed by angela and the ending theme song "Flashback" will be performed by saji. Ayaka will be animated by Studio Blanc and is set to release later in 2023. The series will be available to watch on Crunchyroll when it's released.
Ayaka is Studio Blanc's first original anime series since it was founded on September 3, 2008, by Takeshi Eriguchi—former employee of studio Seven Arcs (Tonikawa: Over The Moon For You, Blue Period, Chained Soldier). Studio Blanc is still a relatively small animation studio with a relatively small history of work. This year marks the first for the studio in which they'll release at least two complete anime series, the other being The Reincarnation of the Strongest Exorcist in Another World, which is currently airing with new episodes released every Saturday on Crunchyroll.
Ayaka Anime Cast
Yukito Yanagi: Yuuto Uemura

Thorfinn – Vinland Saga
Kiriya Nouzen – 86 Eighty-Six

Jingi Sagawa: Takuma Terashima

Shiroe – Log Horizon
Shiki Granbell – Edens Zero

Haruaki Kurama: Takahiro Sakurai

Reigen – Mob Psycho 100
Giyuu Tomioka – Demon Slayer

Aka Ibuki: Yuichiro Umehara

Goblin Slayer – Goblin Slayer
Courier – Akudama Drive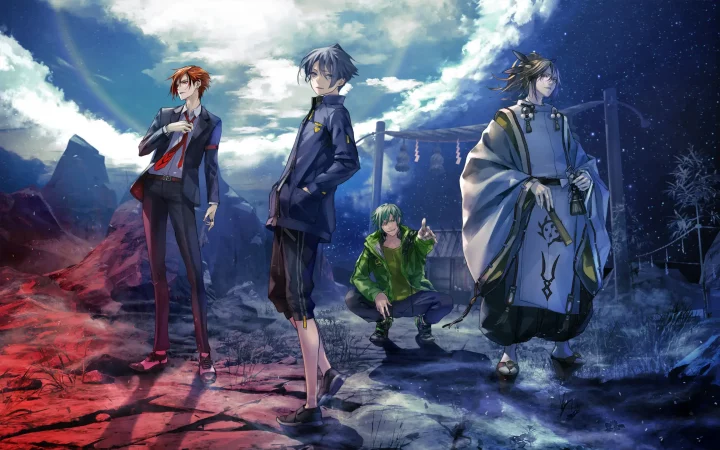 Ayaka Anime Staff
Director: Nobuyoshi Nagayama

Happy Sugar Life
Life Lessons with Uramichi-Oniisan

Series Composition: GoRA
Original Character Designs: redjuice
Character Design: Misaki Kaneko
Music: Kana Shibue

Sasaki and Miyano
Devils' Line

Sound Director: Ryou Tanaka
Production Designer: Naoya Tanaka

Knights of Sidonia: Love Woven in the Stars
Synopsis
The Ayaka original anime series is a collab project between GoRA and King Records. GoRA is most famously known for being the original creator of the hit series K and the tall list of spin-off manga that come with the series as well. King Records production company is most notably known for having a hand in producing some big-name anime series such as Haven't You Heard? I'm Sakamoto, Tsuredure Children, Ajin, and most recently series such as Don't Toy With, Me Miss Nagatoro, Tomodachi Game and The Great Jahy Will Not Be Defeated!
King Records is currently producing a handful of anime series that are currently airing that includes the following:
Eternal Boys
In/Spectre Season 2 (Crunchyroll)
My Life as Inukai-san's Dog (HIDIVE)
Don't Toy with Me, Miss Nagatoro Season 2 (Crunchyroll)
The Reincarnation of the Strongest Exorcist in Another World (Crunchyroll)
The story follows Yukito Yanagi, an orphan who one day encounters an eccentric disciple of his father's. The strange man takes him to his birthplace on Ayakajima, made up of seven islands where mysterious beings called "Mitama" and dragons are rumored to reside. There, Yukito meets his father's two other disciples, who protect the harmony of Ayakajima… which soon threatens to collapse. (Synopsis via Crunchyroll)
Source: Official Website