Okay, hands up, who pretended to be a ninja when they were younger? Jumping around your living room, bouncing on the furniture like a poor man's version of Chris Farley in Beverly Hills Ninja. Of course, we did, but the closest we could ever get to that ninja dream was by settling with video games, which wasn't all bad. There have been some pretty epic games based around the concept of stealthy ninjas as well, so many that we were probably spoilt for choice, to be honest. And because of that plethora of riches, it would be seemingly difficult to narrow the huge number of games into, let's say, a list of 21 PC ninja games, wouldn't it? So, here we have it, that very list of the 21 best PC ninja games of all time.
#22 Ghostrunner 2
Platform: PC PS5 XSX|S
Release Date: October 26, 2023
Steam | PlayStation | Xbox
If you enjoyed Ghostrunner, then a sequel might be well worth the pickup. Players can expect the same style of gameplay as the first installment but with a few additional tweaks. It's still a very futuristic cyberpunk setup where you're dropped into this world as essentially a glorified ninja. With that said, the game does take place after the events of the first installment. With the Keymaster taken care of, a new AI cult has emerged outside of the Dharma Tower, and it's up to you to save humanity. This is a fast-paced game where only one hit is required to either take out your opponent. Unfortunately, the same can be said about you. On the bright side, with several checkpoints throughout the level, you'll be right back in the action in a matter of seconds.
#21 Warframe
Platforms: Microsoft Windows, PlayStation 4, Xbox One, Nintendo Switch, PlayStation 5, Xbox Series X/S
The first game on this list of the best PC ninja games is the free-to-play action role-playing, third-person multiplayer game – now, that was a mouthful. In Warframe, players control members of the Tenno, a race of ancient warriors who have awoken from hundreds of years of suspended animation. Set in a very distant dystopian future, Warframe struggled to develop any momentum when it was released back in 2013, but times change and so does the game because it has since developed a decent following. It is free-to-play though, which means it has a lot of limitations that ultimately hinder the final product.
#20 Onimusha Warlords
Platforms: Microsoft Windows, PlayStation 2, Xbox, Nintendo Switch, PlayStation 4, and Xbox One
When we mention this game, we mean the 2019 remastered version, the one that wasn't received all too well. Critics were not too keen on how dated it looked (basically the same as the 2001 version) and the game's overall design, and some poorly aged presentation too. It's not all bad though because the action still stands the test of time – just about, anyway. The Onimusha series was a very enjoyable collection of hack and slash games with great stories and a lovely setting. But to remaster this game – almost to a tee – seems like an extremely odd decision. Now, a reboot, that might be something we can get behind.
#19 Shadow Warrior Series
Platforms: Microsoft Windows, MS-DOS, Mac OS, iOS, OS X, Linux, PlayStation 4, and Xbox One
The Shadow Warrior Series is one that stretches back all the way to 1997, with expansions and reboots following the original ever since, to varying degrees of success. This series is a first-person shooter game that focuses on the adventures of Lo Wang, a modern-day ninja warrior who must fight his way through hordes of demons. The problem the games have is that they struggle from being rather short in their story, and largely consist of an unremarkable execution – especially the more recent titles in the series. And because they are so short, they need some help to make them engaging and exciting, something that the majority of them severely lack.
#18 Naruto to Boruto: Shinobi Striker
Platforms: Microsoft Windows, PlayStation 4, and Xbox One
The Naruto franchise is one of the most popular manga and amines of all time, the games, however, aren't as good. Naruto to Boruto: Shinobi Striker was released in 2018 and has had a topsy-turvy life so far. It had a terrible launch reception before gathering some momentum in the months that followed – settling in slightly. And just as things were going fairly smoothly, the game was ruined once again, this time by far too many additions that were not received with open arms – and after taking so long to win the fanbase over as well. Why must developers constantly attempt to overcomplicate things?
#17 Naruto Shippuden: Ultimate Ninja STORM 4
Platforms: Microsoft Windows, PlayStation 4, Nintendo Switch, and Xbox One
In this slightly better Naruto game, it follows the young ninjas Naruto Uzumaki and Sasuke Uchiha as they participate in a world war between shinobi, and against the terrorist organization called Akatsuki. This Bandai Namco fighting game was released in 2016 and was met with mixed opinions. As you would expect from these games, the designs were pretty cool, and the narrative was an interesting one that can be easy to become lost in. However, the game suffers from being very short and very simple, which hinders it because there is not much else to shout about. At least it's better than Shinobi Striker though.
#16 Mini Ninjas
Platforms: Microsoft Windows, PlayStation 3, Wii, Xbox 360, Nintendo DS, Mac OS X, and iOS
This third-person action-adventure PC ninja game features six playable Mini Ninja characters, each of them with their own unique abilities, special weapons, and skills that must be used at the correct times. Quirky games like this are always huge fun; it looks great, the story will keep you and the family involved and there are plenty of other things to keep you entertained, with the cuteness and the comedy being another couple of shining lights as well. For some reason though, the PC version just didn't feel right, nothing gelled which made for a fairly uninspiring end product. This is a game vastly superior on the Nintendo Wii than any other platform.
#15 Shadow Tactics Battles of Shogun
Platforms: Microsoft Windows, macOS, Linux, PlayStation 4, and Xbox One
At number 15 in this list of PC ninja games is this stealth-orientated title with real-time tactics. In a game that may seem similar to Commandos and Desperados, this is another unique title that offers countless hours of enjoyment. Set in feudal Japan, the player commands a small team and performs various acts of espionage, sabotage, and assassination, such as infiltrating heavily guarded fortresses and eliminating enemies from within. This game is a standalone expansion of Aiko's Choice, and even though it does include five new missions, it adds no new gameplay (leaving it feeling largely the same) and the camera is an acquired taste, to say the least.
#14 Aragami Series
Platforms: Microsoft Windows, Linux, OS X, PlayStation 4, Xbox One, Nintendo Switch, and Amazon Luna
The Aragami series is another action-adventure stealth video game, but this time the players take control of a protagonist called Aragami. He is an assassin with supernatural abilities, and players will need to hone his teleporting skills so they can freely move between shadows. There is a large army called the 'Kaiho' and they consist of mystical warriors with the power to control light and will stop at nothing to hunt down this talented assassin. This game is another that emphasizes the need for stealth and looks great while doing it. The gameplay is a bit basic at times though and the damage control is something else that will grate on you.
#13 Ghostrunner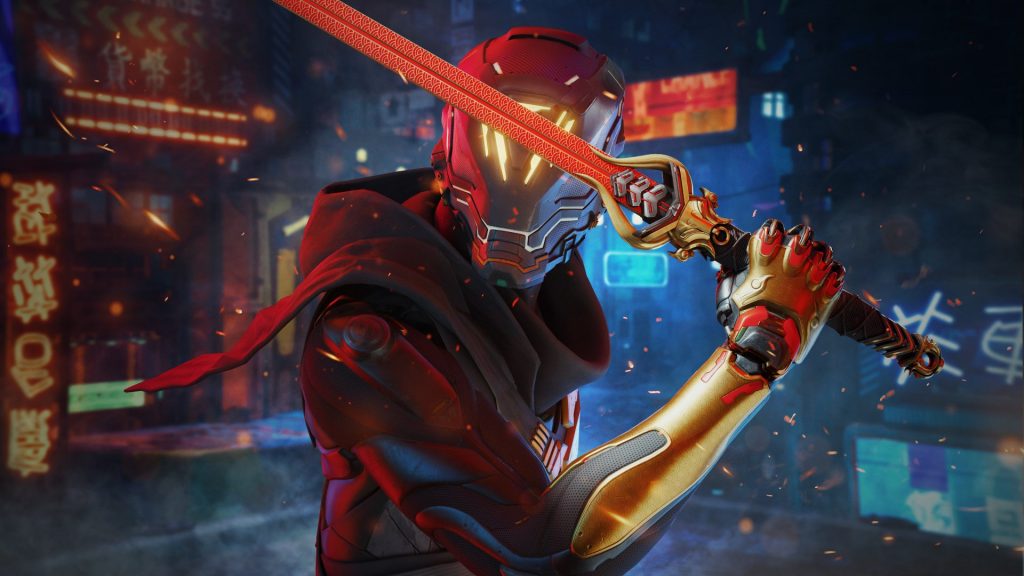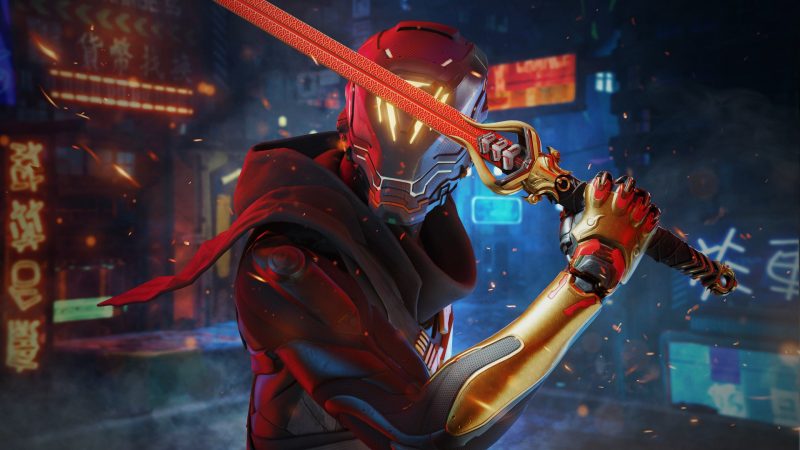 Platforms: Microsoft Windows, PlayStation 4, Xbox One, Nintendo Switch, Amazon Luna, PlayStation 5, Xbox Series X/S
Jack the Ghostrunner is the protagonist in this PC ninja game, and he must traverse dangerous environments by dashing, jumping, wall-running, and grappling. There will be a whole host of enemies to encounter in this game but you will need to use all of your skills because the player and enemy can be killed in one hit. Jack has many abilities that give him the advantage, but you will die a lot, that's just a given. This sword-fighting game with sci-fi elements is based on complete stealth, and you can get extremely creative with your maneuvers though, even if this game is rather challenging.
#12 Strider
Platforms: Microsoft Windows, PlayStation 3, PlayStation 4, Xbox 360, and Xbox One
We mean the 2014 reboot when talking about Strider, which was an obviously massive improvement to the original 1989 video game. This is actually one of the best-looking PC ninja games; still maintaining that 2D format that people came to know and love but improving on it overall. The campaign is also a really well-structured one that allows players to enjoy a detailed and enthralling adventure. Players take control of Strider Hiryu and must explore this immersive environment in the search of weapons and other important items. No weapon is as important as his trusty Cypher though, a plasma weapon that can interchange with other things. Not a completely polished game but it easily has more redeeming qualities than bad ones.
#11 Metal Gear Rising: Revengeance
Platforms: Microsoft Windows, PlayStation 3, and Xbox 360
This game is a spin-off in the Metal Gear series and is set four years after the events of Metal Gear Solid 4: Guns of the Patriots. Players take control of the cyborg Raiden, who confronts the private military company Desperado Enforcement. The combat in this game focuses on the use of the character's sword and some other weapons, with the need for combos and counterattacks becoming a necessity. This installment is more of a hack and slash-type game and looks completely different from all the previous games. The genre switch was not well-received at all, but it settled quite well in the end and has since become a very enjoyable game.
#10 Ninja Gaiden Master Collection
Some people say that without Ninja Gaiden there wouldn't be any 'Soulsborne' games – believe that whichever way you want. The combat in the Ninja Gaiden games is a lot faster and way more reactive – that's not to say they are better, just a common opinion from many. This collection is hugely enjoyable and although these games can be a little rough around the edges, as well as some gaping holes in the gameplay, it is a great series of games. If you are one of those people that love to be a video game ninja, then the Ninja Gaiden Master Collection is a must-play series for you.
#9 Nioh Series
Platforms: Microsoft Windows, PlayStation 4, and PlayStation 5
The Nioh series is a massively loved game that began in 2017 and is still going strong. Players take on the role of William Adams, an Irish sailor named after the historic Englishman who became one of the only ever Western samurai. The combat is really great, the setting is magical, and it definitely sets a vibe with its use of Japanese folklore. Even though the setting was praised, the story wasn't, and along with the inventory management system, these were the two things that people remembered about the series which let it down slightly. But overall, this series still has room to improve which is positive.
#8 Skulls of the Shogun
Platforms: Microsoft Windows, Xbox 360, iOS, Android, Linux, OS X, Ouya, PlayStation 4, and Nintendo Switch
Up next on this list of PC ninja games is the turn-based tactical game Skulls of the Shogun. This game features undead samurai – you thought they were dangerous when living, check them out when they are dead – who have taken it upon themselves to enter the afterlife through force and seek revenge in the process. It can be a really fun game and it is highly accessible, but it takes a while to master due to the gameplay difficulty. However, the biggest gripe this game has is that when you're on the battlefield, it is incredibly hard to distinguish between the different units.
#7 Sifu
Platforms: Microsoft Windows, PlayStation 4, and PlayStation 5
This really is one heck of a unique game, one that didn't get as much attention upon its release because of a certain FromSoftware game appearing at the same time. Set in modern-day China, players control the child of a martial arts school master (sifu) who seeks revenge (that old chestnut). Every time you die you are resurrected by a talisman and age up, with your skills and powers increasing but your health going the other way. It is an enjoyable ninja game that is tonnes of fun and requires a lot of skill, and there is a lot more to it than just "beat 'em up" you know.
#6 Teenage Mutant Ninja Turtles: Shredder's Revenge
Platforms: Microsoft Windows, Linux, Nintendo Switch, PlayStation 4, and Xbox One
What is there to say about this side-scrolling action brawler that hasn't been said already? Players take control of the four turtle brothers – all of whom are voiced by the original voice actors from the 1987 series – and can also play as April, Master Splinter, and Casey Jones while combatting the usual villains like Shredder and Krang. Another game that was highly received upon its release in June of this year; it replicates the older arcade versions but with improvements, and it looks and feels great. It's just a shame the story is so short, and the game consists of a few audio issues too.
#5 The Messenger
Platforms: Microsoft Windows, Nintendo Switch, PlayStation 4, and Xbox One
The second of the two side-scrolling PC ninja games in a row is The Messenger from 2018. Apparently, it is inspired by the Ninja Gaiden series, and players take control of the ninja known as "The Messenger", as he journeys across vast lands to deliver an important scroll. This was a really surprising game when it came out because it felt like a throwback to those classic genre titles, and has become one of the best retro-inspired titles around. The music and visuals are great, and the pacing and the humor are fantastic, but the game is also challenging, which a lot of similar games lack in abundance.
#4 The Lego NINJAGO Movie Video Game
Platforms: Microsoft Windows, Nintendo Switch, PlayStation 4, and Xbox One
The Lego games are always great fun and have been massively loved – they've also covered most things you could ever think of too. This one is based on The Lego Movie and is the third game to use as its inspiration. As you can expect, this game is funny, quirky, great fun, and doesn't really get old, coming with a whole host of things to do and achieve. The game isn't much of an improvement to the previous games in terms of visuals, but does it need to be? I mean, it's a Lego game after all and they are only as good as they can be.
#3 Mark of the Ninja Remastered
Platforms: Microsoft Windows, Xbox 360, Linux, OS X, Nintendo Switch, Xbox One, and PlayStation 4
There isn't much that separates the top three in this list of PC ninja games, but someone had to make the tough call at the end – which is always me. Mark of the Ninja Remastered follows the story of a nameless ninja in the present day and features a conflict between ancient ninja tradition and modern technology. Another side-scrolling stealth game that looks amazing (there is a certain darkness to the game and an eerie vibe), but it is ultimately quite simple, a lot of fun, and far more exciting than some other tedious platform games. This is one of the best 2D ninja platform games out there, it's just a shame that the number two on this list is one as well.
#2 Katana Zero
Platforms: Microsoft Windows, macOS, Nintendo Switch, and Xbox One
It is debatable, but this is the better of the two 2D ninja platform games, the hack-and-slash game Katana Zero. The player character is called Subject Zero and goes into the depths of battle with just his trusty katana. The little assassin also has the power to slow down time and predict the future, but you must use it sparingly. This 2019 game offers a wonderful aesthetic, with unique mechanics, and if you thought this would be just another run-of-the-mill platform game, then you are very much mistaken. You will need great skill to complete this game that is full of intense scenarios and an intriguing storyline.
#1 Total War Shogun 2
Platforms: Microsoft Windows, macOS, and Linux
And here we have it, the number one in this list of PC ninja games, and it's one of great magnitude too. Everyone knows about the Total War series, it has been as consistent as any series ever made, and one that stretches back to the year 2000. Total War Shogun 2 is great as well with it being set in 16th century Japan, which as we know, is an interesting period. It offers a complete and utter strategy that comes with almost limitless hours of graft, but the rewards are truly worth it as you build an empire that any historical leader would be proud of.