Dinosaurs. They're something we "see" in real life…but don't actually see in real life. Because, you know, they're extinct and only their bones remain…if we find them. But in video games? They're alive and well, and if you're on a dino-kick, we got some PC games that'll scratch that dino-itch.
#16 Exoprimal
Platform: PC PS4 Xbox One PS5 XSX|S
Release Date: July 14, 2023
Steam | Playstation | Xbox
Welcome to a future where one of the most essential sources of energy in the world comes from dinosaurs. No, really, that's the world of Exoprimal that you live in.
But instead of focusing on the crazy sci-fi plot of the game, let's instead focus on killing dinosaurs with mech suits! That's what you and other players will do in the game. You'll load up and outfit your mech with weapons and abilities to take on hordes of dinosaurs either by yourself or with a crew.
Numerous modes will let you tango with these dinos, so don't miss your chance to beat the prehistoric age with a few bullets from the future.
#15 The Isle
If you've ever wondered what it would be like to play a game where you truly are a dinosaur, then you need to look no further than The Isle.
Because in this game, you are well and truly a dinosaur, and as a result of that, you have to go and live your life on an island of such creatures trying to survive and evolve. The game is meant to show the primal state of the world that we have thankfully evolved out of. But that doesn't mean it won't be challenging! Because it will be.
Or, if you want a "kinder mode", there is a sandbox mode that'll allow you to just roam around as a dinosaur.
#14 LEGO: Jurassic World
The LEGO franchise has done many different genres over the years in terms of the film series they've adapted, and yes, that includes the original Jurassic Park film. And so it shouldn't be that much of a surprise that LEGO: Jurassic World was also made, because everyone wants to see LEGO dinos apparently.
The game will naturally take a more comedic approach to everything in terms of the overarching story, but you won't mind that as you go and collect all the bricks and characters you can to replay the game as some new faces.
So enjoy this version of the movie and see all the fun that LEGO games can bring you once again.
#13 Dino Crisis 1 & 2
Oh, you think that Jurassic Park is the only series to depict dinosaurs running loose on an island or other setting? Oh yeah of little faith, video games have depicted that kind of thing plenty of times. Such as with the classic PlayStation titles Dino Crisis 1 & 2.
Long story short, you are part of a team of operatives who are sent to an island (to start) and find out the truth about a dangerous experiment that has allowed dinosaurs to be reborn and then set free on the island.
The games evolve from there but the danger is the same. You never know when the dinosaurs are going to show up, and as such you'll need to be ready to take them on or flee when they arrive.
#12 Turok – Dinosaur Hunter
One of the all-time classic games, Turok – Dinosaur Hunter (or just known as Turok) puts you as the time-traveling warrior as he seeks to undo the work of another who wants to control all of time and space!
Naturally, this is bad, and as Turok you'll travel through time and go wield a variety of weapons in order to stop the beings of the time and beyond from getting in the way of your mission. And yes, that includes taking on, and taking down, dinosaurs.
The best part is that Turok – Dinosaur Hunter has been remastered recently, and that means that you can get a more visually stunning version of the game for you to enjoy in modern times.
#11 Second Extinction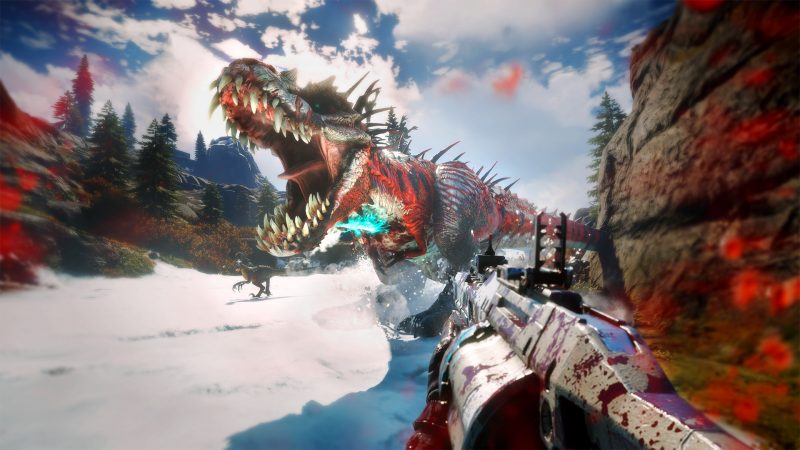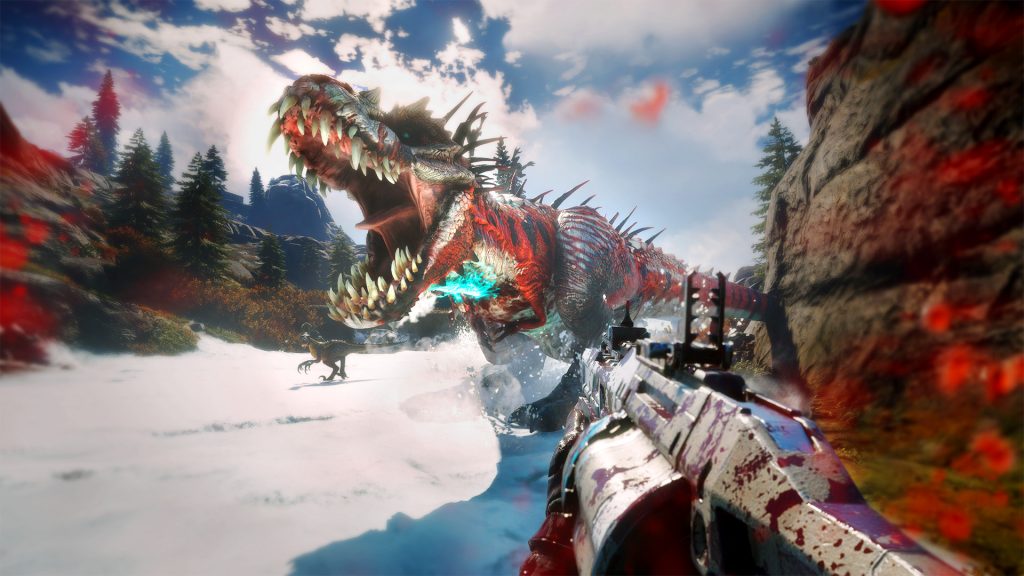 If you really think about it, only the strongest (or the dumbest) would be up for facing dinosaurs on their own. And Second Extinction makes that clear by making a title that is DESIGNED to be done in squads so that the threat of the dinosaurs can be taken out.
But naturally, this isn't as easy as it may sound. In fact, these aren't just dinosaurs…they're MUTATED dinosaurs! Yes, that's right, these are dinos who are much stronger than before, and that means you'll need to truly work together in order to take them out.
And because the game is still in Early Access on Steam, you can help shape the game in the future for the full release!
#10 Minecraft Jurassic World DLC
Given what Minecraft is…it really shouldn't be that much of a surprise that the game has a DLC that features Jurassic World.
And indeed, in this game you'll be able to build, manage, and craft dinosaurs in the Minecraft version of the legendary park, and that's not all. Your goal in this DLC will be to not just manage it, but see how long you can actually keep it open, doing your best to get a high score to top all the others.
With over 60 dinosaurs and hybrids you can craft, you're going to find that this DLC is honestly rather robust. So thus, if you're looking for something new to do in Minecraft…well…here you go!
#9 Animal Revolt Battle Simulator
Doesn't this just sound like the weirdest game ever? Oh, you heard of worse? Well, it is the game industry, so why not?
No matter what you think of the title, Animal Revolt Battle Simulator is indeed the weirdest game on this list that just so happens to have dinosaurs within it. Because in this game, you'll get to build your own hybrid monsters to fight armies of soldiers and even other beasts!
So thus, you can craft a dinosaur that history will be glad never really existed, or fuse it with other animal parts to create a hybrid that is a true terror on the battlefield. There is some strategy involved in this for the record, but this game is very much about creativity, so jump in and see what dinosaur monstrosities you can try and build.
#8 Dauntless
Dauntless is one of many titles that focuses mostly on having massive battles with mighty creatures. In the game, you'll be able to create your own character and then improve them in your own way in order to fight various behemoths that are scattered all over the land.
What's more, this is a massive multiplayer game, so you'll be able to work with other gamers to take down these creatures, as well as defeat massive challenges that'll help change the very game world itself. So thus, even one player can have an impact here.
And despite being mostly about fighting dinosaur-sized monsters, there isa big world to explore within Dauntless, and as a result of that, you'll have plenty to do no matter how you choose to spend your time.
#7 The Isle
If you actually want to PLAY as a dinosaur, then you're in luck, because The Isle is a survival horror game that is just that.
You'll be put into the prehistoric age and put into the role…of a dinosaur. In this brutal time, the only option you have going forward is to survive. Literally, as there are plenty of other dinosaurs out there via the other players who are going to have no problems hunting you down and trying to kill you.
The longer you survive though, the more options you'll have in terms of what dinosaur you can be. Even getting to be the mighty T-Rex itself. You can also work with players to form herds/packs of dinosaurs in order to better survive, or better hunt down foes.
Can you be a great dino? You're about find out…
#6 Dino D-Day
…I'm not making this game up, I swear.
In Dino D-Day, you get taken to an alternate form of World War II, where the Axis Powers have apparently found out…how to resurrect dinosaurs. Yep, believe it. And it's your job to either rule Europe as one of these "dino soldiers", or play as one of the Allied powers to try and take them down.
This is a multiplayer-focused game, and as such, you and the other players will take sides, each with their own advantages and disadvantages. If you play the Axis side, you'll get to choose between 7 different dinosaur species in order to achieve dominance on the battlefield.
This game is the very definition of nuts, but hey, isn't that the kind of thing you want in a video game?
#5 Prehistoric Kingdom
Simulator games are easily one of the most popular out there, and Prehistoric Kingdom is one (among others) where you'll get to run your own dinosaur park. Yes, they made a simulator where you try and manage dinosaurs…it goes about as well as you might think. But hey! Nothing worth doing is easy, right?
And to be fair, the "dangers" aren't as immense as a later title, because here, all you're trying to do is bring a bunch of extinct creatures back to life and ensure that they can enjoy the new habitats that they are in. You'll need to truly build a good home for them, and then, go and bring in the creatures themselves.
The more you do, the more creatures you'll have access to, and thus be able to expand your reach and how good your park is.
#4 ARK: Survival Evolved
For a bit more of a twist on the genre, look no further than ARK: Survival Evolved. Because in this game, you start off as a man or woman who is left alone on the island known as ARK. It's your job to survive it and all that is within it. You'll need to search for resources, do research to build things and craft incredible items and weapons, and of course, make a shelter so that you can rest easy enough during the nights.
So…where are the dinosaurs? Well, in the game, you'll be able to tame over 100 wild creatures, and yes, that means dinosaurs. You'll be able to literally ride dinosaurs into battle and around the island without a care in the world. Which I'm sure is a dream for many of you.
#3 Jurassic World Evolution 2
Jurassic World Evolution 2 is the continuation of the dinosaur management simulator. And one that obviously tries to bank in on the recent successes of the reborn genre. And given that there's a third movie coming…you might expect a third of these games soon enough…
Regardless of the tie-ins, you'll need to take control of your own version of the Jurassic World theme park, build all sorts of attractions and containment units for the dinosaurs in your care, and make the park stays profitable, stable, and, you know, not have a bunch of dinosaurs running around!
What needs to be said about this game is that they went DEEP into the dinosaur database to give you a TON of dinosaurs that you can put into the park. From familiar ones like the T-Rex to species that you're going to swear they made up the names to, but they didn't.
So see if you can run the park better than the people in the movie! Shouldn't be that hard, right?
#2 Horizon Zero Dawn
Why just mess with regular dinosaurs when you can enjoy MECHANICAL DINOSAURS?!?!?! Yes, the wonders of Horizon Zero Dawn are not to be underestimated by any. In this game, you play as Aloy, a woman trying to both prove herself and save her world…one that just happens to be filled with massive mechanical dinosaurs.
So yeah, you won't have any problem taking them down…
Thankfully, you do have your own special weaponry that can help make the fights fairer. What's more, when you're not battling these dinos, you'll be able to traverse a beautiful world that is just begging to be explored.
This is easily one of the best games of the last several years, and so if you haven't played it yet, now is your chance.
#1 Monster Hunter Series
Why just have dinosaurs when you can monster-style dinosaurs? Yes, I know that dinosaurs are a kind of monster on their own, but anything and everything can be more fantastical, alright?
The point here is that the Monster Hunter Series, especially recent entries like Monster Hunter World and Monster Hunter Rise, have made it their goal to give you some of the most intense battles you'll ever have with fake dinosaurs.
No matter which game you play you'll have a deep challenge ahead of you. So you'll want to make sure you have what it takes to take on these creatures. Or don't, and die, that's also an option. It is Monster Hunter after all.
Bonus Games
Parkasaurus
If you wanted to run a dinosaur park, but you wanted to do it in a way that was cute and fun and won't feature ravenous creatures trying to eat you, then you need to try out Parkasaurus.
Because in this very meticulously run simulator game, you'll need to construct your very own park based around the concept of dinosaurs and showing them off to people. But, that's just the start, you'll need to make sure that every single containment area can house the dino you want, and then research technologies to help keep them happy.
The better you do in the park? The more dinosaurs you'll have access to and the bigger a park you can build! So go see what you can do and what kind of park you can make.
Orion: Prelude
Orion: Prelude is another title that prides itself on its multiplayer battles and its engaging combat. In this title, you'll be put into "cinematic fight experiences" whether that be PVP, or that be the very act of just taking on the world to see all that it offers. And it offers a lot.
To prove that, they have a "dinosaur horde" that you'll need to combat and survive, and as you all hopefully know, there's few things worse than having to deal with a massive horde of dinos.
There's over 20 multiplayer maps, all sorts of battle modes you can do, vehicles you can drive, dinosaurs you can fight, and so on. So jump in and witness the madness for yourself.