Most modern open-world games feature amazing worlds you could visit for days. And the best way to travel through these lands is often on a horse. Some games bring such a good horse riding experience that it can overshadow the rest of the story and gameplay. If you love riding a horse through an immersive open world, here are the best PS4 horse riding games available right now.
#15 Elden Ring
Elden Ring only came out in February, but it is already a serious contestant as Game of the Year 2022. This game is the spiritual successor to Dark Souls and features lore from George R. R. Martin, the novelist behind Game of Thrones.
The game is set in the Lands Between, a dangerous territory filled with enemies that could crush your skull in a second. Luckily, to help you travel in this deadly land, you can ride a horse. Elden Ring features horseback fighting, so you can defeat small enemies without dismounting from your horse.
#14 Far Cry 6
If you could ride an elephant in Far Cry 4, the latest instalment in the series brings more traditional mounts. Far Cry 6 is set in the Caribbean island of Yara, ruled by a dictator and his son. The main character of the game, Dani, is a guerrilla fighter who wants to topple this regime and free the country.
Dani can travel throughout the island with various vehicles, such as cars, trucks, boats, planes, or helicopters. But as this list is a selection of the best PS4 horse riding games, Far Cry 6 wouldn't be featured in this article if you couldn't ride a horse. You can find many horses throughout Yara and bring them back to a Horse Pickup point to keep them, or complete missions to unlock new mounts.
#13 Black Desert Online
Black Desert Online is a sandbox MMORPG set in a large fantasy open world. As in most MMORPG, the main goal of the game is to level up, complete quests, and defeat enemies. But the world of Black Desert Online is worth exploring, and doing so on horseback is way faster than on foot. Moreover, there is no fast travel in Black Desert Online: if you want to travel the world, you will need a mount.
Horses in Black Desert Online come in various colors and tiers. Horses with higher tiers are faster than the others. But if the most basic horses can be tamed in nature, the best horses come from breeding. The statistics of each horse can be improved with equipment, like horseshoe, champron or saddle, that will increase their HP, acceleration, or stamina.
#12 Darksiders 2
Darksiders 2 is an action RPG hack and slash with puzzle elements. The main character is Death, one of the four horsemen of the apocalypse. He wants to clear the name of his brother, War, accused of wiping out humanity. He sets out on a mission to reach the Tree of Life and resurrect humankind.
As one of the four horsemen of the apocalypse, Death can count on Despair, his horse, to travel through the various maps of Darksiders 2. Unlike in the previous game, Death has access to his horse way faster than his brother did in Darksiders. As the map of this new game is bigger than the previous one, Despair is essential to ride through the devastated lands in hope to save humanity.
#11 Metal Gear Solid V: The Phantom Pain
Nine years after the events of Ground Zeroes, Big Boss wakes up from his coma in Metal Gear Solid V: The Phantom Pain. Under the code name Venom Snake, he travels through war-torn Afghanistan and Angola to track down his enemies.
As soon as the prologue ends, Venom Snake gets access to D-Horse. And you will spend a lot of time riding that horse through most of Afghanistan. D-Horse also allows Venom Snake to hide and avoid detection, as well as providing a diversion to stop enemy vehicles.
#10 Assassin's Creed Odyssey
Assassin's Creed Odyssey is the 11th major installment in Ubisoft's action RPG game series. This opus tells the story of the wars between Athens and Sparta in Ancient Greece. Like the previous games in the series, Assassin's Creed Odyssey features a large open world filled with mysteries to discover.
After a few introduction missions, you will be able to choose a horse from the neighborhood stables. If there are three horses you can choose from, only their color is different. No matter which one you pick, your horse will be named Phobos and will follow you on your adventures. You can customize your horse's skin later on to change its color or even turn it into a unicorn.
#9 Mount & Blade: Warband
Warband is a standalone expansion pack to Mount & Blade, the popular strategy action RPG game series. Mount & Blade: Warband introduces a sixth faction in the game, as well as the possibility for the player to start their own faction. It also features multiplayer modes to play with friends.
Mount & Blade: Warband takes place in the medieval land of Calradia, and the general goal of the game is to conquer this territory. As it is set in medieval times, there are no cars or helicopters available to drive around. But you can always count on your faithful horse to carry you wherever you want. You can even defeat your foes on horseback, slashing them from above.
#8 Conan Exiles
Conan Exiles is an online multiplayer survival game set in the universe of Conan the Barbarian. The main character is sentenced to death at the beginning of the game, and has to go into exile in the Exiled Lands desert.
The lands of Conan Exiles are violent, and you will often have to fight against various enemies. If you can chop off their limbs or heads, it is often safer to do so from a horse. You can ride your horse into battle, or just use it to travel faster through the world.
#7 Assassin's Creed Valhalla
Horse riding has always played a major role in Assassin's Creed games. Valhalla is no exception, with a brand new open world to discover on horseback. The game is set in Norse mythology and follows the story of Eivor, a Viking raider who wants to establish a new clan in England.
Exploring the vast lands of Norway and England on foot can take quite some time. But luckily, Assassin's Creed Valhalla features horse riding. If Eivor has their own horse, they can also mount wild ones quite easily. There is no taming or breeding in Assassin's Creed Valhalla. If you want to mount a horse, just run to them and saddle up.
#6 Kingdom Come Deliverance
Kingdom Come Deliverance is an action RPG set in 1403, in the medieval kingdom of Bohemia. The game focuses on historically accurate content, especially when it comes to weapons, fighting techniques, architecture and clothing.
Of course, in the medieval times, people didn't go around in cars. Horses play a major role in Kingdom Come Deliverance, as the primary means of transportation. They also bring a secondary inventory for the player and have their own stats. Kingdom Come Deliverance features horseback fighting as well as war horses, a special breed that comes with dedicated moves and attacks.
#5 The Elder Scrolls V: Skyrim
Skyrim is the 5th game from The Elder Scrolls series. It is set 200 years after the events of Oblivion and takes place in Skyrim, the northernmost area of Tamriel. As a Dragonborn, your goal is to defeat a powerful dragon said to cause the end of the world.
If Skyrim is mainly about killing dragons and shouting stuff off cliffs, exploration is a big part of the game. Horses can be rented from stables outside each major city. Three special horses are available by completing quests: Shadowmere, Arvak, and Frost.
#4 The Witcher 3
The Witcher is a popular RPG series that even has its own show on Netflix. The Witcher 3 is the last game to follow the adventures of Geralt of Rivia, a monster slayer for hire known as a Witcher. In this game, Geralt is looking for Ciri, his adopted daughter, who is on the run from the Wild Hunt.
To travel through the war-torn continent, from the Witcher stronghold of Kader Morhen to the empire of Nilfgaard, Geralt and his allies ride horses. If Geralt has his own horse, Roach, he can also tame wild horses to get new mounts.
#3 Red Dead Redemption 2 / RDO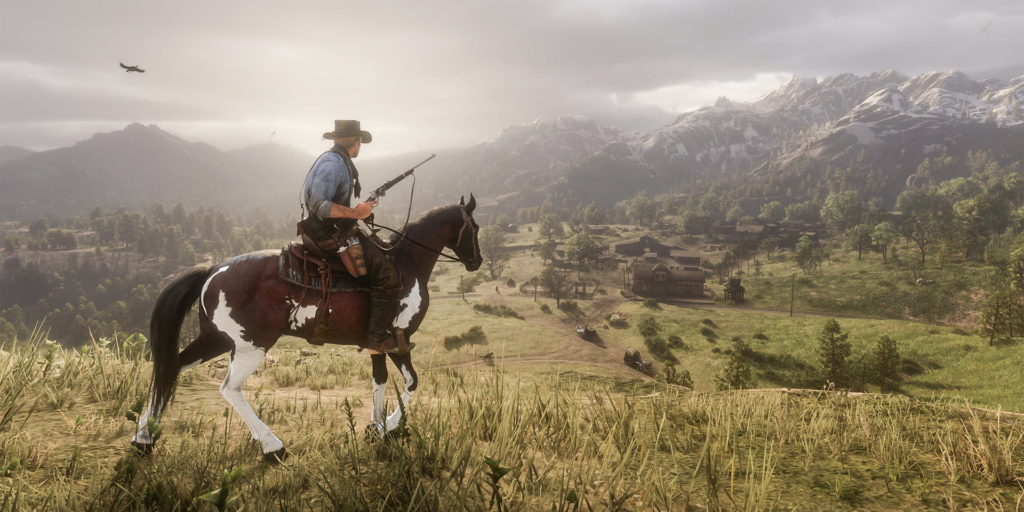 What would Arthur Morgan do without his horse? Red Dead Redemption 2 and its multiplayer mode, Red Dead Online, are set in the Western USA in 1899. The game follows the adventures of a bunch of gangsters living their lives in the Wild West.
Between two missions, players can do whatever they want in Red Dead Redemption 2. You can shoot whoever you want, play poker or blackjack, hunt animals, look for treasures or even hijack a train. Horses are the main form of transportation. You can tame a wild horse and make it your own, or steal a horse from a stable and run away. The more time you spend with your horse, the more you will bond with it and unlock new advantages.
#2 Shadow of Colossus Remake
Shadow of Colossus is a unique and poetic game. It follows the story of Wander, a young man who has to hunt and defeat various giants to revive a girl he likes. Each colossus is in a different part of the world, usually in remote areas like within ancient structures or atop cliffs.
To find these colossi, Wander can count on a faithful ally: his horse, Agro. This name is the one we hear the most throughout the game, as Wander is alone in this open world with no one else to call besides his horse. Horse riding plays a major role in this game, as Wander needs to travel a lot to find the different colossi.
#1 Ghost of Tsushima Directors Cut
Ghost of Tsushima follows the adventures of Jin Sakai, a samurai wanting to free his island of Tsushima from the Mongol invaders. The entire story revolves around Jin's journey, as he needs to find allies and save villages before facing the leader of the Mongol army, Khotun Khan.
Exploring the island of Tsushima is one of my favorite gaming experiences in recent years. Ghost of Tsushima does a great job of transcribing the world's environment, using real-life scans of leaves and plants to make the virtual island of Tsushima as close to the real one as possible. Riding through these lands is a pleasure, and fighting off Mongols while not even getting down off a horse brings even more joy.