There is absolutely no denying it, we all love a survival game, whether it's in a land ravished by blood-searching zombies, or a deadly virus that has killed off the majority of the world – the variety of scope is truly endless. But that got us thinking, what are the best survival games out there, the ones that really test your persistence and your skills as a primal being. So, let us try and decipher what are the top 25 games in this genre – strap yourselves in because this is a long one.
#25 Terraria
Publisher: 505 Games
Developer: Re-Logic
Platform: PC, Microsoft Windows
Release Date: May 2011
Terraria is an acquired taste all right, this action-adventure sandbox game looks quirky but is also kind of basic and formulaic. The game's mechanics revolve around exploration, crafting, building, and some combat with several creatures, but its 2D view is seen by many as quite old-fashioned, which hinders it slightly. But Terraria has been noted for its classic exploration-adventure style of gameplay, casting similarities to Metroid and Minecraft – which can't be a bad thing – but this little old school style platformer can only perform as well as the tools that it's been given, which is the reason it is placed where it is.
#24 DayZ
Publisher: Bohemia Interactive
Developer: Bohemia Interactive
Platform: Microsoft Windows, Xbox One, PlayStation 4
Release Date: December 2018
DayZ places you in the fictional post-Soviet Republic of Chernarus, where a mysterious plague has turned the majority of the population into violent infected beings – a classic plotline. As a survivor, you must scavenge the world for supplies, maneuver around the infected, either on your own or in a co-op with other players. DayZ often feels like a prototype of a finished product; a great little concept with a stylish look, but laden with glitches, bugs, and strange mechanics that will truly test your will to live. This is a standalone successor of the mod from the game ARMA 2, and maybe it should have just stayed as a mod because it certainly wasn't ready for its own title.
#23 Neo Scavenger
Publisher: Blue Bottle Games
Developer: Blue Bottle Games
Platform: Microsoft Windows, OS X, Linux, Android, iOS
Release Date: December 2014
In this game, you control a character that awakes from a cryonics laboratory in a ruined post-apocalyptic world. The main objective of the game is to keep the character alive by scavenging for food, clothing, and shelter – you know, the usual. This is a permadeath game that some people might think enhances the experience, it's not just an open-world survival, but involves a whole heap of side quests and an engaging story. The problem which is glaringly obvious is that it has a very basic aesthetic that feels stuck in time – even for a 10-year-old game – and it eventually got made into a mobile game, which kind of speaks louder than words.
#22 How to Survive
Publisher: 505 Games
Developer: Eko Software
Platform: Microsoft Windows, PlayStation 3, PlayStation 4, Xbox 360, Xbox One, Wii U
Release Date: October 2013
How to Survive is played from a top-down perspective and possesses two game modes; a story and a challenge mode, both of which can be played in a co-op. The player's mission is to gather materials, craft weapons, and make it off the island safe and sound – which is a lot tougher than you might think. This game is quite the repetitive grind though, consisting of bland colors and bleak-looking areas… you get the picture. Another game with a great concept but feels more like a PS2 game than anything from recent times, but in terms of being worth its money, that's a given because this game is really cheap, so it's definitely worth a punt if you fancy it.
#21 ARK: Survival Evolved
Publisher: Studio Wildcard
Developer: Studio Wildcard
Platform: Linux, Microsoft Windows, macOS, PlayStation 4, Xbox One, Android, iOS, Nintendo Switch, Stadia
Release Date: August 2017
First things first, this game is filled with dinosaurs, which is always worthy of bonus points. In this game, players must survive being stranded on an island filled with these prehistoric beasts, potential human players, and a whole host of natural hazards. However, even dinosaurs can't save the failures of this game, with an overreliance on grinding, a shed load of performance issues (specifically on the Nintendo Switch version), and the fact it is incredibly difficult. It all results in a game that showed great promise but was let down by these key factors that ultimately ruin the experience for most gamers.
#20 Conan Exiles
Publisher: Funcom
Developer: Funcom
Platform: Microsoft Windows, PlayStation 4, Xbox One, Xbox Series X/S
Release Date: May 2018
To put this game simply it is a survival game based in the fictional prehistoric Hyborian Age. You play as a custom character who is sentenced to death by those in power, but it is not too late as you are saved by Conan the Barbarian himself – that doesn't happen every day. You are now exiled and must live off the land, attempting to navigate the harsh wilderness with whatever it is you find. The problem is that this game suffers from extreme lag and a slightly buggy system, but overall Conan Exiles is a great crafting game, with an imaginative list of enemies and beasts to battle against.
#19 Unturned
Publisher: Smartly Dressed Games
Developer: Smartly Dressed Games
Platform: Microsoft Windows, macOS, Linux, Xbox One, PlayStation 4, Xbox Series X/S
Release Date: July 2017
Unturned features several different game modes, all of which consist of the zombie survival concept and a variety of difficulty settings to challenge every player's skills levels. A game that started out with a lot of bugs and teething issues has since developed a bit of a cult following; the cartoonish style is quirky and fun, the multiplayer experience is excellent and full of cool and unique mods to test your friend's patience. Unturned doesn't reinvent the wheel but it is a simple and accessible survival simulator, and if you can stomach those low production values then you're sure to have a great little game on your hands.
#18 Frostpunk
Publisher: 11 bit studios
Developer: 11 bit studios
Platform: Microsoft Windows, PlayStation 4, Xbox One, macOS, iOS, Android
Release Date: April 2018
The first city builder on the list is a complex but rewarding survival game. Players take on the role of a leader in an alternate history in the late 19th century, where you must build and maintain a city during a volcanic winter, manage resources and make crucial decisions for the good of the people. City builder games are not for everyone; the slow and meticulous planning that goes into the smallest of tasks can be somewhat of a slog, but this is a unique version of those games, albeit an extremely tricky one to get your head around. The rewards will outweigh the downfalls though if you give it time, that is for certain.
#17 The Long Dark
Publisher: Hinterland Studio
Developer: Hinterland Studio
Platform: Linux, Microsoft Windows, macOS, Xbox One, PlayStation 4, Nintendo Switch
Release Date: August 2017
In this Canadian production, the player assumes the role of a crash-landed bush pilot called Will Mackenzie, who must survive the arctic temperatures of the Canadian wilderness after a geometric storm. This game is aptly named, the long darkness of the night is haunting and follows you around wherever you go, delivering an incredibly immersive game that will test your grinding skills to the max in this harrowing wilderness. The game's gorgeous visuals make up for the fact its mechanics and story are slightly clunky and inconsistent – you don't need to eat that much deer each to survive, that we are sure of.
#16 7 Days to Die
Publisher: The Fun Pimps
Developer: The Fun Pimps
Platform: Linux, Microsoft Windows, Mac OS X, PlayStation 4, Xbox One
Release Date: December 2013
The game's events are set during the aftermath of a nuclear World War 3 that has destroyed most of the world, except for some areas such as the fictional Navesgane, Arizona, where your character hails from. You must survive by finding shelter, food, water, and fend off murderous zombies that have started to plague the lands. This game is not short of the odd bug or two (what survival games aren't these days) but it really brings out all those creative juices bubbling up within, allowing you to create better builds and experience your own primal instincts to their extreme. It's one hell of a fun experience that was a couple of patches away from making it one zombie game to remember.
#15 Green Hell
Publisher: Creepy Jar
Developer: Creepy Jar
Platforms: Microsoft Windows, Nintendo Switch, PlayStation 4, Xbox One
Release Date: September 2019
The story revolves around an anthropologist called Jake Higgins who wakes up in the Amazon jungle. Played from a first-person perspective in both single and co-op modes, this open-world simulation has players test their survival skills by collecting raw materials, food, and must craft objects and shelters. The unique aspect is that the environment of the game changes the dynamics of your perception in the form of hallucinations, so be wary of that as you tackle this extreme and unforgiving jungle. The fact this game is so interactive is what separates it from so many similar titles, and it isn't reliant on traditional scares but more focused on an atmosphere that creeps up on you as the story progresses.
#14 State of Decay 2
Publisher: Xbox Game Studios
Developer: Undead Labs
Platforms: Microsoft Windows, Xbox One
Release Date: May 2018
State of Decay 2 is another zombie-based survival game that has an emphasis on scavenging items that are littered about this deserted land. This open-world environment is extremely explorable and has tonnes of hidden gems to find that will help you on your journey. You can either play on your own or with three of your friends – you'll need them that's for sure. This game was praised upon its release for its musical score, the fluid combat system which is great fun, but was hampered by technical faults and a lack of depth in some of its mechanics. It's great fun nonetheless, and they must be doing something right because a sequel is currently under development.
#13 RimWorld
Publisher: Lundeon Studios
Developer: Lundeon Studios
Platform: Microsoft Windows, macOS, Linux
Release Date: October 2018
A good old-fashioned top-down construction and management simulation game, but steady on now because this a unique one, instead of a test of skill or challenges, this game is intended to serve as an AI-powered "story generator", with the game being used as a medium for players to experience all those narrative adventures. This game has a huge skill tree that grows bigger over time, it has engaging gameplay that makes you feel all so powerful, and even if you are successful at building a thriving colony, you could be destroyed by aliens at any second. And here's a strange fact of the day, this innocent little simulation game was banned in Australia for its depiction of drug use, who would have thought that then?
#12 Project Zomboid
Publisher: The Indie Stone
Developer: The Indie Stone
Platform: Java, Microsoft Windows, OS X, Linux
Release Date: November 2013
Another open-world survival game with an isometric view, but this one is incredibly unique and full of thrills – it was a real fan favorite as well. This game is set in a post-apocalyptic, zombie-infested world where the player is challenged to survive for as long as they can before you inevitably die – a bit of a spoiler for you but it's just a fact you'll need to get used to. For a zombie game, this is as realistic as it gets; the scaling of the apocalypse as it progresses is unparalleled, and the customization is really creative. Some may say it's the perfect zombie apocalypse simulator, but we'll let you decide.
#11 Dread Hunger
Publisher: Digital Confectioners
Developer: Dread Hunger Team
Platform: Microsoft Windows
Release Date: April 2021
Probably the newest game on the list is Dread Hunger, a survival game based on betrayal on a small fishing boat in the arctic. Eight explorers path their ship through the unforgiving seas and crushing ice, among them, is a crew that harbors a couple of traitors, and you must seek them out. This isn't just a survival game but also a mystery game where you must discover truths and lies, you will not understand this straight away because of its steady build-up, but once it kicks into gear you will be enthralled, and maybe a little bit scared as well.
#10 Medieval Dynasty
Publisher: Toplitz Productions
Developer: Render Cube
Platform: Microsoft Windows
Release Date: September 2021
Medieval Dynasty is a bit different than your average survival game on this list. It consists of a combination of multiple successful genres, such as the need to survive and feed yourself through hunting, farming, and caring for your land. You can create tools and weapons from whatever is lying around the map, and the construction of houses to extend your farm is what will lead to your eventual empire, one where you will feel like a king among men. It takes time to get to the end goal, but you will experience some very realistic gameplay and survival methods that will keep you engaged and tested.
#9 This War of Mine
Publisher: 11 bits studios
Developer: 11 bits studios
Platform: Microsoft Windows, OS X, Linux, Android, iOS, PlayStation 4, Xbox One, Nintendo Switch
Release Date: November 2014
The second game on this list from 11 bits studios is a game that differs from most war-themed video games because it tries to focus on the civilian experience of war rather than the combat side of it, which we see in most war games – and it has become slightly tiresome to be fair. Characters in this game must make difficult decisions in order to survive, and there are also different endings for each character that will keep you guessing. This War of Mine has a lovely aesthetic – it feels like an old soviet war film at its harrowing best – and is full of strategic twists and turns that are packed full of stark realism.
#8 Subnautica: Below Zero
Publisher: Unknown Worlds Entertainment
Developer: Unknown Worlds Entertainment
Platform: macOS, Microsoft Windows, Nintendo Switch, PlayStation 4, PlayStation 5, Xbox One, Xbox Series X/S
Release Date: May 2021
The sequel to its critically lauded predecessor, Subnautica: Below Zero is more of the same and doesn't deter too much away from the first, which is probably why it is where it is on this list. Like its predecessor, the player's aim is to explore the environments and survive in this eerie alien-infested world where something can jump out on you at any second. This game is so alike to the first game that it almost stunts its growth, it isn't allowed to move out of its shadow. But as the old saying goes, if it ain't broke don't fix it, but surely something could have been done to invigorate it slightly.
#7 Don't Starve
Publisher: Klei Entertainment
Developer: Klei Entertainment
Platform: Android, iOS, Linux, Microsoft Windows, OS X, PlayStation 3, PlayStation 4, PlayStation Vita, Wii U, Xbox One, Nintendo Switch
Release Date: April 2013
Don't Starve is one of those games that grabs your attention from the beginning because of its incredibly unique and quirky design, you also have no story setup which forces you to literally go into this game blind. The cartoony art style makes everything involved in this game a joy; the smallest of interactions with those creepy beast-like creatures are addictive and provide you with endless streams of surprises. And don't be thinking that this game is one you could complete in only a few hours because to be a top completionism you will need hundreds of hours of your precious time to achieve that 100% mark.
#6 Rust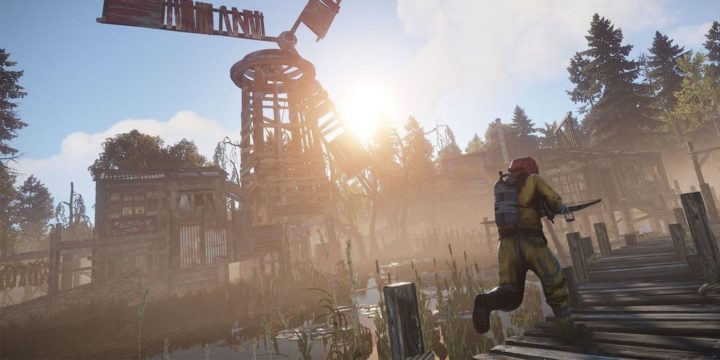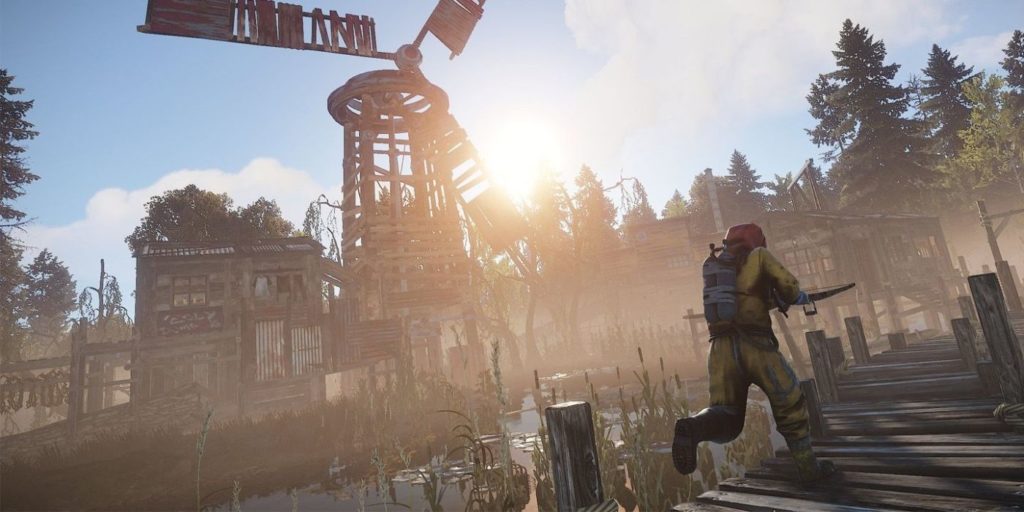 Publisher: Facepunch Studios
Developer: Facepunch Studios and Double Eleven
Platform: macOS, Microsoft Windows, Xbox One, PlayStation 4
Release Date: February 2018
Where to start with Rust. This is a game that kind of took the world by storm, and still is causing shockwaves in the land of streaming. The objective of Rust is to survive in the wilderness using gathered or stolen materials, and players must successfully manage their hunger, thirst, and their health, or they will reach their untimely end. The primary threat to players is other players, so you can imagine the absolute chaos this provides – do not trust anyone, we mean it. Rust is incredibly creative, players (if skilled enough) can build pretty much whatever they want, which is extremely fulfilling. The game might involve an awful lot of grinding, but the outcomes are worth putting the time in for.
#5 Subnautica
Publisher: Unknown Worlds Entertainment
Developer: Unknown Worlds Entertainment
Platform: macOS, Microsoft Windows, Xbox One, PlayStation 4, Nintendo Switch, PlayStation 5, Xbox Series X/S
Release Date: June 2018
The original game in the much-beloved series is the superior game as well. The fact that the sequel didn't change much (or anything for that matter) to the structure and mechanics of this game proves how much better it actually is. When this came out in 2018 it gave a whole new meaning to the sea exploration genre, it took them to the next level and resulted in a truly unique experience that was lauded by fans everywhere. Subnautica is a glittering example of the ways in which survival games can maximize that tense atmosphere and also deliver something that is also rewarding and lots of fun.
#4 Fallout 4 Survival Mode
Publisher: Bethesda Softworks
Developer: Bethesda Game Studios
Platform: Microsoft Windows, PlayStation 4, Xbox One
Release Date: March 2016
Some of you may be thinking that this is a cheaters choice because it's a mode and not a straight-up game, well that might be true, but it's going on the list regardless. The Fallout series is one of the most critically and fan celebrated franchises of all time, and the inclusion of this survival mode on the already great Fallout 4 only strengthened the stature of the game. The survival mode basically replaced the previous hard difficulty on Fallout 4 and can be set before starting a new game. This mode cannot be easily turned off though, so once you have selected it you had better strap yourselves in because it's going to get nightmarish.
#3 The Forest
Publisher: Endnight Games
Developer: Endnight Games
Platform: Microsoft Windows, PlayStation 4
Release Date: April 2018
Now, this is a survival game of the highest order, The Forest still gives us vivid flashbacks to a few scary and unexpected encounters. This is a survival horror game with an emphasis on the horror aspect all right. It takes place on a remote, heavily forested land that sees you play as Eric Leblanc who is looking for his son Timmy after their plane crashed. You must fight bloodthirsty monsters, and scavenge around for supplies, create a sturdy and protective base, but you must always keep your eyes open – that's your first lesson right there. And there is some good news as well for fans of the game because a sequel is in development and should be released later this year.
#2 Valheim
Publisher: Coffee Stain Publishing
Developer: Iron Gate Studio
Platform: Microsoft Windows, Linux
Release Date: February 2021
This could be a bold statement, but Valheim might just be one of the most gorgeous and visually stunning games to come out in recent times. Valheim takes place in a world where slain Vikings go to prove themselves fit for the legendary Valhalla. The player begins with nothing and soon discovers that to reach the treasured afterlife, they must battle and defeat the evil that lingers in the land of Valheim. A month after the release of the game on Steam, Valheim sold five million copies and was one of the most played games on Steam. Even on its early access release (a platform to dust the bugs off before its big release) it seemed complete, which is incredibly rare.
#1 Astroneer
Publisher: System Era Softworks
Developer: System Era Softworks
Platform: Microsoft Windows, Xbox One, PlayStation 4, Nintendo Switch
Release Date: February 2019
This might be a bit of a left-field choice, but Astroneer is one of the most unique, addictive, and visually stunning games of the last ten years. This sandbox adventure game lets you travel around planets and explore the intricate depths of some of the universe's best-kept secrets. You play an astronaut (adequately named Astroneer), who navigates on foot, with his trusty rover, or through teleportation as well as in his spacecraft. It's not often a games experience will leave you speechless, but Astroneer is one that does exactly that. We're all for quirky and original games that test the boundaries of excitement, instead of recycled titles that we've all played before, and for that reason – and the fact that it is also stunning – Astroneer is allowed to sit on the top spot.