Fans of top-down games are in luck, as there are quite a few great titles joining the genre in 2022. Top-down games have been enjoyed by gamers alike for almost as long as video games have existed. In fact, the first top-down game was a 2D shooter called Spacewar developed in 1962. Top-down games have come incredibly far since then and this list showcases some of the best the genre has to offer. Don't pay too much attention to the order as most of the games have yet to release. Check out a few top-down games being made available in 2022 below.
#25 Vampire Survivors
Developer: poncle
Publisher: poncle
Platforms: PC Xbox One XSX|S
Release: November 10, 2022
Vampire Survivors was a massive hit right out of the gate. Players are getting a shoot 'em up-style video game. Here you're picking a hero with a unique set of attributes. From there, you're dropped down onto a map filled with waves of skeletons, ghouls, ghosts, bats, and other hostile creatures. The goal is to survive as long as you can. Since the game takes care of firing attacks for you, players only have to maneuver their character around the map. Rewards will be unlocked as you take down more enemies and gain XP. This can further buff up your character to get stronger attacks or provide a bit more protection when taking blows against an enemy.
#24 Dwarf Fortress
Developer: Bay 12 Games
Publisher: Kitfox Games
Platforms: PC
Release: December 02, 2022
Dwarf Fortress is a colony simulation game. Here players are building a colony for dwarfs, and you must attend to their needs to ensure their survival. You'll have to battle wildlife and other hostilities that pop up. But on top of that, you'll craft areas like taverns, temples, and libraries, to really craft up a unique colony. Then there's the overall structure system of your colony which could mean diverting a water source for farming. Since this game has been available since its public alpha build in 2006, we are adding it to our list today because in 2022, we finally received the game through Steam marketplace.
#23 Chained Echoes
Developer: Matthias Linda
Publisher: Deck13 Interactive
Platforms: PC PS4 Xbox One Switch
Release: December 08, 2022
Fans of the classic 16-bit JRPGs will want to check into Chained Echoes. This is a retro-inspired JRPG that tells a new fantasy story about a continent that's going through an enduring war between three kingdoms. Players will follow a group of heroes seeking the peaceful end of the war but doing so will mean venturing out into the open. Here players will have to survive the environments that sprawl throughout the continent, whether it be exotic archipelagos, sunken cities, to forgotten dungeons. Don't expect a quick journey here either, as you can expect the campaign to take about forty hours to complete. Turn-based combat is featured here, but if you are not a fan of random encounters, you can rest easy. There are no random encounters to be had here. Every enemy you can battle in the game will be shown running around in this game world.
#22 The Wandering Village
Release date: September 14, 2022
Developer: Stray Fawn
Platforms: Xbox One, Microsoft Windows, Linux, macOS, Xbox Series X and Series S, Macintosh operating systems
Publishers: Stray Fawn, WhisperGames
The Wandering Village is a city-building simulation game, but instead of building your town on the ground, you do so on the back of a giant wandering creature.
If the graphics of The Wandering Village are cute and peaceful, the back of the giant is the only safe place in a post-apocalyptic world contaminated by poisonous plants. As the leader of your village, your mission is to make it grow and prosper while forming a symbiotic relationship with the giant laying beneath your feet. You can also decide to become a parasite for the giant and make its life awful just for the sake of your village, the choice is yours.
#21 Cartel Tycoon
Release date: March 18, 2021
Developer: Moon Moose
Publisher: tinyBuild
Platforms: PlayStation 4, Xbox One, Microsoft Windows, Xbox Series X and Series S, PlayStation 5
Most tycoon games put you at the head of your own business. But what better business than running a narco trade in the 80s Latin America? Sure, the cops and enemy gangs will want to kill you. But if you manage to run your empire properly, you could become the richest thug on Earth.
Cartel Tycoon offers a top-down view of your narco trade. Your goal is to expand your empire to become the new Pablo Escobar, but this mission isn't an easy feat. You have to keep your lieutenants in check, manage public opinion, and avoid getting gunned down by a rival drug lord or state authorities.
#20 Soulstone Survivors: Prologue
Developer: Game Smithing Limited
Publisher: Game Smithing Limited
Release date: August 26, 2022
Platform: Microsoft Windows
Soulstone Survivors is an action roguelite where you have to conquer the power of the void to become a god. The Prologue is a free-to-play version of this game, allowing you to slay hordes of enemies and challenge bosses before eventually trying the complete version of Soulstone Survivors.
In this top-down game, you get to fight against huge hordes of foes. To defeat them, you can craft powerful weapons and customize your character with dozens of skills. The full version of Soustone Survivors brings more skills, enemies, and weapons, but the Prologue already gives a good taste of what to expect from the game.
#19 Little Witch in the Woods
Release date: May 16, 2022
Publisher: SK Telecom
Genres: Role-playing game, Indie game, Adventure game, Early Access, Adventure
Platforms: Xbox Cloud Gaming, Xbox One, Microsoft Windows, Macintosh operating systems
Little Witch in the Woods is not going to be your typical witch game, we can promise you that. You see, the game is very much about you being a witch named Ellie, whose job it is to go to a small village and help them with her newly learned magic (that she learned at school, obviously).
Her goal is to make the village a better place, and it's your job to make sure Ellie does that. You'll get to talk to villagers and creatures and find out how to help them with your abilities. If you do well, they'll tell you more about their lives and the world itself!
So complete your training, and become the witch you're meant to be! All the while helping people.
#18 Weird West
Release date: March 31, 2022
Publisher: Devolver Digital
Developers: WolfEye Studios, Raphaël Colantonio
Platforms: PlayStation 4, Xbox One, Xbox Cloud Gaming, Microsoft Windows
In Weird West, the Wild West you know is changed into the more fantastical. Because in this place, it's not the gun that is the most powerful thing out there, it's the monsters that roam the land and you have to deal with.
This is a game about options and choices, and you'll learn very quickly how fast your choices will change the world around you. You can go in with a posse and mow everything down. Or, you can go and take on everything alone, or stealth your way through areas so that you don't have to get your hands dirty.
Different characters with different stories and yet a shared destiny await you. Saddle up, partner.
#17 Keplerth
Developer: TARO
Publisher: Gamera Game
Release date: May 23, 2022
Platform: Microsoft Windows
If you want a challenge in your gameplay, then Keplerth is one for you to try. Here, you'll wake up in a pod with literally nothing to your name. You'll have to venture out into the monstrous world you find yourself in, and then challenge everything in order to survive.
But fear not, you'll get the resources and abilities to fight back. But whether it'll be enough to survive is up to you. You can even splice your own DNA with other creatures in order to come up with new ways to attack and defend. Giving you an endless supply of playstyles.
You can even go and get yourself a pet or a mount to take into combat. Every playthrough will be different, so go and see how each adventure goes.
#16 Coromon
Release date: March 31, 2022
Developer: TRAGsoft
Platforms: Nintendo Switch, Android, iOS, Linux, Microsoft Windows, tvOS, Macintosh operating systems
Publishers: Freedom Games, Freedom Family Limited
…you get the irony of that name, right? If not, it'll become very clear. In the region of the world known as Velua (get the joke now?) you are a newly minted battle researcher (how about now?!?) and after a series of events, you are sent out into the world to go and collect and battle with creatures known as Coromon.
…ok, if you somehow don't get it now, it's a Pokemon ripoff, ok?
You'll get to travel around and try to collect 100 of these creatures, and fight off enemies and rival trainers in order to figure out what is causing so much danger in this world. Make sure you have the best team possible, and bring a bright new dawn to Velua!
#15 20 Minutes till Dawn
Release date: June 7, 2022
Developer: Flanne
Platforms: Android, Microsoft Windows
Publishers: Flanne, Erabit, Erabit Studios
20 Minutes till Dawn is a perfect title for those who just want to blast through enemies without needing too much depth to it.
As the game hints at, the game will at max last 20 minutes, because that's how long you have to last against a never ending horde of monsters in order to live to fight another day.
You'll get to choose from a wide variety of characters and classes. Then, upgrade them as you slaughter enemies in order to become even MORE powerful and make the ultimate build to make it to dawn!
Then, if you succeed, choose another character and build and do it all over again!
#14 Warm Snow
Release date: December 11, 2021
Developer: BadMudStudio
Publisher: Bilibili
Platform: Microsoft Windows
Welcome to a world where nothing is right, and it's your job to fix it.
Snow has fallen from the sky, and it's warm…and it's tainted. Those who have tasted it have become vicious monsters, and now you must find out why, and how to put an end to it all.
The game preaches versatility when it comes to combat, you'll have the chance to go and defeat your enemies with a variety of weapons and abilities that you yourself get to pick and choose and upgrade! Go through the game one way, and then go play it again and choose another path and see how differently it plays!
Just remember…you have a job to do, and that's to end the darkness of this land.
#13 Spelldrifter
Developer: Free Range Games
Publisher: Free Range Games
Platform: PC
Release: February 15, 2022
This top-down RPG involves puzzle-like positional tactics with a turn-based system, all while keeping the customizability and replayability that gamers find in a collectible card game. Developers call it a "hybrid" with the way it requires players to play a tactical RPG and build a strong deck of cards. Additionally, the game's Tick System challenges players to strategize their deck in a totally new way. Mastering the game's timeline can give players a great advantage in battle and help them be victorious.
Spelldrifter has players select a party of heroes, build a customized deck, and embark on an intriguing adventure through Starfall. The top-down game is available on Steam, Epic Games, and Apple Arcade.
#12 Warm Snow
Developer: BadMudStudio
Publisher: bilibili
Platform: PC
Release: January 19, 2022
Warm Snow is a rogue-like action game set in a dark fantasy world. This top-down title has players follow Warrior Bi-an as they embark on a journey to fight the Five Great Clans in an attempt to save the world. The single-player game is consistent with its title. During the 27th Year of the Longwu Era, a strange phenomenon occurred which saw snow fall from the sky which was warm to the touch and did not melt. This game will have players seek out the mystery behind this Warm Snow.
The game boasts very positive reviews on Steam, having garnered a score of 91% on the platform. Warm Snow is available to play now on Steam. As top-down games go, this one is certainly intriguing.
#11 Uragun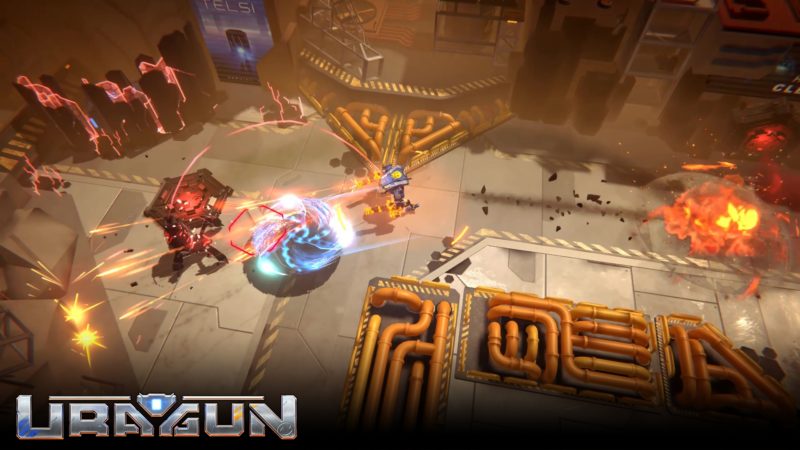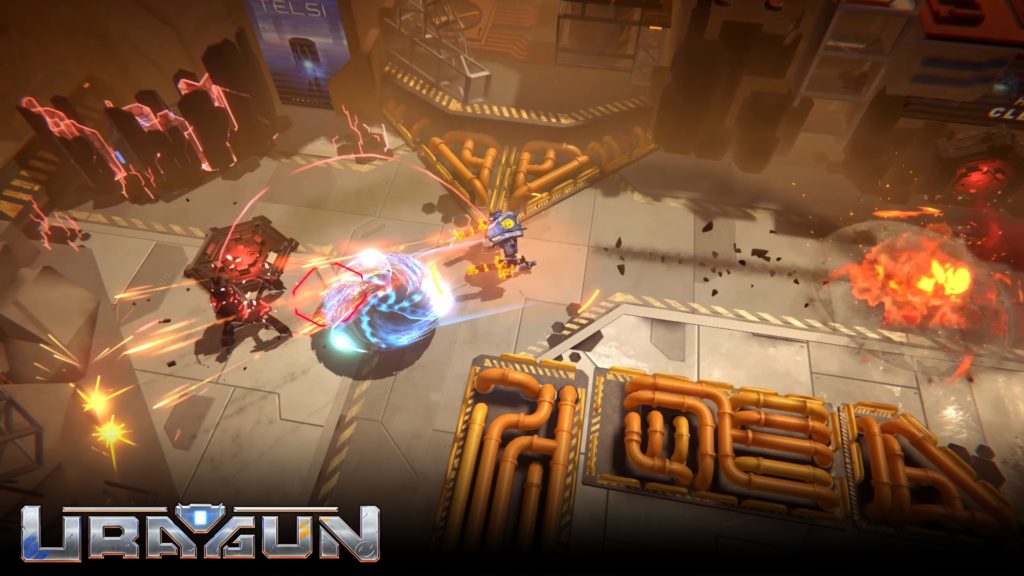 Developer: Kool2Play
Publisher: Kool2Play
Platform: PC
Release: March 30, 2022
This upcoming top-down game has players take control of a friendly but deadly Mech unit. Uragun creates an environment where players must face endless hordes of machines, gear up, and strategize the best way to fight their way out of action-packed situations.
The titular Mech unit that gamers play as suddenly wakes to find that the world has been overrun by menacing AI. Players must survive through battle after battle, master weapons, and fight enemies in an attempt to save the world in this futuristic top-down shooter.
Uragun is a single-player game and is currently available for early access on Steam. It will be fully available next month on the gaming platform.
#10 Warchief
Developer: Honikou Games
Publisher: Honikou Games
Platform: PC
Release: "Coming Soon"
Warchief has yet to release but will be a free-to-play real-time strategy game. Players will be able to build their own army using various units and spells, deploy their troops, and create a strong deck to achieve victory on the battlefield.
This top-down MMO allows for online PvP and online co-op. Players will be able to either go into battle alone or with others in free or ranked games (1v1 or 2v2). Warchief has gamers choose troops and create an army from various cards. Fighting monsters, building and defending a gold mine, and casting spells are part of this upcoming title.
Warchief will be available on Steam when it releases.
#9 Loot River
Developer: straka.studio
Publisher: straka.studio, SUPERSHOT PRESENTS
Platform: PC
Release: TBA
This upcoming top-down action game has players explore various labyrinths in a dark dungeon. Players will be able to experience rogue-like action in real-time combat with shifting blocks of ancient ruins, as well as fight bestial abominations. Loot River offers gamers the chance to loot, explore, level up, strategize, and cast powerful spells. This single-player title has players literally shift the ground beneath them in an attempt to solve various puzzles.
Add Loot River to your wishlist on Steam so you're notified as soon as it's available.
#8 Expeditions: Rome
Developer: Logic Artists
Publisher: THQ Nordic
Platform: PC
Release: January 20, 2022
This tactical RPG is the third game in the popular Expeditions series. Its previous installments have included Expeditions: Conquistador and Expeditions: Viking. This new game has players determine the destiny of Rome as they conquer foreign lands and navigate cumbersome political demands. Expeditions: Rome is a turn-based RPG that has players create their own Roman Legatus, customize characters' looks, and engage in tactical combat.
The game is currently available on Steam, having garnered "very positive" reviews with a score of 88%.
#7 TombStar
Developer: Andy Sum, Marcus Grambau
Publisher: No More Robots
Platform: PC
Release: Early 2022
Tombstar is a top-down Western space shooter with rogue-like elements. This upcoming title follows a group of fierce gunslingers on their quest to bring down the biggest outlaw gang in the Frontier Galaxy. The game will have players shoot, dodge, cloak, and explode their way to victory. Alien characters complete with guns and spurs must fight for justice and revenge in the name of the galaxy. Players must take down the notorious Grimheart Gang after they have driven out every peaceful settler from their home. Players will go head-to-head with tough bosses in heart-pounding combat.
This action game is due for an early 2022 release, available on Steam. Add Tombstar to your wishlist today!
#6 Undecember
Developer: Needs Games
Publisher: LINE Games
Platform: PC
Release: Q1 2022
As a "hack and slash" action RPG, Undecember has players become Rune Hunters and combine a variety of Skill and Link Runes to promote character growth. The soon-to-be-released game provides the opportunity to annihilate countless enemies at once, choose from select combat styles, combine an infinite mix of skills, and take part in a wide variety of game content such as the main story, the Chaos Dungeon, boss raids, PvP scenarios, and a guild.
Undecember developers will launch the top-down game on Steam in the first quarter of this year.
#5 Wizard With A Gun
Developer: Galvanic Games
Publisher: Devolver Digital
Platform: PC, Nintendo Switch
Release: 2022
Wizard with a Gun is an upcoming online cooperative sandbox survival game. It is set in a magical wilderness filled with dangerous creatures and intriguing mysteries. Players can collect, craft, and customize their wizards however they choose. The game offers both single-player and online co-op experiences.
This whimsical top-down game doesn't yet have an exact release date but developers have promised Wizard with a Gun will make its way to Steam and Nintendo Switch this year.
#4 GigaBash
Developer: Passion Republic Games
Publisher: Passion Republic Games
Platform: PC, PS4, PS5, Xbox One, Xbox Series X/S, Nintendo Switch
Release: 2022
Passion Republic Games has created an incredibly fun game with GigaBash, taking inspiration from iconic characters like the gigantic kaiju and city-wrecking monsters such as Godzilla. GigaBash allows players to choose their own massive monster and fight against equally large foes, all while destroying the environment around them.
GigaBash offers players both single-player and online PvP experiences. Wreck some monsters and cities with this multiplayer arena brawler later this year.
#3 No Place For Bravery
Developer: Glitch Factory
Publisher: Ysbryd Games
Platform: PC, Nintendo Switch
Release: Q3 2022
No Place for Bravery follows a driven warrior by the name of Thorn who must roam a war-torn world in search of his daughter. Players must survive violent battles as they navigate this 2D action RPG. The setting in this upcoming top-down title is decorated with highly detailed pixel art, creating a fantasy setting.
As stated by developers, enjoy No Place for Bravery later this year on Steam and Nintendo Switch.
#2 Nobody Saves The World
Developer: DrinkBox Studios
Publisher: DrinkBox Studios
Platform: PC, Xbox One, Xbox Series X/S
Release: January 18, 2022
This action RPG is a dungeon crawler that allows players to transform into a slug, ghost, dragon, or many other forms. Nobody Saves the World is from the creators of the popular Guacamelee and boasts a review score of 92% on Steam.
The key features of this game include transforming into over 15 distinct forms, mixing and matching abilities, going on some unconventional quests, and exploring dungeons. Nobody Saves the World is available now on Steam and Xbox consoles.
#1 Tunic
Developer: Andrew Shouldice
Publisher: Finji
Platform: PC, Xbox One, Xbox Series X/S
Release: March 16, 2022
Tunic follows an adorably small fox going on a big adventure. Players will control the fox while uncovering lost legends, ancient powers, and fighting ferocious monsters. This title is unique when it comes to top-down games as it provides an isometric view while players experience the Zelda-inspired gameplay.
This adventure game is single-player by design and filled with colorful, visuals. Check out Tunic next month on PC and Xbox consoles.