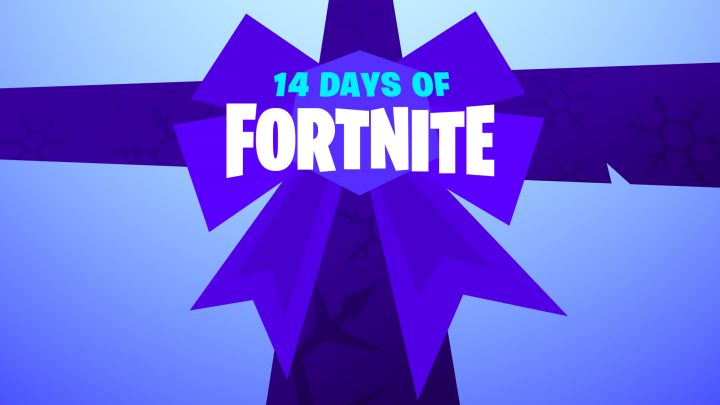 It's never too late to celebrate the holidays and spread a little joy in Fortnite: Battle Royale, because there's still time to complete all 14 'Days of Christmas' challenges. Each challenge gives you a new unique reward, and they've returned for a second round — you'll have until January 15th to complete them all. And they're worth doing. Some of them are tricky, but at least half of the challenges are exceedingly simple to complete.
It's been a busy holiday season for Fortnite fans; the giant interdimensional purple cube (nicknamed Kevin) has returned, there are dragon eggs to find in a hidden chamber, and for New Year's you could watch the disco ball drop every hour as the year changed all around the world.
---
More Fortnite guides on Gameranx:
---
Day 1: Start or Join a Creative Server
Super easy. Just start your own Creative Server from the menu, and place something to mark your territory. Then you can exit and complete the challenge.
Completion Reward: GG Ornamental Spray
---
Day 2: Visit Giant Candy Canes
For this challenge, you'll need to visit 2 giant candy canes. There are 4 total on the map. The candy canes are huge, and they're easy to spot from the sky.
Candy Cane #1: I2
Candy Cane #2: D7
Candy Cane #3: F9
Candy Cane #4: B7
Completion Reward: Festive Firelight Loading Screen
---
Day 3: Play Matches With Friends
To finish up this friendly challenge, join a party with at least 1 friend. Play 3 matches and you'll complete this daily challenge..
Completion Reward: Snowball Toy
---
Day 4: Hit A Player With A Snowball In Different Matches
For finishing "Day 3: Play Matches With Friends", you'll get the snowball toy. Set the Snowball Toy as your emote, and you'll be able to easily whip out this toy and belt people with a snowball. You'll need to wallop people with snowballs in 4 matches. You can do this while waiting in the lobby.
Completion Reward: Snowman Emoticon
---
Day 5: Fly Through Golden Rings In An X-4 Stormwing Plane
To complete this challenge, you'll need to hop aboard one of the new airplanes. You can find them at the Expedition Posts, or at Frosty Flights — you'll need to fly through five golden rings to finish up this challenge. There are tons of them all around the map, so I'll quickly list five you can grab near Frosty Flights.
Golden Ring #1: B7 – Near Polar Peak.
Golden Ring #2: B8 – Right above Frosty Flights.
Golden Ring #3: D9 – Northeast of Happy Hamlet.
Golden Ring #4: E8 – Under the bridge.
Golden Ring #5: E6 – Right outside the snowy biome border.
Completion Reward: Combat Wreath Back Bling
---
Day 6: Search Waterside Goose Nests
Like the name implies, you need to find nests full of eggs. They're always near the river or lakes. You'll need to find 6 nests to finish this challenge. I'll quickly list 6 you can easily locate.
Goose Nest #1: D4 – Northwest shore of Loot Lake.
Goose Nest #2: E4 – Eastern shore of Loot Lake.
Goose Nest #3: E5 – Southern shore of Loot Lake, near where the river begins.
Goose Nest #4: E7 – Follow the shore south of Loot Lake. On the east side.
Goose Nest #5: E8 – Further south, in the snow, on the west side of the river.
Goose Nest #6: F10 – Right on the border of Grid 9/10, northwest of Lucky Landing.
Completion Reward: Crackshot Special Loading Screen
---
Day 7: Use Boogie Bombs Or Presents!
Very simple — randomly around the map, you'll find Boogie Bombs / Presents at weapon loot locations. Immediately use them after you find them. They don't need to actually hit anyone. Use Boogie Bombs / Presents a total of 7 times.
Completion Reward: Merry Munchkin Pet
---
Day 8: Damage Opponents With Different Weapons
Blast enemies with a variety of different weapons. Any different "class" of weapon will count, and you don't have to eliminate your opponent, just land a hit and do a little damage. Don't forget that traps, grenades, vehicles and your pickaxe all count as different weapons. Other than that, you can use: Sniper Rifles, SMGs, Shotguns, Assault Rifles, Pistols, and the minigun are all unique weapons.
Completion Reward: Take the Elf Emote
---
Day 9: Dance In Front Of Different Holiday Trees
Decorated trees are found all over the map in specific named locations. All you have to do is find the trees and do a dance emote near them. You'll need to do this at 9 different locations.
Tree #1: C3 – Pleasant Park
Tree #2: F3 – Lazy Links
Tree #3: D5 – Tilted Towers
Tree #4: F5 – Dusty Divot
Tree #5: I4 – Lonely Lodge
Tree #6: H6 – Retail Row
Tree #7: C7 – Frozen Lake
Tree #8: A8 – Frosty Flights
Tree #9: D9 – Happy Hamlet
Tree #10: F8 – Fatal Fields
Tree #11: F10 – Lucky Landing
Tree #12: I8 – Paradise Palms
Completion Reward: Snowglobe Banner
---
Day 10: Land Tricks In A Vehicle In Different Named Locations
Super simple — just land tricks with any of the Fortnite vehicles. You can use the ATK, Shopping Cart, or Quadcrasher to land tracks. Simply jump a hill or ramp, then land on all four wheels to begin the trick timer. You'll need land tricks in 10 of the 21 named locations on the map.
Completion Reward: Holiday Stormwing Spray
---
Day 11: Thank The Bus Driver In Different Matches
When you're flying on the bus at the beginning of every match, you can thank the bus driver by pressing [D-Pad: Down] — you'll need to do this on 11 different matches to finish up this super-easy challenge.
Completion Reward: Frozen Axe Harvesting Tool
---
Day 12: Destroy Snowflake Decorations
A tiny bit trickier — you'll need to keep your eyes peeled for snowflake decorations hanging from houses and shops all over the Battle Royale map. Snowflake decorations appear in clusters, usually, so you can shoot all of them to quickly boost your count. You'll need to blast 12 snowflake decorations total to finish this challenge. Check the following named locations: Retail Row, Happy Hamlet, Tilted Towers, Dusty Divot, and Pleasant Park.
Completion Reward: Snowflake Emoticon
---
Day 13: Place Devices On A Creative Island
Here's another easy one. Hop into a solo Creative Mode match and drop down to the island to start placing stuff. Press [D-Pad: Up] to activate the Creative Mode menu, then tab over to Devices. You'll need to place 13 devices to complete this challenge, and because it's creative mode, you can just place as many as you want for free. No challenge here.
Completion Reward: Disco Wrap
---
Day 14: Search Chests
The final day sends you out hunting down treasure chests. Chests randomly spawn — but you'll often find them in the attic of houses. They're totally random, so you'll just have to keep playing until you find 14 chests. It's a lengthy challenge, so just enjoy your time, playing the game, and grab chests when you can to finish up the 14 Days of Christmas celebration.
Completion Reward: Equalizer Glider