The Teenage Mutant Ninja Turtles have been around for decades. From comic books and cartoons to feature-length movies, the franchise has mutated to reach every medium possible. Below, we're discussing some of the best TMNT video games to have ever been released.
We're taking a look back at the original arcade titles and the iconic beat 'em up's that are still a blast to play today. Check out our picks down below, and let us know what your favorite TMNT game is by leaving a comment!
#12 Teenage Mutant Ninja Turtles 2: Battle Nexus
Teenage Mutant Ninja Turtles 2: Battle Nexus was a 2004 video game released that originally launched for a number of platforms from the PlayStation 2 to the Xbox. This is another beat 'em up title featuring new-and-improved 3D graphics. Much like previous installments, players can choose to step into the shoes of Leonardo, Donatello, Michelangelo, or Raphael.
This time, the game is based on the 2003 animated TV series and features more of a narrative journey to experience. The game features a multiplayer mode, with players forced into sharing one health bar, making working together a must. As a nice little bonus with the game, players could unlock the classic arcade game.
#11 Teenage Mutant Ninja Turtles 2003
When most people talk about the Ninja Turtles in the video game medium, it's typically regarding the classic arcade and console video games. Those titles were great and featured on our list, but it seems like the early 2000s games are often overlooked. There's some division online with these games, usually due to an ever-increasing age gap. Those that grew up during the 1980s and 1990s found more enjoyment from the earlier games whereas those that had only experienced the later rebooted cartoon series and video games were hooked on those newer installments.
In 2003, Konami was able to release a rebooted Teenage Mutant Ninja Turtles game that was based around the cartoon series airing at the time. As a result, the gameplay narrative was a reboot of previous narrative storylines like the Turtles meeting Casey Jones. The gameplay was a 3D action beat 'em up title that featured both solo and multiplayer modes. Much like the other games, players have iconic characters with their weapons to use while progressing through the campaign, while a secondary player can jump right into the gameplay at any time.
#10 Teenage Mutant Ninja Turtles III: The Manhattan Project
Teenage Mutant Ninja Turtles III: The Manhattan Project is another beat 'em up title that released in 1992 in North America for the Nintendo Entertainment System. What really set this game apart for fans of the TMNT franchise is that this was a brand new video game not based on an arcade title.
The narrative sees our heroes taking a break with a vacation only for it to come at a sudden end when Shredder kidnaps April O'Neil and rips Manhattan from the ground. The Turtles must head to the floating Manhattan Island to stop Shredder and save April O'Neil.
The developers at Konami allowed multiplayer gameplay where two players could pick between Leonardo, Raphael, Michelangelo, and Donatello. Gameplay is easy to grasp, though one of the more interesting aspects that Konami had included in the game was two different modes. If players wish to have more of a challenge, they could go through a game mode in which both players could attack each other throughout the game. However, that same feature could be disabled in the secondary game mode.
#9 Teenage Mutant Ninja Turtles: Tournament Fighters
Teenage Mutant Ninja Turtles: Tournament Fighters is actually three different video games that Konami developed back in 1993 and 1994. Overall, this is a standard fighting game where players can face against each other as one of the Ninja Turtles along with a variety of other characters based on the franchise.
The game was developed and released for the Nintendo Entertainment System, Super Nintendo Entertainment System, and the Sega Genesis. Gameplay mechanics would be different in comparison to each other simply due to the controllers, but another interesting difference between the three video games were the additional characters outside of the main Ninja Turtles.
#8 Teenage Mutant Ninja Turtles (GBA)
Teenage Mutant Ninja Turtles is a 2003 release for the Game Boy Advance that mixes in a few different elements. Instead of being a full-on beat em' up title, there are certain levels in which players could compete in races.
Likewise, instead of allowing players to take control of any of the turtles right at the start, players had to play a number of levels as each character. Within the narrative, players have to stop Shredder and his mutated army from wreaking havoc on the city.
#7 Teenage Mutant Ninja Turtles III: Radical Rescue
Teenage Mutant Ninja Turtles III: Radical Rescue launched in 1993 for the Nintendo Game Boy. A bit different than most of the other titles mentioned in this list, Radical Rescue is a platformer set within a Metroidvania-type world.
The game follows the general narrative of stopping the evil Shredder, but much like the video game for the Game Boy Advance, this title only allows players to control certain Turtles on select levels.
Likewise, each Turtle has a unique ability that can come in handy when completing the narrative journey such as Donatello's ability to climb walls.
#6 Teenage Mutant Ninja Turtles II: The Arcade Game
Teenage Mutant Ninja Turtles II: The Arcade Game was released in 1989 for arcades but was later ported to a number of platforms such as the Nintendo Entertainment System. The game was based on the first animated series, and players had the ability to play as one of the four Ninja Turtles. Likewise, depending on the platform, up to four players could play simultaneously.
This beat 'em up title follows the gang as they track down Shredder, who has kidnapped the Turtle's longtime friend April O'Neil along with their mentor, Splinter. Players fight off a variety of enemies which have different attack patterns or weapons depending on their color pallet.
Again, there are some dependencies with this title as your gameplay experience may change depending on the platform. For instance, the NES only allowed singleplayer and chose when players were able to control a certain Turtle.
#5 Teenage Mutant Ninja Turtles: Rescue-Palooza
Fan games are a work of passion. With no means to make money off of their creations, what players receive is a labor of love, with freelance developers pouring thousands of hours into their masterpiece. That's exactly what Rescue-Palooza creator, Merso X, did for the community. While the game project was initially a means to bring NES TMNT games to the more powerful SNES, the game ended up being its own standalone title.
With 60 playable characters, nearly twenty stages, and 4-player cooperative gameplay, this was no small feat. This game was released only a few years ago, so some might not be familiar with the title quite yet. While it's not an official release, this is a game that's definitely well worth playing today.
#4 Teenage Mutant Ninja Turtles: The Cowabunga Collection
Who doesn't love the heroes in a half shell? With Teenage Mutant Ninja Turtles: The Cowabunga Collection fans of the classic turtle heroes can experience thirteen different vide games all under one shell. These games come with a lot of updates including online play, couch co-op, save anytime, rewind, button mapping, and more! If you're looking for a blast from the past or a trip down nostalgia lane then the Cowabunga collection is the perfect pick. Good value, a bunch of amazing classic games, and some of the best beat em up action to ever grace the gaming medium.
#3 Teenage Mutant Ninja Turtles: Shredder's Revenge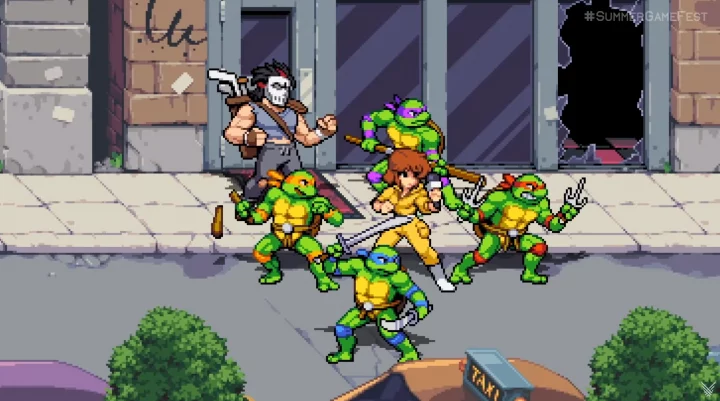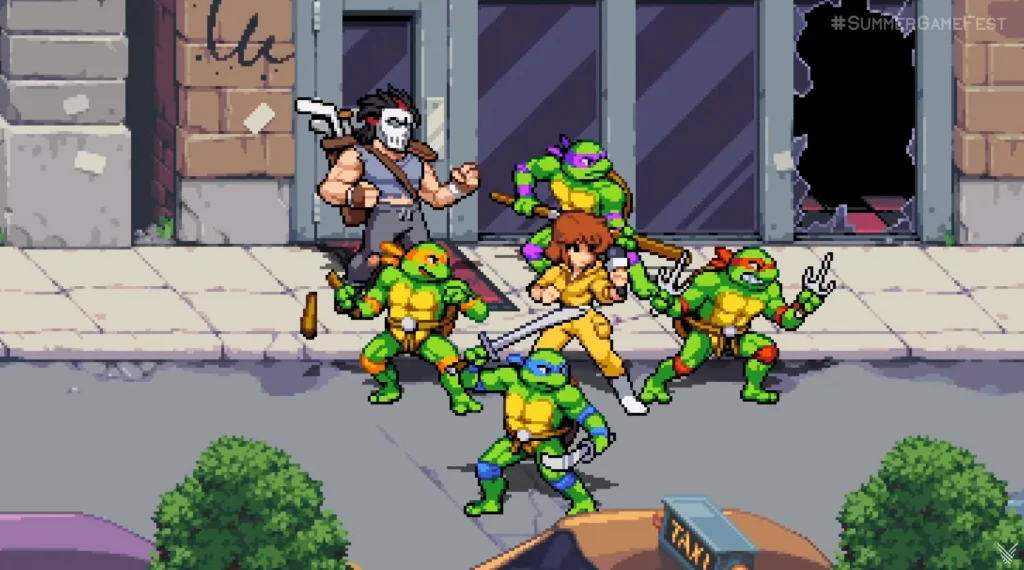 Let's be reasonable here: most of us heard the word "ninja" because of these guys. Except the British, who got "hero turtles" instead, but that's by the by. The majority of us cut our teeth with the heroes in a half shell, learning of new and exotic weapons and kick-ass martial arts.
So, imagine our surprise when the Ninja Turtles come back onto our screens/monitors with a game that feels like the next progression from The Hyperstone Heist and Turtles in Time. Crisps character models, flashy moves and flashier effects, what better time to tickle that nostalgia than by jumping in as Donatello, the best turtle?
#2 Teenage Mutant Ninja Turtles: The Hyperstone Heist
Teenage Mutant Ninja Turtles: The Hyperstone Heist is based on Turtles in Time, and was released for the Sega Genesis. Launched back in 1992, the game is almost identical to Turtle in Time, but that doesn't mean that it alone isn't worth playing.
Control-wise, gamers lose the ability to throw enemies at the screen, with this unique feature replaced by a dash attack. Likewise, there are some new levels for players to beat their way through.
With that said, most would say that Turtles in Time feels and sounds better than the game on which it was based. That might be more a matter of preference.
#1 Teenage Mutant Ninja Turtles: Turtles in Time
Teenage Mutant Ninja Turtles: Turtles in Time is arguably the best TMNT video game, still holding up well today. This classic title was released back in 1992 by Konami as a port of a beloved arcade title.
The game is a side-scrolling beat 'em up allowing two players to go through the game as Leonardo, Michelangelo, Donatello, or Raphael, each with their own iconic weaponry and strengths.
The narrative follows the turtles as they attempt to stop the evil Shredder. In the process, our heroes end up in a time warp where they must stop Shredder's army in both the past and future.