Gaming headsets aren't just about faithful sound reproduction. Like smartwatches, they're a form of wearable tech that lets you show off your personality in style. The adage isn't limited to shoes – you can tell a lot about a person by their headphones! Most of us have a preference for colour, size, any embellishments, and how much we're willing to splurge. But choosing a headset that aligns with our lifestyle is ultimately what sells a concept. In this comparative review, we put two brands – Cougar and HyperX – to the test in a supersonic battle of functionality, price, and aesthetics.
Cougar Immersa Pro 7.1 RGB
Like Odysseus, I've embarked on a journey consisting of many budget audio machines, but none of them have quite felt like home in the same way Cougar's Immersa Pro 7.1 RGB gaming headset does. Despite its bulky appearance, the Immersa Pro weighs in at a decent 1.4 pounds/635 grams, and cushions your ears with soft, memory foam that prioritises your comfort.
The spacious 100 mm ear pads completely insulate your ears in a snug embrace, but that's not all they're good for. Encircling the ear pads are metallic omni-directional ear shells, which let you adjust volume via a physical earcup dial (right hand side) and switch the microphone on and off (left hand side). This feature is truly a step forward. It's a welcome innovation in a long line of headsets that feature standard volume dials tacked onto the plastic cable, and more importantly, does not feel gimmicky in the slightest.
Another great feature in the Immersa Pro is the suspended, leather-like headband, which automatically stretches according to the size of your head. Once again, Cougar thinks outside the box to replace manual adjustments and achieves better ergonomics. The inclusion of both USB soundcard plus headphone jack is smart choice on Cougar's behalf, since most devices these days have USB ports and companies like Apple are completely abandoning headphone jacks – it does make one wonder about where we'll be in ten years from now.
Light me up, baby
All the people in the Nintendo Switch commercials oozed coolness, and fortunately, the Immersa Pro lets you continue their legacy. Plug in the Pro while playing Super Mario Odyssey for a truly 'lit' experience, thanks to an RGB illuminated circular strip which is also compatible with mobile, laptop, PC and dualshock/Xbox controllers.

The Immersa Pro lights up beautifully. And while it's visually satisfying, it also provides an effective user feedback system, so you're always conscious of whether it's on. It comes with 'brilliant lighting', which here means a 16.8 million colour range you can tweak around to your heart's content. Do note there's no accompanying software in the package, but a quick stop by Cougar's UIX Support System reveals the exact driver you need for multicolour bliss.
Playing around with different effects like breathing or swift hue changes adds an element of fun and practicality. I only wish the retractable mic underwent a bit of a colour change, too! For the advanced audiophiles amongst us, there's also an equaliser that lets you make adjustments depending on whether you like bass or treble more prominent. The only downside I discovered was the delayed response time when trying to adjust the illumination settings to more complex layouts (I'm looking at you, Swift x7).
Chatting with the Immersa Pro is a breeze. The retractable mic zips in and out of its socket with a simple pull, and as such, it's impossible to misplace it. It's a malleable little beast, and durable to boot, although it lacks the spongy comfort of a microphone windshield (stay tuned). In terms of audio quality, the sound production is very clear but occasionally inconsistent, skipping chunks of speech, which I put down to using it locally as opposed to long distance communication – take this advice with a grain of salt. The 7.1 virtual surround sound, on the other hand, feels completely immersive. Like the G.Skill Ripjaws SV710 and Logitech G433 7.1, it really gives you better awareness of where individual sounds are coming from during a game.
Lastly, the rubric I measure headphones against most harshly is whether they induce headaches, but to my great surprise (and relief), the Immersa Pro left me feeling only mildly irritated after four to five hours of continuous usage. All in all, Cougar's Immersa Pro earns a definite recommendation, but how does HyperX's Cloud Alpha fare?
HyperX Cloud Alpha Pro Gaming Headset
Don't be deceived by the run of the mill marriage of crimson and ebony, because behind its basic presentation, the HyperX Cloud Alpha Pro is a minimalist stunner.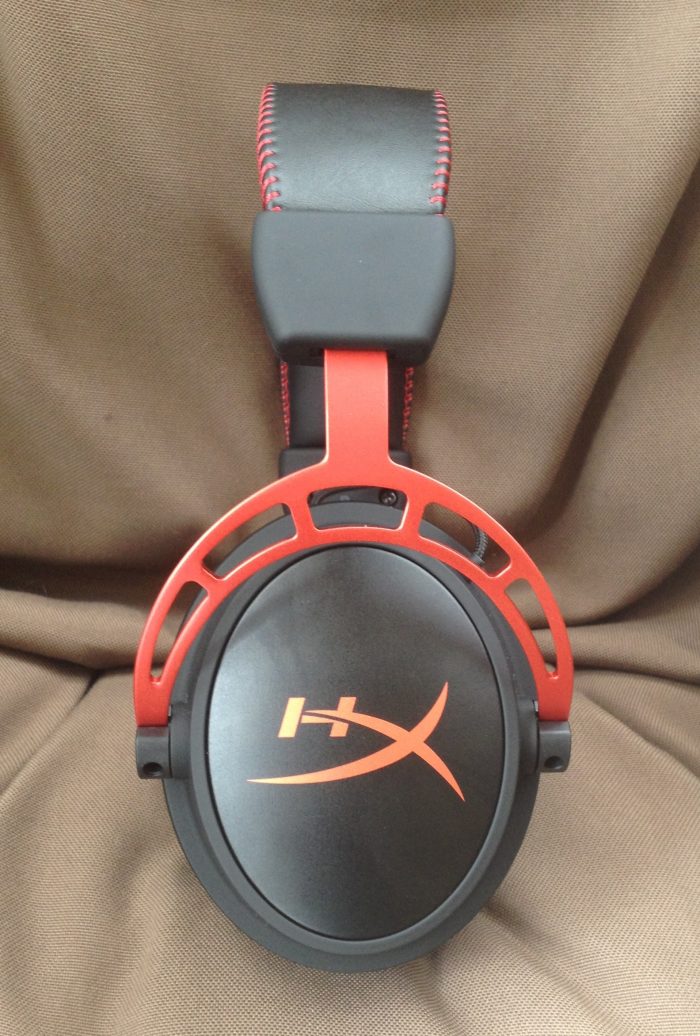 If you're after a small, thin, compact design, look no further; HyperX balances its sleek, durable aluminium frame with gentle leatherette ear pads which translates to excellent manageability. Then you're blessed with the added convenience of a 1.3 m braided cable (extendable to 2 m, matching the Immersa Pro) for superior, unconstrained freedom of movement.
Tinker, tailor, amplify
Compared to the Immersa Pro, or the simple setup required for Creative's Sound BlasterX H7 7.1, there's a bit more manual labour involved with the Cloud Alpha. Took me a little bit of tinkering around to figure out how to plug it in. In our initial review, we noted that there's only one way to connect the Cloud Alpha, and it's not that intuitive either; you really need to plug the cord into the ear pad quite firmly (make sure you hear a click). However, things pick up significantly once you're wearing it.
Not only is the HyperX Cloud Alpha very comfortable, it's got a manual adjust feature which lets you easily loosen or tighten how the headset rests on your skull. Conveniently situated close by is the detachable microphone piece, a practical addition for in-game chat.
There aren't any fancy lightworks with the HyperX Cloud Alpha or drivers (though there is a general support page), however, what it lacks in flashy presentation it makes up for in convenient features. You've got the adjustable volume switch in an easy to reach location not too far away from the ear pieces. An extra long braided cable allows for tons of degrees of freedom to move about, and the microphone piece is a true ergonomic design marvel. It's extremely flexible and can be bent in any direction for optimal voice clarity. You also get the benefit of foam windshield plus noise cancellation that filters out environmental distractions very well.
Curiously, the speaker and microphone cables have individual outputs on the extension cord – which works fine for PC, but considering the overall simplicity in the Cloud Alpha's design, I couldn't really see a reason not to fuse them into one. Unlike the Immersa Pro, the cables don't offer a USB output, which might be preferable in some cases since it expands the range of devices that you can connect to. Despite the minor limitation, the Cloud Alpha's 1.3 m cord (2 m extendable) is long and provides excellent breathing space. There's nothing worse than feeling restricted in a crucial moment, multiplayer or otherwise, and speaking of comfort, the Cloud Alpha goes beyond cushion-soft ear pads.
Walking on air
If the Immersa Pro is light, wearing the HyperX Cloud Alpha feels like air; its 0.74 pound/335 gram weight, mic and cords included (only rivalled by the buoyant Logitech G433 7.1 Wired Surround Gaming Headset which is an enviable 259 grams/0.57 pounds) is almost unnoticeable even after several hours, which is exactly what you want to stay comfortably immersed in long gaming sessions.
The only real proviso with the HyperX Cloud Alpha is its price. It's by no means exorbitant, but compared to its award-winning cousin, the HyperX Cloud Stinger, you're looking at another $50 USD on top. As for audio performance, sound came through the ear pad in crystal clear, sharp fashion, and was noticeably less muffled than the Immersa Pro. There were missing chunks of speech here and there, but this seems to be a location issue and not an issue of functionality.
Either of these headsets – the HyperX Cloud Alpha or the Immersa Pro could take things up a notch by going wireless, but that opens up discussion for battery life and longevity, which isn't applicable for the current review. Nevertheless, it remains an interesting possibility.
Final verdict
Head to head, the HyperX Cloud Alpha and Cougar's Immersa Pro 7.1 RGB emerge fairly even, even from a price perspective. What differentiates them most apart from colour and size is innovation and functionality. Cougar opts for experimental design and excels, whereas HyperX sticks to tradition and optimises sound quality from the get go with dual chamber split architecture. Both headsets deliver the goods and are justified purchases, especially with the holiday season upon us – the only determining factor is you.
Cougar Immersa Pro 7.1 HyperX Cloud Alpha
• Bulky ear pads • Sleek, minimal design
• Ultra comfortable • Very comfortable
• Lightweight (1.4 pounds) • Featherweight (0.74 pounds)
• Plug-and-play • Initial cord setup unintuitive
• Virtual surround sound, earcup dials • Detachable noise-cancelling mic
• USB soundcard connection option • Protective sleeve
• Fancy RGB backlighting • Dual chamber driver