The first two RollerCoaster Tycoon games are coming to mobile devices, according to an update on the official RCT website. Reborn as RollerCoaster Tycoon Classic, the game combines the best elements from both older titles, offering players an authentic gameplay experience with enhanced features for a handheld adventure.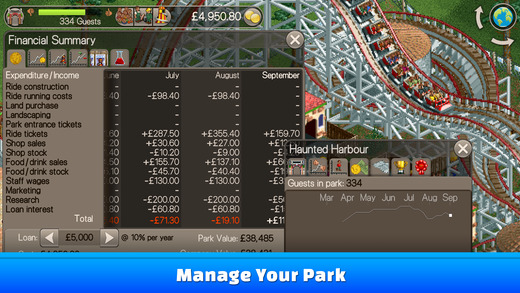 RollerCoaster Tycoon Classic lets you create your own roller coasters through pre-made designs or from scratch, manage the wellbeing of patrons as the park designer, ensure your staff are running the park effectively, and much more. In addition to 95 classic park scenarios from RCT and RCT2, there are three different expansion packs available as in-app purchases: Wacky worlds expansion pack, Time twister expansion pack, and a Toolkit.
Chris Sawyer, the man behind the RollerCoaster Tycoon series, reflected on the decision to port RollerCoaster Tycoon 1 & 2 to mobile, citing their aesthetics and user functionality as key aspects making for a smooth transition:
"It was my long term ambition to bring the classic game to modern touch screen devices as its visual style and tactile nature are so well suited to smartphones and tablets. Working with Origin8 Technologies' development team, we have been able to modernize the classic gameplay for touch screen devices while preserving the unique graphical style of the original RCT games. I believe fans of the RCT series will greatly enjoy playing the classic titles enhanced on a new platform."
RollerCoaster Tycoon Classic is out now for iOS and Android.