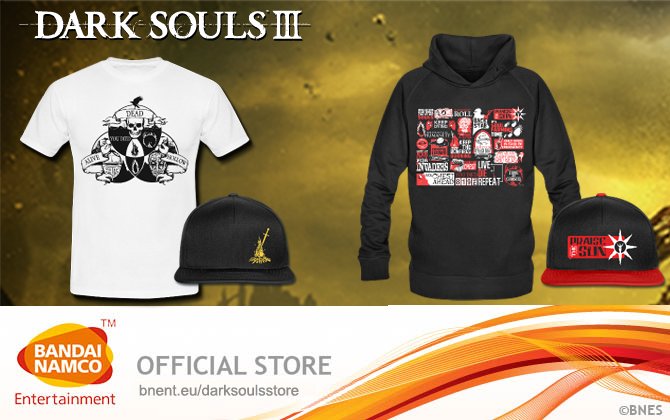 Promising "big news" to a die-hard fan base of video game fans, and then revealing a clothing line of all things, is probably not the smartest way to make a first impression with a new product line, but that's exactly what Bandai Namco just did with Dark Souls 3.
Yesterday the internet was abuzz with what Namco Bandai could possibly be announcing with this tweet from their official UK Twitter account.
We have some big #DarkSouls news tomorrow – stay tuned! pic.twitter.com/3WscLpVmJk

— BANDAI NAMCO UK (@BandaiNamcoUK) April 7, 2016
Fans theorized that they might be getting some details surrounding the planned DLC for Dark Souls 3, or maybe some sort of new remaster of the original Dark Souls for the new consoles.
All those theories proved to be wrong, as the "big news" was actually just an exclusive collection of Dark Souls merchandise.
We are pleased to share our big news! Exclusive #DarkSouls collection at the official store https://t.co/2sN5EPyhCD pic.twitter.com/PBOram53qk

— BANDAI NAMCO UK (@BandaiNamcoUK) April 8, 2016
The reaction to the news, as one might imagine, was not great.
@BandaiNamcoUK guys, April fools is over. Where's the real shit?

— ghoultari (@Moltari) April 8, 2016
@BandaiNamcoUK That was your big news?! You dicks. Talk about false expectations.

— Aranha (@Aranha_Hex) April 8, 2016
https://twitter.com/NecrophobeNecro/status/718403142166147074
It's kind of a shame that the announcement got off on the wrong foot too, because there's actually some pretty cool new Dark Souls merchandise in the store. I'm thinking about grabbing that mimic chest hoodie for myself.
Dark Souls 3 will finally arrive on US soil next week, April 12, though many hardcore fans are already playing the English version thanks to a workaround that allows players to legally obtain the Japanese version of the game by purchasing it on the Japanese marketplace, but then downloading it via the US marketplace. The spread of Dark Souls 3 knowledge on the internet has gotten to the point where Bandai Namco has even asked streamers to hold off on streaming the game any more until the release date, despite initial embargoes giving them permission to stream pre-release.