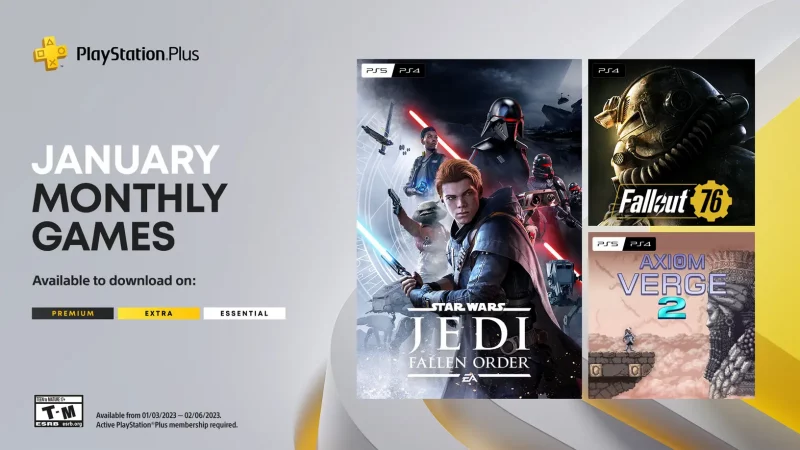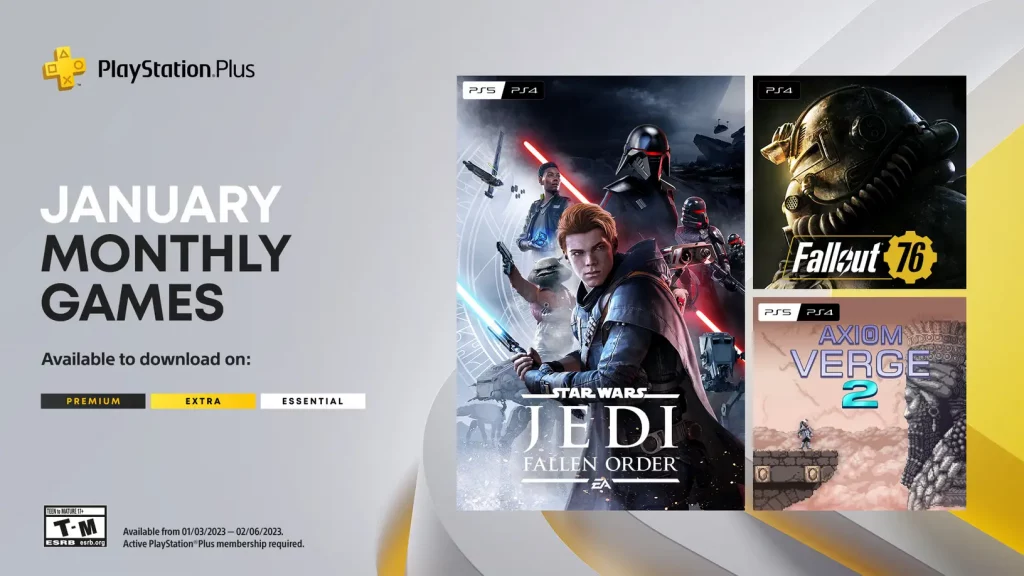 A new month means new games are coming to subscription-based services. We already learned about Microsoft's latest set of games coming with Games With Gold; now Sony has taken to the PlayStation Blog to announce the free games of the month for PlayStation users.
This month is big, as users will have access to some truly amazing games. Three games have been added to the library to download for PS Plus Essential, Extra, and Premium users. The three new games are Star Wars Jedi: Fallen Order, Fallout 76, and Axiom Verge 2. All games are now available to download; make sure you download before the month ends, as these are some great games you will want in your gaming library. PlayStation Plus seems to be essential for its player base as you are treated to some pretty impressive games each month; 2023 kicked off pretty strong, so we can't imagine how the year progresses.
Check out the three new free games down below as well as a little description for each provided by PlayStation:
Star Wars Jedi: Fallen Order | PS4, PS5
Cal Kestis' story begins here. Ahead of Star Wars Jedi: Survivor launching in March, find out how Cal Kestis' journey began in this original Star Wars story from Respawn Entertainment. Following the events of Episode III: Revenge of the Sith and Senator Palpatine's deadly Order 66 — designed to destroy the Jedi order and pave the way for the Empire to rise — you are the last remaining Jedi Padawan and their last hope of survival.
Fallout 76 | PS4
Twenty-five years after the bombs fell, you and your fellow Vault Dwellers—chosen from the nation's best and brightest – emerge into post-nuclear America on Reclamation Day, 2102. Play solo or join together as you explore, quest, build, and triumph against the wasteland's greatest threats.
Axiom Verge 2 | PS4, PS5
Explore two connected worlds, wield ancient tech and question reality in this explorative platformer sequel, which expands on the universe with completely new characters, abilities and gameplay. Explore an alternate Earth-like world, replete with the ruins of an ancient, high-tech civilization.
In related news, Microsoft has announced their free games of the month of January 2023 for Games with Gold users. The two indie titles will surely take the community by storm with their unique sense of puzzles, worlds, and gameplay mechanics. Games With Gold members can check out the list of games and when they are available to download in the full article right here!
January 2023 is already off to a good start, with many great new games added to the PS Plus gaming library. Gamers who need a new game to pick up will indeed find something in that stacked library pretty easily. Are you happy with the latest additions to the library? What game do you plan on downloading first? Let us know in the comments below!