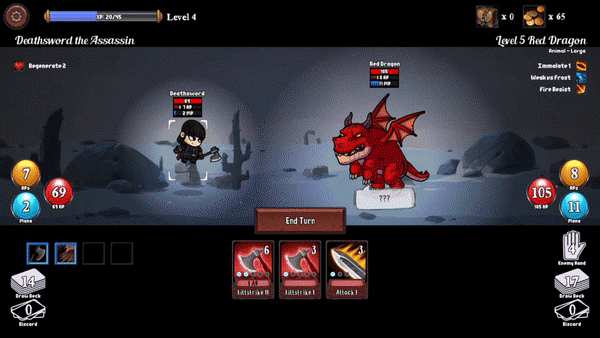 Dream Quest inspired RPG Monster Slayers launched on Steam almost three weeks ago to very positive reviews, and today marks the birth of six new classes to be included in the game. Each new class type will be an 'Advanced' version of the six existing classes, and can be unlocked either by completing the game with Basic classes or purchasing the Advanced Class Unlocker for $1.99/€1.99/£1.59. Here's a quick breakdown of what to expect:
Rogue unlocks Assassin
Ranger unlocks Beastmaster
Knight unlocks Monk
Barbarian unlocks Brute
Cleric unlocks Apothecary
Wizard unlocks Necromancer
All of the Advanced classes also come with their own selection of new custom cards. If Monster Slayers sounds familiar, you might have played it along with four million others on popular gaming portal, Kongregate. It originally released in 2010 as a free to play title, and made the leap to Steam as a completely reimagined version featuring updated art and smoother gameplay.
Monster Slayers is out now for $8.99 USD via Steam (PC, Mac).