Mass Effect: Andromeda is the biggest departure yet in the storied history of this sci-fi, action RPG franchise. All the familiar stuff is still here — you'll still explore far-off worlds from a central spaceship hub, romance exotic aliens (and crew), and take part in 3rd-person shooting sequences with a team of allies. All that stuff is pretty much the same, but the core of the experience is very different.
Instead of small hub areas, you'll have large worlds to explore, scan, and make habitable. There's a lot of new systems and features new players will have to get acquainted with, and not all of them are especially slick. If you're tired of trudging around endlessly barren planets, or want to know what's best to scan and what's best to research, we've got a few tips to help you get started.
---
More Mass Effect: Andromeda guides on Gameranx:
---
#1: Planet Viability And You
Planets are the big new thing in Mass Effect: Andromeda — you'll get to land the Tempest and speed around the surface using a new buggy called the Nomad. That's how Ryder will accomplish most of his/her exploration, zipping around on the six-wheeled car that provides plenty of protection against the harsh elements of each planet.
NOTE: The Nomad won't protect you from everything. If you can't explore a planet / area in the Nomad, just ignore it and progress in the story to eventually make the zone viable.
To make planets safer, you'll need to increase the new "Planet Viability" percentage. Some planets are filled with deadly hazards like radiation, lightning storms, or extreme temperatures. To begin "repairing" a world and smoothing out those rough spots, you'll need to establish outposts and re-activate terraforming towers. Outposts (and the Nomad) generate fields that protect Ryder while exploring on-foot, and you can purchase disposable items that keep you alive for longer out in the field, but for most dangerous planets, you'll want to stay close to the Nomad.
---
#2: Make Exploration Easier With Forward Stations
Freedom is an awesome thing, but too much freedom can be a wee-bit tedious. If you're not a fan of long, long drives across empty, inhabitable wastelands, then you'll need to drop down some Forward Stations.
NOTE: Forward Stations are summoned by approaching predetermined markers on your planetary map.
These rally points are fast-travel markers and health / ammo resupply stations all-in-one. If you're planning on making multiple trips to the same planet, save yourself some time and place Forward Stations on your first go-around. Forward Stations also mark any nearby mining sites, making it much easier to collect minerals.
---
#3: The Nomad's Many Capabilities
As explained above, the Nomad is your main conveyance while travelling across planet surfaces. It will keep you protected in nasty environments — and it can be upgraded. Let's just go over a few Nomad pointers.
While inside the Nomad, you're protected from dangerous environmental effects.

The Nomad generates a field that protects Ryder and the team.

The Nomad can boost to escape combat situations.
The Nomad can switch to 6-wheel drive to tackle steep hills or tough terrain.
Ryder can recall the Nomad from anywhere on the map while at a Forward Station.
You can also change the Nomad's color scheme or purchase mods from specific vendors. Find the vendor in the Docking Area of Elaaden to unlock a Mass Effect field generator for the Nomad. Paint schemes can be purchased from the Nexus.
---
#4: Make the Most Out of Scanning
Yes, scanning has returning to the universe of Mass Effect. You can scan from space or on the ground, and both have their benefits (and annoying drawbacks) you'll want to watch out for. To start, scanning from space generally nets you random rewards. You'll get XP, or a tiny bit of ore, or a handful of credits. That activity is not worth your time.
Planet Scanning is basically worthless. Don't bother scanning planets from space — instead, look for the one unique anomaly in each system.

There is one benefit to planet scanning. From the galactic view, you can see which minerals are located on the planet surface. Use this as a guide to decide which planets to mine from the surface.
Instead, you'll want to do all your resource collecting on the surface of each planet, from the ground, and from your Nomad. Start by activating all the Forward Stations you can to reveal mining sites in the region. The Nomad's mining computer can deploy probes — and like that system from older Mass Effect titles, you'll want the mining readout to peak before deploying a probe to get maximum rewards.
Don't worry about leaving the handful of tiny deposits behind. Unless you need a specific time or crafting material right away, it's better to just go for the big pay-outs. There's always going to be more mining sites.
---
#5: Research, Research, and More Research
To earn new weapons and armor, you'll need to delve into the research and development systems. There are two sets of points in ME: A — research allows you to unlock blueprints, while development… develops those blueprints into physical items you can equip. There are three types of research points you can earn (Milky Way, Remnant, Helius) and each helps you unlock unique armor, weapons, and mods.
To earn those three types of research points, you'll need to scan artifacts and items in the environment. Basically anything can be scanned, so keep your portable scanner handy. There's a small audio ping that will announce scannable objects in the environment.
When you're ready to begin researching, head down to an R&D Terminal on the Tempest, or any other random research station in the environment or hub. From these stations, you can spend all three types of research points to unlock blueprints. Don't just spend your Milky Way points — make sure you use Remnant and Helius points too.
---
#6: Developing the Future
The Development Menu is where you'll do all the crafting. Once a Blueprint is unlocked through research points, you'll be able to actually create it — if you have the right materials.
NOTE: Press [Square / X] in the Development Menu to see what materials are required to craft a blueprint.
When checking the menu to see what items you're missing, you can also see where to get them and how they're found. Pretty handy — all Ryder has to do is follow instructions and run down to the proper planet to mine or harvest the proper materials.
Don't miss out on Shepard's N7 Armor, available in the Milky Way research tree.
There are five tiers for each blueprint item, so you can get more powerful versions of any weapon, armor or mod. Research and Development is all up to you, and choosing which blueprints to craft can be a tough choice with your limited resources. Depending on your playstyle, there are a few options you might want to consider.
You can also dismantle unused gear to acquire valuable parts, or purchase materials from vendors. Take a quick shopping trip to the Nexus if you're low on materials but flush with cash.
---
#7: Picking a Loadout For Your Playstyle
Depending on your skills and your own personal style of play, there are certain items you'll want to unlock and equip as you adventure through the Andromeda Galaxy.
Aggressive:

Recommended Class: Scrapper
Recommended Weapons / Tools : Shotguns (Automatic Mod), Pull, Singularity, Charge
Recommended Armor: Helius

Cover-Shooter:

Recommended Class: Operative / Soldier
Recommended Weapons / Tools: Assault Rifle (Single Shot / Burst Mod), Cloak
Recommended Armor: Remnant (High Defense)

Biotic Powers:

Recommended Class: Adept / Any Biotic Class
Recommended Weapons: Pistols (Automatic Mod)

Stay light. A loadout above 20% weight will make powers recharge very slowly.

Recommended Armor: Milky Way (High Shields + Biotics Boost)
These are only general recommendations and tips, you'll be able to experiment and find your own favorite skills, weapons, and armor as Ryder grows.
One useful way to make any playstyle stronger is focusing on Ryder's physical abilities. Creating a strong baseline and upping damage, health, defense, shields, and all the other basics will make you a more efficient fighter early in your Andromeda career.
---
#8: Start Earning Cash Early
As part of the Initiative, one of your goals is to pull citizens out of Stasis. Depending on which AVP pods you unlock, you'll earn a bonus reward — usually an infusion of cash and crafting materials. What makes these AVP pods special isn't the rewards, but how often you'll earn them.
Commerce Pods reward Ryder with 500 credits every 45 minutes.

Science Pods reward Ryder with minerals.
Military Pods reward Ryder with crafting materials.
The earlier you unlock these valuable pods, the more items you'll earn over the lengthy story. A constant stream of minerals, crafting materials, and credits will save you from hours of busy work.
---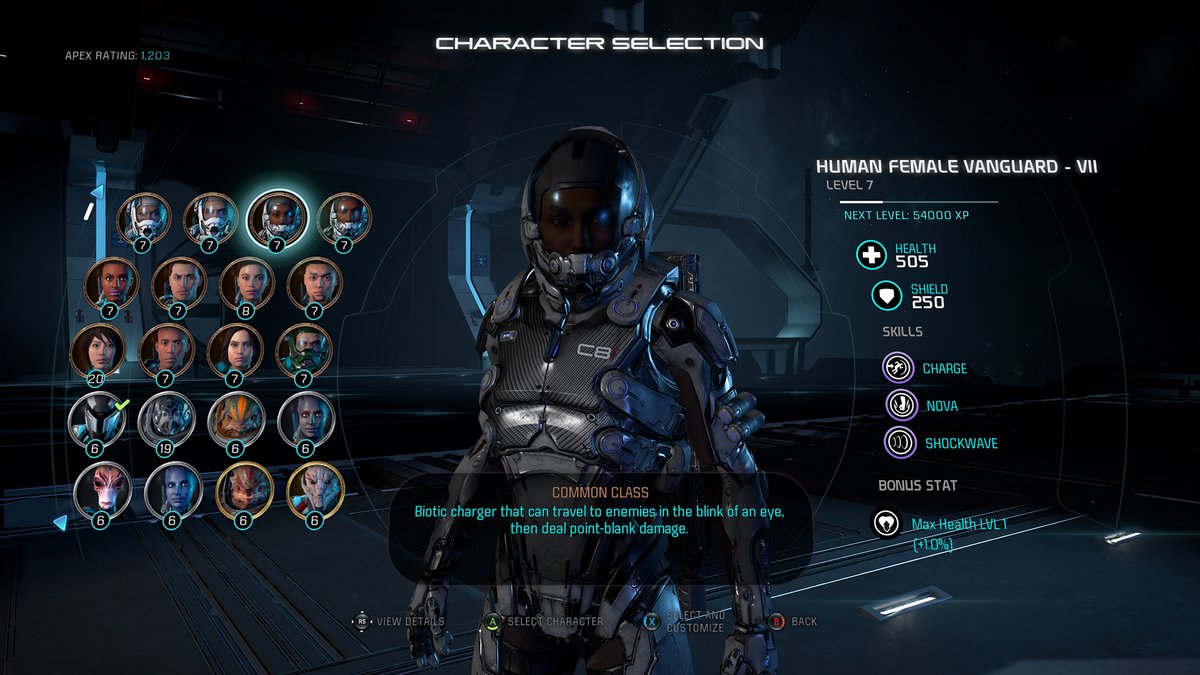 #9: Bring Lots Of Weapons / Skills With Loadouts
One annoying aspect of Mass Effect: Andromeda is Ryder's inability to swap skills mid-mission. It is true that you can't change out individual skills, but you can swap skill loadouts from the weapon wheel menu.
NOTE: More weapon slots can be unlocked when spending skill points in the "Combat Fitness" tree.
All you have to do is mark your skill loadout as a "favorite" to include those skills — Ryder can only carry a limited amount of weapons and skills into combat, so creating alternative loadouts makes it much easier to vary your combat approach in the middle of a fight.
You can favorite loadouts in the Skills / Profiles menu. Ryder can keep up to four "favorite" loadouts at once, and all four can be selected from the weapon wheel menu. Mostly, you'll need to completely customize Ryder from a Forward Station while out in the field.
---
#10: Get Yourself An Animal Companion, Pronto!
Yes, the space-rat is back! While it might not be a true hamster, Ryder can still capture a little pest and call it your own. A pretty good way into the story, you'll uncover the villain's location. Before heading out, your crew (Drack) will tell Ryder about an annoying critter that's running around inside the Tempest, causing problems and leaving a trail of crumbs in its wake.
To capture a space-pet…

Go to the Cargo Bay and examine the nest.
Select the "Trap" option and craft it.
Place the trap in the Cargo Bay and leave the Tempest.

This may require travelling to a planet.

Return to the Tempest and check your trap.
Congratulations! You now have a pet.
The critter is kept in Ryder's personal quarters on the Tempest. No, it doesn't do anything, but its still a fun little inclusion.
---
Got your own tips for Mass Effect: Andromeda? Let us know in the comments!