At one point in times, items you would loot were just to do things like heal you as you played the game. But now, looter shooters are just as much about getting the best gear and then putting on a display with all you've gotten. Here are the best ones on the Nintendo Shooter!
#10 Warframe
Let's start off with a free-to-play title that has been getting a lot of buzz over the years because of how big and grand it is. In Warframe, you're going to be taking on the form of a being in an exosuit. These are the Warframes, and they have a great number of them for you to choose from.
Once you pick the one that suits your playstyle, go out to save the galaxy and both loot and shoot and slice and power your way to victory. There are over 500 weapons in this game that you can get and use to devastating effect. So find the ones that work for you and blast away!
#9 Torchlight Series
Torchlight and its series of games are one of many dungeon crawlers out there that prioritize both exploration, and the ability to get lots of loot on your journey.
The twist here is that in the games you have a singular town you go to in order to serve as your "hub". It's there you'll sell or exchange your loot for gold and other items. Everywhere else you'll go to will be randomly generated so that every single experience you have in the game is unique. No two adventures will be alike, and that'll keep bringing you back to try and see what your next one is going to be like.
#8 Soundfall
Now here's a looter shooter that definitely dances to the beat of its own drum. Because in Soundfall, while you're going throughout various areas and collecting loot, you'll also need to be listening heavily to the music. Not just because it's really good, but because the more you nail the beat with your attacks, the more powerful your attacks are!
Your loot is just as important though as the game claims to have thousands of combinations you can do with its over 500 pieces of equipment you can get. So pick the ones you think will lead you to musical combat victory and have fun doing it.
#7 Uragun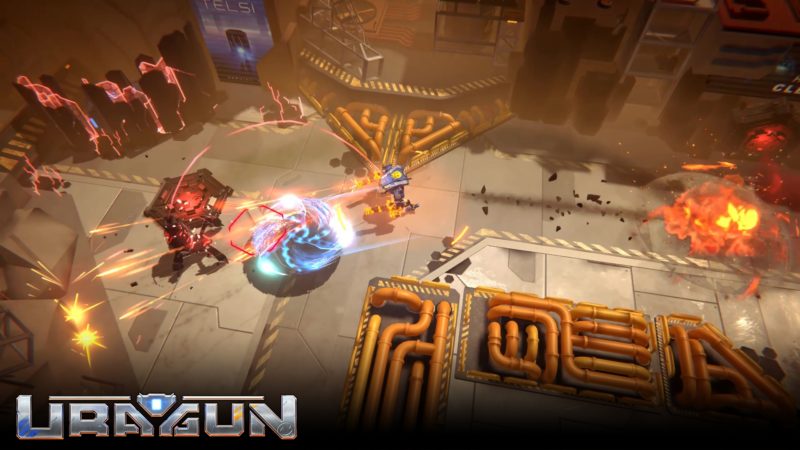 If you're really wanting to let loose with the firepower, then try out Uragun. Because here is where you'll get to unload literally as a mech who is on a search for its lost pilot.
The world you're in though is full of enemy AI mechs that aren't going to be as nice as you are. So you'll need to battle through them in short but intense levels that'll really make you use all of your skills. The more battles you do, the more your mech grows and the more weapons and abilities it'll unlock. See how far you an push it in Uragun!
#6 Sword Art Online: Fatal Bullet Complete Edition
The Sword Art Online franchise is massive and ever growing, and we honestly can't talk about the story of the game because that'll take a lot more time and words.
What we WILL say is that Sword Art Online: Fatal Bullet Complete Edition is perfect for those who want a looter shooter title within the Sword Art Online universe.
You'll play as a new character who logs into a special game set within the story, and through a "chance encounter" you'll team up with an AI to barrel through waves of enemies. There are plenty of ways to both customize and grow your character, and you'll want to see just how far this game will go
#5 Danger Scavenger
Danger Scavenger is set in a cyberpunk world where the AI have taken over and are causing havoc in a massive city full of skyscrapers.
You are a Scavenger, a once hidden group of people who knew what was coming but was ignored. Now, you are all that stands in the way of the AI ruling the world. Rise up from the underground and battle on top of buildings to take out the enemies around you and build up your own treasure trove of items and gear.
There are 6 scavengers you can wield, 5 corporations that need to be liberated, plenty of enemies to kill, and legions of loot to obtain. Have fun!
#4 Risk of Rain 2
Going back to mech-style combat, let's talk about Risk of Rain 2. This game got a lot of people's attention when it came out, and for good reason. It has a solid gameplay loop that you can actually go and build the way you want to.
In this case, you and others will be put on a planet full of monsters, and you'll have to battle through them to reach the final boss. Once you beat the boss you can leave the planet to win the game, or, you can just keep battling because you want to see what you can do and how long you can last.
Add that to a lot of items that can build you up even more? You'll have a lot to do.
#3 Diablo 3
We can't resist putting Diablo 3 at No.3 because of…well, the 3's.
Anyway, Diablo 3 came onto the Nintendo Switch a while back and it was a key addition to the Switch's roster of titles. Not the least of which was because it was one of the few Blizzard games that the system had gotten. The other being Overwatch.
You all know the gameplay style of Diablo. This is a dungeon crawler game where you'll have plenty of loot to find and pick off the bones of the fallen as you mow through them. Pick your class and then begin your infernal quest to take down the evils trying to plague the world.
#2 Monster Hunter Rise
Monster Hunter Rise is one that has also been getting a lot of buzz as of late, mainly because of its new expansion content via Sunbreak.
But even without the DLC, Monster Hunter Rise is one of the best games in the series. It blends new mechanics with a dynamic world and of course, gives you plenty of loot to find in order to craft the armor and weapons of your choosing.
There are plenty of massive monsters for you to fight as well as you try and save both your village and the surrounding areas. From small monsters to Elder dragons, all will be difficult, and thus you'll need the best weapons to chop them down!
#1 Borderlands Series
It would almost be a crime not to put the Borderlands Series at the No.1 spot. After all, while they weren't the first to do the looter shooter title, they were the ones that made it a staple of the industry in many ways.
Not the least of which was the very over the top way that they handled it. Because in these games, there are SO MANY GUNS for you to wield! Seriously, they even talk about how they have "millions" of them for you to use. So it's not so much about finding weapons as it is finding the best ones for you to blow holes through your enemies with.
Enjoy every trip to Pandora and beyond and understand the truth that is, "There ain't no rest for the wicked!"