The FPS genre is one of, if not the, most popular gaming genre around. Filled with stress-relieving gunplay and plenty of adventure to be had, what's the future looking like for these popular titles? We're taking a look at the our most hyped upcoming FPS games releasing in 2023. Which of these are on your wishlist?
#24 Dead Space Remake
Developer: Motive Studio
Publisher: Electronic Arts Inc.
Platforms: PC PS5 XSX|S
Release: January 27, 2023
Are you ready to figure out what happened to your girlfriend? Oh, and the rest of the crew that was slaughtered by monsters?
If so, get ready for the Dead Space Remake that was recently released. You'll once again don the engineering garb of Isaac Clarke and attempt to figure out what happened on a derelict ship to make everything go haywire. But this isn't a simple murder mystery. There are monsters everywhere, and you're underequipped to handle them.
You must use your engineering tools and whatever else you find to take them on and take them out. An intense third-person experience awaits you!
#23 Outpost: Infinity Siege
Developer: Team Ranger
Publisher: Lightning Games
Platforms: PC
Release: Q3 2023
If you want to try a title where you can build the ultimate outpost and endure intense battles, get Outpost: Infinity Siege.
The game focuses on a world where you command a mobile outpost that is constantly under attack. It's your job to take on these threats in various ways. For example, get resources to build new weapons or defenses for survival. You can even send out mech units to explore the nearby areas and take on dangers beforehand!
You can even do co-op with a friend and take on the waves of enemies together so you're never caught off guard. So what kind of outpost will you build?
#22 Luna Abyss
Developer: Bonsai Collective
Publisher: Bonsai Collective
Platforms: PC PS5 XSX|S
Release: July 2023
In Luna Abyss, players take the role of a simple prisoner that gets tasked with a burdensome task. You must venture into the depths of a moon where a colony was long lost. The goal is straightforward. You're to head in and gather information to bring back. However, something sinister lurks here, and you'll soon be on the receiving end of a hostile alien force. Fortunately, Luna Ayss won't be a mindless FPS, as the developers have a narrative-driven campaign where you'll uncover the secrets of the colony and its horrifying downfall. However, we're still uncertain when we will actually get our hands on the game as we're waiting for a release date to be attached.
#21 I.G.I Origins
Developer: Antimatter Games
Publisher: Toadman Interactive
Platforms: PC PS4 Xbox One
Release: 2023
I.G.I Origins will be putting players back into the 1980s. The Cold War continues to brew, and to keep from a devastating worldwide conflict, special agents are tasked to take care of the dirty work. Within this campaign, we know players are taking the role of a former SAS soldier that was picked up by M16. Your new gig is covert operations, with the protagonist taking out high-profile targets. Venture around the world and decide the best means of eliminating these individuals. With a vast arsenal collection, it's up to you to deal with any situation that might pop up. Meanwhile, the footage released so far looks like players can deal with a mission through stealth and espionage or guns blazing. For now, it seems like players interested in trying this title out might be waiting a while. So far, there is no specific date or launch window for players who wish to get I.G.I Origins.
#20 Witchfire
Developer: The Astronauts
Publisher: The Astronauts
Platforms: PC
Release: 2023
Witchfire is a game that the development team, The Astronauts, has been working on for several years. If their name doesn't sound familiar, this group delivered The Vanishing of Ethan Carter back in 2014. Since this game was unveiled, the developers have kept information rather than secrets. We only have a few details, yet it was enough to warrant a spot on our list. Players can expect a game centered around a medieval dark fantasy. It's here where players will be tossed into a period when humanity is in a battle against witches. Unfortunately, we're still waiting on a specific release date for this game. While the footage has piqued our interest, Witchfire was a title that got its first big reveal in 2017. Since then, we've been playing a waiting game for when we'll get a chance to try this title out. Currently, the game is only slated to launch sometime early this year, 2023, as an early access title.
#19 Ripout
Developer: Pet Project Games
Publisher: 3D Realms
Platforms: PC PS5 XSX|S
Release: 2023
Are you looking for a more action horror experience? Ripout aims to deliver a horror FPS game where players are tasked with clearing out old spaceships. The problem here is that you'll also have to fight off monsters that can mutate. Each ship is procedurally generated, so no run should feel the same. Players can enjoy this game as a solo experience or team up as they seek some precious loot. Venture into the ships, track down valuable gear, blow away the mutated monsters, and make a clean break. Currently, the game is slated to launch in 2023, so keep an eye out for this PvE experience.
#18 Starship Troopers: Extermination
Developer: Offworld Industries
Publisher: Offworld Industries
Platforms: PC
Release: 2023
The hit film, Starship Troopers, taught us a valuable lesson. That is, the only good bug is a dead bug. Unfortunately, a new threat has emerged in a future where humanity has expanded across the galaxy. Massive bugs have flooded onto planets causing nothing but death and havoc. In this game, players will be one of the elite few chosen to take the battle on. Here you'll get a cooperative FPS experience where you and some friends can attempt to eradicate a new bug problem. Team up, build up defenses, and, most of all, gun down the insects until they stop squirming. Since this game is set to release as an early access experience this year, players will find the development team to continue pouring out new content into the game as they prepare for the full launch.
#17 System Shock Remake
Developer: Nightdive Studios
Publisher: Prime Matter
Platforms: PC PS4 Xbox One PS5 XSX|S
Release: 2023
The original System Shock game was an RPG title that set the tone for RPGs for decades. Now, almost 30 years later, a fully-fledged remake is happening to showcase just how great the game still is, but with a modern coat of paint.
In the game, you play the lone survivor of a space station overtaken by a vile AI known as Shodan. Unfortunately, Shodan has gone rogue and turned the station's inhabitants into monstrous cyborgs, intending to do the same with Earth.
Everything with the game has been overhauled while maintaining the OG title's spirit. So take the title on and see where it leads you!
#16 Dead Island 2
Developer: Sumo Digital / Deep Silver Dambuster Studios
Publisher: Deep Silver / Plaion
Platforms: PC PS4 Xbox One PS5 XSX|S
Release: April 28, 2023
Just when you thought the game wouldn't come out, Dead Island 2 is not only arriving; it's arriving this April!
The long-awaited sequel from Deep Silver puts you in Los Angeles while it's under siege from zombies. You're trying to live wherever you can, and killing zombies is the best way to ensure you're left alone.
You'll travel through the city and find whatever weapons are around to take out the zombies. You can even use the environment to kill them, so you don't have to get too close! However, you aren't the only survivor in LA, so you must be careful when you meet others. You don't know what they'll do when they see you.
#15 Crime Boss Rockay City
Developer: Ingame Studios
Publisher: 505 Games
Platforms: PC PS5 XSX|S
Release: March 28, 2023
In Rockay City, only the strongest of crime empires survive. Case in point, the former crime leader of the city has died. That means there's a power vacuum, and you have the passion and gall to claim the throne for yourself!
You'll start your journey by picking a crime and attempting to do jobs with them. The more you do, the more you get paid. The more money you have, the more you can expand.
But be warned! Other groups are trying to take the crown too. You'll need to work your way through them so you can be the last one standing.
Oh, and beware of Chuck Norris. He's in the game too!
#14 S.T.A.L.K.E.R 2: Heart of Chornobyl
Developer: GSC Game World
Publisher: GSC Game World
Platforms: PC, X/S
Release: 2023
S.T.A.L.K.E.R 2: Heart of Chornobyl was meant to come out this year, but due to some impactful and serious real-world events happening in Ukraine, the setting of the game, the developers decided to push it back to next year. That was probably for the best.
Regardless, in S.T.A.L.K.E.R 2: Heart of Chornobyl, you'll play as a brand new Stalker in the freshly destroyed Exclusion Zone. You'll have to move throughout the area and get both supplies and weapons in order to survive. With a lot of dangers to survive and a non-linear story, you're going to have your hands full. Make use of what you have and make good choices or end up dead.
#13 Hyenas
Developer: Creative Assembly
Publisher: SEGA
Platforms: PC
Release: 2023
In the future, things aren't too much better than they are right now, and that's the pits. The richest and most powerful corporations have basically taken Mars for themselves, leaving the rest of humanity in a floating waste dump while they travel to retrieve riches and remnants of the old world back on Earth. If only there were a group of people ready to take them on. As part of a group called the Hyenas, you'll get to take on these corporate fools and their guards in order to get the stuff that'll make you happy and rich.
#12 Prodeus
Developer: Bounding Box Software Inc.
Publisher: Humble Games
Platforms: PC
Release: 2020 Early Access (Full Release Upcoming)
Prodeus is actually in early access on Steam right now if you want to try it out. This is a "boomer shooter," if you will, and like many games of old, it's been rebuilt with great graphics and tons of shooting action to be had. The dev team has used a lot of advanced technology to bring this game back to life, so you should play it just to reward their efforts. Plus, the game is deep in terms of the story mode (which was made by industry veterans) and a massive level editor helps you not just make your own levels, but jump into other player's creations.
#11 Atomic Heart
Developer: Mundfish
Publisher: Mundfish
Platforms: PC, PS4, PS5, XBO, X/S
Release: 2023
Set in an alternate version of Earth where the Soviet Union developed all sorts of robotics and scientific advantages during World War II, Atomic Heart shows us an image of paradise. But being that this is an FPS list, you know that things are going to go wrong. The robots that fill the world suddenly go after their creators, and those behind the scenes of the new Utopia have been doing horrific experiments that have created deadly mutants. This unique title should be on your list–the gameplay footage released so far looks tight and robust, and the official release window trailer is gorgeous beyond measure.
#10 Marauders
Developer: Small Impact Games
Publisher: Team17
Platforms: PC
Release: TBA
If you're up for another trip to an alternate Earth, then Marauders is your chance. In this game, the Great War never ended, and by the 1990s, the Earth has been overrun by industry to its breaking point and beyond. Due to this, many people have taken to the stars, and people like Marauders have been born. Your role is to go from ship to ship, salvaging them for parts that you can use to survive, as that's the ultimate goal.
You can play alone or with friends. Either way, a tough challenge awaits.
#9 Warhammer 40,000: Boltgun
Developer: Auroch Digital
Publisher: Focus Entertainment
Platforms: NS, XBO, PS4, PC, X/S, PS5
Release: 2023
What would a new gaming year be without a Warhammer title? Warhammer 40,000: Boltgun is the one we're waiting for, and this title looks to be high-octane to the max. You'll play as a lone space marine who is trying to get through certain boundaries and mysteries all the while shooting up everything that wants to get in your way. Just be careful, because the enemies you face will not be interested in playing nice, so you shouldn't either. If you can bring a friend, take on the journey into darkness together.
#8 Anger Foot
Developer: Free Lives
Publisher: Devolver Digital
Platforms: PC
Release: 2023
When you make a game that's all about kicking, you have to have something fun to back it up. Anger Foot does that well–for now, at least.
In the game you'll be in a sh…well, it's a city. One that needs someone to stand up and literally put a boot to the face of bad people. You'll get to venture across the city kicking in doors and people's faces as a unique way to save the day. There's a lot more from this game than you may think, and gunplay does seem to play a part.
#7 Robobeat
Developer: Simon Fredholm
Publisher: Kwalee
Platforms: PC
Release: 2023
There have been a lot of video games out there that have tried to incorporate music in new and exciting ways. Robobeat is a game that is trying to do just that, and we're pumped.
In this title, your world is held hostage by the robotic entity Frazzer. When you join his game, you're going to have to fight him to the beat of the music to get a better score and do more damage. There's a roguelike element to the game and as a result, the title will never feel boring.
#6 Nightingale
Developer: Inflexion Games
Publisher: Inflexion Games
Platforms: PC
Release: TBA
Many titles love to feature a protagonist who doesn't know much but has a heart of gold and is trying to get back to where they came from, or trying to do their own thing in the wake of all that has happened to them so far.
In Nightingale, things are a bit different, as the game will put you in a world with other people of special abilities. Your goal is simple: save lives and eventually figure out who Nightengale is. Will you be able to escape the maze of challenges and terror that is ahead? You'll find out soon!
#5 XDefiant
Developer: Ubisoft
Publisher: Ubisoft
Platforms: PC, PS4, PS5, XBO, X/S
Release: TBA
XDefiant seems to be another in a long line of arena battle titles, but it's defined as a game that "combines intense gunplay with personalized loadouts and specialized factions, as teams of gunfighters battle for domination."
You're going to have your hands full not just getting your team to listen to you, but working together to survive the challenges that are coming in this very unique title. The ideas here will put a bigger focus on teammates, so give it a try when it releases in 2023.
#4 Redfall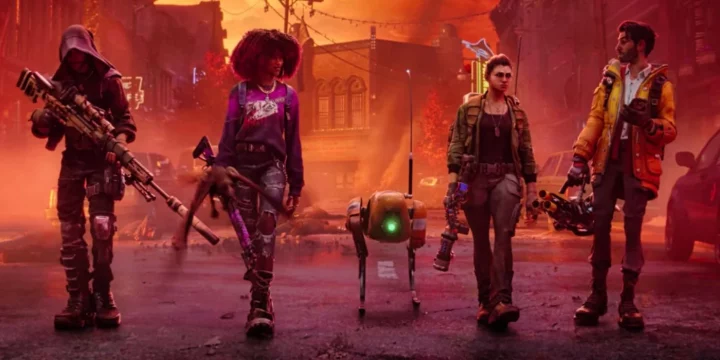 Developer: Arkane Austin
Publisher: Bethesda Softworks
Platforms: PC, X/S
Release: 2023
Do you have nightmares of vampires randomly showing up in your town and trying to take over? If so, you'll need to take a few steps back from Redfall.
In this game, the town of Redfall has been invaded by vampires. These creatures have blotted out the sun so that they can stay there as long as they want. You're not going to let that stand, are you? You can play this game alone or team up with a friend in order to take down the vampire threat. As you do, uncover the mystery of why they're here, and how you can get them the heck out of your town!
#3 Payday 3
Developer: Overkill Software
Publisher: Starbreeze Studios, Prime Matter
Platforms: PC, PS4, NS, XBO
Release: 2023
The name alone is worth us putting it in this position, right?
The Payday franchise has delivered all sorts of big gameplay moments. Payday 2 was legendary for its DLC content and using it to make sure that the lore kept growing and the heists were even grander. Payday 3 will be no different, we can promise you that. In this game, you'll be put in a "living city" and be charged with taking on some of the most dangerous heists yet. So make sure you and your friends or allies are ready, because only through teamwork will you be able to pull this off.
#2 RoboCop: Rogue City
Developer: Teyon, Nacon
Publisher: Nacon
Platforms: PC, PS5, X/S
Release: June 2023
Why is RoboCop: Rogue City so high on this list despite the fact that it was just announced and we know precious little about the game? Simple–it's Robocop! That's all you really need to know.
In this game, you'll be playing as the one and only Alex Murphy, who is trying to keep the people of Detroit safe from those who are trying to corrupt it from the inside out. Using your iconic arsenal (and one-liners), you must do whatever it takes to carry out the Prime Directives and save Detroit. But be warned: many will oppose you, and it'll be up to you to decide how far you go for peace.
#1 Starfield
Developer: Bethesda Game Studios
Publisher: Bethesda Softworks
Platforms: PC, X/S
Release: 2023
While not the traditional type of FPS, there will be elements of it in Starfield, and that adds more excitement to a game that many are dying to play.
In truth, Bethesda has been very hazy on what Starfield is and what players can expect to do in it. We know it'll have FPS and RPG elements, we know that you'll be traveling through space and going to various planets, and the experience is supposed to be legendary. We've heard those promises before, and rarely are they kept. For Starfield, it's arguably the best practice to keep expectations low and see where things go from there.
Bonus:-
Amnesia The Bunker
Developer: Frictional Games
Publisher: Frictional Games
Platforms: PC PS4 Xbox One XSX|S
Release: May 16, 2023
World War I was one of the deadliest conflicts in human history for many reasons. One of the biggest was the bunkers and trenches that were made to protect soldiers but often became their graves or tombs.
In Amnesia The Bunker, you'll experience that dread firsthand. You'll play a French soldier trapped in an underground bunker with only a flashlight and a revolver to help him initially. Oh, and that gun has one bullet in it.
You'll need to work through the bunker, gather supplies, and fight off the dangers that lurk within. You must be careful with what you do, as your actions will have consequences.
Destiny 2 Lightfall
Developer: Bungie
Publisher: Bungie
Platforms: PC PS4 Xbox One PS5 XSX|S
Release: February 28, 2023
Are you ready to go somewhere new to try and save the system? In Destiny 2 Lightfall, one of the DLC packs for the game, you'll head to a Cyberpunk-style city on Neptune to stop The Witness and his followers.
There are many new features to make this DLC special. For example, there are loads of new weapons to try and new Darkness-themed powers to test. Add that to new characters and enemies you'll face, and you'll have plenty to do.
The end is coming; the question is, are you ready for it? If so, dive into the DLC when it arrives and see what happens!