RPGs are a genre that have grown incredibly over the last decade or so of gaming. And now, it's not just about having great RPG mechanics, it's about having an open world you can play in. We'll show you 20 that fit this mold on PC.
#21 Hogwarts Legacy
Release Date: 10 Feb 2023 | Platform: PC PS5 Xbox Series X|S
(PS4 Xbox One April 4, 2023) Switch (July 25, 2023)
Camera: Third Person
Multiplayer: No
Co-op: (Local: No | Online: No)
Genre: Open World, RPG, Fantasy, Action RPG
Steam | PlayStation | Xbox
It may not be 2022 anymore, but Hogwarts Legacy was supposed to come out last year, so we'll throw it on this list anyway!
The game had much hype because it promised players an accessible and far-reaching experience within the wizarding world. You'll create a character and make your own story completely apart from the mainline books and movies, outside of a few references and Easter Eggs.
You'll even get to choose between being a good witch/wizard and being a dark one. Plus, there are numerous secrets hidden within Hogwarts and the surrounding areas. So seek them out, and see how many ways you can take the story!
#20 V Rising
How about we start with a game that absolutely sucks…because it's a vampire game! See what I did there?
In V Rising, you'll take the role of a vampire, one who has been locked away for a long time and barely has the strength they once had. Now, you'll need to truly rise up and take back what's yours. Yet you must be cautious, you have to build yourself up again, and the sunlight still burns upon your skin.
Assemble your forces, build up your castle, and make an empire that is worthy of your vampire name! Will you be able to reign supreme over the light and the dark? You're about to find out…
#19 The Ascent
In this Cyberpunk-style game, you play as a worker, one who lives in a world where corporations have taken over in the worst way (that won't be the last time you hear that phrase on this list) and you are basically enslaved to your job.
But then, out of the blue, the corporation that gave you everything has randomly shut down. The resulting chaos is plunging everything into danger, and now you and potentially some friends of your must stop the madness, and learn the truth.
With this vast world comes a lot of abilities and weapons that you can use in order to secure your victory. But how long you list will depend on your skills and how you use them!
#18 Valheim
One of a few Viking titles on this list, Valheim puts you and potentially up to nine other people into a world of Norse myth and mystery. Your job is simple, to explore the land and build a new home for your Viking kin. But doing so will be anything easy.
The land is rich with resources, but also full of monsters, so you'll need to be prepared for all the dangers that are to come. Then, as you fight them off, build your home and construct mighty halls for your Viking brethren to go and be housed in and have fun in.
Each time you play the game you'll be dropped into a brand new procedurally generated world. So each experience in Valheim will be different from the last on.
#17 Scarlet Nexus
When the people of the world start changing, only a select group of people can stop the swarms of plant mutants from taking over. You are part of that group, and in fact, you'll play as two different people in that group in order to try and save the world.
Scarlet Nexus embraces the anime style of things and gives you a dual story that'll help you see the world through different pairs of eyes, as well as putting a stop to the dangers out there.
Learn more about yourself and your teammates along the way, and you might just be able to unlock some new things to do!
#16 Cyberpunk 2077
Cyberpunk 2077 is a…complicated game to talk about. Not just because of its launch debacle for the record.
In this case, it's not technically an open world game, but rather, an open-city game. You'll play as the character known as Samurai, and through him you'll get to explore Night City in its entirety. And through that freedom, you'll get to partake in missions both big and small and complete them in any way you want.
As if that's not enough, you can augment your body with more and more cybernetic parts, or just go in with what you got and loaded for bear.
I know this isn't the game that was promised, but it does have the bones of something fun and great. So if you have a way to play it at decent capacity, you should try it out.
#15 Dying Light 2 Stay Human
You are a wanderer, one with a past you can't exactly remember, but you feel as though you need to find someone. You enter a city that is being overrun with infected, and factions trying to vie for power. It's up to you to determine what happens next in Dying Light 2 Stay Human.
This game is filled with actions, parkour-style movements that'll let you traverse the city like few games ever do, as well as a storyline that'll change constantly depending on who you help, who you hurt, and how you carry out missions.
Whether you learn the truth of your past, and what happens in the city itself is up to you. So choose wisely.
#14 Kingdom Come: Deliverance
One of the things that RPGs love to do is put you in the role of someone who usually wouldn't be in the position to save the world, and yet, here they are trying to do that. And Kingdom Come: Deliverance shows that perfectly. As you are Henry, son of a blacksmith, and who gets roped into a revolution within your homeland of Bohemia after your father and village are burned to the ground.
Now, you must take up arms in a rebellion, and shape the very fate and future of your homeland. How you control Henry matters here, but you have a lot of options to make things go your way. Or to go ways you think would be best overall.
What will your homeland be like when you're done with it? Jump in and find out.
#13 Elex 2
The sequel to the previous hit game, Elex 2 once again embraces the open-world freedom that games like it should offer. And even makes sure you have a jetpack to go and have fun as you explore!
But don't worry, there's a plot here. As after the last great conflict, an alien invasion has come to the land! And now, you must play as Jax once again, with the mission of bringing the people of the world together in order to fight off the new threat. Oh, and as if that's not enough? Your son is missing, and you must find him!
How you play the game will affect everything from combat, to who helps you in your mission, and more! So go forth and see if you can save the day once again.
#12 Assassin's Creed Valhalla
The Assassin's Creed franchise was very much one of the franchises that endeavored to push the open world gameplay of things in fun directions and try and make it a staple of the series. And with Assassin's Creed Valhalla, you get to see that in action as you are a Viking warrior in a time when England was rife with conflict, and now it's your mission to do the best for your people as you try and make your new home.
As a Viking should, you'll get to roam and explore the lands and seek out fights with all that might stand against you. You'll get to lead raids and sieges, as well as build up your own homestead for your people.
Explore, fight, and be ready for the gates of Valhalla when your work is said and done.
#11 Genshin Impact
A lot of people forget that Genshin Impact is an open-world game. Why do they forget that? Because there are too many "waifus" for them to try and collect and fight with! Don't deny it, that's a key reason you play this game.
But if you DO observe the game for its plot and not just its…visuals…then you'll find a deep world before you. You play as The Traveler, an avatar-style character whom has become separated from their sister. It's your mission to go and find them as well as try to unravel the politics of this world and stop it from coming to a destructive end.
There's a lot to enjoy in this game, so please go and explore it beyond the "basic ways", ok?
#10 Dragon Age Inquisition
A lot of people forget that Bioware was, and technically still is, the king of RPG worlds, and Dragon Age Inquisition was easily one of their biggest accomplishments on that front. Because this game embraced its open-world setting and let people go on a path that they got to make themselves.
In the game, the land of Thedas is in desperate need of heroes. The sky has rained down terrors, and now you must save everyone from themselves. But, as this is a Bioware game, it's not just about doing the deeds, it's about making hard choices as you go down the path and seeing where it takes you. Because the wrong choice can doom everyone as much as the right choice can save them.
Will you be able to bring peace to the land?
#9 Destiny 2
While not a game that everyone enjoys for certain reasons, Bungie put a lot into make Destiny 2 a game that was both open-world, and open-ended in terms of how you want to play it and how you can play it.
The title embraces the fact that you can play this title on your own or in a group and tackle various missions and raids with extreme precision and ability. And there is indeed a lot to do, especially with Bungie still working on various expansions and DLC content that have already shaken players to the core (for good and bad reasons) and endeavors to keep growing…until Destiny 3 comes out.
Come on, you know it's going to happen.
#8 Borderlands 3
Why do you get a game like Borderlands 3? Because you want to shoot things with extreme prejudice and with a large variety of guns that are downright uncountable. And that's exactly what you'll get if you play this game.
Set both on Pandora and other places, you'll be a part of a new group of vault hunters who get wrapped up in a story that is…well…very Borderlands. And let's be honest here, that's not really the thing you like about this game. Borderlands 3 provides you with plenty of guns to shoot, bombs to blow up, and of course, enemies to kill.
So go partake in your guilty pleasure and see just how far it takes you on the enjoyment meter.
#7 Monster Hunter Rise
The Monster Hunter franchise in its own way has been open world for a while. But with recent titles like Monster Hunter World (also on PC) and Monster Hunter Rise, you'll find that the open-world feel has never been better.
If you know the franchise, you know exactly what you're getting into here. You'll be a hunter, and it'll be your job to go out into the world and hunt down massive monsters that threaten your home. Along the way you'll supplies and items in order to enhance your weapons, your gear, and more in order to fight back against some of the biggest enemies around.
This is meant to be a challenging game, so be ready for that, and then claim your monster hunting glory!
#6 Fallout 4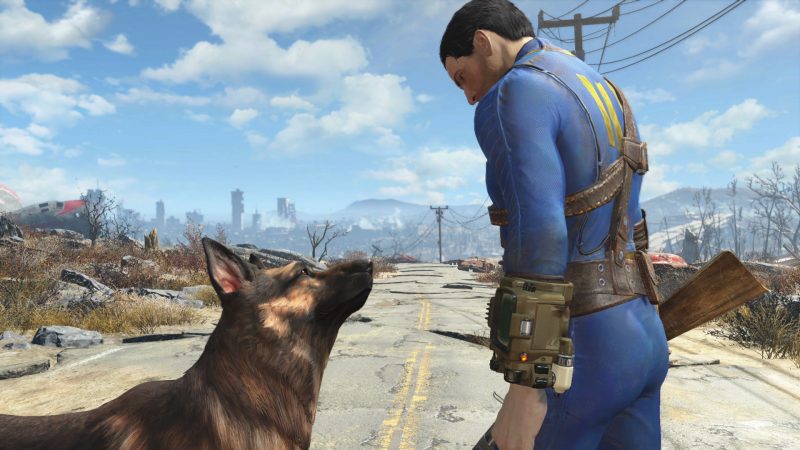 While maybe not the favorite of the recent Fallout titles, Fallout 4 was one that very much improved upon a lot that its previous games did, and tried to put a new spin on things.
In this title, you are the sole survivor of Vault 111, and alongside your dog (called Dogmeat for some reason, thank goodness he can't die) you need to go on a mission to both find your sun, and find a way to survive in this wasteland ruined by war.
Like many Fallout titles before it, Fallout 4 gives you all sorts of areas to go and explore and enjoy. Including seeing a lot of familiar faces and types of monsters. Not to mention, your crafting in the game is second to none.
Add that to DLC? And there's a lot to do.
#5 The Outer Worlds
The Outer Worlds is a game that you should get solely because it comes from the minds of Obsidian Entertainment, who gave you arguably the best Fallout game with New Vegas, as well as many other classic RPGs.
But they decided to put their own spin on something with The Outer Worlds and put you in a galaxy where big business is trying to destroy everything (that sounds familiar…) and it's up to you to stop it…or don't.
After all, like many Obsidian games (and good RPGs), it's your choices that will decide how things go. And with multiple planets in the galaxy to go and explore and enjoy, you'll find that you have a lot of choices and influence. Have fun!
#4 Horizon Zero Dawn
While it was once only on the PS4, Horizon Zero Dawn eventually came to the PC and you should absolutely partake in it if you haven't already. In this game set within a post-apocalyptic world you'll play as Aloy, an outcast who is trying to both prove her worth as well as help save the world in general.
A world that is filled with mechanical beasts that you'll need to fight with your own special bow and arrows, as well as other mechanical weapons you get along the way.
The world is vast and the story is deep here, and if the sequel gets to come to the PC as well, you'll want to get that too.
#3 The Witcher 3: Wild Hunt
I'm not saying that I put The Witcher 3: Wild Hunt in the 3rd overall slot because of it have a "3" in the title…but it didn't hurt!
Regardless of motives, The Witcher 3: Wild Hunt is indeed one of the best open-world RPGs, and just plain RPGs ever made. There's a reasons that after the fallout from Cyberpunk that CD Projekt Red went back to The Witcher, they know they can make those games and actually deliver on their promises.
Wild Hunt puts Geralt of Rivia in even more fun and danger and romance as he battles monsters and tries to save his "daughter" in Ciri from a massive threat. But the open-world makes it so you don't have to tackle the main quest until you want to.
#2 Elden Ring
The irony of Elden Ring is the fact that every game before it by From Software was not open world. They had elements of it later on, but they never really embraced it. Instead, they preferred a linear path for their games. But with Elden Ring, that changed for the better.
Because now, instead of an incredibly punishing world that you have to take on step by step…you get an incredibly punishing world that you can take on and die in at any pace or place you want.
Add to that, you'll be able to outfit your character to fit your style and have a LOT more checkpoints so you don't have to worry about losing a lot of progress every time you die.
#1 The Elder Scrolls V: Skyrim
Sorry Elden Ring fans, but while your game is open-world, this one is for everyone and not just everyone who has a death wish in-game!
Ahem, The Elder Scrolls V: Skyrim is arguably one of the biggest pinnacles of open-world RPGs. So much so that they've kept remastering and re-releasing it because they want to make even more money off of it. Yah, I said it!
The game is vast in all aspects, and that's before you get into the DLC which is equally vast, and the mods that could have you playing this game literally forever.
If you are one of the few who have never played Skyrim, you seriously need to change that in a hurry.