Exploration is one of the best parts of a video game, especially a modern one. New titles go well beyond the territory of Pong and Super Mario Bros., inviting players to immerse themselves within fantastic worlds. We've made a list of our choices for the best exploration video games on the market. These are filled with hidden quests, collectibles, and easter eggs to be discovered, so get to work. If we missed your favorite, let us know.
Upcoming games up to next 3 months
#1 The Legend of Zelda: Tears of the Kingdom – Platforms: Nintendo Switch | Release: May 12, 2023
#2 Stray Blade – Platforms: PS5 PC XSX|S | Release: April 20, 2023
Source Link :- New Exploration Games Of 2023 To Get Lost In
——————————————————————————————————————————————————
#42 Star Wars Jedi: Survivor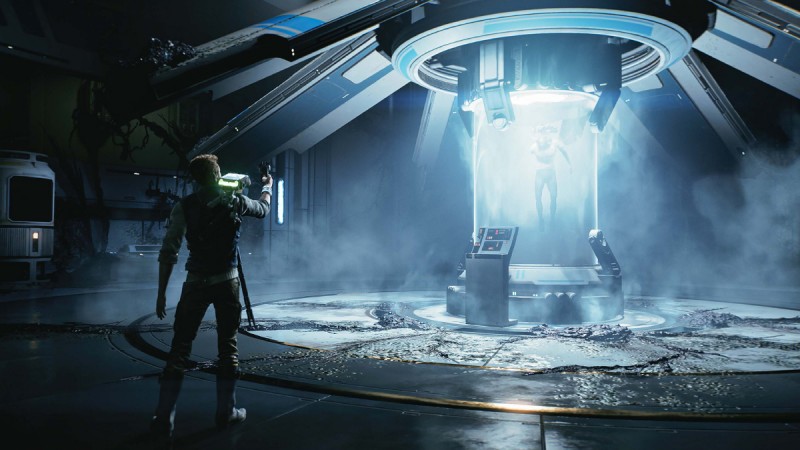 Platform: PC PS5 XSX|S
Releease Date: April 28, 2023
Steam | Playstation | Xbox
It was only a matter of time before this franchise embraced the open-world feel of numerous other games and made it their own. Star Wars Jedi Survivor will have you play Cal Kestis again, and you'll once again explore the numerous worlds, moons, and stations of the galaxy far, far away. However, this time, you'll get to go to places with a bit more depth.
Specifically, you'll go to worlds where you can go off the beaten path and unlock new side missions. Or, you can return after learning new powers and abilities and see what new options you have available to you.
So don't be afraid to take a beat and see what these worlds offer you.
#41 Wild Hearts
Platform: PC February 16, 2023
Release Date: PS5 XSX|S February 17, 2023
Steam | Playstation | Xbox
One of the things that most monster-hunting titles do is give you a vast realm to explore. Why? Because they know that not all monsters would live in the same habitat. Nor would they want to "mingle" with other species because of the fights they'd start.
In Wild Hearts, you'll have a unique fantasy version of Japan to wander through as you look for the Kemono, monsters that have suddenly gone rabid.
You'll encounter new Kemono and new areas to battle in as you explore. You can help warp the battlefield to suit your needs using ancient technology! So get into the fight and see where your exploration takes you!
#40 Sons Of The Forest
Platform: PC
Release Date: February 23, 2023
What could be better than going to an island paradise? Well, nothing if that's actually where you're going. But in Sons Of The Forest, "paradise" isn't the word you will be using for the place you're in.
When a mission to find a billionaire goes wrong, you'll have to wander the island and get resources to survive and fight off monsters that come your way.
You can explore the entire island from the start, opening up many options for you and choices on how to survive. Plus, the longer you play the game, the more the seasons will change. So how will you adapt to what the island throws at you?
#39 Hogwarts Legacy
Release Date: 10 Feb 2023 | Platform: PC PS5 Xbox Series X|S
(PS4 Xbox One April 4, 2023) Switch (July 25, 2023)
Camera: Third Person
Multiplayer: No
Co-op: (Local: No | Online: No)
Genre: Open World, RPG, Fantasy, Action RPG
Steam | PlayStation | Xbox
One of the things that many people were jealous of when watching the movies starring Harry Potter was that he got to live in a wizarding world full of awe and wonder. In contrast, we didn't.
While plenty of video games depicted the wizarding world in some fashion, they never really let you explore the school or world in meaningful ways outside of certain plot beats. But in Hogwarts Legacy, that all changes.
You'll roam the school, the grounds, and certain other areas and see what everything is like up close. So if you're a fan of the series, you'll want to explore every inch!
#38 God of War Ragnarok
Platforms: PS4 PS5 | Release: November 09, 2022
The journey of Kratos and Atreus isn't over yet. Some would say it's just getting started. God of War Ragnarok features the father and son duo going up against the best that the Norse pantheon offers, as Odin and Thor are coming after them.
They're trying to set off the events of Ragnarok, and the father/son duo can't allow that to happen. But to stop their plot, they must go through the Nine Realms, gather their allies, and get the tools needed to take down the God of Thunder and the All-Father.
A beautiful and deep journey awaits you as you explore the realms. So don't be afraid to wander to see what they bring!
#37 We Were Here Forever
Release date: May 10, 2022
Developer: TMG Studios B.V.
Publisher: TMG Studios B.V.
Platforms: PlayStation 4, Xbox One, Microsoft Windows, Xbox Series X and Series S, PlayStation 5
Welcome to Castle Rock. For the record, you're not actually welcome here, you're kind of trapped there. What's more, you don't exactly know how you or your fellow prisoner got there. But you do know one thing, you need to get out!
But this is Castle Rock, and escaping a place such as this is easier said than done. You'll need to explore the deep castle and all that is within it, as well as what's outside of it, in order to solve puzzles, get clues, and unravel the mystery of all that is going on with you and your partner.
As you explore, you'll need to make some really tough choices. So make sure you can handle the consequences of them…
#36 Stray
Stray is the science-fiction game that you didn't know you needed to play, and possibly the most unusual one around. Set in a futuristic secret city hidden beneath ruins, a stray cat finds itself trapped in a world that is completely foreign. The aesthetics of this city were supposedly influenced by Kowloon Walled City, an ungoverned and densely populated Chinese enclave in British-ruled Hong Kong. Not only is the setting incredibly futuristic, it still harbors the grime and dirt of a super city from our very own Earth – calling this the perfect playground for an adventurous stray cat would be an understatement.
#35 Death Stranding Director's Cut
Death Stranding is a pretty unique game. A cataclysmic event called the Death Stranding wiped out most life on Earth, leaving only a few human colonies across the world. Some giant invisible monsters known as BTs feed on humans and cause explosions similar to nuclear blasts, further destroying the world as we knew it. Even the rain can't be trusted, as it ages everything it touches. The game is set in the United States, now called United Cities of America. The main character, Sam Porter Bridges, is a carrier tasked with delivering goods across the country. He also has to link the isolated colonies together to make America great again.
#34 Exo One
One of the lesser-known titles on the list, Exo One steers away from the human aspect of exploring and instead asks players to pilot a spaceship across an absolutely stunning landscape. The title may be lacking the action you'll find on other titles on this list, but it's filled to the brim with personality, bringing top-tier sound design, music, and visuals to those who want something more laid-back. There's plenty of story to uncover–you're just not doing it on foot.
#33 Solar Ash
Your planet is in danger of being eaten by a ravenous force known as the UltraVoid. You, a Voidrunner named Rai, must now traverse the universe to find a way to stop it. You'll fight, grind across worlds, and seek out the truth about what is going on within the universe, all so that you can save your home. This is made by the team who did Hyper Light Drifter, so you know you can expect a very fun title with unique visuals and gameplay mechanics that'll have you wanting more. The truth is out there, so go and find it!
#32 Horizon Forbidden West
The sequel to the hugely successful Horizon Zero Dawn sees protagonist Aloy returning to the world of post-apocalyptic America. The story continues the events of the previous game and as such, the setting of a futuristic version of the USA in the 31st century remains the same. This time, the Western United States of California, Nevada and Utah form the game's open-world setting, as Aloy sets off to explore what they've now become known as; the Forbidden West. The game world is just as visually stunning as in Horizon Zero Dawn, but this time, underwater exploration also forms a component of the gameplay. In Horizon Forbidden West, you'll also encounter some interesting new weather systems as well as more ravaged landscapes.
#31 Elden Ring
In the running for Game of the Year in 2022, Elden Ring brings more Souls-like combat into a fresh new world, created in part by Game of Thrones author George R. R. Martin. Set in a massive open world, players can choose the class of their choice as they explore the Lands Between to find the Great Runes, restore the Elden Ring, and become the Elden Lord. With over 12 million copies sold in the first three weeks, it goes without saying that adding this to your collection is a must. This title is massive.
#30 Pokémon Legends: Arceus
2022 has had a lot of great open-world exploration games, but it kicked off with Pokemon Legends: Arceus. In the first semi-open-world Pokemon title, you play as someone in the ancient land of Hisui. Humans and Pokemon aren't on the greatest of terms, and it's up to you to fill out the first Pokedex for the region. Everything in Pokemon Legends: Arceus feels fresh and fun–even battling and catching Pokemon are done differently.
#29 Subnautica: Below Zero
Subnautica: Below Zero, a sequel to 2018's debut, is more of the same–but better. Stranded on another planet, players will have to build bases and scavenge resources to survive both harsh climates and harsher monsters. There's a lot to take in, as you start off with very little, but in time, you'll be building Seaquest-worthy operating bases. It's tough, like the weather conditions you face, but so worth it when it all comes together. Open-world and survival games go hand in hand, and while there are many to pick from, Subnautica: Below Zero easily takes a spot on our list.
#28 Returnal
What happens when death itself isn't enough to take you away from where you are? In Returnal, you are a space pilot who has been stranded on an alien planet. The location is constantly changing and has all sorts of mysteries hidden within it. But, the real twist is that for you, death isn't the end. Instead, it just moves you to another part of the planet and forces you to try to push on without dying again. Your journey in this roguelike title will very much be based on how well you do in each run, and all the while, you'll need to learn the truth about the planet, yourself, and how it all ties together.
#27 Far Cry 6
Far Cry, Ubisoft's premier sandbox series, has covered many locales in its lifetime. From jungles and beaches to middle America, each place gave players plenty of things to do. In its sixth main installment, players are greeted with the beauty of the Caribbean. While the general tone of each game is similar, Far Cry 6 adds a new leveling system to encourage players to get out and do more, rather than just cruise through the story. Considering how good the fictional island of Yara looks, why wouldn't players want to go out and blow everything up? Gunfights, explosions, car chases, and everything in between look absolutely vibrant, offering a massively manic playground to sink hours into against the backdrop of Giancarlo Esposito's brutal dictatorship. Lovely.
#26 Microsoft Flight Simulator
Microsoft has delivered its Flight Simulator franchise since 1982. That's decades' worth of video game titles released and while the series has been a bit dormant, Microsoft opted to unveil a new installment coming in 2020 during their E3 2019 press conference. If you already know about the franchise then you can expect more of the same with this new installment but with a visual overhaul.
For those of you who may not be familiar with the Microsoft Flight Simulator series, this is a simulation video game where players take control of an aircraft. It's a highly detailed simulator where players will fly to select destinations all while going about the variety of controls for each aircraft. Players can fly anywhere in the world as data will be used from Bing Maps to generate the various pathways along with environmental aspects like trees and wildlife.
#25 Ghost of Tsushima
Set during the first Mongol invasion of Japan, Ghost Of Tsushima sees players tasked with the role of a samurai whose duty it is to protect Tsushima island from invaders. This game's world design is extensive and gives players complete freedom to explore the island of Tsushima as they see fit. Visually, the in-game world is stunningly beautiful and is based on the real-world Tsushima Island. Explore a variety of incredibly detailed island settings to your heart's content. Ghost of Tsushima features so many beautiful landscapes it'd be difficult to single any out, but if you're looking for a highly immersive stealth combat adventure set to an atmospheric soundtrack in a visually incredible world, this is the game for you.
#24 No Man's Sky
A gorgeous space exploration game set in a procedurally generated universe, No Man's Sky is a limitless exercise in open-world gameplay. As a spacefarer in this game, the galaxy is entirely at your fingertips. With over 18 quintillion planets to discover and explore, you could spend ages searching for signs of new life, mining for resources, and learning about alien cultures. Finding and naming new planets is also a cool aspect of No Man's Sky. It's definitely one to try out if you're into space adventures.
#23 Far Cry: New Dawn
New Dawn is interesting. Even though it's its own standalone game, it uses a reimagined version of the map from Far Cry 5 and follows the events that ended the game. The game is set 17 years after Far Cry 5 and follows the story of twin sisters Mickey and Lou as they lead a group of bandits in the town of Prosperity. While it's easy to say that much of the game is the same as the previous installment, there's definitely a lot more color that creates a much more vivid atmosphere. Players can also take advantage of Expeditions which are missions that can be completed with other players throughout the story.
#22 Far Cry 5
Far Cry 5 is the fifth installment in the Far Cry series and is based in a fictional area of Montana known as Hope County. This is an open-world environment in which players can explore freely on foot or in one of the game's varieties of vehicles. In Hope County, you'll explore different regions that are based on the real-life areas of southwestern Montana. The game also features a range of environmental activities that players can immerse themselves in outside of the main storyline. Take some time to go fishing or hunting, craft some materials, or even use your wingsuit and glide across Hope County for an aerial view.
#21 Final Fantasy XV
Final Fantasy XV offers players a vast open-world environment to explore along with an action-based battle system. Final Fantasy XV takes place in the fictional world of Eos. The world of Eos is almost entirely dominated by the empire of Niflheim, who seek control of the magical Crystal protected by the Lucian royal family. Insomnia, the capital of Lucis, is the only place free from the empire, and on the eve of peace negotiations, Niflheim decides to attack this last stronghold and steal the Crystal they so desperately seek. Noctis, the heir to the Lucian throne, goes on a quest with his buddies to get the Crystal back and kick some Niflheim butt. If you're not a fan of the traditional turn-based Final Fantasy game, this installment does away with that, allowing players to get into the thick of things in a more action-focused entry.
#20 STALKER: Shadow of Chernobyl
The atmosphere of STALKER is so thick you could cut it with a knife. That atmosphere is what defines STALKER.
This first-person, survival-horror game is set within the radioactive wasteland of Chornobyl, where men known as Stalkers eke out a dangerous living by retrieving strange, reality-defying artifacts. They aren't alone in the wasteland, which is haunted by mutant horrors and an assortment of nightmarish creatures. This open-ended setting allows for players to perform a myriad of objectives for the wasteland's human inhabitants while unraveling the mystery of Chornobyl.
#19 Yakuza 6: The Song of Life
For those familiar with the Yakuza series, the seventh main installment Yakuza 6: The Song of Life picks the story up where it left off in Yakuza 5. Gamers can still expect a brawler-heavy game set in an open-world environment. Much like previous installments, players will have the ability to level up various skills and abilities to use against other yakuza thugs in battle.
As for the narrative, players will step into the shoes of Kazuma Kiryu once again who is on a mission to learn what has happened to Haruka after being locked away for three years. The game does feature an open-world city for players to explore, and as you progress, you'll gather experience to use towards making upgrades such as agility or strength along with unlocking new skills.
#18 Tom Clancy's The Division 2
The Division 2 takes place in an open-world Washington DC experiencing a civil war between the survivors of the events from the previous game as well as bands of marauders and bandits. Players can enjoy an online experience with friends in different modes that include Dark Zones which provides players with loot and different raids. Similar to the first installment, players will find that The Division 2 is an action RPG with multiplayer-focused gameplay. There's also additional DLC content to give players a bit more action to enjoy.
#17 Assassin's Creed: Odyssey
The eleventh installment of the hugely popular Assassin's Creed franchise takes players back to ancient Greece. Set during an era of war between Athens and Sparta, Assassin's Creed Odyssey delves more deeply into historical mythology than some of the other games in the series, making for an enormous, lore-rich world in which players can explore freely. It is also a game that deviates a bit from the typical stealth mechanics of the franchise in terms of combat. Assassin's Creed Odyssey is visually stunning and draws players in with its use of naval exploration and combat as well as its main use of open-world traversal. This is definitely a game for lovers of Greek mythology.
#16 Far Cry 4
Far Cry 4 is the successor to Far Cry 3 and the fourth main installment of the Far Cry franchise. This time around, players will travel to the fictional country of Kyrat located in the Himalayas. Civil war has broken out with the government of Kyrat now under the control of the tyrannical king Pagan Min. When players travel back to their home, they come face-to-face with the villain himself. Upon escaping Min's clutches, our protagonist must free Kyrat from his tyrannical control, but with each choice, Kyrat may be closer and closer to being lost for good. This is a nice open-world adventure for gamers to enjoy with plenty of gunplay and exploration.
#15 Spider-Man
Spider-Man is one of the biggest sellers in Sony's arsenal. The 2018 game and its follow-up, Miles Morales, are some of the best superhero games ever made. Films included, it's also one of the best representations of Peter Parker and everyone in his universe. The villains in Spider-Man are up there with any of the movie versions. The game's open-world setting of New York City is also incredibly detailed and vibrant, making it a pleasure to swing through.
#14 Fallout 4
The Fallout games are the retro Sci-Fi cousins of the Elder Scrolls series. Anyone who likes those games will certainly love Fallout. The game is set in the year 2287, hundreds of years after a nuclear war practically destroyed the planet. As a vault dweller, the protagonist survived the war by gaining access to a nuclear bunker at the last minute. Cryogenically frozen, players wake up hundreds of years later to find that their son has been kidnapped and the vault abandoned. Set out into this radioactive wasteland for one of the best experiences in gaming.
#13 Far Cry 3
Far Cry 3 is an island-based action-adventure title and gives players access to a tropical archipelago to explore. The game's setting is on the Rook Islands, a fictional cluster of tropical isles that players are able to explore at their leisure as they work through the main story. As the protagonist, players must work to save their friends who've been kidnapped by pirates and hidden somewhere on the islands. Traversal includes exploring on foot and making use of a range of vehicles and aerial methods. This is an exciting world to explore as procedural generation is used to prevent the landscape from becoming repetitive or too easy to navigate.
#12 Dragon Age: Inquisition
Developed by BioWare, Dragon Age: Inquisition is a sequel to 2011's Dragon Age II. The game follows a character known as the Inquisitor on a journey to settle civil unrest on the continent of Thedas. Dangerous demons are unleashed on the world and this is where the adventure begins. Additionally, players control both the Inquisitor and their companions during gameplay. This open-world RPG was nominated for Game of the Year and received a good deal of praise from both critics and gamers alike. The next installment, Dragon Age: Dreadwolf, was officially announced in April 2022.
#11 Horizon Zero Dawn
Set in the post-apocalyptic United States, the premise of Horizon Zero Dawn's story is inherently tied to its dystopian setting. In this new universe set in the USA in the 31st century, humans are no longer the Earth's dominant species. Instead, the world is overrun with machines, but the world setting itself remains somewhat true to Earth's natural state. If you're interested to see how the world might look after a millennium's worth of decay, then Horizon Zero Dawn is the game for you. Open-world exploration is a core component of this gorgeous game that was perfectly built for getting lost in. Just keep an eye out for the machines.
#10 Monster Hunter: World
If you enjoy slaying a range of mythical beasts in a low-fantasy setting, you'll love Monster Hunter: World. The game's primary setting of the New World is ripe for questing and exploration. Of course, it's perfectly crafted for hunting a variety of intelligent monsters as well. The New World is comprised of six huge zones that players can venture into freely, encountering different creatures and exploring unique environments. A world where wilderness features heavily, Monster Hunter: World gives players the freedom to explore the different ecosystems in-game and offers an incredibly expansive game world for players to enjoy. We'd recommend taking on the beasts with friends, as this game falls on the more difficult side.
#9 Metroid Series
The Metroid series has been around for decades and continues to gather new fans while inspiring other developers when it comes to the creation of their own IP. You may have heard of the term 'Metroidvania' being tossed around to describe certain video game titles in the past. Metroid has a heavy emphasis on exploration. You'll find yourself gathering a certain item or power that will allow you to access certain areas that were previously unreachable or locked away. If you haven't played any of these titles, you're majorly missing out in a piece of video game history.
#8 The Legend of Zelda: Breath of the Wild
The Legend of Zelda: Breath of the Wild is the latest mainline installment to The Legend of Zelda franchise. This time around, players are placed in a large open-world environment and can challenge a number of dungeons, otherwise known as Shrines, in any order. Within The Legend of Zelda: Breath of the Wild, players will once again take on the role of Link after he awakens from a deep slumber that lasted a hundred years.
A mysterious voice alerts Link to reach a ruined kingdom where he will learn of Calamity Ganon, the one he must defeat. The title has become one of the most beloved installments in the entire franchise and is loved for its massive open world and countless quests and adventures. If you somehow missed this game, there's plenty of time to pick it up before Breath of the Wild 2 drops in 2023.
#7 The Witcher 3
No list of action adventure games with incredible open worlds would be complete without championing The Witcher 3: Wild Hunt. Masterful storytelling aside, this game's maps and environments truly invoke the spirit of the Slavonic mythology that the fantasy world was built upon. Stepping foot inside the world of Geralt of Rivia really does feel as though you're visiting an era that's not so far removed from our own historical reality, albeit with added magic, monsters, and mystery thrown in for good measure. The Witcher 3: Wild Hunt is widely acknowledged as being a masterpiece of gaming, and takes the number one spot on this list. If you're looking to truly escape into a high fantasy setting with a truly human undertone, then this is the game to do it in.
#6 Minecraft
What can be said about Minecraft that hasn't already been said? For many, it's the game they grew up with or the one they've been playing with their own children for years. For many more, it's the game they are currently growing up with. Worldwide, it is a phenomenon like nothing before it. The open world of Minecraft is a blank canvas for players to do anything they like and build anything they want. Hours, days, and weeks can be lost in this game in the quest to build the perfect kingdom.
#5 The Elder Scrolls V: Skyrim
Skyrim is so influential that it's been re-released on seemingly every device with a screen–or without, in the case of the Amazon Alexa version. In fact, The Elder Scrolls V has been so important to the game world that a number of titles on this list can trace their roots back to it. Skyrim plays as well today as it did when it was released and even better given all of the versions that have been released in the decade since. This fantasy open-world game is so good it's arguably the reason that Bethesda hasn't released The Elder Scrolls VI. If that doesn't make it worth playing, nothing will.
#4 Red Dead Redemption
Red Dead Redemption was an iconic game for the period. The title threw players into the boots of John Marston as he attempted to track down his old gang and take them out. Developed by Rockstar Games, Red Dead Redemption had the playstyle and scope of Grand Theft Auto. Just subtract the cars and add more hooves. Sure, the sequel took things to the next level, but that doesn't mean that you should skip the original.
#3 Resident Evil 2
Most people wouldn't call a Resident Evil title super heavy in the exploration department–especially when compared to titles with must larger open-world environments. The 2019 remake of Resident Evil 2, however, fine-tuned the game's detective elements, making it much more enjoyable to peer into every nook and cranny to search for clues and tools. Being chased down by the terrifying Tyrant adds some extra desperation to the mix.
#2 Grand Theft Auto V
Grand Theft Auto is the king of open-world games. The whole open-world genre as we know it today can be traced back to Grand Theft Auto III. While many have tried to copy the franchise's formula, none have truly been able to beat it. Despite being nearly 10 years old at this point, Grand Theft Auto V is still one of the most played games every day. It's a testament to how great the game is and how lively the world of Los Santos is that the game is still one of the best after over a decade. A next-gen version of GTA V was released in March 2022.
#1 Red Dead Redemption 2
Red Dead Redemption 2 is, simply put, a pure masterpiece. Rockstar has received criticism for constantly re-releasing GTA V and for not making new games in recent years, but when the studio does release a new game it goes all in. Red Dead Redemption 2 is one of the most detailed and well-thought-out open-world settings in gaming. Many players have dubbed it one of the greatest games of all time with ample replay value and tons of mysteries to find years after its release.