Game: Runner3
Publisher: Nicalis
Developer: Choice Provisions
Reviewed: Nintendo Switch
Developer Choice Provisions has done again with their latest title Runner3. Similiar to Runner2, their followup sequel takes the best parts of the Runner2 and mashes it together with their latest title Runner3 — and oh boy does it mash well. If you haven't heard of Runner3 yet, let me give you a brief synopsis of what the game is all about. Its an endless runner of sorts that has players completing levels, collecting treasures, and bobbing their head to the toe-tapping music. At first glance the game looks like a child's game, perhaps one would even say an app for a smartphone, but let me tell you this is no easy game to beat.
The difficulty is right between brutally hard and just enough skill to complete the level. The first mission alone I was messing up half a dozen times. I quickly realized this is no joke, I had to focus, this is no mindless runner with some cool musical ques to match my actions. Runner3 requires focus, precise actions, and a lot of repetition if one plans to get good at the game.
Alongside the jumping over platform nature of the game, Runner3 is filled with other game mechanics that make it even harder. Players will have to jump (of course), slide, kick, double jump all while focusing on whats in front of you. It gets kind of hectic sometimes which will lead to plenty of unwanted deaths.
If you like to have a various selection of characters to choose from, then this game will make you happy. Runner3 has a total of 9 different characters to play as. You will have to unlock some, but different characters definitely adds replayability to the game. Plus, the art of each of the characters are so drastically different from one another that you will most likely want to unlock them by any means necessary.
I would also like to add more to the art style of Runner 3 while we're on the topic; the designs in the background, the landscapes you will traverse, and the crazy head bobbing music all pairs so well, it sort of feels like its out of a zany universe like Adventure Time or something from Dr. Suess.
Switching gears now, one of the game's biggest letdown is how short it actually is. In comparison to the other Runner titles, Runner3 comes in with a whopping 27 levels to complete. There is more to do when you complete the game, for example, finish the retro challenge which consists of 27 missions as well as the impossible challenge with another 27. However, if you're not into backtracking and completing sidequests or branching paths in levels you've already played in, then Runner 3 is relatively short.
Not to say this is a bad thing necessarily, it's just a point one should be aware of before jumping into the game. Both the retro levels and impossible challenges will give hardcore fans a lot more to do adding more value to their purchase; so if you are into that sort of thing, then Runner3 will take you a bit of time due to those levels being a little more difficult than the main story.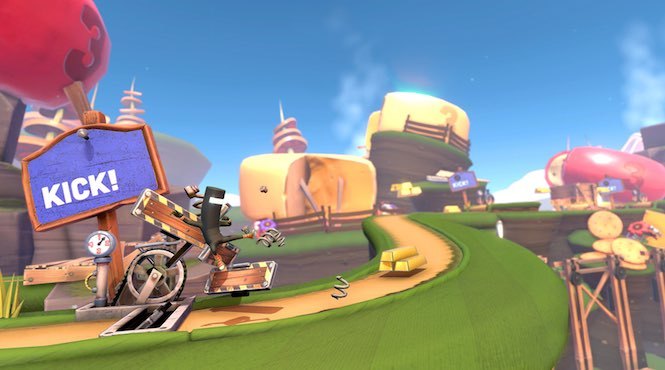 Runner3 is worth your time if you're into these type of games. At times it can get a little frustrating but overall the game sustains a challenging level to keep players both engaged and focused on the task at hand. Combo that with the satisfying music synch ups throughout the gameplay and you got a recipe that is looking pretty good.
However, compared to the last title, Runner3 is sustainably shorter. If you like redoing levels and grinding to get a 100% though, the game will take a super long time to finish. It's fun for both newcomers to the endless runner genre as well as the hardcore veterans.
Have you picked up Runner3? What do you think about the latest installment of the series? Let us know in the comments below!
Full Disclosure: A copy of this game was provided by the publisher for purposes of this review.