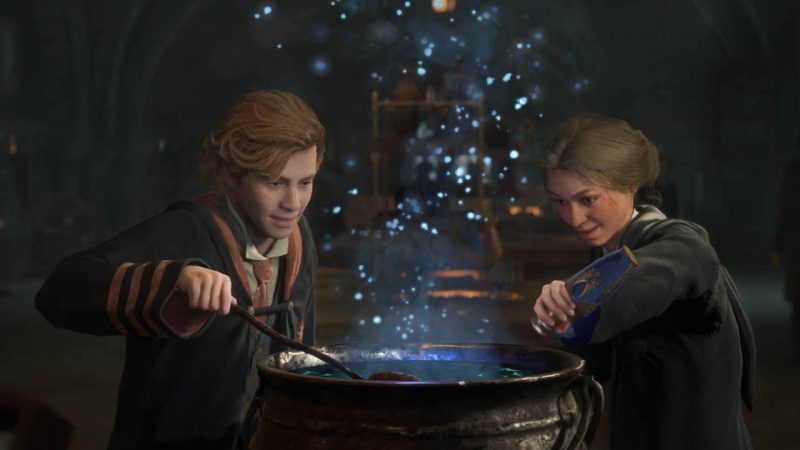 There is plenty of hype building around the upcoming launch of Hogwarts Legacy. With the game nearing its release, there are still details emerging online of what players can expect. Today, we're finding the download size for Hogwarts Legacy for the PlayStation 5 platform. If you haven't already made room on your console platform, then you might want to check just to see if the game download will fit.
This information comes from the PlayStation Game Size Twitter account. According to the tweet, players can expect Hogwarts Legacy to arrive and take 79.543 GB of storage space. That's quite the download for the game, and that might not include just how much storage you'll need if there's a day-one patch coming out. Of course, we have to wait to see if that's the case, but at least we know just how much storage this game build will take players when they attempt to get it downloaded to their console platform. Fortunately, a pre-load will allow you to get the game ready for its launch.
The pre-load for the PlayStation 5 Hogwarts Legacy title is set for February 8, 2023. That's the standard pre-load, but those with the Deluxe Edition can pre-load the game on February 5, 2023. That should give players plenty of time to ensure the game is ready to go when it officially launches into the marketplace. If you haven't been keeping tabs on this game, Hogwarts Legacy will be launching into the marketplace on February 10, 2023.
Hogwarts Legacy will be tossing players into the role of a new student at Hogwarts School of Witcraft and Wizardry. Players will attend classes, learn spells and embark on some grand quests. We even have a new launch trailer for the game which you can view right here. While the game is slated to launch on February 10, 2023, it's only for the PC, PlayStation 5, and Xbox Series X/S platforms. Those of you on PlayStation 4, Xbox One, and Nintendo Switch platforms will be receiving the game later on. Likewise, for those of you who feel the Nintendo Switch version of the game will be lacking, recently, the developers stated that they are confident the game will launch as expected, so you shouldn't expect any cuts for the Nintendo hybrid console platform.