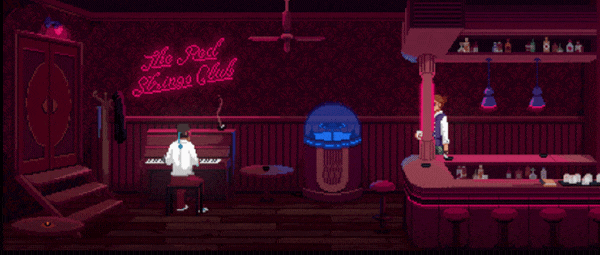 Spanish development group Deconstructeam (Gods Will Be Watching) has opened the doors to The Red Strings Club, a futuristic point-and-click journey of espionage, shady bartending, and bringing down agendas.
A corporation named Supercontinent Ltd is on an alleged mission to rid society of fear, depression and anger, however, a crypto-bartender and freelance hacker duo suspect there's more than meets the eye to this promised eutopia. Supercontinent call it the Social Psyche Welfare project, but what exactly does that even mean? Is it brainwashing? A malevolent scheme? That's your job to find out. You'll be fighting fire with fire as you whip up emotion-engineering cocktails that elicit key details from bar goers, manufacture high-tech genetic implants that influence decision making of Supercontinent's highest profile personnel, and drawing upon your vocal imitation skills as you impersonate the elite and dismantle their true plans. This time, you will be watching.
Those interested can pick up The Red Strings Club on Steam (Windows, Mac & Linux) where it's selling for $14.99 USD.