Gaming solo is fun, but we all know that gaming together is even more fun. Unfortuately, with couch Co Op there is often the drawback that the games are few and far between or a simply not good.
This is sadly amplified but the state of gaming which requires everyone to own thier own console in order to play multiplayer. Gone are the days of split-screen.
It's not all doom and gloom however, there are still developers out there who relish those memories and want to experience them once again. Here are 25 of the Best Couch Co-op Games of All Time from said developers.
#28 Super Mario Bros. Wonder
Platform: Switch
Release Date: October 20, 2023
Co-op in Nintendo titles has been hit or miss in the past, but with Super Mario Bros. Wonder, they're taking things in numerous directions so you can play with just about anyone. However, it may not be exactly what you picture.
For example, the game will have local co-op that you can enjoy with those within your home. Up to four players can play at once and be different characters.
Or, you can head online and do a version of co-op where you can race "ghosts" of one another or help each other by setting up places they can revive if they struggle in a level.
#27 Pikmin 4
Platform: Switch
Release Date: July 21, 2023
While not typically considered a co-op or multiplayer franchise, Nintendo has made it so that Pikmin 4 will continue the tradition of working together to complete tasks in an alien world.
After all, why take on the challenges alone when you can have someone back you up, right? Two heads can be better than one as you use your Pikmin to beat foes and overcome natural barriers in your way.
Just as cool, though, is the new game has a "Battle Mode" called Dandori, where you'll face off against one another to see who can complete certain tasks first. Do you think you got what it takes to win?
#26 Baldur's Gate 3
Platform: PC – August 3, 2023
Release Date: PS5 – September 6, 2023
In today's gaming age, most titles with an expansive world try to give you a co-op or multiplayer experience so that you can enjoy the game with friends. If you wish to do that in an RPG setting, Baldur's Gate 3 is the title to try.
The best part here is that this won't be a case of one person leading and the others following. You'll be equal partners in this journey, and with four of you in one party, that means there are plenty of ways you can handle things.
You can coordinate to take down big bosses, go on separate quests, or screw each other over just because you can.
#25 NBA 2K22
The way NBA 2K22 is played has changed a lot for the better. With the new stamina system, the series is putting out the most offensive content it has in years. The changes to blocks and shot contests make it more dangerous for offensive players to be in the paint.
This year's dunk contest is going to be great with the new meter. I won't say that I don't like the new shot counter, because I do. So far, the AI and a few other things could use a little more work, but I'm happy with the game as a whole. Last year, I couldn't stand how 2K21 worked, but this year it's much smoother and less clunky.
A promising entry is hurt by technical problems, questionable design choices, and too much reliance on microtransactions. It's a good basketball simulator, but for such an old series, there are more mistakes than you'd expect.
#24 Rocket League
The ultimate footy game. Rocket League will have you and your friend at the edge of your seats screaming "Nice Shot!", "Good One!", "What A Play!" The game has taken the world by storm since its release in 2013, and it's no wonder, the concept of RC cars and sports mixes together better than mince and potatoes (and yes I'm talking about a cottage pie.)

Perform acrobatic shots mid-air using your RC's boosters, ricochet the ball off the walls for an impossible pass do a double front flip into an enemy RC to simply wipe out a player for a short time. It's an action-packed game, which is double the fun when you've got a buddy sitting next to you.
#23 Lovers in a Dangerous Spacetime
Just like the best relationships, Lovers in a Dangerous Spacetime's bright colors and funny title might make you think it's all style and no substance. It's an unusual take on fast-paced space shooting, and in just six hours, it teaches players important lessons about dependence and teamwork.
That might seem like just enough time for a one-night stand, but in my experience, it's more than enough time to develop romantic feelings. If you want a cooperative experience like Super Mario Bros. or Gauntlet, you'll be very disappointed. Instead, you and your only friend (or pet, if you have to play alone) will be in charge of a ship meant for seven.
#22 Moving Out
Most people would agree that helping friends move on a Saturday is the worst thing you can do. But the people at SMG Studio have found a way to make that most hated of friendly favors a lot of fun.
Moving Out is a couch co-op game about moving couches together. It takes the coordinated chaos of overcooking outside of the kitchen. Moving Out is a must-try for people who like to play games with other people on the same screen.
Moving Out is set in a small town and has 30 main levels. It lets up to four people play the roles of workers for the Smooth Moves company. Gather all the boxes, appliances, and oddly shaped pieces of furniture that are scattered around each level and move them to the back of the moving truck within the gold, silver, and bronze time limits.
#21 Rayman Legends
The most impressive thing about the video game Rayman Legends is that it keeps coming up with new and surprising ideas all the way through. This beautifully drawn co-op game shows that the platforming genre still has room for new ideas by mixing in hundreds of them.
Rayman's basic controls are to run, jump, and punch, but the game quickly ramps up to include dodging hundreds of dangerous traps, fighting huge enemies, and completing amazing challenge levels that look like '90s music videos. As soon as I liked a stage, the next one would come along and take its place.
#20 Enter the Gungeon
Enter the Gungeon is about bullets, guns, and killing things. In fact, that's the whole point, and it will make you laugh until you cry. The people who live in the Gungeon are as different as the rest of the city.
As you move through the levels, there are more and more enemies, which keeps the game challenging in new ways. These range from floating iron maidens that shoot bullets at you both coming and going to finger-wiggling bullet wizards that use astral copies of themselves to attack you from behind walls or around corners.
This mix of silly fetishism puts the reader at ease right away and sets a tone that is both original and endearing.
#19 Keep Talking and Nobody Explodes
Keep Talking and Nobody Explodes is the most inventive game of its kind I've ever played, and it's ideal for the Nintendo Switch. Everyone has a lot of fun with it; it's easy to learn and play, and it's done perfectly.
As more complex modules are added, the difficulty goes up in a nice way.
It does a great job of using the PlayStation VR headset to give a very immersive couch co-op experience with controls that are easy enough for new players to pick up quickly. The way the game works is fun, and there are many ways to keep going on your adventure.
#18 Untitled Goose Game
"Untitled Goose Game" puts players in the role of a goose without giving too much away. But you're not like other geese; you're a goose and a jackass all in one. (It could just mean that you're a normal goose.) You run around a beautiful, simple English village, honking and flapping your wings as you check off a handwritten list of mischievous goose tasks.
It looks like this goose's only goal in life is to make people in its cute town angry for no reason.
You might need to steal food for a picnic, take a gardener's keys right off his belt, or even untie a little boy's shoelaces, scare him into running away, make him trip, and then steal his glasses before giving him the wrong pair. It is wonderful in a bad way.
#17 Death Squared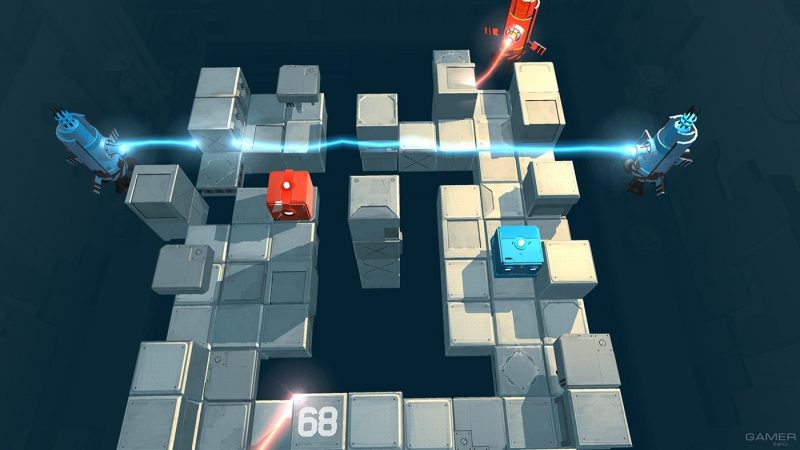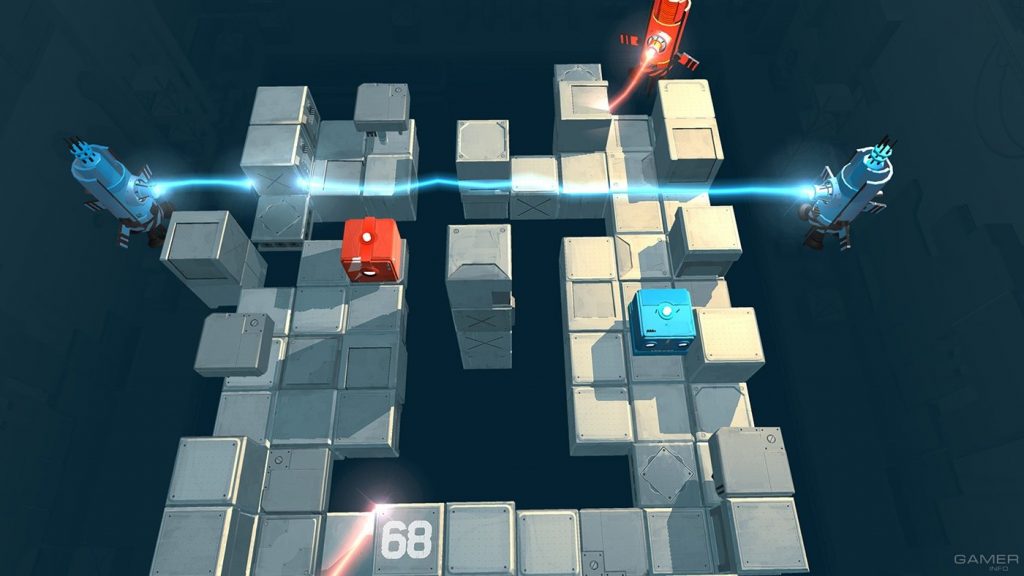 Death Squared is a puzzle game that can be played by one to four people. To solve the puzzle, everyone must work together.
This game is best played with close friends or family members who don't mind arguing a little bit for the greater good. In Death Squared, you and your teammates must work together to solve a series of puzzles, or else everyone will die.
Each player is in charge of a robot that needs to reach a colored goal while avoiding obstacles that could kill it. Teams of players will have to keep an eye on each other and talk to each other to stay alive and find a way out.
Once you and a friend have finished the main story in 1-player or 2-player mode, you can take on the game's hardest test of teamwork in 4-player Party Mode. The "Vault" has more experiments that are only for the bravest of people.
#16 Team Sonic Racing
Team Sonic Racing is a beautiful arcade racing game with fast races, difficult tracks, and new ideas that make working together fun. Even though the game's story in Adventure mode leaves a lot to be desired, the focus is right where it should be: on Sonic's famous speed.
Team Sonic Racing is always on the edge of their seats, whether they're drifting around corners to build up their boost meter, slamming pads as they speed around tracks, or coasting in the slipstream of a teammate. The whole point of the team system is to make sure that your group moves as one smooth machine throughout each race.
#15 Streets of Rage 4
The original "Streets of Rage" came out in 1991. Streets of Rage 4, which came out 26 years later, is a remake of the classic arcade beat-em-up genre. As you move from left to right and punch enemies, break things for points, health, and weapons, and so on, the game keeps going.
Even though Streets of Rage 4 adds a few new skills to fight with, the game's simple design and lack of risk-taking make it clear that nostalgia is more important than any kind of major modern reinvention.
Even though the story isn't very good and the dialogue is too simple, the comic book-style panels make up for it. This time, the bad guys are Mr. and Ms. Y, the twin children of the series' main bad guy, Mr. X. Their evil plan is to control the city by "corrupting everything good," and they do this while looking like a couple of average Scott Pilgrim villains. It's very silly, but it works because it doesn't take itself too seriously.
#14 Lara Croft and the Temple of Osiris
This co-op adventure is almost as important as Lara's third-person adventures, even though it doesn't have a very interesting story and focuses more on puzzles. The only thing Lara Croft is missing here is her personality, which is a shame. The high-angle isometric view could be helpful for showing large views of the temples' different designs and putting the difficult puzzles in the right context.
Even when she is joking around with her team of co-op allies, this famous adventurer heroine doesn't show any emotion or weakness as she explores beautiful but dangerous environments.
Because of how well they scale, the puzzles in Temple of Osiris are best when played alone or with up to four people. When I played the puzzle again with a group of people, there were more moving parts than when I had to figure out how to push flammable orbs to temporarily depress switches by myself or use my momentum while rappelling down a wall.
#13 Lego Star Wars: The Skywalker Saga
Unlike previous LEGO games, which were shot from a wide angle, Lego Starwars: The Skywalker Saga is played from an over-the-shoulder third-person perspective, like Gears of War or Uncharted. This gives you much more precise control over your attacks.
There is a fun boomerang mechanic for lightsabers, a force push mechanic for crates, and an easy-to-use combo system that lets you launch enemies into the air for a juggling volley of saber swings. Even though the combat in Star Wars Jedi: Fallen Order isn't as complicated as it was in the first three games, it's still lightning fast, very fluid, and a lot of fun to play as either a Jedi or a Sith.
#12 Human Fall Flat
As you float through dreamscapes in Human: Fall Flat, you will solve physics-based puzzles and find hidden secrets.
The point is to figure out how to get out of these strange dreams using only your brain and the laws of physics.
At the end of the day, "Human" might be a game that's more fun to watch than to play. It's not that it's not fun to play; in fact, that's not the case. It makes it hard to put your conclusions into action because you have to fight against the controls and try different things until you find what works.
Its charm, humor, and wit kept me going when it got annoying, and oh man it can get quite annoying.
#11 FIFA 22
A new feature to FIFA 22 is a goalkeeper system that gives you more control and consistency in the game's most important position. It also has better ball physics, a faster sprint that more closely matches the speed of the game's fastest players, and a lot of new attacking tactics that put you in charge of how your team plays the ball.
Unlike the one from last year, this one has fewer big problems. The people who work on this game at EA have been given more time to make it how they want it. On the other hand, if EA wants to reach most players, they need to put more resources into game modes that aren't being used enough.
It's a good game from EA that should keep them at the top of the football simulation market, which shouldn't be too hard since there's no real competition.
#10 Unravel Two
In Unravel 2, the two yarn-made main characters are used in interesting ways during the game's short but fun adventure. The game can be played by yourself, but since it's mostly about solving simple puzzles, it's best to play it with a friend or foe. a sweet treat that tastes great and looks beautiful.
In this puzzle-platforming game, you and a friend play as two Yarnys, which are small magical creatures made of one thread. Whether you play alone or with other people in your area, you'll be able to run, jump, swing, and solve your way through a beautiful and dangerous world.
For twenty dollars, this game is a great deal. I wouldn't go out of my way to find it, but I bought it for my wife, who doesn't play games at all, and we had a great time with it.
#9 A Way Out
It is one of the best examples of cooperative games. It looks like a Hollywood movie, the gameplay is smooth and interesting, and the story is full of moments that will stick with you.
The story of A Way Out starts in prison, where its two main characters, Leo and Vincent, who don't know each other, are. Players will have to work together to get both men out of prison and into the real world during their separate storylines. To enjoy this co-op-only experience, you and a friend should sit down on a couch together or connect digitally.
It's a game in which two people always have to work together. Leo and Vincent will go on an emotional adventure with some memorable action scenes, like car chases, stealth sections, melee fights, shootouts, and more, that will be told through a story that will keep you interested.
#8 Portal 2
Portal 2 is the sequel to the original portal game. The sequel brings two robots together to make their way through different puzzles using two portal guns. You'll make ue of physics-altering goozes, teamwork, cubes and of course portals through this funny and challenging world.
#7 Castle Crashers Remastered
In case you missed it the first time, Castle Crashers came out in 2008 for Xbox 360, was remastered for Xbox One a few years ago, and just recently came out for Switch and PS4. In any case, it was a huge success when it was released, establishing The Behemoth as a go-to independent studio following the success of their crazy 2D action game Alien Hominid.
You'll need to run, jump, use light and heavy attacks, cast magic spells, and use items like potions and a bow and arrow to get through Castle Crashers. There are a few parts that aren't typical of a beat 'em up, but I think the game is pretty straightforward overall.
In these games, you might be chased by a huge monster, try to win the heart of a princess against your friends, or ride around on animals that look completely ridiculous.
#6 Overcooked Series
Overcooked Series probably won't be anyone's first, second, third, or even fourth purchase for the PlayStation 5 or Xbox Series X/S, but if you do get it and have enough controllers, you're in for a great, funny, and frustrating time. Overcooked 1 and 2 play the best and easiest on this platform, with all expansion packs and free level updates.
It's a great feeling all around. Your inputs will be taken into account in this system. The game is extremely addictive I've finished one of these games so many times that I can't even begin to count them, which shows how well they were made. The camera swinging effect is used too much in a few stages, which is my only small complaint.
#5 Cuphead
It's nice to see that Cuphead does exactly what it was advertised to do on all fronts. It does a good job of recreating an era that its creators clearly love. It looks great and has a soundtrack that fits the time period. Not only that, but it is also a brutal action game with a lot of speed.
Cuphead is one of the few games like it, and even though it could use some polishing and the two-player co-op mode doesn't add nearly as much as you might think, it still stands out as a rare and unique experience. The beautiful, acidic boss battles in Studio MDHR's first game made me scream both with joy and with fear, but I chose to scream with joy.
#4 Borderlands 3
Bringing new-school shooter elements into the fan-favourite RPG Shooter, Borderlands 3 and its unique art style is guaranteed to bring you and your friends hours of fun, cruising around together (or in separate vehicles) completing quests given by wacky characters, using unique abilities given to you by the character that you choose to play while blasting enemies using a bazillion different types of weapons. Grab a friend and a second controller, and head into this unique world.
#3 It Takes Two
It Takes Two has a serious side that's hidden behind all the jokes, roller coasters, and chatter with squirrels. It's about how a girl's family changes after her parents get a divorce. It's about how the things that make us different could hurt our relationship.
It's about not telling the truth and holding on too tightly. It's also about facing fears and taking advantage of opportunities, learning from the past to build a better future, and coming together despite differences.
All of these parts come together to make a powerful experience, from the touching story to the new ways to play. Even though the name of the game suggests otherwise, players in It Takes Two have to work together to build a successful relationship.
#2 Don't Starve Together
Earlier this year I was playing Don't Starve Together a lot with 4 friends of mine, all from different countries and time zones. It's great fun because each character has its own skills which contribute to the greater good of the team. There's a Viking character who has more HP points and an axe making for a good tank character. A spider who doesn't need to worry to much about what he eats and a robot who doesn't need to worry about food at all. Run, fight and build a settlement in this isometric world. Just make sure that you have enough light ready at hand before nighttime comes.
How Don't Starve generally works is: you are faced with surviving a day-night cycle, during the day you scavenge, mine, trap animals, craft items, and build weapons all while maintaining your hunger levels, 'sanity' and HP. At night you have to make sure you have some form of light to defend you from a night creature (who is apparently called charlie, a fantastic name for a creature threatening impending doom).
#1 Broforce
Made by a South African studio, Broforce is a hilarious metal-slug-esque sidescrolling shooter with charaters from different action movies from the 80s. Each of these characters have a special ability. You can play as "brobocop", "Broniversal Soldier", the Brocketeer, Rambro, bro Dredd and more (if you don't recognize any of these names, go back and watch some old-school action films / read some comics!)
It makes for a great co-op shooter and a fun story of taking back the world from the actual devil.