Action games are a staple of the gaming genre. But what titles are the best of the best? We have 41 picks to show you.
#42 Hogwarts Legacy
Release Date: 10 Feb 2023 | Platform: PC PS5 Xbox Series X|S
(PS4 Xbox One April 4, 2023) Switch (July 25, 2023)
Camera: Third Person
Multiplayer: No
Co-op: (Local: No | Online: No)
Genre: Open World, RPG, Fantasy, Action RPG
Steam | PlayStation | Xbox
When it comes to the movies starring Harry Potter, what really got fans hungry for more was when the magic of the witches and wizards was being used to its fullest.
We're talking about the magical duels and the battles across various terrains that inspired many to wonder what it would be like to be a witch or wizard in that world.
In Hogwarts Legacy, you'll get your chance to find out! The action-packed title will have you becoming a student at Hogwarts and learning various spells to do with as you will! Fight monsters, battle fellow students or Dark Arts enthusiasts, and combine spells for great effects!
#41 Hitman Series
Let's start with a series that is about action but doing it in a very deliberate way. The Hitman Series puts you in the role of Agent 47. You're tasked with taking out some of the most dangerous people in the world, but how you do that is up to you.
Use a mix of tactics and cunning to make your way to your targets and take them out in brutally efficient ways. Or you can go the stealthy approach and have them die without truly knowing who killed them.
The recent trilogy of titles has been praised as some of the best assassin gameplay you'll ever find.
#40 The Last of Us Part 2
We almost didn't put The Last of Us Part 2 on the list because of the controversy surrounding it. But no matter your feelings about it, you can't deny the game has lots of action. It arguably has more action than the first game in many respects.
Taking place a while after the first game, Ellie and Joel are trying to survive in a world that is still uncured, thanks to what Joel did. But when a death rocks them, Ellie will go on a dark path that'll make her question who she is and why she does what she does.
Enemies are more intelligent in the sequel, so use your weapons and environments carefully to overcome and survive.
#39 Tekken 7
Many people forget that fighting games are literally action-packed titles. We probably don't think about them as much because they're a different style of action compared to FPS and adventure titles.
Regardless, Tekken 7 is the peak of the franchise. At least until the 8th entry comes out.
In it, the three heads of the Mishima clan will go on a path to destroy one another once and for all. But who will come out on top when Heihachi, Kazuya, and Jin clash? Also, the mysterious Akuma is in this world! Whose side is he on?
A grounded yet impactful fighting system awaits, Master it and become the king of the iron fist!
#38 Marvel's Guardians of the Galaxy
There are a few superhero entries on this list, and we're going to start with Marvel's Guardians of the Galaxy.
Made due to the love of the MCU movies, the game takes its cues from those films but injects them with even more comic references. The "bunch of A-Holes" will trek across the galaxy to save it and possibly make it worse at times. But they mean well!
You'll control Star-Lord in the game, but you'll be able to call in your fellow GOTG to help with combo attacks. Add to that; you'll make decisions in the game that'll affect the story's outcome.
#37 Splatoon Series
There are a few Nintendo games on this list, and we felt it would be wrong not to include the action series many have enjoyed since the days of the Wii U.
The Splatoon Series puts you in the role of Inklings and Octolings, who spend their days getting into ink battles with glory being the reward!
Wield various weapons, sub-weapons, and special weapons to do massive coverage of the stage or to wipe out your opponents so they have to return to base!
The horde mode via Salmon Run also has plenty of action! There's even a card battle game to try out! In short, Splatoon has it all if you want to have fun.
#36 Horizon Zero Dawn
The PS4 title made waves when it first came out. So whether you play it on PS4 or PC, Horizon Zero Dawn is worth playing even more.
The world is not what it once was. It's been overtaken by nature and mechanical beasts that run free without issue. You are Aloy, a mysterious woman who is an outcast from the tribe she was born to.
To prove herself, she must venture out into the world's wilds and save it from threats that have plans for all inhabitants.
Wield a powerful bow and other gear as you traverse the world, and see if you are ready to handle all it will throw at you.
#35 Control
Your search for your brother has led you to the Federal Bureau of Control. But once there, your journey has only begun.
The agency has many secrets; they're not all from this world. As the new director, you'll wield weapons that transform in your hand and incredible telekinetic powers to overcome the threats that await you. What is this place? Why are you able to do so much here? How does it all connect to your brother?
Only by diving deeper into the history of this place will you get your answer. It's time to learn the truth, no matter the cost.
#34 Rise of Tomb Raider
The second game in the reboot trilogy, Rise of Tomb Raider, puts Lara Croft in the sights of the group known as Trinity. They both seek an ancient treasure, but only Lara will use it properly!
As her first true tomb-raiding experience in the new timeline, you'll watch as Lara slowly builds up her skills and confidence to take on Trinity and the area she's in. There are plenty of enemies to fight, and you must be smart about how you take them on.
Use both your weapons and the environment to get the advantage. Then, use those same wits in the tombs you explore to solve puzzles and save the day.
#33 Far Cry Series
The Far Cry Series may have started as your basic action franchise, but it grew to be something special. It reveled in the idea of telling twisted stories to make you think as you played. They gave you options that would heavily affect the story's outcome and later delivered open worlds to venture through.
The locations are just as important as the story and characters. Whether on a seemingly deserted island, high up in the mountains, within the wilds of Montana, or somewhere else entirely, you'll have plenty to explore and do.
Take down tyrants, or join them to try and "change the world." Your actions will define you.
#32 BioShock Series
While the trilogy has been surpassed over the years, many look at the BioShock Series as proof of how new IP can be innovative and fun and set a standard for titles to come.
Whether in the depths of Rapture, or the skies of a floating city, you'll find yourself wrapped in action-packed adventures where the ending is anything but certain. Utilize injections to harness new abilities to take on the Big Daddy's and other monsters you face.
Traverse the landscapes you find yourself in to learn the truth of all that's going on and see if you can handle the truths that are revealed.
Would you kindly play these games?
#31 Resident Evil Village
The zombie franchise from Capcom has given a lot of games to the world, and it's the eighth main entry that fans have enjoyed even more recently, thanks to its DLC.
After the events of the previous title, Ethan Winters returned home with his wife to enjoy some time together. But shortly after she dies, their daughter is taken by a familiar face. They're put in a village that is full of monsters, and Ethan must get her back!
The struggle is real, as you'll face monsters of every shape and size. That includes a 9-foot-tall vampire lady that everyone likes for some reason.
Then, grab the DLC and witness the true end to the Winters family tale!
#30 Marvel's Spider-Man: Miles Morales
Don't worry. We'll have the original game later on in the list, but we wanted to mention Marvel's Spider-Man: Miles Morales because, while not as good as its predecessor, it's still a great game.
When Peter Parker takes off for a vacation, Miles Morales will have his first foray as the solo Spider-Man of New York. But when a war kicks off between corporate powerhouse Roxxon and the mysterious tech group called The Underground, Miles will have a hard time keeping things from getting out of hand.
While much of the game is similar to the original, plenty of new elements exist. For example, miles has different powers than Peters and wields new gadgets. Use them wisely and show them the power of Spider-Man!
#29 Persona 5 Royal
Now let's talk about a game that set the world on fire in the best way.
Persona 5 Royal was the latest in the series from Atlus. But what changed everything in terms of series perception was the stylish way everything was done, and how fun the upgraded combat system was.
You'll play as the Phantom Thieves, who can go into the hearts of others. Why? Because there is darkness within them. They must save Japan by getting rid of that darkness so that people will act like themselves again.
So live your school life in the day, and your thief life at night and save the world through their hearts!
#28 Dark Souls Trilogy
From Software will have three entries on this list, so why not start with the one that kicked off their reign as top developers?
The Dark Souls Trilogy put you in the body of an immortal and sent you on a quest across a dark land to fight a series of powerful bosses. The "brutal difficulty" of the trilogy is what From Software became known for. The games are so challenging that you must learn to use the battle and dodge system perfectly to take as little damage as possible.
Observe your foes, then exploit their weaknesses so you can come out on top!
#27 Middle Earth: Shadow of War
The tales of Middle Earth go far beyond the four books that JRR Tolkien wrote. A great example is Middle Earth: Shadow of War!
After creating a new ring of power, you have the ability to control orcs and forge your army to battle Sauron! Through the Nemesis System, you'll take on enemy forces, lay siege to fortresses, and ensure your foothold in your campaign.
How far will you go to get the revenge you deserve against the darkest evil Middle Earth has ever known? The battles ahead will forge you, but be wary of what you might become.
#26 Ratchet and Clank Series
While somewhat lost in the shuffle of recent years, the Ratchet and Clank Series is one of the most beloved franchises ever made. The most recent game on PS5 proved that the series hadn't lost a step and delivered incredible action.
You play as Ratchet and Clank, two heroes who will go up against the universe's most dangerous foes.
Thankfully, they have some of the greatest weapons around to help them. So wield your vast arsenal and make your foes regret ever having met you. You can get many of their adventures right now, so why not try them?
#25 Assassin's Creed Series
The reason the Assassin's Creed Series isn't higher on the list is that it has some incredible highs and crushing lows. Given how bloated the series got during its "peak," we wouldn't be surprised if you have played only a few of the titles.
Regardless, trying through history and learning the lives of the assassins and templars who shaped the world is quite the experience. You'll meet key historical figures, be a part of legendary battles, and defeat foes head-on or from the shadows.
With so many titles to play, you could start one now, and it'd be many months before you were done with them all.
#24 The Last of Us Part 1
To be clear, we're talking about the recent release for the PS5, not one of the previous versions.
Everything falls apart when the world is infected with a virus that turns people into monsters. But hope is found in a young girl named Ellie, who may be the cure for everything. Joel, a man with a dark past, is tasked with taking her West to see those who can get the cure from her.
But to do so, you must truck across dangerous areas full of the infected and the humans who don't have a moral compass. The Last of Us Part 1 is a beautiful and heartbreaking game; now is the time to play it if you haven't yet.
#23 Mortal Kombat 11
Yep, only our second fighting game on this list, and it'll be the last. While the previous entry was more about grounded fighting, Mortal Kombat 11 is about the high-octane, over-the-top action you all love.
When time starts to unravel, thanks to the efforts of two Elder Gods, the heroes of the realms will have to unite to balance the scales and save everything.
Classic and new characters will rise, and you'll need to learn how to wield them well to survive the Kombat to come. Test your skills online and see who is the better Kombatant.
The game is a love letter to the series and is the best the franchise has.
#22 Bayonetta Series
You'll see multiple PlatinumGames titles on this list, and we thought we'd start with the Bayonetta Series.
The series focuses on an Umbra Witch named Bayonetta. She's one of the few beings in the world that can fight angels and demons alike, and she has no issues with that should the situation be right. Across her three games, you'll wield her powerful pistols and her witch abilities to fight foes and look stylish while doing it.
Summon the demons of Inferno to the surface world for extra damage, and gain new weapons over time to up your arsenal even more. Bust a move, Bayonetta!
#21 Resident Evil 2 Remake
We showed you the newest game in the franchise earlier. But now, we're showing you the remake that helped launch a trend.
The Resident Evil 2 Remake took the beloved title from the earlier PlayStation consoles and gave it a makeover that everyone was thrilled with. Between the overhauled visuals and the numerous quality-of-life improvements to the gameplay, the title was a masterpiece in many ways.
As Leon S. Kennedy and Claire Redfield, you'll go on two journeys through Raccoon City and attempt to stay alive during the zombie apocalypse. Find weapons, conserve ammo, trust only who you have to, and make it out alive!
#20 DOOM Eternal
Why do you play the DOOM franchise? Because you want to blow up demons with extreme prejudice. DOOM Eternal is the pinnacle of that in many respects.
The forces of the underworld are trying to invade Earth. You're not going to let that happen, are you? So, as the Doom Slayer, you'll don your armor and wield numerous weapons to take out the filth from the pit!
But be warned, the foes you face are some of the toughest the franchise has ever known. They'll come out at you in bulk, so be ready to propel from one part of the map to the other to stay ahead of them.
Make them fear you.
#19 Fortnite
It might seem a little disingenuous that we're putting Fortnite on the list, but think about the gameplay and tell us it's not an action game. That's what we thought.
The battle royale title is an action game that many people play multiple times daily without fail. It's honestly a bit annoying, but we try to let it slide. To their credit, the team at Epic Games is always updating the game so that there's more to do. They even added a campaign mode that recently entered its fourth chapter.
Not to mention, you can dress your character with skins to resemble all sorts of legendary characters.
#18 Devil May Cry 5
When it comes to high-octane action games, the Devil May Cry franchise stands out. The fifth main entry will have you playing as three different characters as you battle across Red Grave City to stop a demon invasion!
Nero, Dante, and V will be who you control. Each has its own weapons and abilities to wield, and they can be upgraded over time.
The battles you'll face are intense and not to be underestimated. These are demons you're fighting, take them seriously and wipe them out! As you do, you'll uncover the truth behind the invasion and all that's happening in the world.
#17 Grand Theft Auto Series
You might be surprised that the Grand Theft Auto Series is so low on this list, but there's a reason. The games here are about action, and while they do have that, it's not the best. Plus, the titles have grown dramatically in their stories and open-world experiences.
Either way, if you play many modern games in the series, you'll have incredible adventures. Whether riding through Liberty City or blasting through Los Santos, you have plenty to do and trouble to stir up.
Add to that, GTA Online gives you plenty of action and adventures to do as you grow your criminal empire.
#16 Red Dead Redemption 2
They say the west was built on legends. But they also will tell you that eventually, the days of the Wild West ended. Red Dead Redemption 2 focuses on that period of history. You are part of a famous outlaw gang that feels the effects of a changing time.
As the Van der Linde Gang tries to decide their future, you'll play Arthur Morgan, who has his own decisions to make. Will you stay loyal to the gang who has had your back for so long? Or will you try to forge a different path through this shifting land to ensure you survive?
A deep and action-filled adventure awaits you, cowboy.
#15 Uncharted 4: A Thief's End
The final adventure of Nathan Drake is arguably his best and most personal. After years apart, Nathan will reconnect with his brother and seek out one last fortune. Welcome to Uncharted 4: A Thief's End.
True to the nature of the games, many action-packed scenes await you, including your typical Nathan-style chase scenes. Traversing the hidden reaches of the world and solving puzzles is also on your docket, and that's if you survive the people trying to kill you.
The adventure that looms isn't easy, and it'll push Nathan to new levels. How far will he go for his family? You'll have to jump in to find out!
#14 Bloodborne
The second entry for From Software, Bloodborne, was their gothic horror take on their formula. You'll head to the ancient city of Yharnam, which has been cursed with an illness that infects the people. Unfortunately, that includes you, and so you must find a cure to make it out of the city alive.
That won't be easy, as there is danger around every corner. You'll need to use a mixture of brutal weapons and abilities to stop them before they can kill you.
Test yourself in the dungeons around the city and see if you can uncover the truth about what's happening here.
#13 Monster Hunter World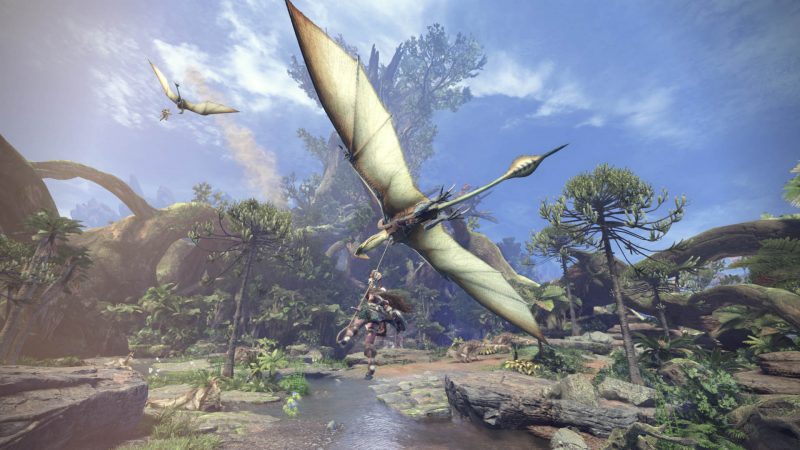 So you're telling us you want to hunt monsters? Sure, we can help with that.
Monster Hunter World was the game that helped push the franchise to new heights. It broke down the walls between East and West and delivered an experience that would unify veterans of the series with newcomers looking to try it out.
The game's purpose is simple. You'll take on the role of a hunter who must seek out and kill monsters in the wild. It sounds easy, but it's anything but. The action in the title comes from your hunts and the difficulties surrounding them.
Build the best armor and weapons to take down the most ferocious beasts, or die trying.
#12 Star Wars Jedi: Fallen Order
Long ago, in a galaxy far, far away, a young Jedi Padawan was barely able to escape Order 66 and has been hiding ever since. But fate doesn't allow such people to hide for long, and now Cal Kestis must rise to fulfill his dream of restarting the Jedi Order!
Star Wars Jedi: Fallen Order is easily one of the best games the franchise has ever produced. You'll wield the Force and your lightsaber in equal measure as you take on the forces of the Empire, bounty hunters, and the creatures of the planets you visit.
It takes skill and practice to master the combat system, so don't rush into things, or else you'll become one with the Force.
#11 Hades
Not all action games have to be in massive 3D worlds or be from established franchises. Hades is a one-off title that is jam-packed with action.
You play as Zagreus, son of Hades and a demigod determined to break out of the underworld. Unfortunately, he'll have to go through legions of the undead, monsters, and even other gods to make it out. Oh, and it'll take more than one try to make it out.
But fear not! Some Greek gods are on your side, and they'll give you blessings to buff your weapons and ensure you can survive the trials to come. So pick your favorite combinations and get to slicing!
#10 Metal Gear Rising Revengeance
While all the games in the franchise have action, it's Metal Gear Rising Revengeance that takes it to the next level and beyond. Seriously, it's insane what happens here.
You play as Raiden, the cyborg ninja with a haunted past who must try and save the world from war and those puppeteering it. You'll wield a high-frequency blade that can cut through almost anything, and through Raiden's skills, you'll take on Metal Gears, super soldiers, and more!
Some say this is one of the most epic action games ever made. Where's our source? Our source is that we made it the &&&& up!
#9 Horizon Forbidden West
A game that came out in 2022, Horizon Forbidden West, proved to the gaming world why the story of Aloy was worth being a part of. The sequel to the hit PS4 game expanded everything that the original game did and put even more depth into it. That goes double for the action sequences.
In the sequel, you can choose multiple skill trees to learn from to develop your personal fighting style. You'll need all the help you can get to fight off mechanical monsters and the multiple parties trying to destroy the Earth and rebuild it.
Complete side quests to gain allies, and explore the vast wilds of the west so you can learn more about the world you're in.
#8 NieR: Automata
Who's ready for another title from PlatinumGames? Good! Because NieR: Automata is widely considered their best game ever, and it's not hard to see why.
In the future, humanity will be driven from the Earth by robots. To fight back, they make androids that they send in to fight for them. As 2B, 9S, and others, you'll try and take down the robotic hordes that await you in a satisfying combat system.
But the fighting is only half the drama. You'll have to unravel a story that can lead you to over 20 different endings! What truths will you unlock as you fight for the world and yourself? Jump in and find out!
#7 Elden Ring
From Software's ultimate title, so far, deserves to be the highest on this list for many reasons. Not least is that this is the first open-world game that they've done, and people liked it.
They also did their best to improve upon everything their past titles did in terms of action, traversal, and making quality-of-life improvements. For example, you can jump! You can ride on a steed to get you across the land. Finding waypoints has never been easier, etc.
Don't get us wrong, the challenge is still there, and you'll grind yourself hard to get your character ready for the fights to come.
#6 Marvel's Spider-Man
We're going to have two superhero games back-to-back, so be ready!
Marvel's Spider-Man was Insomniac's answer to the Batman games, and they delivered one of the best experiences you'll ever have with the webhead.
Eight years into his career, Peter Parker is about to start a chain of events that will rock his city and life to its core. With new threats like Mr. Negative and returning foes like Rhino, Scorpion, and beyond, your friendly neighborhood Spider-Man will have his hands full.
Thankfully, the smooth combat system will make fighting them easy enough for you. Wield powerful gadgets in conjunction with his fighting style to save the city!
#5 Batman Arkham City
Widely considered the best superhero game of all time, Batman Arkham City was Rocksteady's magnum opus that none could fully replicate. Sorry, Spider-Man fans, but you know it's true!
The game puts Batman within the locked-up walls of Arkham City. The mysterious Hugo Strange has sectioned off a part of Gotham as his personal prison and is ready to unleash something he calls "Protocol Ten."
With inmates vying for power, and a deeper conspiracy at play, Batman must rise to the occasion once again and fight some of his greatest foes to keep Gotham and his people safe! Featuring smooth free-form combat, you'll feel like Batman as you pummel all the criminals in your path.
#4 The Witcher 3: Wild Hunt
The Witcher 3: Wild Hunt recently got a next-gen update, which means you'll be able to experience the adventures of Geralt of Rivia in a new light.
When his adopted daughter Ciri is in danger, you'll take on all human and monster threats to keep her safe and the realm from danger.
Wield your sword, magic, and potions to battle monsters of all kinds and unravel the mysteries surrounding them. Between the main campaign and the DLC content, you'll have dozens upon dozens of hours of content. So see what the world has to offer by tossing a coin to your Witcher!
#3 Ghost of Tsushima
There are specific titles that come around that blow people away with the incredible detail that is put into them. Ghost of Tsushima is absolutely one of those titles.
In the game, you play as a samurai trying to protect an island from an invading army. While you might expect an "epic hack-n-slash adventure, "you get a beautifully rendered tale of adventure and sword fighting.
Said duels are about skill and using multiple techniques to defeat your foes. Plus, as you go through the story, you'll help the local people and grow your world through them. Many consider this one of the best games ever, so don't miss your chance to play it.
#2 God Of War Series
There's a little irony in talking about the God Of War Series. After all, the series can be divided into two parts: the Greek Saga and the Norse Saga.
In the Greek titles, you play as the revenge-filled Kratos as he goes on his quest to wipe out the Greek Gods, consequences be danged. But, then, in the Norse Saga, we find Kratos as a father again and attempting to endure the wrath of the Norse deities.
Both games are action heavy and a lot of fun to play. The latter titles focus more on the story, but the action is absolutely there. So jump into the fray with Kratos and have a blast!
#1 Call of Duty Series
Why is Call of Duty's whole line one entry? Because if we're being honest, you can lump almost every mainline title in the franchise together and know what you're getting. That's not always a bad thing, mind you, as that gives you consistency in terms of gameplay.
Whether you're in the depths of World War II, fighting in modern times, or heading to the future, you can expect an action-heavy FPS title to keep you happy most of the time.
Plus, you can skip the campaign and go straight to the multiplayer modes to have epic battles with other players. Oh, and don't forget the zombie modes! There's a reason this series always sells millions of copies.