We all love immersing ourselves completely in a fantastical world filled with magical creatures, inexplicable abilities, and rich quests. The PS4 played host to some of arts finest fantasy worlds, and so join us as we comb through the 20 best on the platform.
#20 Stranger of Paradise: Final Fantasy Origin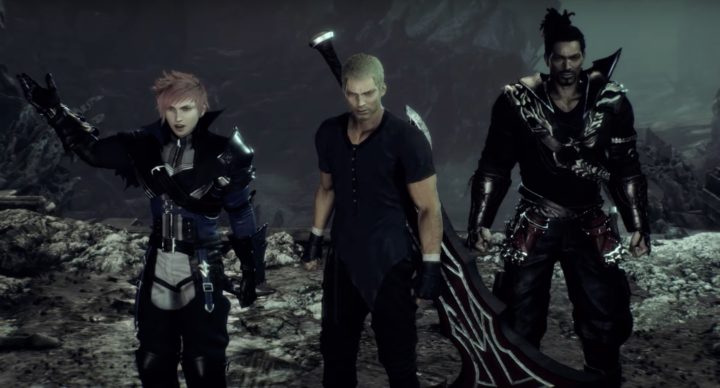 Developer: Team Ninja
Platform: PS4, PS5
Release Date: Mar 2022
If you have a lust for chaos then you'll get it when Square Enix teamed with Team Ninja on the very first souls-like title in a Square Enix franchise, and what bigger IP to explore than Final Fantasy? Stranger Of Paradise: Final Fantasy Origin brings some fascinating new elements to the Souls formula, a bunch of styles, both awesome, and lame, and a cool new take on the original classic adventure.
#19 Greedfall
Developer: Spiders
Platform: PS4, PS5
Release Date: Sep 2019
For years the development team had Spiders had tried to find mainstream success through a wide range of IP, but all had failed to resonate, all that is, until Greedfall came along. A vibrant world, incredible storytelling, and fantastic quest design took our collective breaths away as the studio which had been so inspired by the Bioware's of the world finally released a game that belonged in that conversation. Now if they can just clean up the rough technical edges the sequel could be something truly special.
#18 Kingdom Hearts 3
Developer: Square Enix Business Division 3
Platform: PS4
Release Date: Jan 2019
We meandered in the wilderness for many years before finally getting to this point, the release of Kingdom Hearts 3. Through numerous spin-offs across every conceivable platform telling us stories that largely didn't matter, it finally came time for the next mainline act in the saga… and Kingdom Hearts 3 didn't let us down. The production value, the combat, the drama – all sublime, and well worth the excruciating wait.
#17 Dragon's Dogma: Dark Arisen
Developer: Capcom
Platform: PS3, PS4
Release Date: May 2012
Thanks to how huge Monster Hunter has become in the west in recent years, the idea of climbing all over monsters amidst heated combat seems well-worn, but when Dragon's Dogma and its expansion Dark Arisen launched it was something incredibly fresh. The pawn system and the way the game interacted with the online space was also something truly unique, making that hunger for the recently announced sequel all the more justified. For now, trek out and enjoy was is still one of the best RPGs we've seen in years.
#16 Final Fantasy XV
Developer: Square Enix Business Division 2
Platform: PS4
Release Date: Nov 2016
While the story of Final Fantasy XV (Versus XIII anybody) is absolutely more intriguing than the story in Final Fantasy XV, the road-tripping journey that the quartet, headed by Noctis, went on is something that will quickly endear itself to you. Mix in the slickest combat that the franchise has seen so far thus far, stunning world design, and incredible use of summons and you've got yourself a top-tier title, that is not to be missed
#15 Nioh Series
Developer: Team Ninja
Platform: PS4, PS5
Release Date: 2017-2020
While the Nioh games wear their love of FromSoftware's titles on their sleeve, they also present some fascinating elements that make both the original game, and its 2020 sequel, Nioh 2 shine in comparison. The game does a fantastic job of leaning into Japanese folklore, while the story is beloved for not being as abstract as what we've seen from FromSoft's works. The action as you'd expect from Team Ninja is first class and made Nioh the one true rival to the genre champions.
#14 Dragon Age: Inquisition
Developer: Bioware
Platform: PS3, PS4
Release Date: Nov 2014
While Inquisition has sadly been the last that we've seen of the Dragon Age franchise for nearly eight years, it certainly went out with a bang. A gorgeous world, filled with stunning monsters, imposing dragons, and endless questing opportunities, Dragon Age: Inquisition promised players the world and delivered.
#13 Dark Souls III
Developer: FromSoftware
Platform: PS4, PS5
Release Date: Mar 2016
The culmination of FromSoftware's Dark Souls trilogy, Dark Souls III takes all the learnings from both prior titles, the good and the bad, and pulls it all together with some learnings from Bloodborne to form the ultimate Dark Souls title. It pushes you away before pulling you back in over and over again to a point where not even one of the hundreds of deaths coming your way will deter you.
#12 Tales of Arise
Developer: Bandai Namco Studios
Platform: PS4, PS5
Release Date: Sep 2021
Bandai Namco sought to shake things up with the latest entry in the Tales Of franchise, and that's precisely what Tales Of Arise did. Arise retains the game's battle system in many ways but revitalises it in others, visually it shakes things up as well, looking breathtaking in the process, and adds other modern accoutrements to elevate the franchise, which had already been one of the premium JRPG franchises, into a higher echelon.
#11 Kena: Bridge of Spirits
Developer: Ember Lab
Platform: PS4, PS5
Release Date: Sep 2021
Never before have we seen a game that contradicts itself more, or in as magical of a way as Kena: Bridge Of Spirits. The contradiction lies in the PS2-era world and platforming design, which then is offset by an approach to combat that is at times inspired by Souls games and audio/visual production values that are out of this… realm. There's a jaw-dropping quality to this game that few will ever achieve, and it blurs the line between AAA and indie.
#10 Divinity: Original Sin Series
Developer: Larian Studios
Platform: PS4
Release Date: 2014-2017
CRPGs have for decades been just that, Computer Role Playing Games. Many of them being isometric titles with numerous cooldowns and quick key options, the expectation was set that these games wouldn't be suitable for console players – until the Divinity: Original Sin titles smashed the door down and showed the world just what was possible in the console realm. Now two games in the sub-series behind them, and there's no going back. We can't wait to see what's next from the franchise.
#9 Dragon Quest XI
Developer: Square Enix
Platform: PS4
Release Date: Jul 2017
While it feels like it took forever for the next, core, single-player Dragon Quest game following IX on the DS, the wait proved to be worth it once Dragon Quest XI arrived. While it didn't add much new to the mix, what it was was the perfect blend of all the franchise had achieved to date and was then complemented by the modern, HD visuals and gorgeous art design that was befitting of a franchise with so much love behind it.
#8 Bloodborne
Developer: FromSoftware
Platform: PS4
Release Date: Feb 2015
It might seem crazy to think that Bloodborne may one day be looked upon as just the tip of the iceberg when it comes to what FromSoftware are capable of. Bloodborne flew in the face of the formula that they'd established up to that point, subverting expectations with its incredible speed, and attack focussed gameplay, something that franchise hadn't explored to that point, and something that still makes the game a favourite of many of the developers biggest fans.
#7 Final Fantasy X|X-2 HD Remaster
Developer: Square Product Development Division 1
Platform: PS2, PS3, PS Vita, PS4
Release Date: Jul 2001
When many think of Final Fantasy X, they instantly think of the horrific laughing scene, and let's not beat around the bush here… it's bad. But open your mind up further and you'll find the pinnacle of Square-Enix's turn-based combat endeavours, an utterly enthralling plot and cast, and a sequel, which, while often forgotten, stands tall as a genuinely excellent game in its own right.
#6 Monster Hunter World
Developer: Capcom
Platform: PS4
Release Date: Jan 2018
The Monster Hunter franchise had always been a colossus in the East, but a minnow in the West. Somehow Western nations were an egg Capcom hadn't properly been able to crack with Monster Hunter until Monster Hunter World arrived. The incredible visuals, the wonderful monsters to slay, and an enhanced focus on accessibility for new players makes Monster Hunter World the pinnacle of its franchise, but also one of the great fantasy games of the generation. Sharpen those blades, we're going hunting!
#5 Elden Ring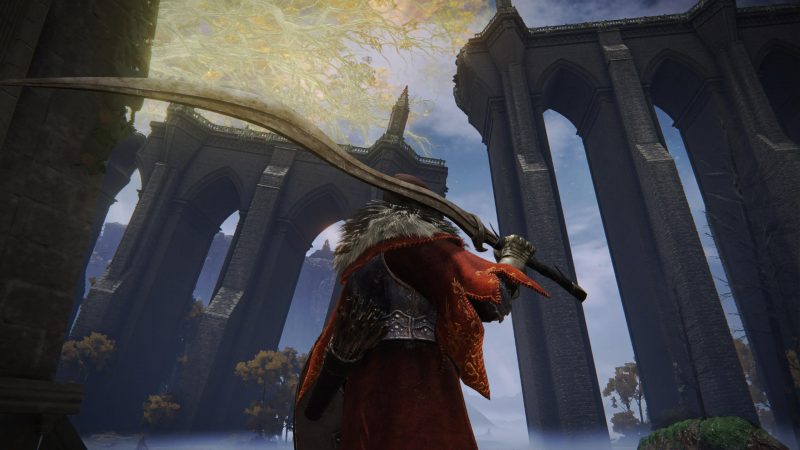 Developer: FromSoftware
Platform: PS4, PS5
Release Date: Feb 2022
Number five on this list could yet prove to be several spots too low, but the true impact of Elden Ring has yet to be measured. FromSoftware managed to merge their incredible world design, brutal difficulty, and sickly beasts, in with an open-world design structure that makes two elements feel like oil and water – and yet, they made it work. Somehow those genius' made it work, and the world stands in awe.
#4 The Elder Scrolls V: Skyrim
Developer: Bethesda Game Studios
Platform: PS3, PS4, PS5
Release Date: Nov 2011
Few games are as iconic and recognisable as The Elder Scrolls V: Skyrim. From arrows to the knee, inquiries about rumours, giants that swat you kilometres into the sky, and the majesty of the world that Todd Howard and his team created, Skyrim is an all-time great of the industry. Sadly, we may never again see an Elder Scrolls title on the platform either, so savour this final single-player TES treat even more than we already have been for a decade already.
#3 Final Fantasy VII Remake
Developer: Square Enix Business Division 1
Platform: PS4, PS5
Release Date: Apr 2020
Having been rumoured for decades, and lusted for by millions for just as long, a remake of Final Fantasy VII always seemed like a distant dream, until the train horn blared, and all of a sudden we're whisked away in the splendour of Midgar once again in a remake that could arguably be considered better than it's original, which itself is considered one of the GOATs. Cloud and co. are back, and now we only want more.
#2 God of War
Developer: Santa Monica Studi
Platform: PS4
Release Date: Apr 2018
Speaking of baggage! The God of War franchise carried with it such an enormous burden going into the 2018 franchise reboot, that of its history. For a game that itself is designed to focus on, and then destroy history, it was nearly snuffed out by the weight of its own history. Enter Cory Barlog, a bold vision for the future, a new, Nordic, setting, and a new lease on life that makes God Of War one of the truly great games of all time.
#1 The Witcher III: Wild Hunt
Developer: CD Projekt Red
Platform: PS4
Release Date: May 2015
The greatest game of the generation earns that title because of its incredibly realised characters, its superbly written quests, a world that tempts you in new directions every 30 seconds, combat that engages and challenges like few others, oh, and a little game called Gwent that could consume you more than most full games ever successfully manage. The Witcher III was meant to be the conclusion for the franchise in games, and yet it's been so enormous that CD Projekt couldn't help but explore new options for the future. Bring on The Witcher IV, 50 years from now!