Twenty six years. Two and a half (and a bit) decades of jump scares, dogs jumping through windows, memorably bad quotes and ridiculous action is twenty six years old. Borne of an obscure Japanese horror title from 1989, Resident Evil has gone on to much bigger and better things since. Game sales in the millions, a blockbuster range of films (well, questionably) and many a spin-off too.
But let's look at the games today. Was it the first one that hooked you in, or did you jump aboard when VII reinvented the franchise to first person? Do you fondly remember what Barry calls Jill, or were the Mr. X chase moments what scarred you for life? Whatever the reason you love Resident Evil, we've compiled 25 of the best games in the series, ranked. Don't agree? Sound off in the comments.
#25 Umbrella Corps
Let's kick this list of with the absolute worst example of slapping Resident Evil onto something. Umbrella Corps could have been something good. It could have improved on what Operation Raccoon City did, as most sequels do.
But no, Capcom doubled down the wrong way, and churned out this absolute tosh of a game. Uninspired settings, forgettable characters and some of the worst gunplay ever put to video game. As much as it'd be to tear more into this game, it'd be giving it more credence than it's worth.
#24 Resident Evil Gaiden
Unlike Umbrella Corps, Gaiden doesn't deserve the bile aimed it. Yet it doesn't deserve heaps of praise either, despite at least being an ambitious title for the Game Boy Colour. But it's not the GBC's limitations that make Gaiden a bit weak,
It has some good ideas; clandestine agency groups, pairing characters from different outings together, and a combat system that [in modern comparisons] is eerily similar to some of Undertale's battles. But those glimmers don't make it stand out against the many failing that Gaiden offers.
#23 Resident Evil Survivor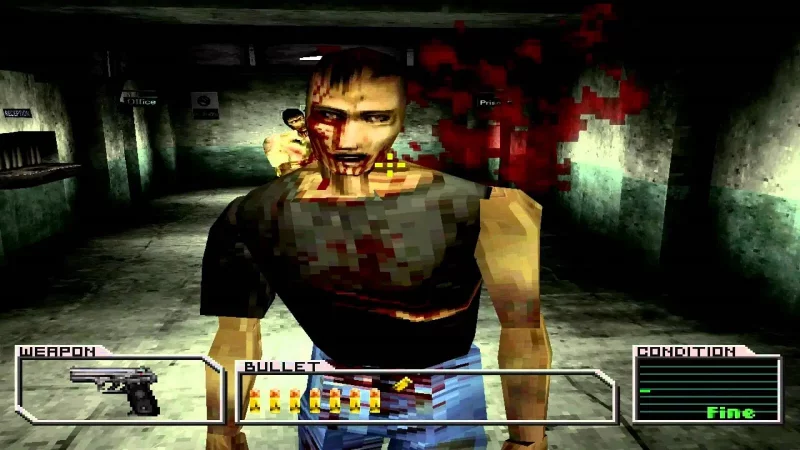 Back in the late 90's, lightgun games and PlayStation were a pretty good match. Time Crisis, for example, was doing gangbusters following its console conversion. Was it inevitable that Resident Evil would follow? Of course, they like trends.
But unfortunately, it didn't use an on-rails system that would later be used in Umbrella/Darkside Chronicles. Instead, it tried to use too many mechanics and made it a clunky, unsightly mess to play. There's only so many off-screen attacks that one can take before the frustration sets in.
#22 Resident Evil Outbreak
Contentious one, this, given that the USA and Japan got to experience this game the "proper" way, whilst the UK didn't. We refer, to the unaware, to the lack of online play in the PAL versions. But that's not why it's ranked so low (despite the author of this list being British).
No, it's rank lowly because despite it being a good concept, it was a muddled execution that offered little direction to what was meant to happen. Granted that online play is sometimes like that, Outbreak nonetheless failed to set the world of multiplayer Resident Evil alight. But, it did get improved on.
#21 Resident Evil: The Mercenaries 3D
The Mercenaries was a surprise in Resident Evil 3 akin to the joys of discovering Portal in the Orange Box. A free, included spin-off (before Capcom got greedy with DLC and such), it added many an hour to smash those high scores. Replicated again in 4 and 5, it wasn't long before dollar signs formed in Capcom's eyes.
The thing is, charging money for a spin-off mode as a standalone game is, basically, shameful. Yes, it might be fun, but one extra mode stretched out to one game overshadows the joy it might bring. In Nemesis, progress could be used towards the main game. Here? Well, that's all there is to it: a mini-game.
#20 Resident Evil: Operation Raccoon City
So, the one that came before Umbrella Corps. If that one was rubbish, does that mean that the one that came before set too high a benchmark? Well, no. Not in the slightest.
The concept could have been great: expand on the cooperative multiplayer set out in Resident Evil 5. Add some Rainbow Six-style classes, varied scenarios and set pieces, and it could have been great. Sadly, it wasn't. It's got a few bits of fun if there's mates to play with, but otherwise, largely forgettable.
#19 Resident Evil 6
Is it a surprise to see Resident Evil 6 this far down in the list? No, probably not. But whilst it is quite far back, it's not a game that deserves all of the ire it gets. Were it not a Resident Evil game, it could be any over-the-top action game, with multiple narratives.
Sadly, it is a Resident Evil game, and it besmirches quite a fair bit. It's such a mishmash of stories and trying to thread into canon that it ends up a mess. The action is far too over-the-top, even for a Resident Evil game. It could have been better, yet it took the wrong elements from 5 and went all silly.
#18 Resident Evil: Dead Aim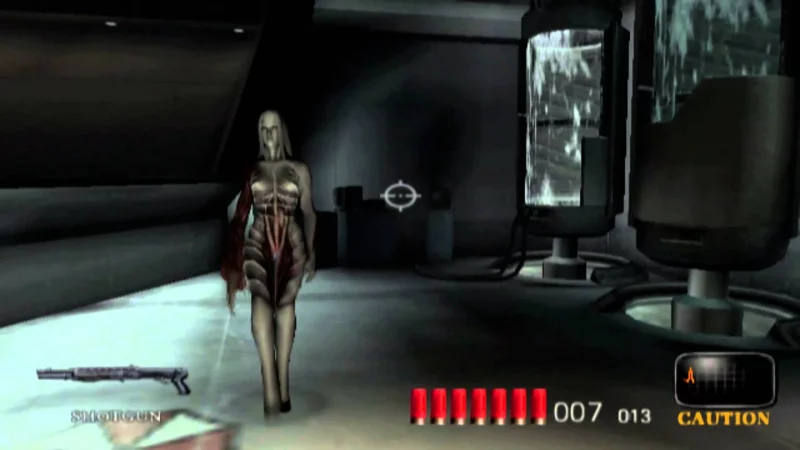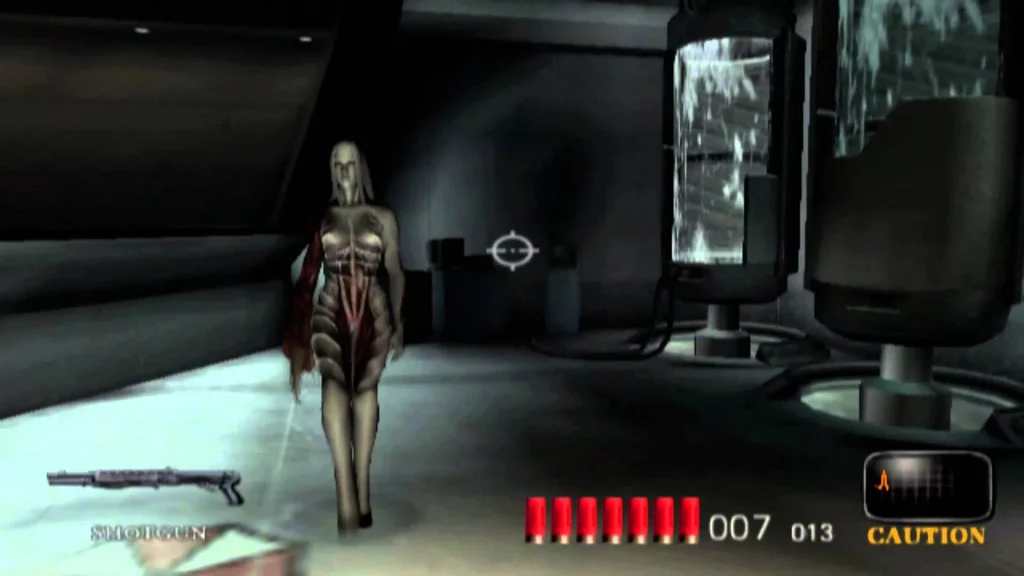 We've hit that sticky point now in the Resident Evil lightgun/on rails shooters in this list. It's been established that Survivor tried too much, whilst Umbrella Chronicles… well, you'll find out. So, where does that leave Dead Aim?
Somewhere in the middle, as it stands. Better than Survivor by a long shot, helped by the technical upgrade afforded by the PlayStation 2. Yet it didn't have the Wii-like angle for something suited to the PS2, relying on more peripherals. Yet story, and where it fits in with the overarching stories? Yeah, it's a monster-of-the-week spin-off that can be largely ignored.
#17 Resident Evil: The Darkside Chronicles
Whilst the Umbrella Chronicles did its best to tie up some loose threads (always in a task in a series so convoluted), Darkside Chronicles went a different angle. There are many what if's in the RE universe, some that didn't really need exploring.
Darkside Chronicles offers up a few of them, which we won't spoil, but it for the most part just seems like an unnecessary cash in on the on-rails gameplay that The Umbrella Chronicles established. It's not terrible, per se, but it can larger go ignored if you haven't already played it.
#16 Resident Evil: Revelations
We're at the middle of the list now, so it's only fitting that two middle-ground games fill the entries. Revelations isn't necessary a bad spin-off/tangential part of the RE universe, it was just an odd game on its arrival.
Employing a weird enemy scanning mechanic akin to Metroid Prime, Revelations tried something different and didn't really hit or miss any marks. A little awkward on handheld consoles, perhaps, but nothing to crucify it for.
#15 Resident Evil: Revelations 2
So, you might be wondering why this one pips the first game to the higher spot? They're both the same franchise spin-off, what difference is there? Well, as it turns out, quite a lot. For one, it's episodic and two, it at least brings some recurring characters together in a decent arc.
Set between two timelines, both Claire Redfield and Barry Burton are entwined in this surprisingly well-told story. The episodic thing was a bit weird to start with, but it plays out well enough to be memorable. It won't rank as the best of stories, but it's entertaining enough to get stuck into.
#14 Resident Evil Outbreak: File #2
So it was mentioned earlier on that Outbreak failed to set the online Resident Evil universe alight. But that doesn't equate to poor sales, which spurred Capcom on to take a second stab at the Outbreak series. Did it work this time?
Well, in short: yes, it did. It was still a bit janky and muddled, but it had more structure to it and better connectivity for online. Still clanky, yes, and it's a shame the servers have officially gone offline, but there was some diamond sparkle in this rough.
#13 Resident Evil: The Umbrella Chronicles
We've already covered that lightgun games don't work unless they're on rails, and that Darkside Chronicles was a little bit off topic, so now we've come to "the good one". Whilst Wii games get a bit of derision as being a lesser console, this suited the on rails attitude set out here.
It also bridged the gap between a few plotlines, that may have missed a few casual fans but was massively helpful for the devotees. Things like who Krauser from 4 is, for example. Ported to the PlayStation 3 too, it was a welcome edition to extended canon, but not necessary if it passed you by.
#12 Resident Evil Village/8
Resident Evil 7 reinvented the series again, adding first person and making it scary again. So naturally, fans were eagerly waiting for Capcom to milk that element and mess it up. Well, it only took one game.
Village looks beautiful, but right from the get-go it messes about with some bait-and-twists, and before long we're in some ridiculous shootouts with werewolves. The overarching plot shakes what Biohazard left players with, leaving more raised eyebrows than shocked faces. Really, mold?
#11 Resident Evil Zero
Before the many weird, incomprehensible retcons and whatnot, we were treated to a prequel we didn't know we needed. It's hard to imagine what kind of outcry there was for a prequel about the meek medic Rebecca, but it does flesh out what began the viral research and subsequent end of days.
Introducing a partner/item zapping mechanic, RE Zero took a bit of getting used to. Thankfully moved from the N64 to the Gamecube, it follows in the same gorgeous vein as the original remake. Again, if you're curious about where it all began (before Village faffed around with it), it's available now on current gen consoles.
#10 Resident Evil 3 (2020)
After the roaring success of the Resident Evil 2 remake a year prior, common sense would dictate that a Nemesis remake would also strike gold. After all, it would parallel the success of their original counterparts, so it's simple, right? Not quite, as Capcom left a lot on the cutting room floor.
Creating a more streamlined and shortened experience, the 3make (just go with it) unfortunately cut out too much of the original content to make it seem like a fully fleshed out game. The scripted Nemesis moments became formulaic, as was skipping out some of the more memorable moments of the original. But on the bright side, it's had a free current-gen update for those curious.
#9 Resident Evil 5
Did you know that of all of the Resident Evil titles out in the world, Resident Evil 5 was the highest selling one of them all? Sounds incredulous, but it's true, only to be beaten by Biohazard/7. Does it mean it's an absolute blockbuster title, with exciting story beats and stellar gameplay?
Err, not quite. It was still full of corny dialogue, strange inventory management (wearable armour as an item of armour, anyone?) and Chris Redfield punching a boulder. Yes, that's where the meme came from. But despite all that, it's actually quite entertaining if you can get someone to cooperatively play it with.
#8 Resident Evil 3: Nemesis (1999)
Whilst the remake may have missed the mark, the original outing for the Nemesis in this side-quel to Resident Evil 2 struck gold. Focusing more on the action angle, Resident Evil 3 saw the return of Jill Valentine in the final days before Raccoon City's destruction.
A year on from RE 2, it may have seemed initially liked a rushed cash in. But it did introduce Mercenaries mode, adding more bang for its buck after its shorter campaign. A somewhat branching storyline (well, minor elements) saw replay value in this title, and if that's all: there's an unlockable costume to have Jill dress as Regina from Dino Crisis too.
#7 Resident Evil Code: Veronica
Often seen as the black sheep in the series, before the franchise really went wild, Code: Veronica gets a lot of unnecessary flack. It didn't help that it was Dreamcast exclusive initially, considering the millions of PlayStation copies sold up to then. But we're here to tell you otherwise.
In terms of story, Code: Veronica tells a well-written tale that gives more backstory to the Redfield's, how Wesker became a red-eyed, superhuman menace. It's still corny, being Resident Evil after all, but it still fits into canon better than a lot more of the other spin-offs have.
#6 Resident Evil (1996)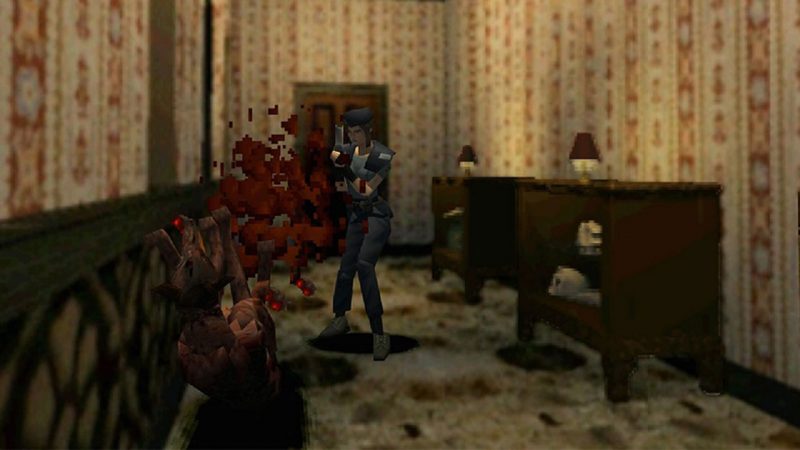 We've finally reached it: the one that began it all. From the cheesy live action intro, to "I hope this isn't Chris' blood", all the way to dogs through windows, this set the benchmark for survival horror. Gamers weren't ready for this, but the fever struck and paved the way for the franchise.
Looking back, it's a bit rough around the edges. The tank controls are less refined, the characters all have ham hocks for hands, and those door loading times still seem to take forever. But without this 1996 chancer, we wouldn't be writing this today.
#5 Resident Evil (2002)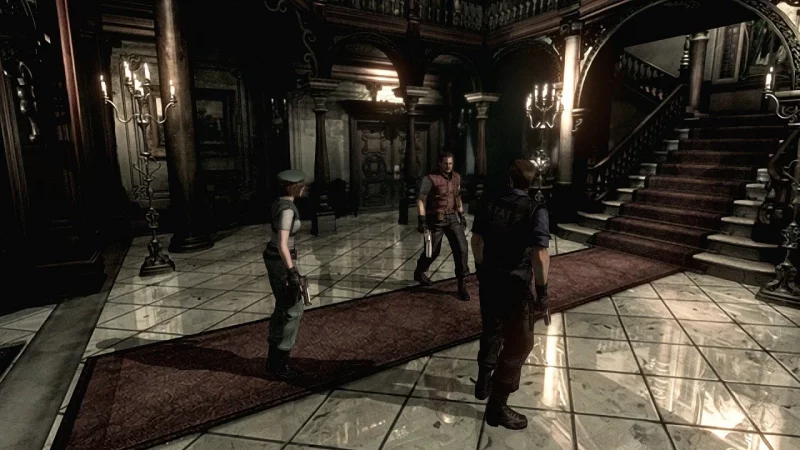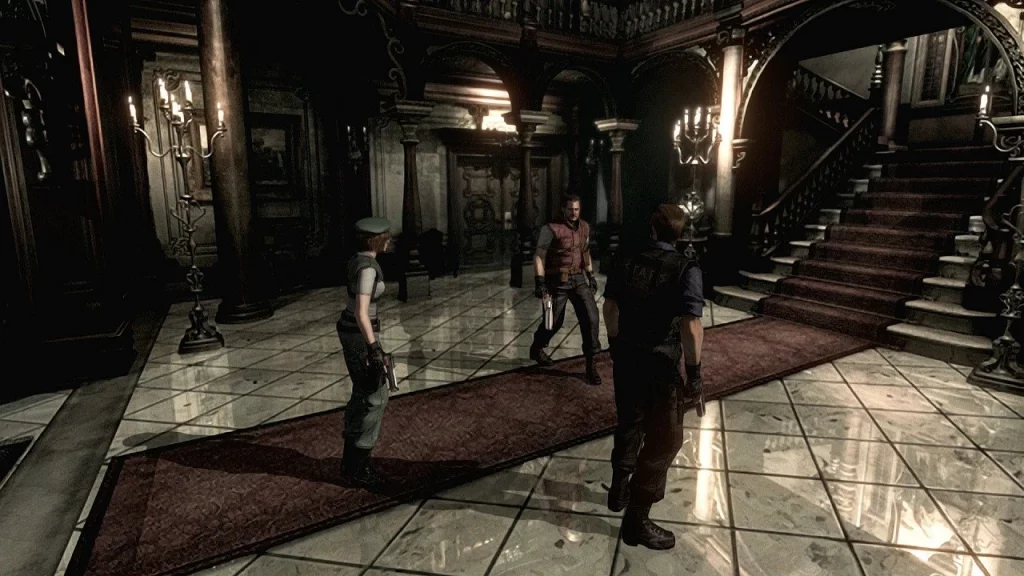 Everything mentioned above, that Resident Evil set out to do, is perfectly encapsulated in this remake only six years after its release. It's everything a remake should be: keeping what made it great, adding just the right amount of new content without muddying the waters, as well as better visuals.
And what visuals they are. The Gamecube gets unfair flack, but there's no denying how way-ahead-of-its-time this game looked. It's absolutely gorgeous, reigniting that fear that many had initially but with better visuals. It's also available on current gen consoles, for those that missed it the first time around.
#4 Resident Evil 2 (2019)
The second proper remake, if any game was more deserving of a remake, it would be Resident Evil 2. But by 2019, we'd had both 4 and Biohazard, would RE2 feel right if it was remade like the original in 2002? Some argued yes, others thought that time had moved on too far to make it worth it. So, Capcom compromised: remake it, but with modern elements.
Thus, the over-the-shoulder gameplay from 4, but still the dark and disturbing horror elements from the original. Some parts were tweaked, some enemies omitted, but on the whole 2019's remake hit all the marks. Recently granted a current-gen update, it looks absolutely gorgeous and still terrifying. Mr. X in 4K is a sight to behold.
#3 Resident Evil Biohazard/7
The second major shape-up for the long-running series, Resident Evil Biohazard (or 7, if you will) was a much-needed revival… again. Naysayers were quick to call it a cash-in on the cancelled P.T. concept, but soon after were silenced when it came out.
Switching again to a new perspective, Resident Evil Biohazard put players in the shoes of a new protagonist, a blank slate away from the established backlog of colourful characters. This allowed Capcom to write something new, something away from familiar trappings and cliches. And with that, we got some terrifying horror for our troubles. The third act loses the horror in favour of action, but the rest of it more than makes up for it.
#2 Resident Evil 4
The first, proper reinvention of the series, Resident Evil 4 is a benchmark in how gaming should be done. By the time of 2005, Resident Evil had… let's say, got itself into a rut. There are good and bad, as we've listed, but it was getting formulaic. Something needed to be done. A new element to the formula, as it were.
Switching from fixed background to over-the-shoulder, it changed how horror could be done. Shifting towards a more action angle, Resident Evil 4 still kept players terrified. Hordes of enemies, giant bosses.. .it would keep players on their toes throughout the entire adventure. Think of this way: no Resi 4, no Dead Space. Both of which, funnily enough, are getting remakes.
#1 Resident Evil 2 (1998)
Whilst the first game set the scene, and the 2019 remake showed us what modern stylings can do to a game twenty years after its debut, nothing can beat the sophomore title. Released just two years after the debut, and despite undergoing a major overhaul so far into development, Resident Evil 2 was a smash hit on release.
Rightfully so, expanding on everything the first one did: the dual storyline concept, bigger weapons, uglier enemies, the lot. Featuring a whopping two campaigns per character, some exceptionally gross transformations, and the introduction of Mr. X, Resident Evil 2 was miles ahead of its time, and has withstood it to this day.