As summer rolls in closer and closer, we are buckling down and bringing you some of the best games right to your computer screen! Today, we'll be discussing the top 10 post-apocalypse Nintendo Switch Games!
#19 CRYSIS REMASTERED TRILOGY
Platform: PC PS4 Xbox One PS5 XSX|S Switch
Release Date: October 15, 2021
One of the most visually impressive games of its time, the CRYSIS REMASTERED TRILOGY, is now on Switch and will let you become the one-man army that's needed to repel an invasion.
But it's not just an invasion. It's an alien invasion! Wielding a special suit, you'll go up against the alien forces and put them down before they conquer Earth. The best part about your suit is that it will adapt to how you want to play. So if you want to augment it for maximum firepower, then by all means. Or if you wish to be the ultimate tank and have damage bounce off you, the option is there to do that.
#18 Fallout Shelter
The Fallout franchise is easily one of the best RPG franchise ever made regardless of whether it was Bethesda or Obsidian making the titles (we don't talk about Fallout 76…)
But, if we were to talk about a more "basic" version of that world, then Fallout Shelter is the one for you. This game which you can play not just on Switch, but on mobile platforms as well focuses on you managing your own literal fallout shelter with people inside!
But it's not just about putting people in there, you have to keep them fed, keep them happy, expand your base as time goes on, fight creatures that try and invade your private space, and so on. It's easy to pick up and play, so have at it!
#17 Bastion
Arguably one of the best games ever made (and no, we're not just saying that) Bastion was the title that put Supergiant Games on the map, and it gameplay and story are still revered to this game.
Because you play as…well… Bastion, a person who's trying to figure out about the Calamity, which literally shattered the world. You'll explore that world by wandering on paths that will assemble themselves only when you take them. All the while having to listen to a reactive narrator tell your tale.
Add to that, there's deep combat with a weapons system that'll let you battle in a variety of ways. The world is much bigger than you think here, so don't be afraid to replay and see it in a whole new light.
#16 The Final Station
The Final Station puts a unique twist on the post-apocalyptic zombie gerne. Mainly because in this game, you are a man running a train in a world that is basically over. But you go through the landscapes and end up in various stations where you'll need to collect supplies, and possibly pick up survivors to try and take to places they can be safe in…
…if you decide to pick them up at all.
Just as important, this isn't a game meant to be a shooter, as the ammo you have will always be limited. So be mindful of your surroundings, and who's around, because one wrong move could be your literal last.
#15 Death Road to Canada
There are many games out there that try to take themselves seriously for one reason or another, Death Road to Canada is not one of those games.
Because this is a "randomized road trip simulator" that has a simple goal and purpose. To help you and your "car full of jerks" survive the end times by getting through cities, picking up random survivors you meet, and killing all sorts of zombies that you might go and come across.
Due to the random nature of things, every single playthrough is different by design. Which means every story and path is different every time you load up. This game is perfect for those who desire high replay value.
#14 FAR: Changing Tides
FAR Changing Tides puts you in a much different area, and gives you a new protagonist, than the original title.
In this game, you're in a world that has been mostly sunk, and as you awaken and find yourself on a mysterious ship, you'll find yourself sailing across the new world in order to find both safety, and a new home. But it won't be easy, there are dangers both within and without, and your ship is just as alive as you are in certain ways.
You'll need to solve puzzles, and dig deeper into the world to figure out all that's happening. Are you ready for this really unique adventure?
#13 Atom RPG
Based on the RPGs of old, Atom RPG puts you in the role of a survivor of a nuclear holocaust in Asia. You'll survive only to find that the new "Soviet Wasteland' is not exactly what you were expecting. So you must venture out to witness it all, as well as stop a conspiracy that aims to wipe out all life on the planet for good.
The game gives you a DEEP character creator tool to make the person you want with the stats you want. Then, you'll be able to dive into the game's non-linear story and gameplay in order to have a truly unique experience every time.
Battle, talk, explore, and survive, all so you don't die in a world that at times very much wants you dead.
#12 Darksiders 3
The Darksiders franchise is one that honestly got to be much larger than many thought it would be at first, and after a long while, the third main title arrived, and its Fury is now unleashed.
Literally! As you'll be playing as the third horseman of the apocalypse in Fury, a mage who uses whips and magic in order to get the job done. You'll wander this new take on the world in order to take on and defeat the Seven Deadly Sins, a job that no one has been able to complete before.
Fury has many tricks up her sleeve, including a variety of different forms that can unlock new powers and abilities. So use them all in order to save the day…in your own apocalyptic way.
#11 The End is Nigh
Well with a title like "The End is Nigh" surely this is the most uplifting and positive game out there in the world…right?
Wrong, very, very wrong. The End is Nigh features you playing as a character called Ash. You are one of the very few things that actually survived the world coming to an end, and as a result of that you…well…you don't actually want for much, but you do want to make a friend…out of parts you find lying about in the world. Not creepy at all.
This game is much deeper than you might expect, with over 600 levels of gameplay, hundreds of things to collect and hopefully at the end you won't feel dead inside…
#10 The Long Dark
In The Long Dark, your goal is to survive as long as possible, and one of the ways to do that is scavenging and using whatever you can find within the world to use as resources. This includes collecting things like food, water, and other materials and weapons to use around the world. The storyline of the game centers around a relationship between Dr. Astrid Greenwood and a bush pilot named Will Mackenzie who hired her to fly her into a remote location in the Canadian wilderness, which just suffered a mysterious geomagnetic disaster, now leaving Astrid and Will separated. Get The Long Dark now and see how long you can survive today!
#9 Wasteland 2: Directors Cut
Many of you have probably heard of Wasteland 2 since it is a pretty popular post-apocalyptic computer RPG. But you can now enjoy the experience on the Switch with Wasteland 2 Directors Cut. It is a hellish sequel that is waiting for you to make your own mark in the world or watch you die trying. You can even deck out your Desert Ranger squad with the most devastating weaponry, test the limits of your skills, and bring justice to the wasteland.
#8 The Walking Dead Telltale Series
In this graphic adventure game based on The Walking Dead, you do actually what you see in the show-try to survive with your life. This game was first released in April 2021 and the series currently spans four main five-episode seasons, an additional episode as downloadable content, and a mini three-episode season. The video game starts off a lot like the comics, with a pandemic that turns dead into zombie-walkers. Join The Walking Dead universe in this puzzle and exploration adventure game where Telltale has introduced the feature of having numerous determinants that could result from the player's choices, such as which of two characters to save during an attack.
#7 Metro: Last Light
Metro: Last Light (used to be known as Metro 2034) for the Switch is a post-apocalyptic first-person shooter with a sequel being released in 2033, developed by 4A Games and published by Deep Silver. Playing as the main character, Artyom, journeying across linear sections of a Post-Apocalyptic Metro System, hoping to save what's left of humanity long after World War III. The player must guide Artyom into following friends, battling dangerous mutants, and engaging in firefights with enemy factions, or complex stealth missions in which remaining unseen is vital for survival.
#6 Nuclear Throne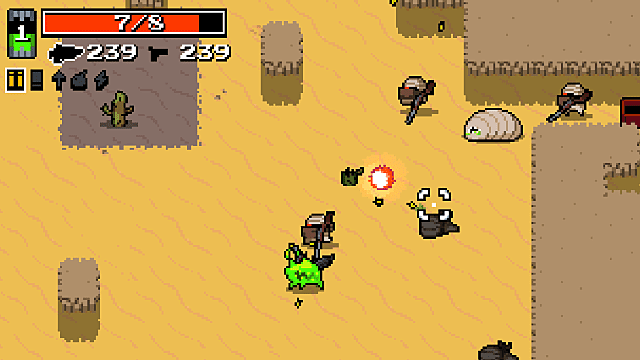 Nuclear Throne is an action rouge type game by Vlambeer about mutants fighting their way through a post-apocalyptic world filled with enemies. Collecting radioactive waste allows the mutants to improve their abilities by mutating new limbs on the demand. The game also had a old-arcade feel to it. Play now to become the ruler of the Wasteland.
#5 Dysmantle
In Dysmantle you can ruin almost everything, everything can be broken for materials with the right equipment. Fight and level up, exploring this world and escape the wretched island. Survive by gathering materials, crafting, hunting, harvesting and solving puzzles. Dysmantle objects like plastic, rubber, and metals can be used to invent and craft new items and upgrades so you can hopefully survive longer. See how long you can survive in this post-apocalyptic world.
#4 Atomicrops
You own the last farm in this post-apocalyptic wasteland, which you inherited from your late grandfather moments before a unclear blast vaporized the countryside. Now as the only source of food late for this local town you most protect your farm, or in other words, Farm. Marry. Kill. Plus aren't these plants adorable?
#3 Overland
Playing Overland you will take care of a group of travelers on a post-apocalyptic road-trip across the United States. This is a turn-based survival game where you'll fight scary creatures, rescue stranded survivors, and scavenge for supplies such as fuel, first aid kits, and of course, weapons. You get to decide where to go and what to do next, whether that be upgrading a random wrecked car or rescuing a dog. There are a lot of hard choices to be made when it comes to the end of the world.
#2 Daemon x Machina
To survive this post-apocalyptic world you gotta fight. Pilot your own fully customizable Arsenal mech and join your fellow mercenaries in defending all of humanity from the corrupted machines in this action robot game. Equip your Arsenal with a vast array of parts and weapons, obtain more from downed enemy Arsenals and swap them on the fly to best suit your strategy in battle.
#1 Surviving The Aftermath
Learn how to survive and thrive in this post-apocalyptic future world. Resources are scarce. Go beyond the colony and explore the wastelands to gather resources, meet rival colonies, and uncover the world's secrets. Recruit over 80 specialist, each with their own skills and motivations, to manage your colony's resources. Tough decisions need to be made in order for your colony to survive, get to work now in Surviving The Aftermath.