Now that Apex Legends Mobile has officially launched worldwide, more people than ever before have access to the battle royale shooter. Because the original game requires a console or PC, it was limited to people who owned them, but since smartphone ownership is at an all-time high, the number of people able to start jumping into Apex Legends has drastically increased.
While Apex Legends Mobile is a generally faithful recreation of the base game on mobile devices, Apex Mobile still pairs some aspects down making it a perfect place for newcomers to start. Everyone starts somewhere, so if you're just getting into the game for the first time, it might not be a bad idea to get some advice from more seasoned players. Take a look below for five tips that can instantly help your game as you get started.
More Apex Legends Mobile Guides:
| Can You Play Solo Queue? | Can You Play With a Controller? | Does Apex Legends Mobile Have Cross Progression? | How to Unlock Fade
Use a Controller
Because there are so many systems and mechanics at play in Apex Legends, the mobile port had a big choice to make: bring everything over and risk crowding the screen with on-screen buttons or start cutting features. Lightspeed Studios opted for the latter which means that, while the game is certainly just as deep as the console/PC versions, things can get a little messy on screen. By pairing a controller, players can bypass any and all screen issues and make the most out of the systems in the game.
Using a controller puts players at an inherent advantage as well. To move, aim, and shoot using the touch controls, the player will need to be touching the screen in three places, one more spot than you have thumbs. On a controller, be it a Backbone, or a paired wireless controller, you're able to do that no problem. This can drastically improve your match results and, while buying a controller isn't free, it's not exactly breaking the bank either especially when considering that Apex Legends Mobile is a free-to-play game that can provide hundreds of hours of play.
Bring the Right Type of Gun to the Right Type of Fight
A common expression is "don't bring a knife to a gunfight" which essentially means to understand the battles you're getting into. While there aren't melee weapons in Apex (at least, not yet) the wisdom still applies. Taking stock of what types of battles you're kitted out for can greatly improve your chances of coming out on top. For example, if you're early in the game and have an Alternator and a shotgun, you shouldn't be picking fights with distant foes who might not even see you. By attacking from a distance with weapons not suited for long-range, you're only going to reveal your position and risk death.
When playing your first matches, take note of which weapons will be effective where. Understanding your limitations based on your gear can inform you how each fight should go down giving you the edge. Just because a weapon isn't great for long-range fights, however, doesn't mean that there isn't a place for them. Properly get the enemy into your effectiveness zones and you're bound to find success.
Make Use of Grenades
Grenades often go overlooked for newcomers as new players are trying to learn the ropes of the rest of Apex Legends' weapons. Luckily, there are only three types of grenades for players to learn about meaning that they're quickly understood and applied. Grenades are great for enemy manipulation and, if you're lucky, dealing massive damage. If you're trying to get your foes to move, throw any grenade their way and they'll scatter.
Adding pressure to your opposition is something you can do to drastically increase your odds of winning a firefight. When players are panicked, getting out of the way of a grenade, they make mistakes and can start to play sloppily. Take advantage of that confusion and you should be in a good position to win the fight.
For specific information about each of Apex Legends' grenades, take a look at our guide right here.
Use Your Character Abilities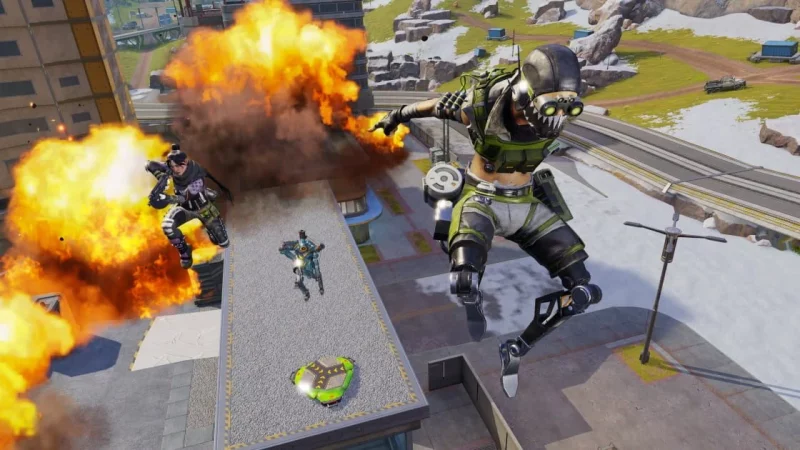 Each of Apex Legends' characters have unique passive, active, and tactical abilities that help shape the strategy of fighting against and playing as them. The best advice for all players is to use them as frequently as possible. Because they give players an edge, it doesn't make sense for players to keep their tactical and active abilities fully charged waiting in the wings for the "perfect time" of use. Instead, use them frequently, and you'll be better suited to win firefights against players reluctant to do so.
Some characters have abilities that are more advantageous during battle than others, but that just means that support characters should be using their abilities outside of firefights. Everyone has a role to fill and you won't be able to do that without actually using your abilities for the good of your squad.
Slide
The movement in Apex Legends Mobile matches the base game almost exactly which means that sliding is going to be the bread and butter of a player's movement. Not only is sliding fast, but it also briefly throws off the aim of hidden foes who might be gearing up to make an attack. Sliding is a great tool for keeping enemies guessing about your next move and can serve as a quick way to speed across the map.