Video games often give players new worlds to dwell in as they run into a setting unlike their own. Within this list we're going to shed some light on a few great science fiction based video game titles on the PlayStation 4. You'll find all sorts of different video game titles from big triple AAA releases to small indie games among various genres. Take a look at our picks for the best science fiction themed video game titles on the PlayStation 4 down below.
Likewise, you'll want to keep this list bookmarked as we'll continue to update it. With that said, you can also find some bonus games on the following pages after you reach the end of this list.
---
#25 Signalis
Developer: rose-engine
Publisher: Humble Games
Platforms: PC PS4 Xbox One Switch
Release: October 27, 2022
In the future, humanity will have an iron grip on its solar system to the extent that there are androids known as Replikas that are among the population and will do various things for their human masters.
You play Elster, who was in a deep sleep on a vessel alongside her partner, when she suddenly awakens to find that nothing is as it should be. The vessel she's on is damaged, her partner is gone, and her dreams aren't what they should be.
You'll go through the vessel and a frozen world to find answers. But what will these answers tell you about what happened? How far will you have to go to get them?
#24 The Callisto Protocol
Developer: Striking Distance Studios
Publisher: KRAFTON
Release Date : December 02, 2022
Platfrom: PC PS4 PS5 XSX|S Xbox One
The PS4 might be slowly fading into the sunset, but with the PS5 not being in large supply, you'll be soaking in all the time playing the new games on it. The Callisto Protocol might be one you get, given that it's a deep sci-fi experience.
The game is set in the future. Humanity has colonized the moon of Jupiter and has put a prison camp on it. You are one of those prisoners, Jacob Lee. An outbreak causes monsters to rise and kill everyone, but you evade them. Now you must find a way off of this moon and survive at all costs until you get out.
But will you get out?
#23 Stray
Developer: Blue Twelve Studios
Publisher: Annapurna Interactive
Stray is the science-fiction game that you didn't know you needed to play, and possibly the most unusual one around. Set in a futuristic secret city hidden beneath a ruined city, a stray cat finds itself trapped in a world that is completely foreign. The aesthetics of this city were supposedly influence by Kowloon Walled City, an ungoverned and densely populated Chinese enclave in British ruled Hong Kong. Not only is the setting incredibly futuristic, it still harbors the grime and dirt of a super city from our very own Earth – calling this the perfect playground for an adventurous stray cat would be an understatement.
#22 Mega Man 11
Developer: Capcom
Publisher: Capcom
PC | Xbox | PlayStation | Nintendo
The Mega Man franchise received a brand new installment. There is certainly a strong following with the franchise and we know that this eleventh installment, Mega Man 11 will once again feature Mega Man as he embarks on a quest to defeat Dr. Wily.
Within the game Dr. Wily will have his eight Robot Masters ready to stop players as they progress through the game. However, it looks like Mega Man will have a few new tricks such as the ability to manipulate time along with delivering a more powerful attack.
Outside of the new features being added in for Mega Man, players will also find that there are a few game modes included in the title such as Time Trials and Missions. Likewise you can find yourself battling it out with your friends or other players on the Global Leaderboard.
#21 Life is Strange
Developer: Dontnod Entertainment
Publisher: Square Enix
PC | Xbox | PlayStation | Nintendo
Life is Strange was developed under the studio Dontnod Entertainment. This is a mature adventure game that was broken up originally as an episodic format but now that the full game is out, players can enjoy all the episodes rather seamlessly.
Within the game, players take on the role of a female student named Max Caulfield who returns to her hometown in order to attend a prestigious academic school. Early on, Max discovers the ability to manipulate time.
Now with this new supernatural attribute at hand, Max can aid her best friend Chloe in discovering what happened to a local missing girl along with finding the meaning behind her sudden visions of a coming storm. Likewise, this narrative will focus on choices players make, altering the story narrative as you progress.
#20 Warframe
Developer: Digital Extremes
Publisher: Digital Extremes
PC | Xbox | PlayStation | Nintendo
Developed by Digital Extremes, Warframe is a cooperative free-to-play third person shooter that puts players in teams of four highly sophisticated Tenno commandos to take on a host of enemies throughout the solar system. Players can engage foes in melee and ranged combat through a variety of weapons.
The game is as mentioned earlier a free-to-play title which can give players a similar gameplay experience to something such as the Destiny franchise from developers Bungie. With that said, players don't have to rely on friends to jump on and play through the campaign as you can enjoy the game alone or with other online gamers.
#19 Alien: Isolation
Developer: Creative Assembly
Publisher: Sega
PC | Xbox | PlayStation | Nintendo
For fans of the horror film franchise Aliens, owning a copy of Alien: Isolation is automatically a must-have. However, if you're unfamiliar with the film, you can still find some enjoyment from this video game title. Launched back in 2014, developers Creative Assembly has released this survival horror title for a variety of platforms over the years.
In terms of the film franchise, Alien: Isolation is set fifteen years after the events of Alien, where players will take on the role of Amanda Ripley, the daughter of Ellen Ripley who is on an investigation of tracking down the mysterious disappearance of her mother.
Much like the old school survival horror titles, Alien: Isolation has an emphasis on players avoiding the hostile alien enemy and instead, gamers must rely on some stealth mechanics to maneuver around the game.
#18 Transistor
Developer: Supergiant Games
Publisher: Supergiant Games
PC | PlayStation | Nintendo
Transistor was an indie hit when it initially launched back in 2014. Developed under Supergiant Games who was previously known for Bastion, players are taken to a science fiction future with action RPG and turn-based strategy elements.
Through the game, players take on the role of a famous female singer named Red who becomes a prime target by an android force. Managing to escape, Red stumbles upon a sword known as the Transistor that has captured her voice. The duo must then work together in order to defeat the android force that's after them.
#17 Destiny 2
Developer: Bungie
Publisher: Activision
PC | Xbox | PlayStation
Destiny 2 is a multiplayer experience as you go through the main narrative along with the side quests and raids. If you enjoy futuristic FPS and have yet to at least try Destiny or its sequel, then you might be missing out.
A quick turnoff for some gamers may be the repetitiveness you could find yourself in while going through Destiny 2 as there could be some grinding involved. Likewise, because there's a bigger influence in going through the campaigns or side missions with a team, the casual gamer who is seeking a narrative journey to enjoy on their own time may wish to pass this franchise up.
However, for those who love gathering loot, upgrading their characters and a good raid with a team of players then this is one title not to pass up.
#16 Final Fantasy XV
Developer: Square Enix Business Division 2
Publisher: Square Enix
PC | Xbox | PlayStation
Final Fantasy XV is an action role-playing video game and the fifteenth main installment to the Final Fantasy franchise. Overall the story of Final Fantasy XV will center between two empires that have declared war, Lucis and Nifheim, though after Nifheim successfully captures the kingdom's crystal of Lucis, a group of friend's sets out to regain it.
Players take control of Noctis, prince of Lucis, who teams up with his fellow friends in a grand journey against a massive empire force. The game is also set in an open world environment with available quests and collectibles to gather.
#15 Prey
Developer: Arkane Studios
Publisher: Bethesda Softworks
PC | Xbox | PlayStation
The 2017 release of Prey from developers Arkane Studios is stated to be an FPS with survival horror elements. This is a futuristic title where players are set on a space station that has been tainted by a hostile alien species. During this exploration journey, gamers will be stepping into the shoes of Morgan Yu who must find a means to get rid of the alien species and escape the station.
You may recall the Prey franchise from when it first launched back in 2006 and it's worth mentioning that this is not a reboot or remaster. Instead, the developers identify Prey as a reimagining of the IP with a new narrative.
Much of the gameplay will involve exploring the station and solving a few puzzles as you progress.
#14 Metro Redux
Developer: 4A Games
Publisher: THQ
PC | Xbox | PlayStation | Nintendo
If you didn't get a chance to jump into the post-apocalyptic world of Metro then you'll want to pick up a copy of Metro Redux. This is a collection that features both Metro 2033 and Metro: Last Light that was originally available for last generation of consoles.
Players will find that Metro Redux will include an overhaul in visuals along with 60fps gameplay for both games as you brave the dangers within the Russian apocalypse. Likewise, if you go through the collection then you'll be ready for the sequel to Metro: Last Light known as Metro: Exodus which is coming out for PlayStation 4, Xbox One and PC platforms in 2019.
#13 Doom
Developer: id Software
Publisher: Bethesda Softworks
PC | Xbox | PlayStation | Nintendo
Doom is an iconic franchise that sparked interest and a bit of controversy when it launched in 1993. Now, decades later, the game franchise received a much-needed facelift with a completely new reboot known simply as Doom.
The reboot launched in 2016 and thankfully the developer's id Software did an incredible job at making a true reboot of the franchise. This is a flesh and blood torn massacre for the demons as our protagonist, Doom Guy, unleashes a hell that even the demons weren't prepared for.
Most often when video games feature demons or any type of creature, there's a bit of survival horror element tossed into the narrative, but that's not the case for Doom. Instead, gamers are humanity's last hope for survival and you've got no problem ripping apart limbs off demons or blasting them away with a BFG 9000.
With that said, the narrative won't be the deepest story you'll uncover for a video game.
#12 Deus Ex: Mankind Divided
Developer: Eidos Montreal, Feral Interactive
Publisher: Square Enix, Feral Interactive
PC | Xbox | PlayStation
Deus Ex: Mankind Divided takes place in 2029, exactly two years after the events of Deus Ex: Human Revolution. Players will once again step into the shoes of Adam Jensen as he seeks out the Illuminati, a group that was responsible for the Aug Incident of Deus Ex: Human Revolution.
As noted, Deus Ex: Human Revolution presented gamers with the Aug Incident, an event where augmented humans became uncontrollable and lethally violent. This was due to a hacker group is known as Illuminati who implanted technology that would allow the ability to control these affected humans.
Adam Jensen is an augmented former private security officer that is now working with a special Interpol unit known as Task Force 29. This task force seeks to capture terrorist groups that use augmentations against the innocent. However, Jensen is also working in secrecy with a hacking group known as Juggernaut Collective that is currently seeking members of the Illuminati.
#11 BioShock: The Collection
Developer: Blind Squirrel Games
Publisher: 2K Games
PC | Xbox | PlayStation | Nintendo
BioShock and BioShock 2 were iconic titles and as such we're not surprised when the game received a remastered collection just a couple years ago. As I'm sure you've already assumed, this collection not only contains the main video game title narratives but also the downloadable content that released prior, making this collection quite filling to go through.
Sold in retail as a two-disc collection, all three games will run in 1080p resolution with 60 frames per second so even if you dabbled into the rapture before, this new coat of paint makes replaying these games worth it.
#10 Detroit: Become Human
Developer: Quantic Dream
Publisher: Sony Interactive Entertainment
Set in Detroit, Michigan, and developed by Quantic Dream, gamers who enjoy choice-driven narratives will want to pick up Detroit: Become Human. This is a futuristic neo-noir thriller that's based off an old 2012 tech demo from Quantic Dream that became viral online.
Players will take control of three different characters, all of which are androids. You will have Kara, a female android that has escaped the factory from where she was made. There's also Connor, who is a male android that is tasked with hunting down deviant androids. Lastly, there is Markus, another male android who has begun an android revolution against the human race.
This video game is all about choices and it certainly seems that there will be a ton of them to choose through within the game. In fact, there are so many choices that each will alter the narrative storyline and can have grave consequences with your characters.
#9 Fallout 4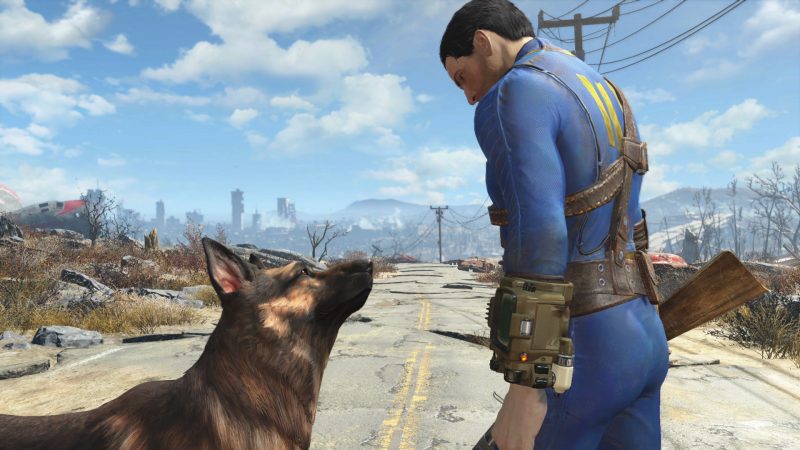 Developer: Bethesda Game Studios
Publisher: Bethesda Softworks
PC | Xbox | PlayStation
If you're a fan of the Fallout franchise then it's likely you've already picked up the latest release. However, if you're completely new to the series, Fallout 4 still marks as a great first entry. Set during the events of a nuclear war, players manage to escape into a vault, only to awaken hundreds of years into the future. What's left of your world is nothing more than decay and outsiders trying to make it by in this new world.
Each installment to the Fallout franchise manages to bring out an incredible wasteland to explore and Fallout 4 is no exception to that trend. You'll come across old ruins, new structures, and a fleshed out cast of characters to meet along your journey.
#8 Titanfall 2
Developer: Respawn Entertainment
Publisher: Electronic Arts
PC | Xbox | PlayStation
From development studio, Respawn Entertainment comes their latest video game title Titanfall 2. Players will still have the competitive online multiplayer component that Titanfall is known for, however, this time around the sequel launches with a full singleplayer narrative campaign.
Within the campaign players will be taking on the role of Jack Cooper, a Militia pilot that earned his Titan after a mech's driver was killed-in-action. Now Jack Cooper must work his way back from behind enemy lines.
If you're looking for more competitive gameplay, the online gameplay matches are still fully accessible. The carnage of monstrous mechs and nimble foot soldiers makes combat competitive and intense.
#7 Resident Evil 3
Developer: Capcom
Publisher: Capcom
PC | Xbox | PlayStation
Capcom has been going back and delivering fans some remakes to their classic survival horror franchise, Resident Evil 3. The video game franchise has been an iconic one for decades and for fans that either never got a chance to enjoy some of the earlier classics or perhaps those that are wanting to enjoy them once again with a fresh coat of paint can now do so. We've selected Resident Evil 3 for this list as it's the latest available otherwise we would likely have several other installments added in. Resident Evil 3 is also a great jumping point into the game as it's set after the events of the first installment of Resident Evil and doesn't necessarily connect to the storyline for Resident Evil 2. As a result, you don't have to play through Resident Evil 2 to enjoy this game.
Overall, the game follows Jill Valentine as she's being hunted down by a bio-organic weapon throughout Raccoon City. Known as Nemesis, its sole purpose is to track down the S.T.A.R.S members that were present during the first Resident Evil installment. With Jill looking to find a way to pinpoint this mess to Umbrella, the fight turns into survival as the city quickly becomes overtaken with zombies.
Players will be going through this game much like the previous remakes of Resident Evil. There's a big emphasis on resource gathering, carefully deciding when to use ammo, and of course an assortment of puzzles to solve along the way. This is also a more linear Resident Evil title which means there won't be a ton of backtracking before you're able to further progress the narrative storyline.
#6 The Outer Worlds
Developer: Obsidian Entertainment
Publisher: Private Division
PC | Xbox | PlayStation | Nintendo
The Outer Worlds released from Obsidian Entertainment in 2019 where players got a game very similar to the style of Fallout. It's not too shocking to see the similarities between the two franchise as Obsidian Entertainment did release Fallout: New Vegas several years prior and even today that game still stands as one of the best Fallout titles for several gamers. Now with their IP, the development studio got to work at bringing out a new science fiction space drama. It's a game full of choices and consequences, with players having the ability to steer the narrative.
Overall, the game puts players into a male or female that survives a lost space shuttle. Waking up from frozen hibernation decades later, players set on a journey that mainly follows a division between a government force and a resistance group. You'll visit several planets and meet interesting characters all of which will have their reasoning behind standing with the corporation established by the government control and those that wish to break the system in hopes of establishing something that offers a bit more democracy freedom.
While the main campaign will have you deciding between the two pathways, there are a ton of side quests, places to explore, monsters to slay and loot to be found. There's even a skill tree that can grant players the ability to craft and tune in the created protagonist towards the desired playstyle. For instance, places can stick to their guns and blow away the competitor or smooth talk their way out of trouble. Likewise, because there are several different quests and pathways to take the narrative through, you may find yourself playing the game more than once to get the full campaign story.
#5 Doom Eternal
Developer: id Software
Publisher: Bethesda Softworks
PC | Xbox | PlayStation | Nintendo
It's hard not to love the Doom franchise. It's a gritty first-person shooter as it follows Doom Slayer through hell and back. Fighting off all sorts of demons, both big and small has never been more satisfying with Doom Eternal. The game takes place after the events of the 2016 Doom reboot, in which we find Hell has invaded Earth and the only line of defense that stands for the protection of humanity is our protagonist. The gameplay is very similar to the 2016 reboot, but you will find some tweaks and enhancements added in from the development studio.
For instance, we can visually see enemies deteriorate when they are attacked. Likewise, there are new weapons added in such as a grapple to attack at enemies. Speaking of enemies, you can find a variety of new demons pop up along with some opposing players taking control of the enemy. However, it's worth noting that this feature can be turned off if you rather keep up playing the game as a solo experience.
#4 Dying Light 2 Stay Human
Developer: Techland
Publisher: Techland
PC | Xbox | PlayStation
Zombies and virus outbreaks go together like cookies and milk when it comes to science fiction adventures. In Dying Light 2 your goal is to discover the truth of your past while helping guide one of humanity's final sanctuaries to a future void of ruin. With a deep combat and traversal system the game constantly keeps you on your toes, and always has a few solid surprises around every corner. From diverse enemy types to an endless mountain of side quests, unique weapons, and hidden easter eggs, there's something for all players to enjoy.
#3 Nier: Automata
Developer: PlatinumGames
Publisher: Square Enix
PC | Xbox | PlayStation
Nier: Automata is a sequel to the 2010 video game release known as Nier, a spin-off title from the Drakengard series. Overall, the story is set within a proxy war between machines developed by alien invaders and the last surviving members of humanity. Through the narrative, players will learn more about the androids who are sent into war for the humans that sent them into battle.
If you're not persuaded on picking up Nier: Automata or not then take a look at our Before You Buy series. In the video posted above, we go over the video game and ultimately tell you if it's a worth purchase.
#2 Horizon Zero Dawn
Developer: Guerrilla Games
Publisher: Sony Interactive Entertainment
Horizon Zero Dawn marks as the first IP developed by Guerrilla Games since their release of Killzone in 2004. This is an action role-playing video game title that is set a thousand years into the future.
Mankind has mysteriously fallen with cities only a shell of a once thriving society. Now only small tribal groups remain with giant mechanical beasts roam the world openly. The plot will revolve around a female hunter named Aloy who was banished from her tribe as a baby. Years later, Aloy seeks out her true origins and the reasons behind her banishment.
#1 Horizon Forbidden West
Developer: Guerrilla Games
Publisher: Sony Interactive Entertainment
Science fiction is one of the most creative genres out there and games like Horizon Forbidden West are a great example of this. It takes a primal culture and settings and combines it with dangerous robotic dinosaurs to tell the story of humanity's failures. One of the greatest parts of Horizon is how unique its combat system can be. There's a large emphasis on properly planning each encounter before you engage. This can range from stocking up on the proper damage types that your foe is weak to, to planting traps to help give you the advantage. More than that, Horizon Forbidden West is a beautiful story with some of the most breathtaking visuals in gaming history., It is sure to go down as a must play for many generations to come.