Survival horror games may not sell the most copies, but they're still quite popular. This is indicated by the sheer amount of horror titles that release every year, especially on PC. Even if video games aren't capable of scaring you, the survival horror genre still provides a unique sense of tension you won't find elsewhere. Check out a few of the biggest survival horror games expected to release in 2023.
#23 Dark Moonlight
Developer: Silent Bear Studio
Publishers: Black Rose Projects, Black Rose Projects Sp. z o.o.
Release date: TBA
Platform: Microsoft Windows
Dark Moonlight is a survival horror game about a man in the near future who suffers from daily problems from his many phobias. In an attempt to ease the issue, he underwent an experimental procedure that was supposed to be the needed remedy for his ailments. Instead it transported him to a dream world full of his worst nightmares. The gameplay features everything players want from a survival horror game. Limited resources and weaponry, medical supplies are scarce, puzzles regularly slow your progression, and of course the many haunting monsters you must overcome by any means necessary.
#22 Greyhill Incident
Developer: Refugium Games
Publisher: Refugium Games
Platform: Microsoft Windows
Release date: 2023
In a genre where zombie games dominate, Greyhill Incident is diverging from the trends by placing you in a small town in the 90s as you take over a regular joe trying to survive an alien invasion. You need to work with your neighbors to find supplies, equip yourselves, and fight back… or run for your lives. It essentially looks like you're playing from the point of view as the humans in Destroy All Humans.
#21 Narin: The Orange Room
Developer: RedSensation Games
Publisher: Urnique Studio
Release date: 2023
Platform: Microsoft Windows
In Narin: The Orange Room is a 3rd person survival horror game where you play as a young 7th grade girl who's sister mysteriously disappears. In an attempt to locate her, Narin found herself transported to a terrifying supernatural dimension. While you fight for your survival against the many beasts who lurk within, you begin to find clues that can unravel what happened to your sister.
#20 Cryospace
Publisher: Games Operators
Release: 2023
Developers: Kuklam Studios, Metal Mantis Games
Platform: Microsoft Windows
Cryospace is a n isometric survival horror title where you play as a regular maintenance worker on an isolated space shuttle. While the other passengers are locked in a deep cryo-sleep, your job is to ensure that the shuttle is kept in good quality so that everyone can make it to the set destination safely. Unfortunately, things don't go as planned as a mysterious alien species begins to take over your vessel. Your new #1 priority is to survive, and help whatever frozen colonists that you can.
#19 Fatal Frame Mask of the Lunar Eclipse
Release date: 2023
Platform: Wii, PC, Nintendo Switch, PS4, PS5, Xbox One, Xbox Series X/S
Developers: Tecmo, Grasshopper Manufacture, Nintendo Software Planning & Development, Shirogumi
Publishers: Nintendo, Tecmo
The Fatal Frame series has long been very popular in Japan, and more recently, more and more of their titles have been getting ported over to the West. Now, Fatal Frame Mask of the Lunar Eclipse can join that list! In the game, you'll play as a young woman named Ruka, who has lost some of the memories of her childhood. Now, she must return to a now abandoned hospital to find out what happened to her, and what it all means about her life in general. You'll use the camera to ward off spirits and learn more about the memories you lost. But what does this all have to do with a curse and ancient rituals? Play the game and you'll find out!
#18 HumanitZ
Developer: Yodubzz Studios
Publisher: Freedom Games
Release date: TBA
Platform: Microsoft Windows
HumantiZ is a unique top-down zombie survival game. It allows you to freely explore a large world and choose how you and your mates want to survive. You can craft, farm, hunt, or scavenge as necessary. Stick to the country where the zombies may be few and far between, just as the supplies you may need to survive will be, or attempt to enter a larger city that's overflowing with what you need to survive, but can also bring death just as easily.
#17 Killer Klowns From outer Space The Game
Developer: Teravision Games
Publisher: Good Shepherd Entertainment
Platforms: PC, PS4, PS5, Xbox One, Xbox Series X/S
Release date: 2023
Yes, as in Killer Klowns From outer Space The Game the movie, but now in a video game form. This is the world we live in now.
In the game, you'll be playing 3v7. Three players will be the klowns and try to take over Crescent Cove by taking out its citizens in wacky ways and with insane weapons. Or, you can be the humans, and work together to find the supplies to not just fight off capture, but ensure the invasion doesn't happen at all.
Will you be able to save Crescent Cove? Or will you ensure its complete destruction? Wait for the game to come out and find out!
#16 The Texas Chain Saw Massacre
Developer: Gun Interactive
Publisher: Gun Interactive
Platforms: PC, PS4, XBO, X/S, PS5
Release: TBA
The Texas Chain Saw Massacre is one of the most iconic pieces of horror fiction in modern history, and it receiving a video game adaption is long overdue. In the game you can either take the role of one of the terrifying Slaughter family members, or fight for survival as one of their would be victims. The gameplay looks to be in the same vein as the Friday the 13th video game where one player is the killer and the other players are the survivors who need to plot a way to take the big bad down.
#15 Aftermath
Developer: One-O-One Games
Publisher: Meta Publishing
Platforms: PC, Xbox Series X/S, PlayStation 5
Release date: TBA
With Aftermath you are set against two very different but equally polarizing foes. The seen and unseen monsters that haunt a destroyed European metropolis. As Charlie Gray you are set to find your daughter Sammy at any cost but to do so will be the most challenging task of your life. You're being hunted by an invisible foe on top of the many other threats that lurk within the city. It features a robust crafting and scavenging system where even the most common household items can be used to create life saving items and supplies, but in this game what you eat is just as important as if you eat. Trying to stay healthy both physically and mentally will help give you the edge as Charlie and Sammy's powerful story unfolds.
#14 State of Decay 3
Developer: Undead Labs
Publisher: Xbox Game Studios
Platforms: PC, Xbox Series X/S
Release date: TBA
If State of Decay 3 is anything like past installments, it'll satisfy a specific subset of survival horror fans. The core gameplay loop involves building out a community through recruiting new survivors. This survivor system is integral to success. Each survivor has its own set of skills, which is crucial to keeping them alive. If someone dies, they're gone for good. If an entire community dies, you must start a new game. Targeting the Xbox Series X/S, we can likely expect State of Decay 3 to feature a larger world with more complex survivor interactions and systems.
#13 Eresys
Developer: Ares Dragonis
Publisher: Dragonis Games
Release date: TBA
Platform: Microsoft Windows
When it comes to horror games, there can never be too many Lovecraftian inspired works. Eresys is just that but also has a focus on cooperative gameplay. Together with up to three of your fellow cultist friends must send the monsters that a scorned member of your order unleashed on the world. The game features many unique mechanics, such as a Smart learning AI that will see the Lovecraftian monsters slowly learn from your behaviors. Be careful, at any time an unexpected event can occur that could have dire consequences. Is that shiny coin you see worth picking up? Or will it unleash a new horror on you?
#12 Alone in the Dark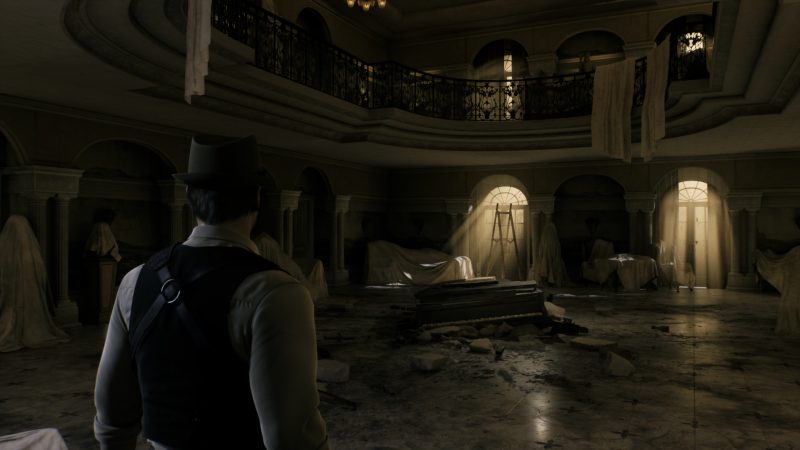 Developer: Pieces Interactive
Publisher: THQ Nordic
Platforms: PC, PlayStation 5, Xbox Series X/S
Release date: TBA
Alone in the Dark is a cult classic horror series that's been dormant since 2015 at the despair of many of its fans, Those fans are finally in for a treat however since at the most recent THQ Nordic showcase a reimagining of the original game was announced. It's taking the overall plot, characters, and gameplay concepts as the original 1992 release but reconstructed in a modern way. It looks very similar to the Resident Evil 2 remake, but instead of trying to survive a horrific virus outbreak, you'll be investigating haunted houses full of supernatural terrors.
#11 S.T.A.L.K.E.R. 2: Heart of Chernobyl
Developer: GSC Game World
Publisher: GSC Game World
Platforms: PC, Xbox Series X/S
Release date: TBA 2023
S.T.A.L.K.E.R. 2: Heart of Chernobyl takes place in the Chernobyl exlcusion zone post-nuclear disaster. Decades later, radiation is still signficant enough to cause harm. In this particular franchise, the radiation has led to the appearance of mutated creatures, which is where the horror elements come in. Utilizing Unreal Engine 5, S.T.A.L.K.E.R. 2's non-linear story should offer the tension and thrills players expect from survival games. A multiplayer mode is also coming post-launch as a free update, which is always appreciated.
#10 Wronged Us
Developer: Delusional Studio Limited
Publisher: Delusional Studio Limited
Platforms: PC, Xbox Series X/S, PlayStation 5
Release date: TBA 2023
Wronged Us looks to be a decent excursion for fans of janky, low-budget horror games. This story-driven third-person survival horror takes place in a completely explorable abandoned town. According to the developers, its open world and quest design takes inspiration from Dark Souls. Delusional Studio Limited also cites Silent Hill and Resident Evil as major inspirations with regard to its story, atmosphere, and gameplay mechanics. As a nod to older games, Wronged Us is developed with a 4:3 aspect ratio in mind. With that said, there will also be a 16:9 option.
#9 Abandoned
Release date: TBA
Developer: Blue Box Game Studios
Publisher: Blue Box Game Studios
Platforms: PC, PlayStation 5
Abandoned is a game of much controversy, but the premise behind the game still sounds rather interesting. Its been coined as a survival horror experience with a "Real Time" companion app to help and intensify the level of immersion in the game. Other than that we don't know a whole lot about what the game entails, but it seems to be heavily inspired by renowned developer Hideo Kojima. What the final result winds up looking like is just as interesting right now as the release of the game itself.
#8 Ill
Developer: Team CLOUT
Publisher:
Platforms: PC, Xbox Series X/S, PlayStation 5
Release date: TBA
Originally announced in 2021, the first Project Ill footage showcased graphic human-like monsters and glimpses of first-person shooter combat. It's running on Unreal Engine 5, with the team focusing on real-time body transformations, dismemberment, and interactive environments filled with physics objects. Even without a ton of information out there, its visual fidelity and creature design has piqued the interest of survival horror fans.
#7 Alan Wake 2
Developer: Remedy Entertainment
Publisher: Epic Games
Platforms: PC, Xbox Series X/S, PlayStation 5
Release date: TBA 2023
Alan Wake dabbled with horror conventions, but it was primarily a shooter. If Remedy Entertainment is to be believed, however, Alan Wake 2 is delving into full blown survival horror territory. Considering the studio's penchant for oddball characters and atmosphere, we're confident that this promise can be realized while telling a compelling story. Remedy has also never created a lackluster combat system, meaning we should expect a mechanically satisfying survival horror game come 2023.
#6 Deathground
Developer: Jaw Drop Games
Publisher: Jaw Drop Games
Platforms: PC
Release date: TBA
Deathground is most noteworthy for its inclusion of dinosaurs, which are pure nightmare fuel. Despite how terrifying these extinct creatures can be, they're often used as fodder for traditional shooters. Even the venerable Dino Crisis franchise pivoted toward action by its second installment. Deathground includes solo and co-operative modes, along with some procedural systems for replayability. Unpredictable elements such as weather, spawn points, and dynamic objectives are meant to keep players revisiting the game.
#5 Ad Infinitum
Developer: Hekate
Publisher: Nacon
Platforms: PC, Xbox One, Xbox Series X/S, PlayStation 4, PlayStation 5
Release date: April 2023
This first-person psychological horror games takes cues from titles like the controversial Shellshock series. Ad Infinitum places you in the role of a German soldier during the first World War. Subject matter such as PSTD is explored through a horror game lens, with delusions and flashbacks featuring horrific creatures and unexplainable occurences. It'll be interesting to see whether this perspective can offer a satisfying horror game, along with proper representation of World War I's realities.
#4 Sons of the Forest
Developer: Endnight Games
Publisher: Endnight Games
Platforms: PC
Release: February 23, 2023
A much-anticipated sequel to The Forest, Sons of the Forest will involve plenty of cave and land exploration as players attempt to survive a slew of terrifying humanoid creatures. Much like the first, this new installment will focus heavily on being self-sufficient as you escape the hoard–grow your own food, build your own camp, and lay traps to get a better night's sleep.
#3 Slitterhead
Developer: Bokeh Game Studio
Publisher: Bokeh Game Studio
Platforms: TBA
Release date: TBA
Slitterhead turned heads with eerie creatures that reminded people of games like Silent Hill and Siren. This is no accident, considering Bokeh Game Studio is headed by Keiichiro Toyama, who served as director and writer on the original Silent Hill. Toyama also filled the same roles on Siren, Forbidden Siren 2, and Siren: Blood Curse. Despite this lineage, Bokeh Game Studio is broadening its horizons with Slitterhead. It isn't a pure horror game, seeing as the team wants to pull in players that don't typically engage with the genre. Regardless, Slitterhead's reveal had enough style to excite horror fans
#2 Dead Space
Developer: Motive Studio
Publisher: Electronic Arts
Platforms: PC, Xbox Series X/S, PlayStation 5
Release date: January 27, 2023
Dead Space's dismemberment system was its claim to fame. Players could orient their weapons to slice off specific body parts, incapacitating foes in the process. Dead Space also featured a minimalistic UI, with crucial information such as health and ammo communicated in-world. Unlike some other remakes, Motive Studio's effort seems to be as faithful as possible. The largest changes come in the form of its visuals and audio design. In particular, the overhauled soundscape — including properties such as obstruction and occlusion — can elevate an already great horror game.
#1 Resident Evil 4
Developer: Cpacom
Publisher: Capcom
Platforms: PC, Xbox Series X/S, PlayStation 5
Release date: March 24, 2023
Resident Evil 4 is one of the most iconic and influential games of all time. Without Resident Evil 4, games like Dead Space might never have existed. Its over the shoulder camera even became the standard for third-person shooters moving forward. With a heavier emphasis on the horror elements, modern rendering features, and more advanced AI, the Resident Evil 4 remake could become a new gold standard for the genre.