We're all partial to the enjoyment of a sword fighting game, they have been a staple part of most gamers' lives since consoles were even a thing. The idea of being so skilled with a sword, like all those heroes of the past is an unachievable dream for most (unless there are some deadly warriors reading this), so the chance to become an in-game swordmaster is an attractive possibility for gamers everywhere. Games like Way of the Samurai and Bushido Blade paved the way for players to become engrossed by the idea of becoming this deadly warrior of their dreams. These kinds of games have obviously developed since those early tasters, and in the years since, some truly incredible sword fighting games have gripped hold of so many of you. But let us now narrow the list of games available and talk about the top 14 sword fighting games you can play on PS5.
#14 Nidhogg Series
The first game on this list of the best sword fighting games is this basic but quirky little multiplayer side-scrolling game series. The Nidhogg series was praised for its aesthetic, its fun gameplay, and the overall balance of the whole thing, with the latest game being noted as an improvement to the original. But it was criticized for having a poor single-player mode and at times, for forgetting its roots in the Norse mythology of the same name. The fact it is last on this list doesn't mean it is a bad game, not at all, but it just cannot compete with the other, more advanced games on this list – we still have to give some love to the little guy though.
#13 Onimusha: Warlords
The Onimusha series has been a memorable one, and for its time, birthed some of the best and most unique sword fighting games. This game is the remastered version of the 2001 game and obtains all its good qualities before adding some improved graphics and quicker gameplay. This PS4 version can be played on next-gen consoles but there is no sign of a full-on remake or a new installment in the series for next-gen, so you will have to make do with this for now. But even though the game has several upgrades, it still looks a little (dare I say it) dated, compared to recent games. That's not to say this still isn't a hugely enjoyable game though.
#12 Kingdom Come: Deliverance
Kingdom Come: Deliverance is a proper sword fighting game, driven by a captivating story and exquisite attention to detail that allows it to become incredibly realistic – a concept that is lacking in a lot of medieval games. The story takes place in Bohemia in 1403, where Cuman mercenaries raid a small mining village. But one survivor of the massacre decides to take revenge in the most brutal way imaginable, which is where you come in. It really is a great story that features real historical characters, but for all its good qualities, the game came with a lot of bugs that some people felt ruined the overall experience somewhat.
#11 Chivalry 2
Chivalry 2 is a very enjoyable hack and slash game that has a brilliant mix of high skill and low comedy, possibly even being the best medieval combat game on the market. In the game, players are equipped with various medieval melee weapons such as sledgehammers, battle axes, and of course, a variety of swords. Another game that has a bunch of great qualities but falters through a lack of immersion, and at times, being a little bit too basic. Players can take advantage of some interesting game modes though that you don't get from other games on this list like Team Deathmatch and Battle Royale modes, so it's got that going for it.
#10 Dishonored Series
A series that features two very unique and enjoyable games, where the story and missions are changed in response to the player's violent or non-violent actions. Corvo Attano is the famed silent protagonist of both games, with his daughter Emily joining him as a playable character in the sequel. The magical and gothic element that shrouds this film is atmospheric, and the games can become fairly dark as well, which is a plus. But even though the narrative can change depending on the player's action, it still feels somewhat predictable, which is a crying shame. The two games have separate qualities though; the original has better and more interesting characters, but the second one has superior gameplay – now if they could merge them into one that would be great.
#9 For Honor
Another hack and slash game based on medieval times, but this one lets players take control of a variety of warriors from different parts of history through a strange natural catastrophe. There are a plethora of playable characters for you to control, and the game is creatively violent, which is just the cherry on top that people crave. For Honor was praised for its difficulty and the unique combat mechanics, and because the game is quite tricky, qhwn you succeed at something, it becomes very rewarding if you put the time in that is. This is a PS4 game that can be played on next-gen consoles, but there has been no word about it being getting a PS5 exclusive yet.
#8 Ghostrunner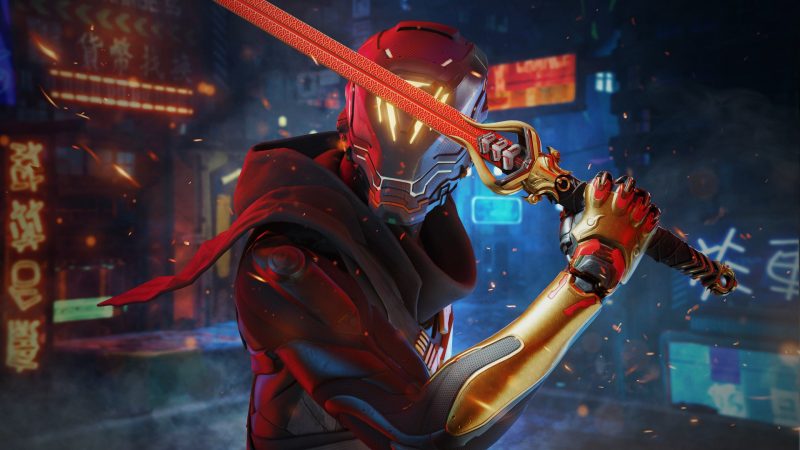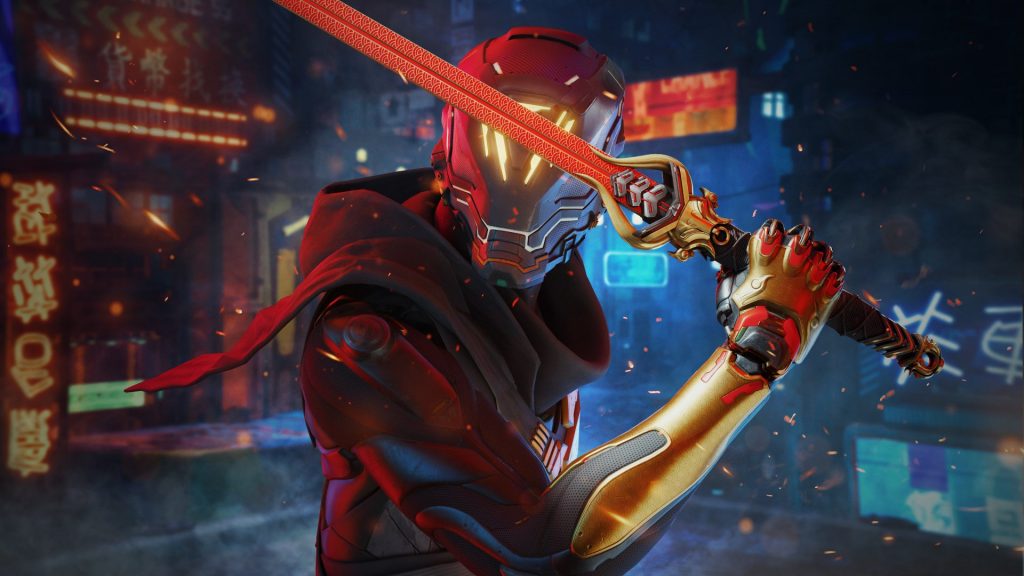 It is not often that you will find a great sword fighting game with sci-fi elements to it, but Ghostrunner is that very game we all cried out for. This cyberpunk action-platformer that uses some parkour techniques as part of its exploration does take a lot of getting used to because you die a lot – that isn't an exaggeration either, Sean Bean hasn't died as many times as you will in this game. But with the difficulty, it does allow players to creatively plan out their route so that they avoid the real tricky enemies and keep the adventure going. With the added bonus of special abilities that you gain throughout the game, players will have a lot of fun with Ghostrunner, there is even an exclusive next-gen sequel in development, so keep an eye out for that one.
#7 Assassin's Creed Odyssey
Hopefully it's not just me that thinks the Assassin's Creed series has become a bit tired, regardless of how many eras they use and how unrealistic it becomes – although, how real is a secret cult of assassins to be fair. That being said, Assassin's Creed Odyssey is one of the best games of the series in fact, and it built on everything that Origins was and added more. There is no PS5 version but the PS4 game is cross-compatible, and it really holds up well on the newer platform. Players control a Spartan mercenary who fights on both sides of the Peloponnesian War as they attempt to find their family and eliminate the mysterious Cult of Kosmos. This game really was a new high for the series, and even its successor couldn't match the same heights.
#6 Dark Souls Trilogy
This really is a trilogy that needs no introduction at all. The Dark Souls series is iconic and helped establish this world that has become so important for several other games too. Each of these games improves on the previous title and they also become more and more difficult (which is just fantastic isn't it), giving players a genuine challenge, and there really aren't too many sword fighting games out there that can offer that. The performance issues were often problematic though, and they affected the whole trilogy as well, but the games are still very playable and equally enjoyable, if you have the patience for them that is – they have broken many a person before them.
#5 Demon's Souls
This top five is about as good as gets in terms of game quality, highlighted by the fact that Demon's Souls comes in at five. When it came out in 2009, this game was lauded across the gaming community, and then a remade version came out for PS5 and topped it in every single way: improved graphics, visual excellence, and the gameplay was as awesome as ever. Bluepoint Games took over the reins from FromSoftware for this remake and proved that they could step out of the former developer's shadow, whilst still using their lore and setting, and then creating an even better game. It is a top-tier game and a great title that splits away from the Souls series, becoming memorable in its own right.
#4 Sekiro: Shadows Die Twice
This sword fighting game was the next chart-topper to come out of FromSoftware after Souls 3, and it became such a hit that people forgot about that trilogy for a bit. Praised for being incredibly hard (and that is an understatement), with expert gameplay, intimidating villains, creative boss battles, and let's you play as a ninja – this game really did have everything. There's no surprise that it is considered to be one of the best in the whole series of games from the developers, and it also won the game of the year for 2019 as well. Sekiro was unlike any other game before it, and its use of Buddhist mythology and philosophy gave it another aspect that separates it from most other titles.
#3 Ghost of Tsushima
It really was a toss-up for the best historical Japanese sword fighting game (niche, we know) between Sekiro and this, but Ghost of Tsushima pips it on the line. A game that was critically praised for its balance between subtle beauty and outright violence (which is a hard thing to do) it is also a visual spectacle like no other. If you thought this game looked incredible on PS4 then you should experience it on next-gen consoles because it's quite unbelievable. Players take on the role of a master samurai turned Ronin, and what follows is an exquisite journey through the gorgeous land of ancient Japan. Using expert katana skills, smoke bombs, bow and arrows, and a talented clique of allies, this game really is as masterful as it gets.
#2 The Witcher 3: Wild Hunt
What else is there to say about The Witcher 3 that hasn't been said already. Another game of the year winner, this is one of the best RPGs of all time and easily one of the greatest PS4 games of all time. And when it comes to sword fighting games, this is the epitome of one; Geralt is a master swordsman that is fluid like water (although still can't fall from low heights), and as fearless as it gets – the lack of emotions might have something to do with it. There has been recent news surrounding a remastered version for PS5, and after quite a few delays and a switch in the game's engine, the updated version with improved graphics, textures, and much more, is scheduled for release later on in the year, but don't hold us to it.
#1 Elden Ring
There really could be no other game at the top of this list of great sword fighting games other than Elden Ring. Released earlier in the year, Elden Ring took the world by storm and led to a magnitude of people getting involved with it. It builds on everything that made the Dark Souls series so brilliant, and then multiplied it by twenty; featuring a fully customizable character that could grasp a variety of fighting styles, it uses an incredibly immersive open world with an intriguing in-game lore, and boss battles that are not just difficult, they will force you to the edge of your own sanity at times. No one play-through is the same, and the fact you can use such a plethora of weapons, magic, and armor, all adds up to the fact this really is the greatest PS5 sword fighting game of all time.