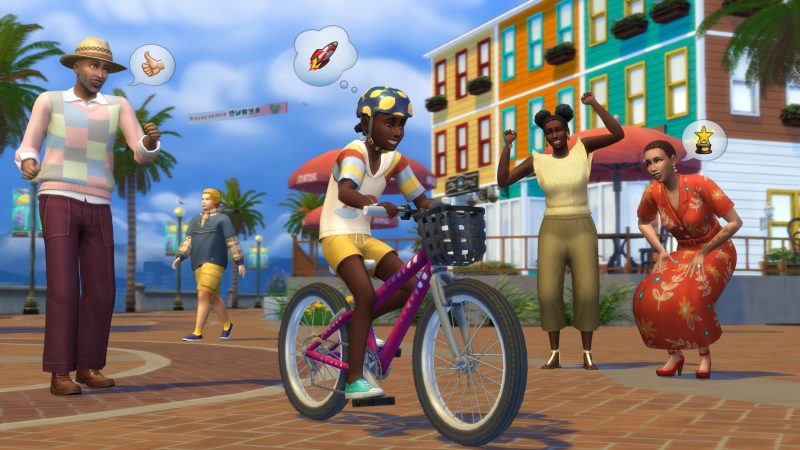 There's a lot going on in The Sims 4 right now, as the game's latest new content gets showcased ahead of its upcoming release. Developer Maxis and publisher EA recently revealed some big base game additions in the form of the game's upcoming Infants update. It seems as though the focus on the youngest Sims is coming just at the right moment, as a new family-focused expansion pack has just been revealed.
Growing Together is the next paid expansion for the massively popular life sim game and as the title suggests, it's all about family dynamics. The expansion will be available on March 16, just a couple of days after the free Infants update rolls out to the base game for all players. Growing Together looks set to make good use of this new life stage in its new area and characters, as can be seen in the brand new trailer that just landed courtesy of IGN. You can check it out for yourself right here, complete with a suitably upbeat Simlish backing track.
The Growing Together expansion is now available for pre-order, and will bundle in a few bonus items for those who purchase the pack before April 27. Bagging a copy of the expansion before this date will unlock an outdoor playtime digital content set, which includes a sporty-styled infant carrier, a cute toddler slide, and a swing set for both children and adults to enjoy. It certainly seems as though this upcoming expansion pack will explore family dynamics in more in-depth ways, with a number of new bonding and play-based activities seemingly becoming available for players to explore through their Sims. Major life decisions and developmental milestones will come into play as part of Growing Together, in which the choices players make for their Sims will have an impact on their personality traits and family relationships. Sounds just like real life, to be honest. If you've ever felt like role-playing a mid-life crisis before it happens, then this could be the expansion for you.
Growing Together will also introduce a new and suitably family-focused area in the town of San Sequoia. Players will be able to settle down and raise their families there, enjoying sleepovers, garden parties, bike rides and all manner of additional family-oriented activities as they work on deepening the emotional connections between their Sims. Needless to say it all looks vibrant and exciting and will no doubt be a big hit with The Sims 4 players when it releases next month.
The Sims 4 will launch its Infants update on March 14 and the Growing Together expansion will follow shortly afterwards on March 16. The game is available free to play on Xbox Series X/S, Xbox One, PlayStation 5, PlayStation 4 and PC.