The racing genre has seen a plethora of video games on the PlayStation 4, and there are bound to be plenty more titles released in the coming years. We marked down some of our personal favorite racing and vehicle-based video games available on the platform. While we think that these video game titles are the best racers on the PS4, we want to know your favorite racing video games!
---
#25 Hot Wheels Unleashed
Developer: Milestone SRL
Publisher: Milestone SRL
PC | Xbox | PlayStation | Nintendo
Every kid played with Hot wheels growing up. It's a pretty iconic kids toyline with the different cars to collect and the tracks you can build. However, Milestone SRL, which has a track record for racing games, made Hot Wheels Unleashed. This game is all about racing around in different iconic and rad cars. Likewise, players can even build up their custom orange track which you can share with others online. It's a new release when writing this description, but the reception has been rather positive so far.
#24 Crash Team Racing Nitro-Fueled
Developer: Beenox
Publisher: Activision
Xbox | PlayStation | Nintendo
While Nintendo had Mario Kart, there was a comparable kart racer that Sony had to compete with. Crash Bandicoot was the mascot for Sony, so it was only natural that a kart racer was put out for Sony fans featured the beloved orange bandicoot. Years later, we got a remaster of Crash Team Racing, which features the same overall experience with players having an assortment of characters from the Crash Bandicoot series while racing through a series of courses while using both power-ups will either help boost you along or take out competitive racers. It might not beat out Mario Kart, but its a fun alternative.
#23 Burnout Paradise Remastered
Developer: Criterion Games
Publisher: Electronic Arts
PC | Xbox | PlayStation | Nintendo
The Burnout series has been a popular video game racing franchise for several console generations now. Originally, Burnout Paradise was released in 2008 that featured an open world, several different types of races, and select game modes. We recently saw a remastered edition release for the Xbox One and PlayStation 4. Within the remastered edition of the game, players will receive most of the DLC packs besides the Time Savers Pack, 60 frames per second support, along with support for higher-resolution monitors.
---
#22 Horizon Chase Turbo
Developer: Aquiris Game Studio
Publisher: Aquiris Game Studio
PC | Xbox | PlayStation | Nintendo
Developers Aquiris Game Studio developed Horizon Chase Turbo to mimic the old retro racing titles from the late 1980s and early 1990s. The video game is all about speeding through a series of tracks. This is one title that's worth getting a few friends together and race against one another on the couch. Visually, the game also appears to be similar to the retro and highly popular arcade title, Cruis'n World. As such, expect blazing fast speeds, tracks all over the world, and a plethora of muscle cars to choose from.
---
#21 Race the Sun
Developer: Flippfly
Publisher: Flippfly
PC | Xbox | PlayStation
Race the Sun is an endless runner-type racing game. Players take control of a solar-powered spaceship where the end goal is to see just how far you can take the ship. First, of course, there are various objects and hostile laser beams to avoid. Otherwise, you'll end up destroying your ship. Luckily, the ship can remain at a constant speed, so you won't have to worry about speedups. But with that said, since the ship is powered by the Sun's light, if a player drops into the shadows, the ship will drastically lose speed. Outside of the main game, players will have a few different game modes to go through that alters game mechanics, such as navigating your ship through a maze-style obstacle course.
---
#20 Absolute Drift: Zen Edition
Developer: Funselektor Labs Inc.
Publisher: Funselektor Labs Inc.
PC | Xbox | PlayStation | Nintendo
Absolute Drift is all about drifting your car around a series of objects or tracks. This is a simplistic style racing game that is played in a top-down view as players will drift through a track in the shortest amount of time possible. There's not much to this game that makes it easy for anyone to pick up and play. With a total of six cars, players will be able to drift through over thirty different levels. Of course, if you would like to tune your skills finely, there are free roam areas where you can practice drifting the different vehicles. Zen Edition of the game is a free update that has added new challenges and events. There is also an included online leaderboard for those of you who also enjoy a good competitive race with friends.
---
#19 Driveclub Bikes
Developer: Evolution
Publisher: Sony Computer Entertainment
Driveclub Bikes can be an expansion for Driveclub or as a standalone video game. The title comes from developers Evolution, in which the cars Driveclub is known for has been replaced with bikes. With these superbikes from companies such as Kawasaki, Yamaha, and Honda, players will be able to race at intense speeds in over seventy different locations. This game is filled with tours along with events for both single-player and multiplayer. Speaking of events, players can even create their events while tweaking the race-day conditions.
---
#18 Trials Fusion
Developer: RedLynx, Ubisoft
Publisher: Ubisoft
PC | Xbox | PlayStation
The fifth game within the Trials franchise and the follow-up to Trials Evolution comes to Trials Fusion. If you've never played a Trials game, the title is more of a platform racer. Players control a biker who makes his way through various courses and obstacles, though getting through courses is easier said than done because of the physics within the game. Regardless of its difficulty, Trials Fusion remains to be a fantastic platformer. Since its release, Ubisoft has provided six DLC packs along with free content downloads.
---
#17 Need for Speed Rivals
Developer: Ghost Games
Publisher: Electronic Arts
PC | Xbox | PlayStation
Need for Speed Rivals was released in 2013 as the twentieth installment to the Need for Speed series. The video game follows two different paths in which the player can take on the role of a racer or a police officer. Each has its own style of progression and features that players can attempt to unlock, such as EMPs, spike stripes, or roadblocks. There is also an open-world environment aspect for players to explore and race at different events. AllDrive was also introduced in the video game as a new social system where players could experience a more seamless transition from single-player to multiplayer.
---
#16 Redout
Developer: 34BigThings srl
Publisher: 34BigThings srl
PC | Xbox | PlayStation | Nintendo
If you're a fan of fast-paced racing titles such as F-Zero and Wipeout, then you'll want to check out Redout. Created by 34BigThings srl, the developers have crafted Redout to be a tribute to the old racing monster titles that were a fast-paced but a tough and fun experience. While we don't think this title beats Wipeout, it's still a solid racing game worth checking out.
---
#15 Trackmania Turbo
Developer: Nadeo
Publisher: Ubisoft
PC | Xbox | PlayStation
Much like the previous installments to Trackmania, Trackmania: Turbo features over-the-top arcade race tracks with high speeds and a focus of stunts. While the video game features over 200 different tracks in four different locations, a track editor was included to allow players to create their very own unique tracks that can later be shared online with the gaming community.
---
#14 SnowRunner
Developer: Saber Interactive
Publisher: Focus Home Interactive
PC | Xbox | PlayStation | Nintendo
SnowRunner is not much of a racing game at all, but it's a vehicle-based title that we think you might want to check in on. This game is all about off-road driving. You're completing a series of tasks, such as picking up loads and dropping the cargo off. There are also vehicles stuck that might need to be winched out. Overall, it's a very relaxing game. You could easily toss on some music or a favorite podcast and start your job running the heavy-duty trucks. Of course, you'll want to make sure that whatever vehicle you hop into is capable of doing the job you're tasked with.
---
#13 Gran Turismo Sport
Developer: Polyphony Digital
Publisher: Sony Interactive Entertainment
Gran Turismo Sport will mark as the thirteenth video game installment to the Gran Turismo series. Series creator Kazunori Yamauchi describes the video game as the first title within the new era of Gran Turismo games. Gamers will find that three main game modes include a campaign, sports mode, and arcade mode. At the same time, gamers can race both online and offline with Gran Turismo Sport, just like the previous installments of the franchise though it will lack dynamic weather and a day-night cycle. One of the key aspects that gathered attention around Gran Turismo Sport was using the PlayStation VR headset. While the game was first announced to be fully compatible with the VR headset, the development team has later alerted fans that VR support would be limited to a special VR Tour mode.
---
#12 Dirt Rally 2.0
Developer: Codemasters
Publisher: Codemasters
PC | Xbox | PlayStation
When it comes to racing games, there are two sub-genres. First, you have your arcade-style titles that are easy to pick up and play. However, more simulation title racers offer a more realistic approach. Dirt Rally 2.0 is part of the latter, with players getting a real simulation-heavy racing title. This is a game that offers a wide range of rally cars, stages, and modes aimed at those who generally love rally racing. In addition, you're going to find the ability to make tweaks to your car, manage your crew, and race to face mostly the time rather than other racers. Codemasters have been around for some time now, and they have proven to be a great development studio for racing titles, and it shows in this game.
---
#11 Assetto Corsa
Developer: Kunos Simulazioni
Publisher: 505 Games
PC | Xbox | PlayStation
Developed by Kunos Simulazioni comes Assetto Corsa. The video game is a simulation racing title with an emphasis on maintaining a realistic experience. Players will be racing through a variety of tracks with an excellent range of race cars. This is another simulation-based racing game, so you can expect detailed physics from the way a vehicle handles to even the tire traction on a track. Furthermore, the video game was supported post-launch with several free content updates, which helped bring in new vehicles and tracks. If you're looking to enjoy a more simulation approach to a racing game, then Assetto Corsa is well worth checking out.
---
#10 Sprint Vector
Developer: Survios
Publisher: Survios
Sprint Vector may be the next title well worth picking up if you enjoy arcade competitive racing games. This is a racing-style video game, but with skates instead of vehicles. Players will be skating through courses while facing several AI opponents or other players worldwide. Of course, depending on the mode will determine just who you'll be racing against. Being a VR title, the immersion for Sprint Vector will take you to intense tracks though luckily, if you're trailing behind, you can grab a power-up to use against your opponents, much like the Mario Kart franchise.
---
#9 F1 2016
Developer: Codemasters Birmingham
Publisher: Codemasters
F1 2016 is a racing title based around the 2016 Formula One season and is the eighth installment to the overall F1 franchise. Within the game, players will go through a career mode consisting of ten full seasons, which is an upgrade to the past titles that previously only allowed five seasons. Outside of the career mode, there are championship races and customized races in which the player can adjust the time of day. Again, developers took great care when it came to crafting the performance control of the car, with players having more sense of control over the vehicle.
---
#8 Project Cars 2
Developer: Slightly Mad Studios
Publisher: Bandai Namco Entertainment
PC | Xbox | PlayStation
Project Cars 2 first entered the market back in 2017 thanks to development team Slightly Mad Studios. The video game quickly became a competitor to other longstanding realistic racing titles as Project Cars 2 came with over seventy drivable cars, thirty unique locations, and over a hundred different courses. This is a nice upgrade from the first title from the series, but we still opted to rank Project Cars higher.
---
#7 Need For Speed
Developer: Ghost Games
Publisher: Electronic Arts
Need For Speed from 2015 was touted as a franchise reboot, and players were expecting it to be the Need For Speed: Underground 3 that we never got. This game is a mixed bag with some high and low moments. The environments, graphics & cosmetic upgrades are some of the best you can find in a racing game of this generation. Maps are big and diverse, they offer a seamless transition from highways to mountains, and you'll constantly be discovering new locations as you drive across the map. The game does have some iffy car handling mechanics, and police never really seem like a threat. The car list also leaves something to be desired, but this is a pretty good game that offers fantastic customization options for your favorite cars.
---
#6 Dirt 4
Developer: Codemaster
Publisher: Codemaster
PC | Xbox | PlayStation
The sixth title to release from the Dirt series is full of fast and thrilling gameplay. Focused mainly on rallying, players will find tarmac and off-road races, various weather conditions, and Rally stages that span from Fitzroy in Australia, Tarragona in Spain, Michigan in the United States, and Varmland in Sweden, and Powys in Wales.
---
#5 Wipeout Omega Collection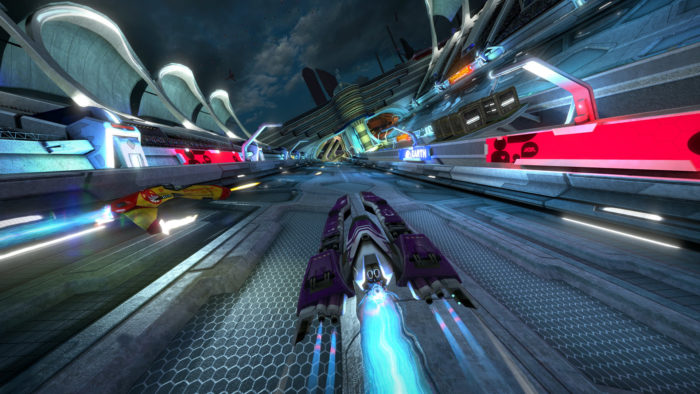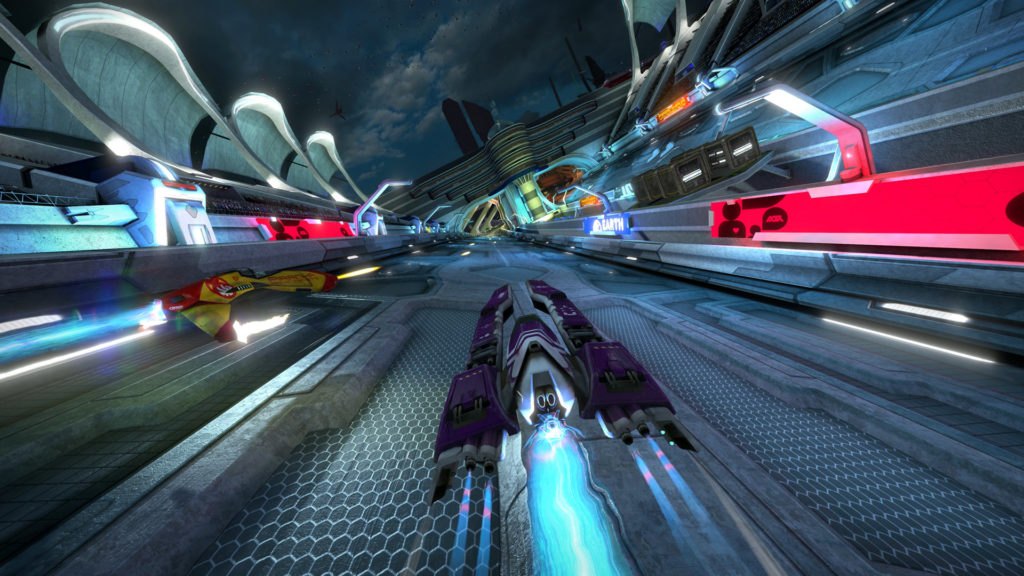 Developer: Psygnosis/SCE Studio Liverpool
Publisher: Sony Interactive Entertainment
Wipeout: Omega Collection is a remastered release that contains both Wipeout HD and Wipeout 2048. This futuristic racing title is similar to the F-Zero franchise, where gamers will be racing in hovering jet-type vehicles through a series of tracks. Both titles will run in 60 frames-per-second in 1080p or 4K, depending on whether players enjoy the video game on the PlayStation 4 or PlayStation 4 Pro.
---
#4 Rocket League
Developer: Psyonix
Publisher: Psyonix
PC | Xbox | PlayStation | Nintendo
It doesn't take very much to describe Rocket League. The game quickly exploded in popularity when it launched back in 2015, and its popularity still holds firm to this day. Essentially, Rocket League is a soccer title though played with fast vehicles that can launch into the air to either block or knock the ball into a goal post.
---
#3 Dirt Rally
Developer: Codemasters
Publisher: Codemasters
PC | Xbox | PlayStation
Dirt Rally is developers Codemasters' overall revised installment to the Rally series. Essentially, Dirt Rally morphed from the Colin McRae Rally series, which first came out in 1998. Within the game, players will race in various off-road terrain tracks on tracks set all over the world. Likewise, select tracks may have multiple weather conditions that could alter the overall feel of the vehicle you're racing with. There is a total of seventy different cars to choose from and over thirty stages.
---
#2 F1 2021
Developer: Codemasters
Publisher: EA
PC | Xbox | PlayStation
F1 2021 was released in July of 2021. If you've been following this franchise very long, then you know what to expect. It's a game series that's based on the Formula One World Championship season. It's very simulation-based so tweaking your car to ensure that the performance is at an all-time high is crucial here. This season also brings in My Team mode, which allows players to get more behind the scenes of the team. You're able to create a driver, deal with sponsorships, suppliers, and hire your crew. For simulation racing, this is one of the games not to pass on.
#1 Gran Turismo 7
Developer: Polyphony Digital
Publisher: Sony Interactive Entertainment
If there's one word to describe the newest GT title, it's polished. The real racing simulator has stepped things up a notch with this long-awaited release, bringing the same heart-pounding challenges fans have grown up loving. The sound design steals the show, with the bass of the motorway only offset by the soft tink-tink of an engine on cooldown at the end of each race. If you like cars, period, there's no reason not to own this game.